Pumpkin Gingerbread Pudding
I was officially diagnosed with Irritable Bowel Syndrome (IBS) in 2013. I have friends and relatives with the condition so I was aware of what it was and suspected that I might also have it. IBS is a serious GI issue that affects the large intestine (colon) and commonly causes cramping, abdominal pain, bloating, gas, diarrhea and constipation. There is no cure or known cause for IBS. My doctor said that I'd have to learn to manage my symptoms and that he had many patients who were in the same boat as me.
According to a Harris Poll* conducted on behalf of VSL#3 among IBS sufferers, IBS symptoms usually first appear before the age of 35 for about half of the people with most being diagnosed between the ages of 30 and 50. As I read this survey statistic, I sit here nodding my head. I was just shy of my 35th birthday when I was diagnosed.
The survey also found that 37% of IBS sufferers indicate that their condition is extremely/very problematic. For myself, I have "flare ups" from time to time, but for the most part, I manage it through diet and probiotics.
Let's talk probiotics for a minute. Most people know generally what it means, but many do not realize the importance of knowing which specific strain of organism should be used for which specific disease and condition. Yes, it matters! The survey found that nearly half of IBS, Ulcerative Colitis (UC), and ileal pouch sufferers (46%) believe all probiotics are pretty much the same while 41% don't understand which strain of probiotics is best to help treat their symptoms.
The recommendation is that adults should take at least one billion cells (also called colony-forming units or CFU's) daily. VSL#3 is a highly-potency probiotic medical food that has at least 112.5 billion CFU's. It is clinically proven in the dietary management of IBS, UC and ileal pouch.

It's important to note that VSL#3 is 10 times more potent than the average probiotic; its proprietary formulation contains a mix of 8 strains of live lactic acid bacteria which makes it one of the few probiotics with this many strains. It's also different because it's considered a medical food and NOT a supplement and must be used under medical supervision.
VSL#3 works by colonizing the gastrointestinal tract with beneficial bacteria, reducing the amount of gas and bloating from IBS and maintain remission in UC or an ileal pouch.
Check out this handy pharmacy locator to find your nearest VSL#3 location. You can also use the discount code "DOCTOR" to receive $5 off your order when you buy at VSL3.com.
I know when I'm experiencing a flare up of my IBS symptoms, I'm anxious for them to go away so I can get back to my life. Managing symptoms is important! It's not fun to be afraid to leave the house.
Diet plays a big role in managing IBS. It was one of the things my doctor recommended for me. I now know which foods trigger my symptoms. My case is fairly mild, for the most part. Some of my friends have to carefully watch everything they eat to avoid a flare up. With the holidays coming up, this can be especially tricky! Good thing there are many IBS-friendly recipes for people to enjoy.
Patsy Catsos, a medical nutrition therapist and registered dietitian, has created some new IBS-friendly recipes perfect for the holiday season. I made a cookbook featuring these yummy recipes. It was a hard decision to decide which one I wanted to make first.
The recipe I ended up selecting was a scrumptious Pumpkin Gingerbread Pudding! Is it breakfast or dessert? You decide. I had it for both!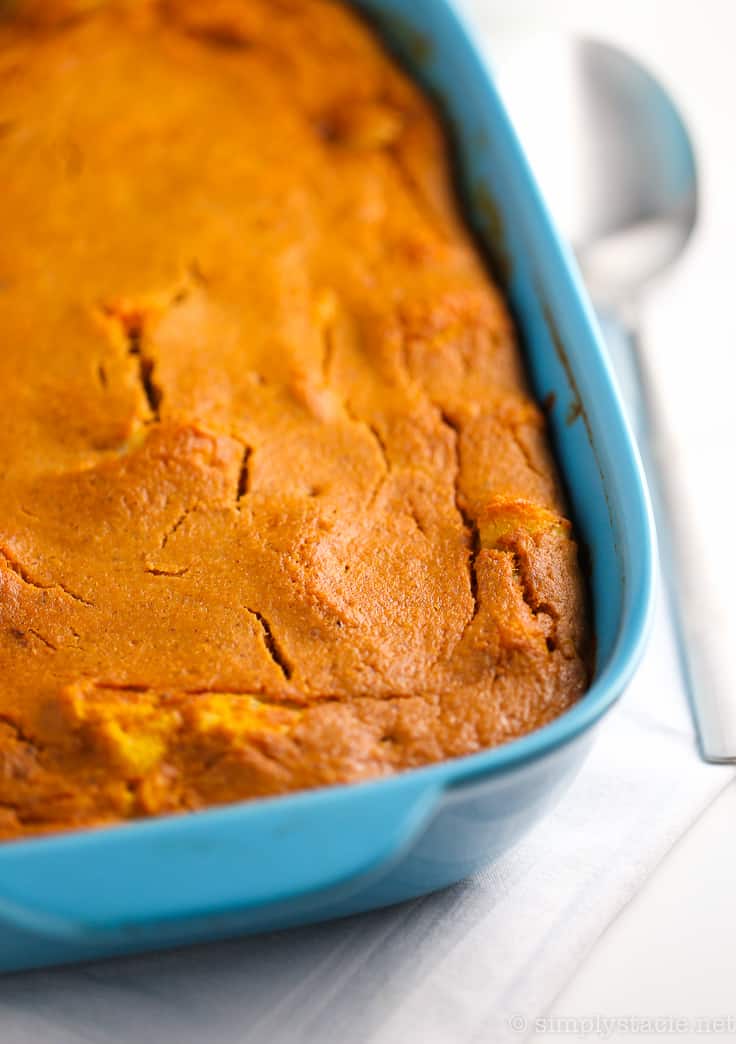 Patsy's recipe was super easy to make and it smelled so good as it was baking in the oven. I adore anything pumpkin so could not wait to dig right in.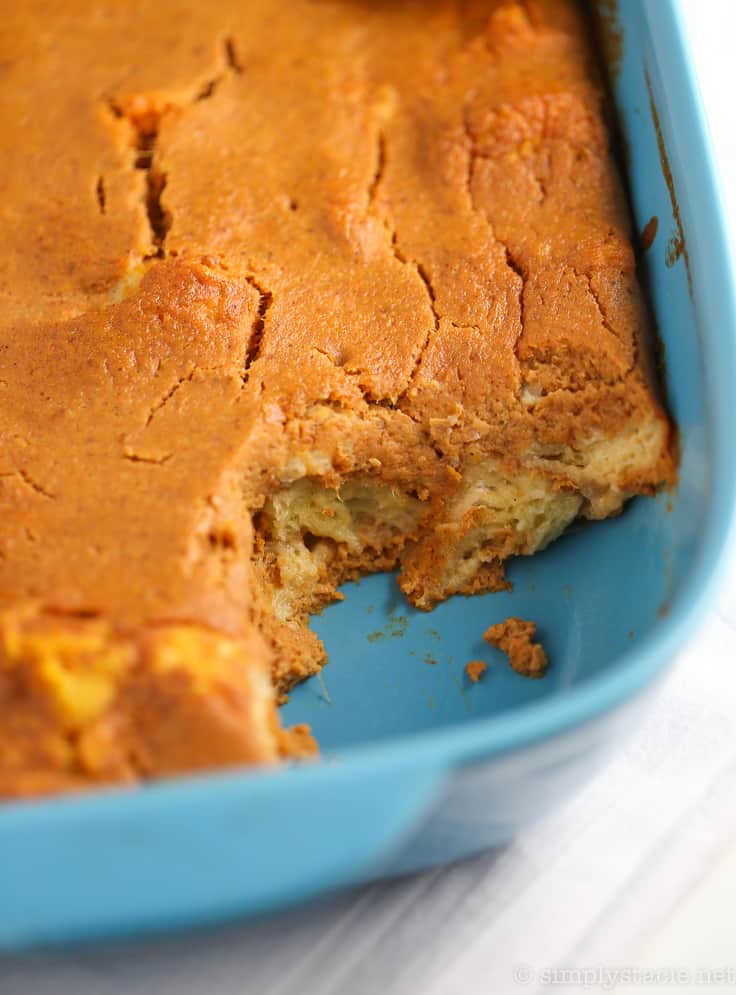 Meet your holiday breakfast! It's GOOD.
The bottom layer is sourdough bread which is easier to digest than regular bread. My favorite part is the pumpkin gingerbread layer! It reminds me of pumpkin pie.
Who would have guessed this is an IBS-friendly recipe? I hope you'll try it out and see how yummy it is.
Join VSL#3 on Facebook for giveaways and exclusive offers. Check out their series of videos packed with helpful info about IBS & UC on YouTube. Also, make sure to bookmark these delicious IBS-friendly recipes!
*Harris Poll conducted the GI Issues Survey on behalf of VSL#3. The survey was administered online within the United States between April 1 – 7, 2015 among 607 adult's ages 18+ who have been diagnosed with a digestive or gastrointestinal condition, irritable bowel syndrome, or ulcerative colitis, ileal pouch ("sufferers").
VSL#3® is a high-potency probiotic medical food that's clinically proven in the dietary management of IBS, ulcerative colitis, and ileal pouch. To learn more visit www.vsl3.com and LIKE the brand on Facebook.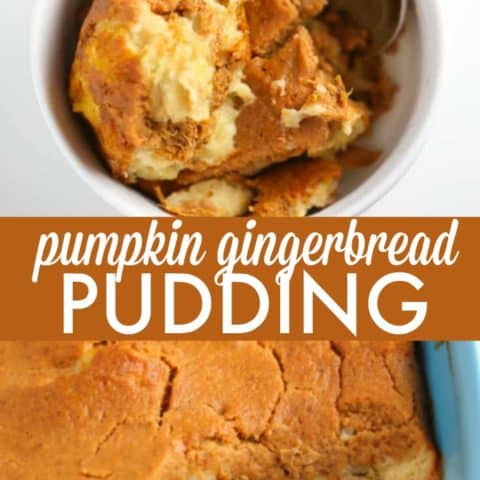 Pumpkin Gingerbread Pudding
Yield: 10

Prep Time: 20 minutes

Cook Time: 55 minutes

Total Time: 1 hour 15 minutes

Serve this delicious Pumpkin Gingerbread Pudding recipe for breakfast or dessert! Another big bonus is that it's an IBS-friendly recipe, too.
Ingredients
2 tbsp melted butter
3 1/2 cups cubed day-old sourdough bread
1/2 can (16oz) pumpkin
5 large eggs
2/3 cup brown sugar, firmly packed
1 tsp cinnamon
1 tsp ginger
1/2 tsp nutmeg
2 cups lactose-free milk
Instructions
Preheat oven to 350F.
Grease a 7×10 inch pan heavily with the melted butter. Distribute cubed bread in the pan, and set aside.
In a medium-sized mixing bowl, combine the remaining ingredients, stirring in the milk last.
Pour pumpkin mixture over the cubed bread and allow the bread to soak up the milk mixture for about 10 minutes while the oven pre-heats.
Bake until a little puffy in the middle and golden brown around the edges, about 55 minutes.
Cool for 20 minutes then serve warm, with vanilla ice cream.
Notes
Sourdough bread is easier to digest than regular bread, so you can enjoy a bowl of this bread pudding for either dessert or breakfast! Freeze sourdough bread odds and ends until your next batch of bread pudding.
Recommended Products
As an Amazon Associate and member of other affiliate programs, I earn from qualifying purchases.
Nutrition Information:
Yield: 10 Serving Size: 1
Amount Per Serving: Calories: 140Total Fat: 6gSaturated Fat: 3gTrans Fat: 0gUnsaturated Fat: 2gCholesterol: 103mgSodium: 108mgCarbohydrates: 17gFiber: 0gSugar: 12gProtein: 5g

This is a product-provided, sponsored conversation that contains affiliate links. All opinions, text and experiences are my own. VSL#3® is a high-potency probiotic medical food for the dietary management of IBS, UC and ileal pouch and must be used under medical supervision. These statements have not been evaluated by the FDA. The product is not intended to diagnose, treat, cure or prevent any disease.