Brownie Cheesecake Cups
I've made cup desserts with cookie mix and cake mix. I thought I'd try brownie mix and see what happened. The result? This chewy, moist and double chocolatey bite of heaven.
Brownie Cheesecake Cups
At first, I wasn't sure if it would work. After 10 minutes of being in the oven, I went to deflate the center of the cup and not much happened. I put back in another five minutes and tried again. This time, I could see the cup starting to take shape. I knew then that it would probably be ok and I wouldn't have wasted a perfectly good brownie mix.
The filling is cream cheese and Eagle Brand chocolate sauce. It's smooth, creamy and sweet.
I shared this recipe on my personal Facebook profile and one of my friends said that she saw Mickey Mouse when she looked at my pictures. I guess I put the chocolate chips on top in a way that looks like Mickey. I didn't intend it that way, but I can see what she means now! I had a little chuckle over that.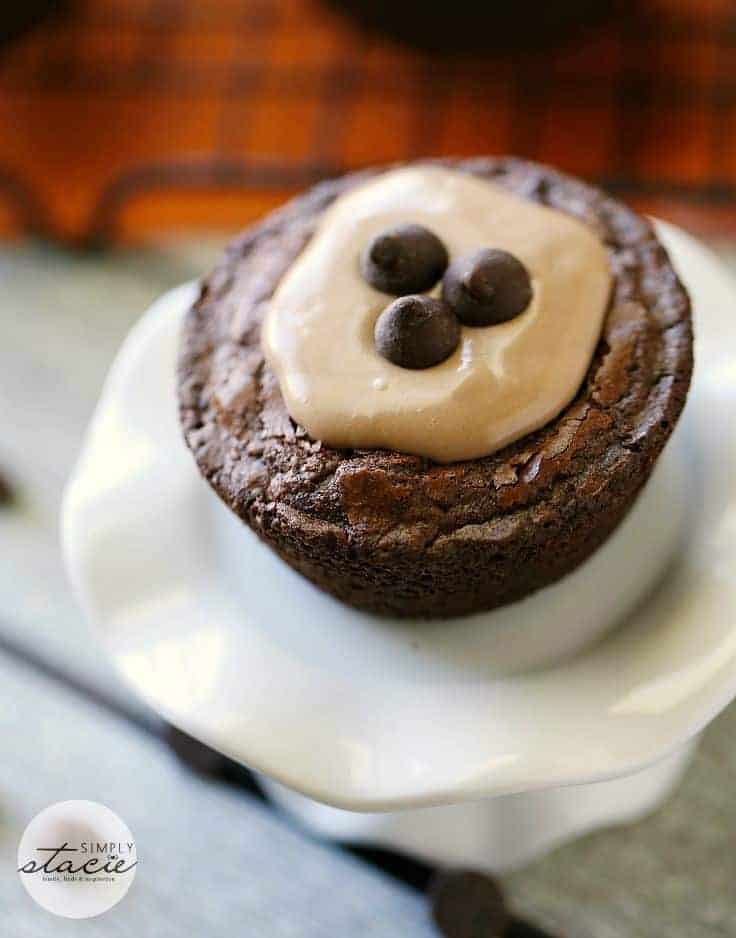 I hope you've been enjoying all the dessert cup hacks I've been sharing. They've been fun to make (and eat!).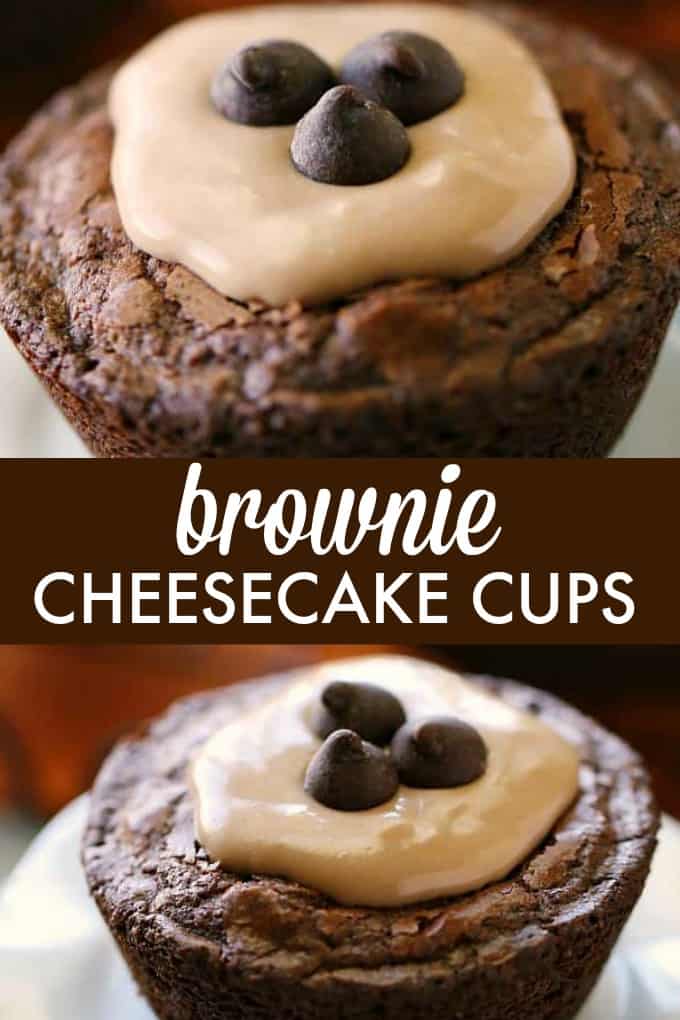 Do you have any favourite brownie mix hack recipes?

Yield: 9 to 12
Brownie Cheesecake Cups
Double chocolate Brownie Cheesecake Cups recipe made from a box of brownie mix. It's easy to make and a delight to eat!
Ingredients:
1 box brownie mix (or your fave brownie recipe)
1 package cream cheese, room temperature
4 tbsp icing sugar (also known as powdered sugar)
3/4 cup Eagle Brand chocolate sauce
chocolate chips, garnish
Directions:
Preheat oven according to directions on brownie mix.
Prepare brownies according to recipe or package directions. Place brownie batter into a greased muffin tin to form a cup. Bake for 10 minutes.
Remove tray from oven when cups are rising. Take a small spoon and deflate the centers of the cups while leaving the sides of the brownie cup untouched. Put back in the oven and bake for another 5 minutes.
Again, remove from oven and with a small spoon, deflate the centers of the cups while leaving the sides of the cookie cup untouched.
Place back in the oven again and continue to check them every five minutes and deflate the middle with a spoon to give them a cup shape. Mine took a bit over 20 minutes before they were baked completely.
Remove from oven and let cool completely.
In a mixing bowl, whip cream cheese, icing sugar and chocolate sauce together.
Add about 1 tbsp to each brownie cup. You may have leftover filling which you can save for your next batch or use it as a topping for another dessert. Top with chocolate chips,if desired.