Peach Bread
Hi everyone, it's Nicky from Kitchen Sanctuary here, wondering if I've broken the world record for how much peach you can get into one bread!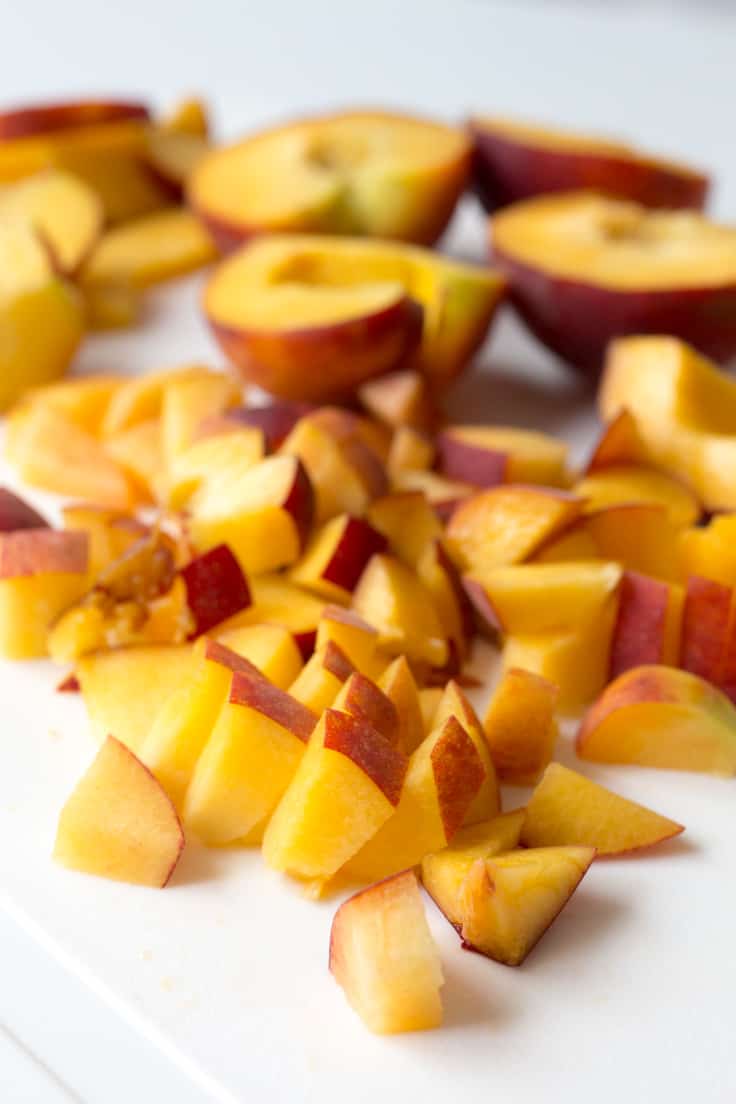 Peach Bread
Yep, this bread contains 5 peaches!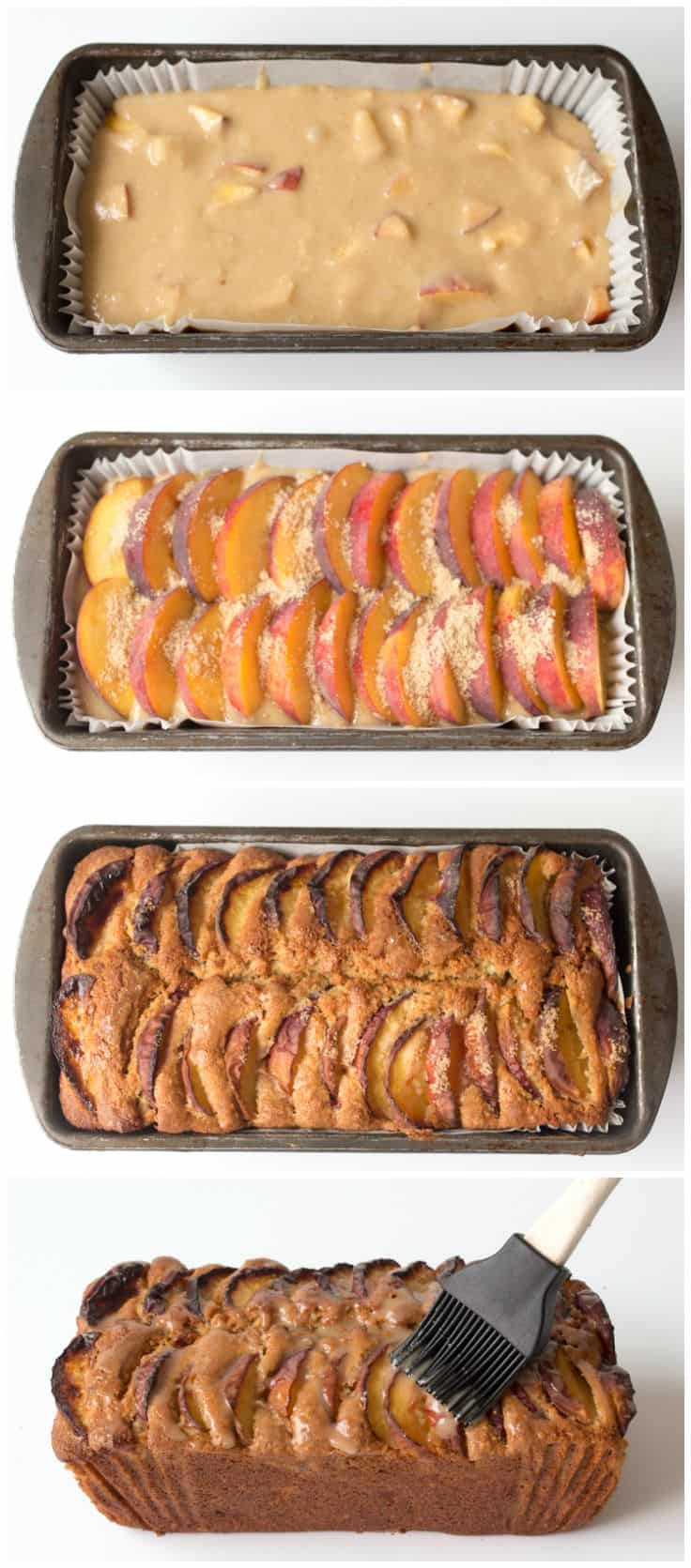 The addition of all that peach means the bread is sooo moist and tender. The coconut oil, buttermilk and ground almonds all contribute to that tenderness too, so it's fair to say it takes a little while to cook (about an hour).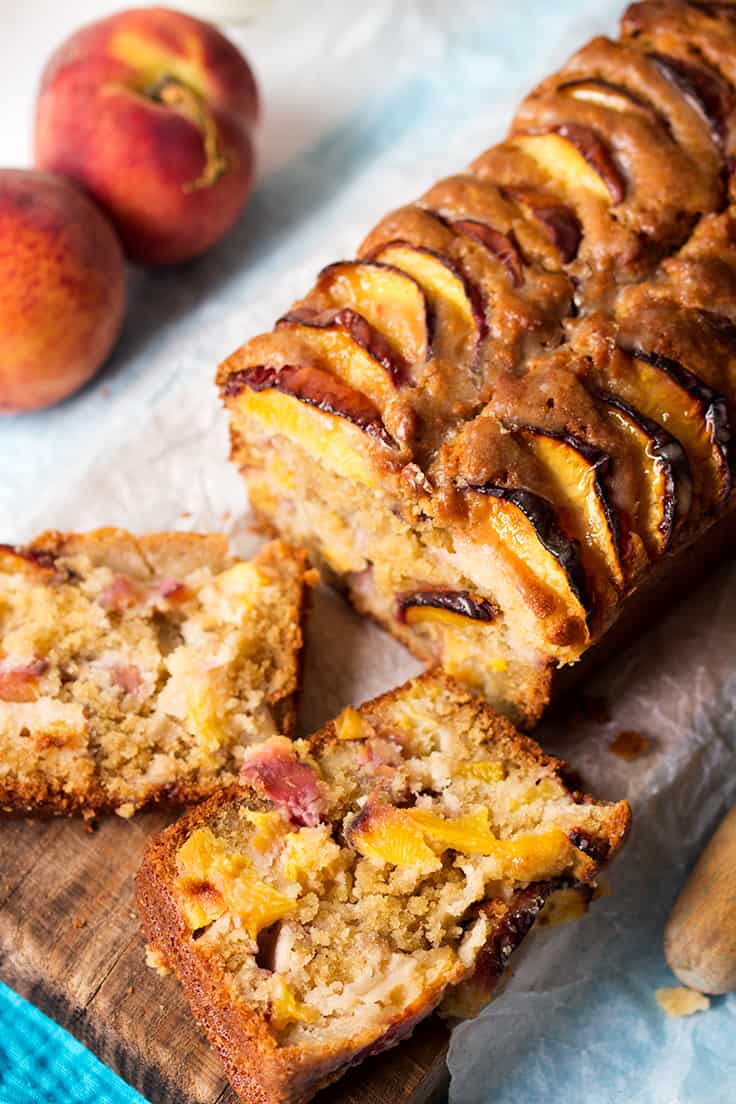 The time it spends in the oven means the top is beautifully browned and a little crunchy – which works really well with the sticky brown sugar glaze.
So we've got moist, tender, crunchy and sticky all in one bread.  Why not drizzle it with some thick cream too and you've got a dessert with everything 🙂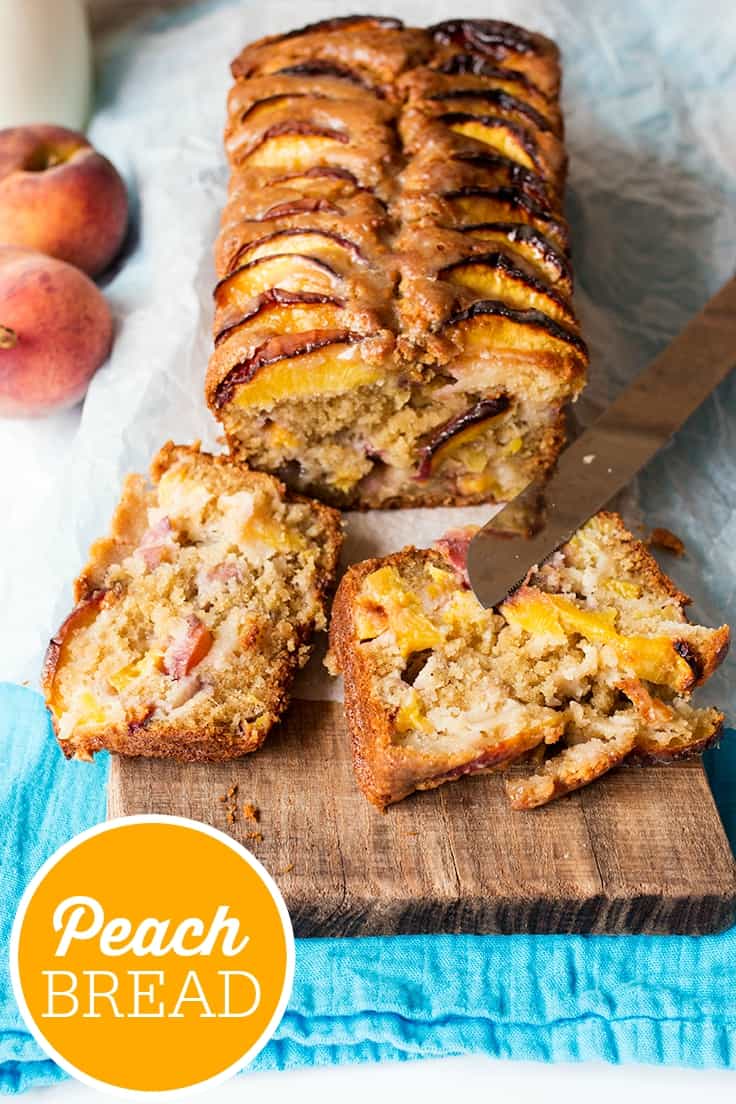 Doesn't it look amazing?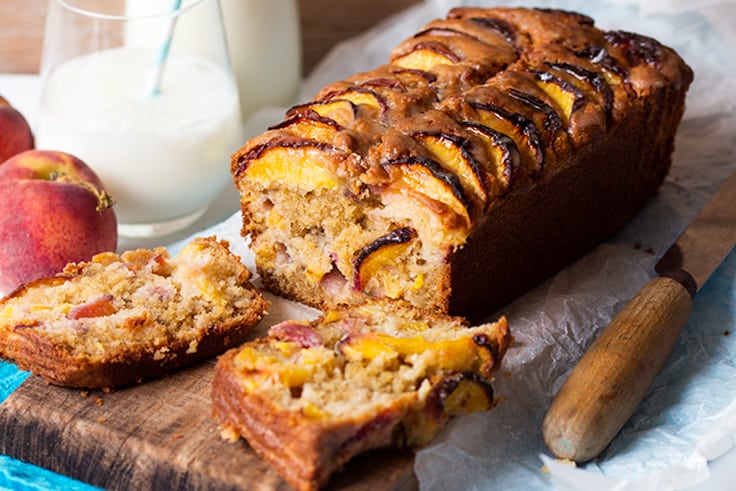 For a savoury peach recipe, try this yummy Peach Chicken. You might also like this Pineapple Cheese Bread.

Yield: 1
Peach Bread
This recipe for Peach Bread is moist and fruity with a sticky brown sugar glaze.
Ingredients:
5 fresh ripe, but not too soft, peaches (the peaches shouldn't be too big – approx 3 ½ to 4 oz each – otherwise it can make the mixture too wet. You need to have about 16 oz of peach pieces after you've chopped and removed the stones).
1 large egg
2/3 cup light brown sugar plus one heaped tsp for sprinkling)
½ cup + 2 tsp (130ml) virgin coconut oil (or vegetable oil), melted
1 tsp vanilla extract
2/3 cup ground almonds
¾ cup buttermilk
1 and 2/3 cup all-purpose flour
½ tsp baking powder
½ tsp baking soda
Brown Sugar Glaze
1 tbsp salted butter
2 tbsp milk (whole milk or semi-skimmed is fine)
3 tbsp brown sugar
3-6 tbsp sieved confectioner's sugar
Directions:
Preheat the oven to 350F and line a 1lb loaf tin with baking parchment. Make sure there's enough baking parchment so that you can pull the cake out using the parchment for handles. Put to one side.
Chop two of the peaches into slices and put to one side. Chop the other three peaches into small chunks. Put to one side.
Mix the egg and sugar in a large bowl. Add the oil (if using melted coconut oil make sure it's not too hot or it'll cook the egg) and stir. Add the vanilla, ground almonds and buttermilk and stir again. Finally add the flour, baking powder and baking soda. Mix together until combined, then stir in the chopped peaches. Pour into the prepared baking tin.
Arrange the peach slices on top of the cake and sprinkle the extra 1 tsp brown sugar on top. Place in the oven to cook for 50-60 minutes (until and inserted skewer comes out clean). Take out of the oven and leave to cool in the tin for 10 minutes then remove from tin and allow to cool further on a cooling rack.
Whilst the cake is cooling, make your glaze. Place the butter and milk into a medium bowl and heat in the microwave or a pan for a few seconds until hot. Stir in the brown sugar until dissolved. Add in 3 tbsp. of confectioner's sugar and mix with a whisk. Then add in more confectioner's sugar a spoon at a time and whisk until you have a nice thick, paste. Once the cake is nearly cool, brush the glaze over. You may not need all of the glaze, but you can keep any you don't use and serve it with the cake. Eat straight away, or you can leave the glaze to set before eating.