Rocky Road Bites
I'm the queen of no-bake desserts these days! I've been whipping up mousse like it's going out of style. I have another simple no-bake treat to share today – Rocky Road Bites!
You'll only need four ingredients to make these babies – chocolate chips, mini marshmallows, peanut butter and ramen noodles. They are sweet and crunchy!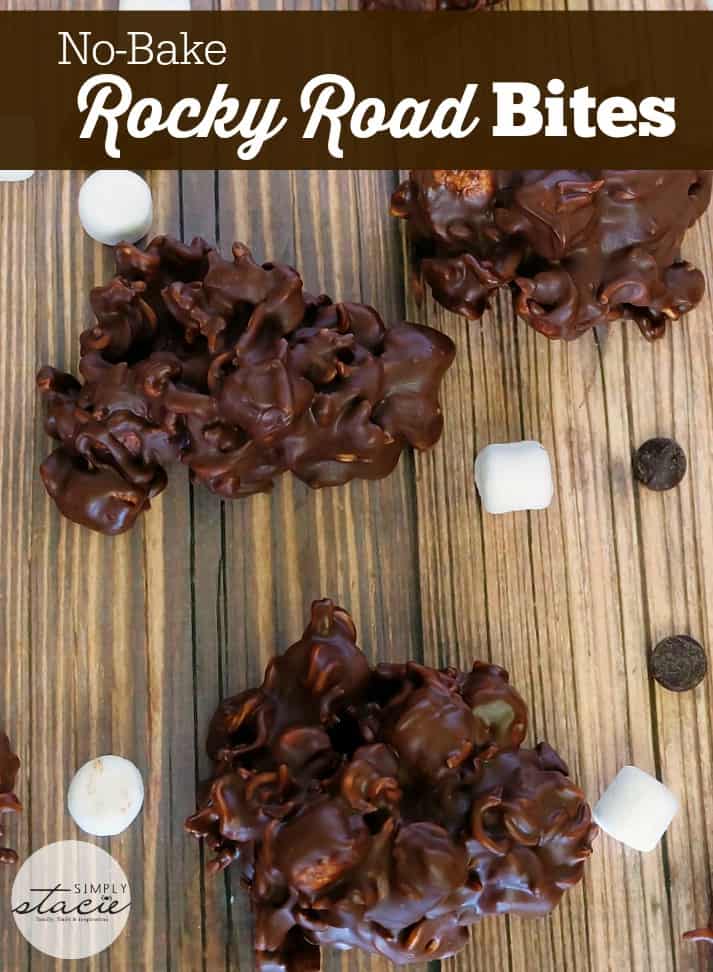 No-Bake Rocky Road Bites
Ramen noodles are around $0.29 for a package at our local grocery store. It doesn't matter what kind you buy since you won't be using the seasoning packet that comes with them. I would either discard it or save it for another recipe. I don't think beef or chicken flavoured chocolate would be all that appetizing anyways…..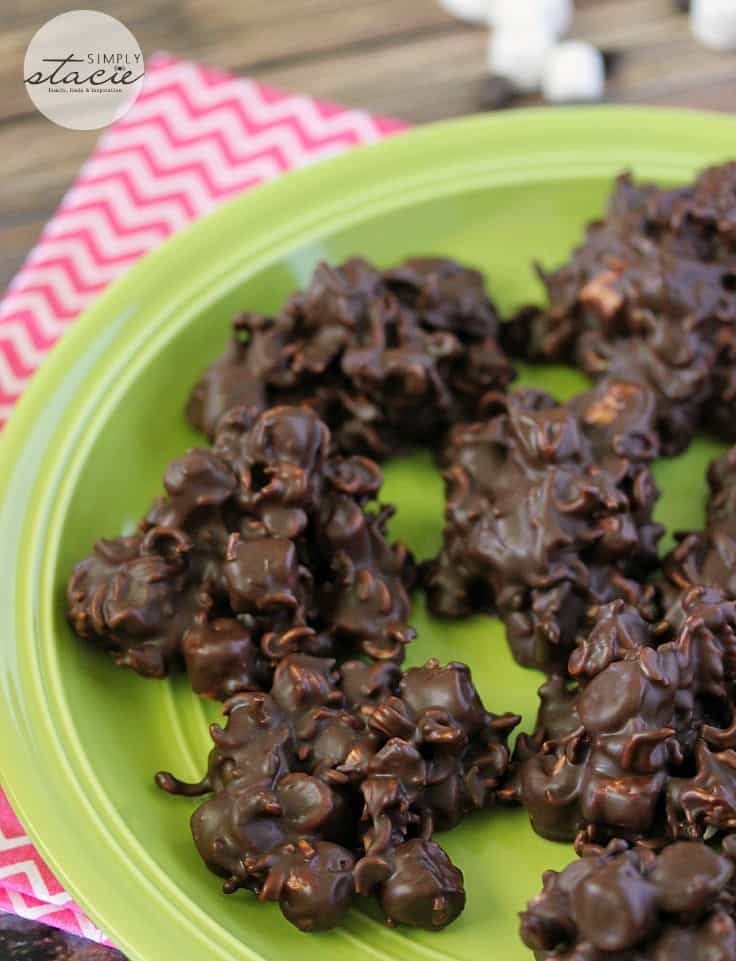 I told you it was easy! After you melt the peanut butter and chocolate, it's just a matter of stirring in the broken up noodles and marshmallows. Plop a dollop of the mixture on baking sheet lined with wax paper and put in the fridge for an hour.
I store them in the fridge so they don't melt. It keeps them fresh and ready to eat! This recipe makes about 10 to 12 Rocky Road Bites, depending on how big you make them.
They remind me a little of my No-Bake Chocolate Peanut Butter Haystacks. That recipe uses chow mein noodles, peanuts, peanut butter chips and chocolate chips.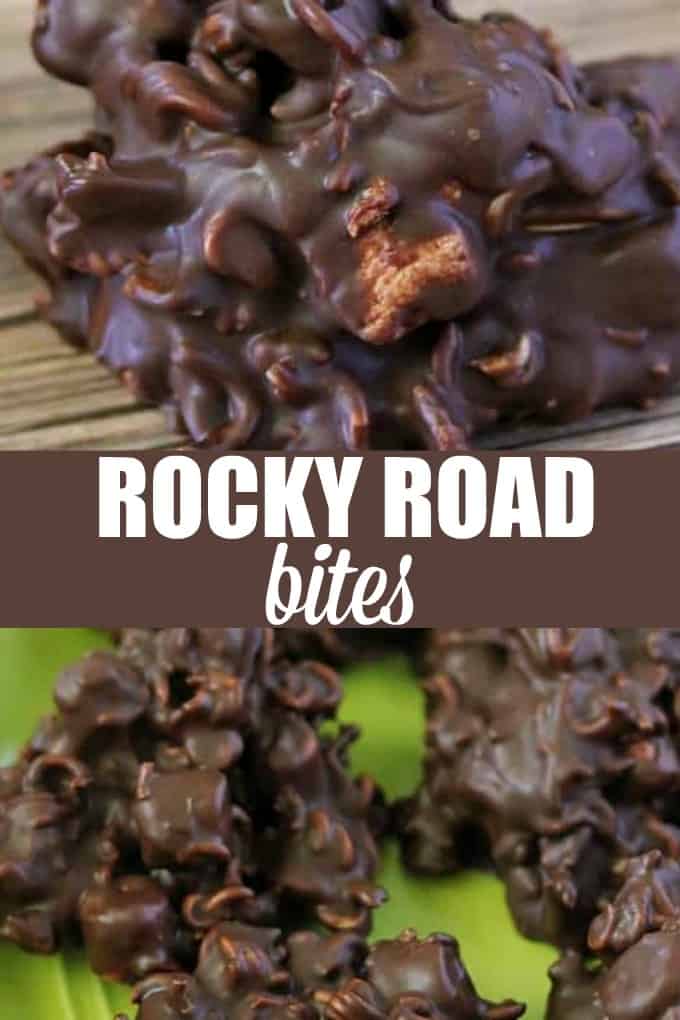 I'll be sharing more Rocky Road recipes coming up soon. I don't want all those marshmallows I bought go to waste!
Would you like a Rocky Road Bite?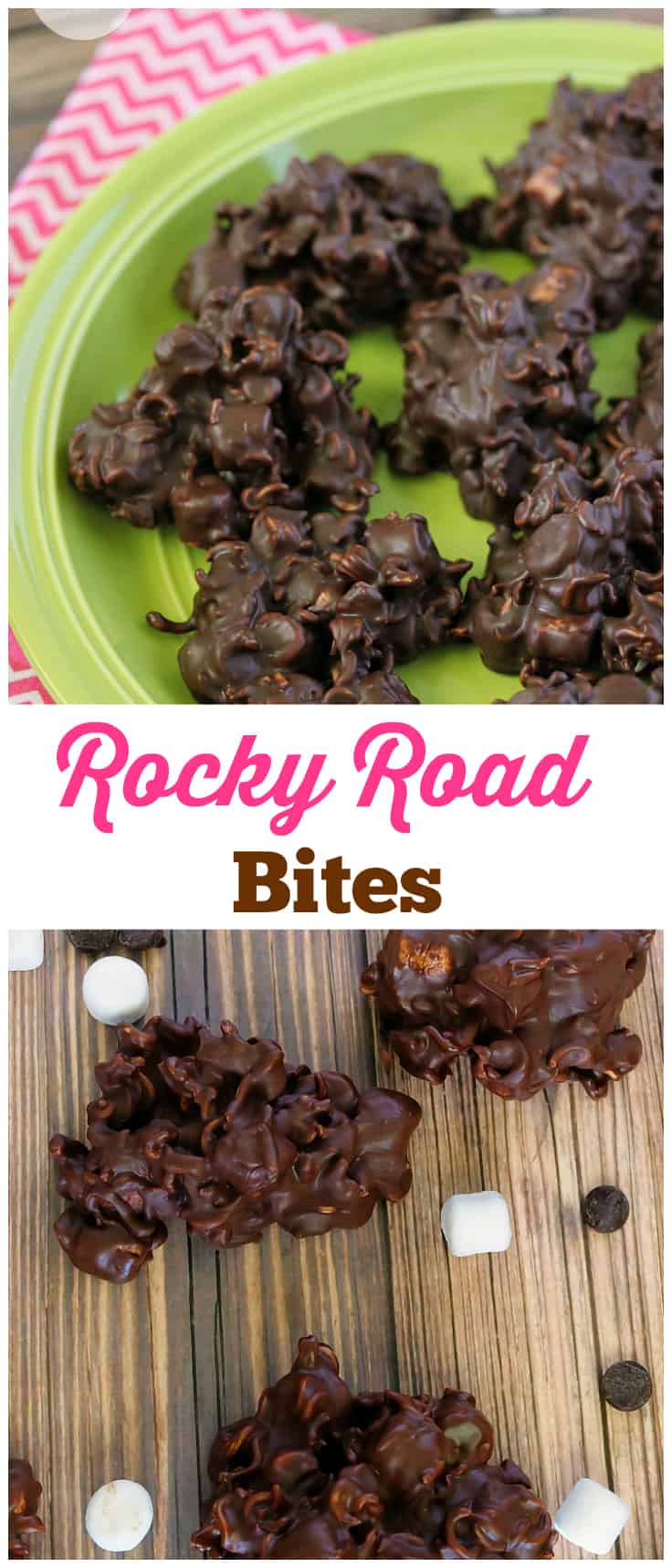 Yield: 10 to 12
Rocky Road Bites
A no-bake treat made with only four ingredients!
Ingredients:
1 cup semisweet chocolate chips
1/2 cup smooth peanut butter
1 package ramen noodles, broken up
1 cup mini marshmallows
Directions:
Line a baking sheet with waxed paper. Set aside.
In a medium size microwaveable bowl, add chocolate chips and peanut butter. Microwave on medium for 1 minute. Stir. If not entirely melted, return to microwave and microwave an additional 15 seconds. Then stir till melted.
Add in ramen noodles and marshmallows and stir to combine.
Drop by spoonfuls onto the baking sheet. Place in the fridge for 1 hour to set.
Break up the ramen noodles while still in the package to lessen the mess.