Cream of Asparagus Soup
Have you been having your fill of fresh, spring asparagus? 'Tis the season! I had been making asparagus the same way for years. I would steam it in my vegetable steamer that I received as a gift for my wedding. Then I'd play around with the toppings. Sometimes I'd add just a splash of fresh lemon juice and other times I make it more indulgent by topping with melted butter or a creamy sauce. More recently, I've been experimenting with other asparagus recipes like Roasted Asparagus, Pasta with Asparagus and Chicken and Bacon Wrapped Asparagus.
Today, I want to share this velvety smooth recipe for Cream of Asparagus soup made with white asparagus. I found it interesting to learn how farmers grow white asparagus. They cover the plant with mud and dirt as it grows so it doesn't absorb as much sunlight. The sunlight triggers the production of chlorophyll (remember photosynthesis?) and turns the asparagus green. White asparagus is thicker and requires more peeling. If you don't peel the bottom half, your dish will taste very bitter. So peel away!
Cream of Asparagus Soup
This post contains affiliate links.
Immersion blenders are so handy to have when you are making soup. You can blend it right in the pot instead of having to dump hot soup into a blender. I use one from Breville that I really like.
Easy peasy! If you see white asparagus, pick some up and give this recipe a try!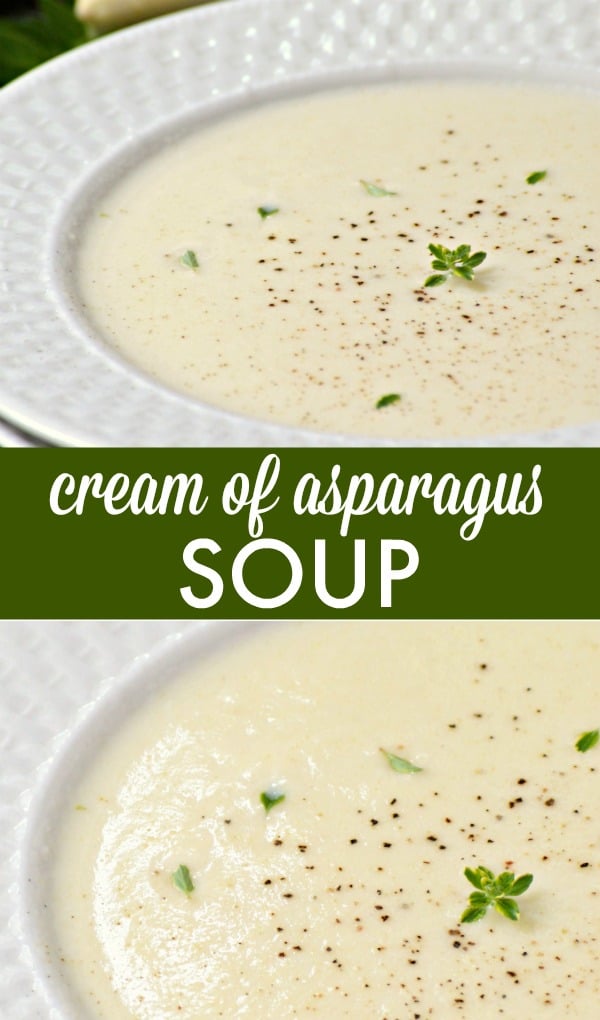 Have you tried white asparagus?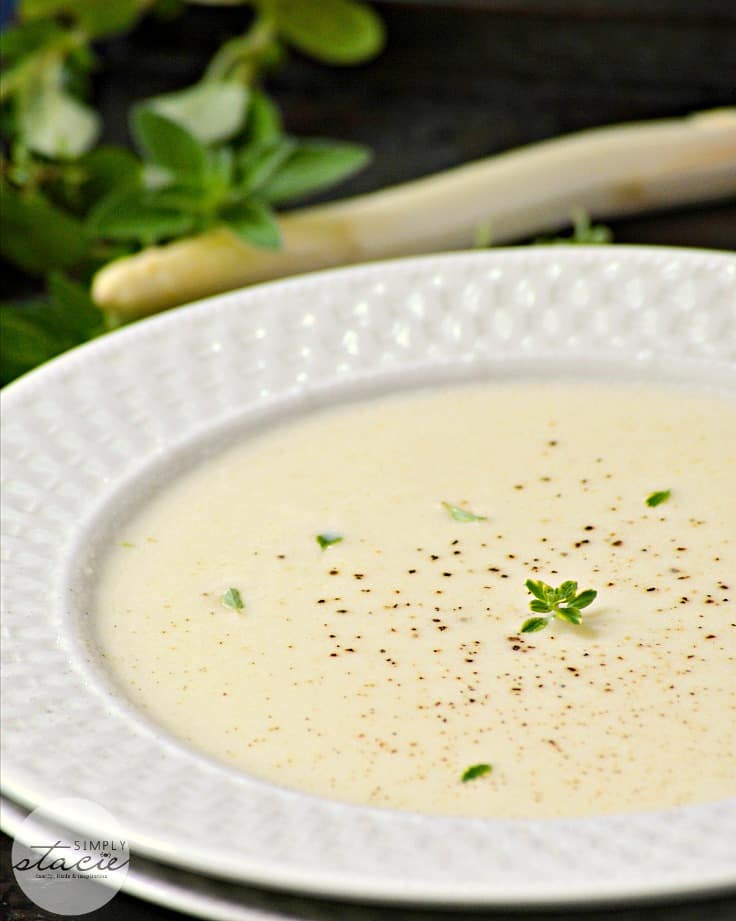 Yield: 4
Cream of Asparagus Soup
Velvety, smooth Cream of Asparagus Soup recipe made with white asparagus.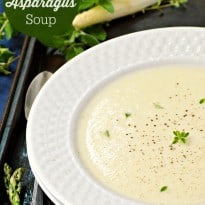 Ingredients:
2 bunches of white asparagus, peeled and cut in half
2 cups of vegetable or chicken broth
1/2 of shallot, chopped
2 tbsp butter
1 cup heavy cream or half & half
salt and pepper, to taste
Directions:
In a small saucepan, bring the asparagus, broth and shallots to a boil. Allow everything to simmer until the asparagus are soft when checked with a fork. Let cool for 10 minutes.
Blend the asparagus with broth until it's smooth and creamy.
Pour it back in the pan and bring it back to a slight simmer. Turn down the heat. Add the cream, making sure it does NOT boil. You only want to heat enough to get the soup hot again. Remove from heat and add the 2 Tbsp butter.
Check for salt and season to your taste. Add fresh ground pepper and decorate with your favorite herbs.