Brussels Sprout with Lemon & Pancetta
I have a confession to make. I'm 34 years old and I had never tried Brussels sprout until a few months ago. I was an extremely picky eater as a child. I never ate vegetables because I thought they smelled and tasted funny. I absolutely refused to try Brussels sprout. I thought the smell was so gross.
John loves Brussels sprout and asked me if we could have some for supper sometime. I eat my veggies now and thankfully grew out of my picky behaviour so I said sure. I've roasted them in the oven, but my favourite way to eat them is with a little bit of lemon, onion, mushrooms and pancetta. It's delicious!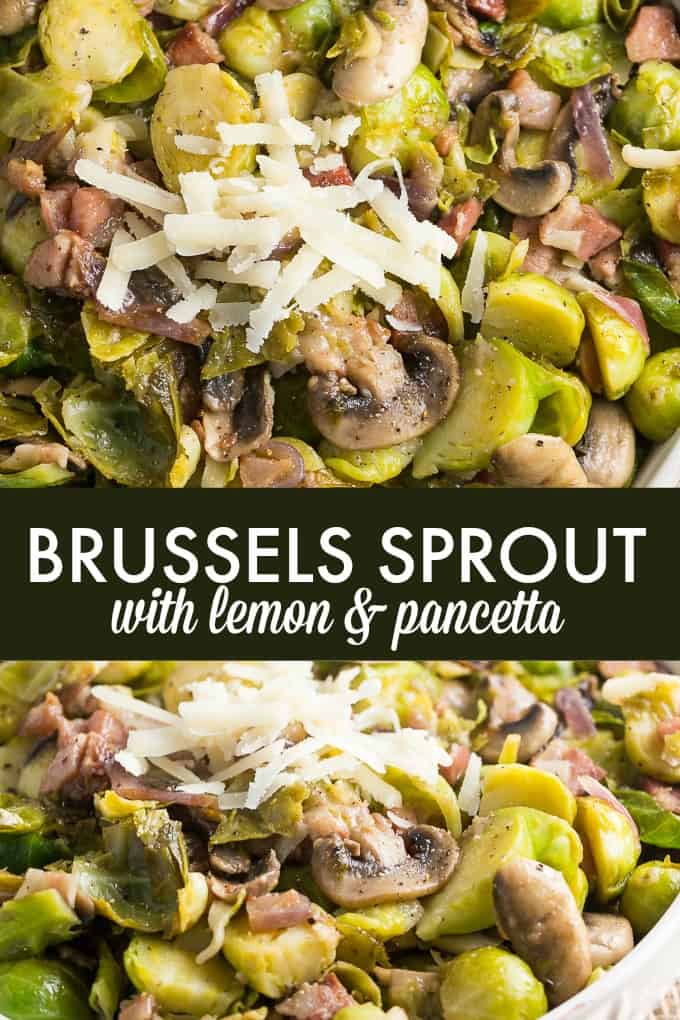 I first discovered this recipe on my Better Homes & Gardens recipes app on my iPhone. I modified it a little bit to cut down on preparation time. It takes about a half hour to prepare from start to finish.
Yield: 4
Brussels Sprout with Lemon & Pancetta
This recipe made me love brussels sprout again!
Ingredients:
2 1/2 pounds Brussels sprout
1 tbsp. olive oil
4 oz. pancetta, chopped (or use bacon if pancetta is not available)
2 cups sliced mushrooms
1 red onion, sliced thin
2 garlic cloves, minced
salt & pepper, to taste
2 tbsp. lemon juice
1/2 cup shredded Parmesan cheese
Directions:
Trim stems and remove any wilted leaves on Brussels sprout. Cut in half lengthwise.
In a large pot, bring salted water to a boil. Add in Brussels sprout and cook for 8 minutes. Drain and set aside.
In a skillet, heat oil over medium high heat. Add in pancetta and cook until crisp. Add mushrooms, onions and garlic to skillet and cook for 5 minutes.
Add Brussels sprout, salt & pepper to skillet. Cook and stir for 6 minutes. Remove from heat and add lemon juice. Stir to coat. Sprinkle with cheese and serve.