Imagine this: you've just arrived at your hotel for a much anticipated summer vacation. You begin to unpack and realize you forgot something important. Maybe it's your toothbrush, lipstick or worse, your favourite pair of comfy sandals. You start to panic and can't believe you didn't bring that essential item. It's not the most ideal start of a vacation, right?
The good news is that with careful planning, you can prevent this travel mishap from happening. Save yourself some stress on what's supposed to be a relaxing time and PLAN AHEAD.
It all starts at home when you are beginning to pack for your trip. For me, making a list is a must. I learned the hard way after forgetting to pack my pajamas on a trip a few years back.
To help get you (and me) organized for upcoming vacations, I've created a handy Summer Vacation Packing List for Her. It's a free printable you can download to your computer and print out at home. It lists all the essentials from clothing and footwear to important documents and electronics. I encourage you to print out a copy and start checking items off the list as you pack. You'll be starting your trip out on the right foot and won't have to worry that you are leaving something behind that you'll need.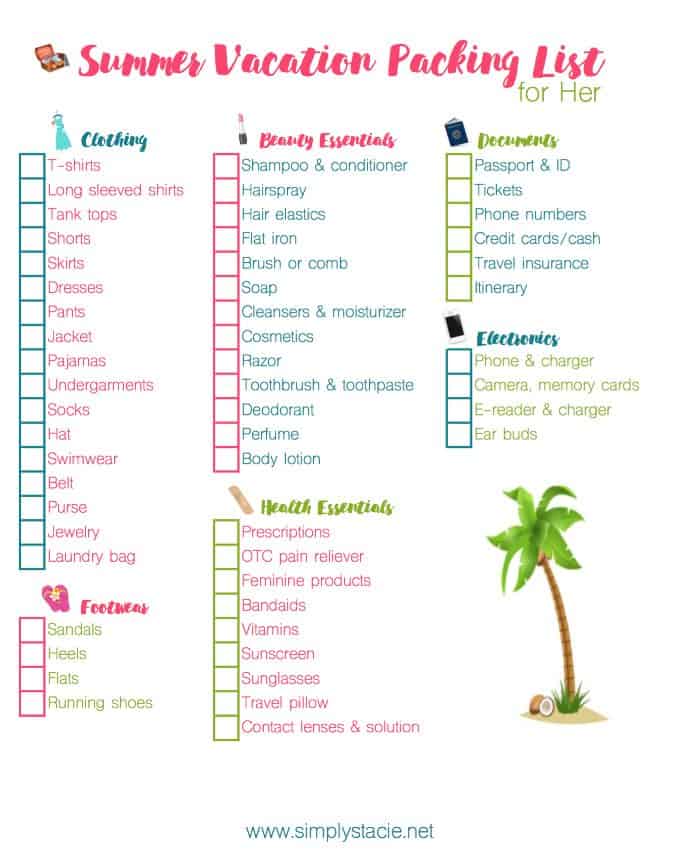 We have a couple trips on the horizon where I'll be putting this checklist to use. One trip is for a few days away to a resort in Ontario. The other one is still in the early planning stages, but may involve a cruise! I can't wait.