Fall is here ya'll and that means it's soup season! Yep – it's time to get out those fantastic soup recipes that you've been looking forward to all year! Although, I'm one of those people who can eat soup anytime of year so I've been enjoying this Very Veggie Chicken and Rice soup for months now. But some people just can't do hot soups in the spring or summer…and hey, that's ok! It makes it more exciting for them to eat soups when the weather finally cools off!
I love this soup for so many reasons…but one of the reasons is the convenience factor. Using a pre-cooked Rotisserie chicken is not only fast, but it enhances the flavor of this soup. Don't get me wrong…I like making chicken soup where I season my own chicken breasts and slow cook them in a pot of boiling water with onion and garlic but I don't always have time to do that. Using a Rotisserie chicken is the perfect solution when you don't have all day to cook!
And these vegetables ya'll! This soup is full of fiber! I love the addition of kale in this soup recipe. Kale is a power food and I try to include it in as many recipes as I can. Take a look here at my Lemon Butter Chicken recipe. In this recipe, I use spinach. But, you could very easily switch out the spinach for kale if you wanted.
I also chose to use okra in this recipe. This summer, I grew okra in my garden and I had a late harvest so I had okra everywhere! I started putting it in so many recipes and it turned out amazing! If you don't have access to okra, you don't have to include this ingredient in the soup (peas are a good substitute) but if you do have okra…definitely add it! If you're curious on the other dishes I added okra to, check out my Steamed Cabbage and Okra recipe. Oh my goodness – so delish!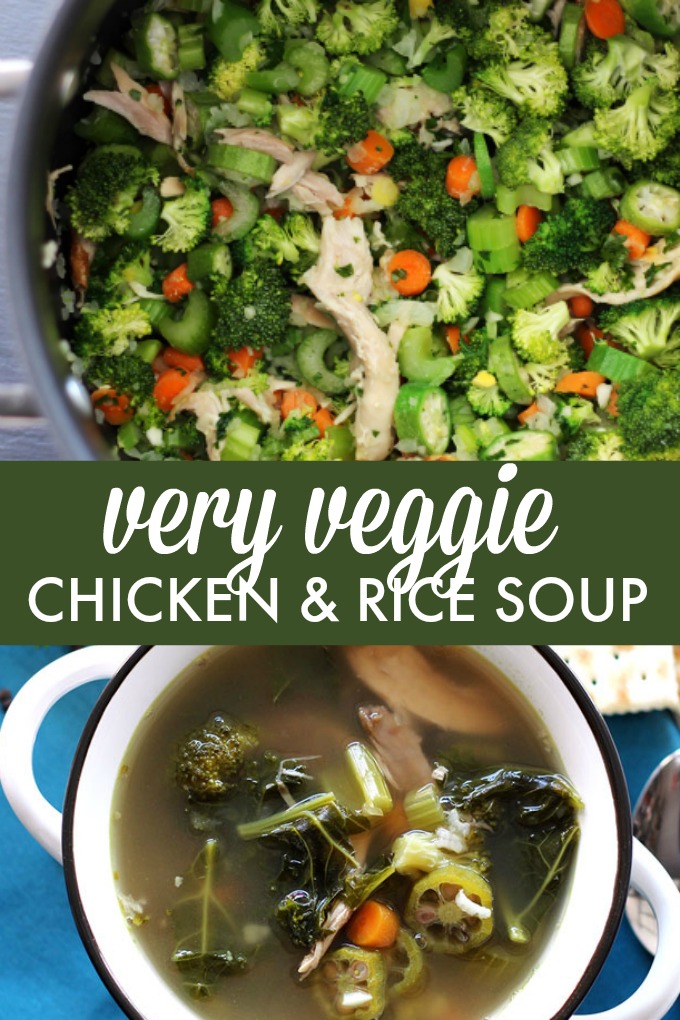 Instead of using a noodle for this recipe, I chose to use rice. I chose to include both long grain white and black rice. Long grain black rice is an excellent source of fiber and since this soup is already a "powerhouse" soup, I wanted to add another fiber layer. Black rice is used to help aid in digestion so it just fit instead of using a heavy noodle.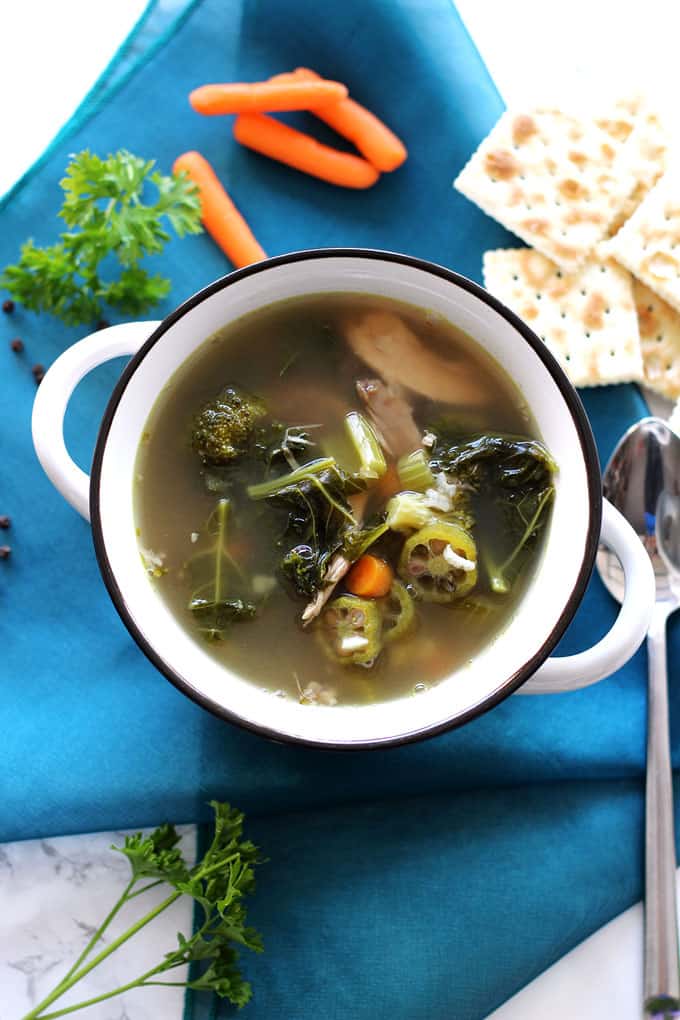 I'm telling you, you guys are going to LOVE this soup! It's so good for you (crazy nutritious) and is perfect for lunch, dinner or even a snack! This soup pairs really well with salad. I like to pair this Very Veggie Chicken and Rice Soup with my Apple and Berry Chopped Kale Salad with Citrus Basil Vinaigrette. That salad is also a powerhouse of fiber and nutrition, so they pair really well together!
You might also like this Busy Day Soup or Cabbage Roll Soup.
Enjoy this fabulous fall weather and enjoy this cozy soup!
Very Veggie Chicken and Rice Soup
One of the healthiest soups ever! This hearty chicken soup with black and white rice is filled with vegetables like broccoli, kale, celery, carrots, and okra. So filling and delicious!
Ingredients
1 cooked Rotisserie Chicken
10 cups of chicken broth
1 large onion, chopped
3 cups of broccoli florets
2 cups sliced carrots
2 cups chopped celery
2 cups raw kale, chopped into bite-sized pieces
¼ cup chopped parsley
½ cup uncooked long grain white rice
½ cup uncooked long grained black rice
4 garlic cloves, chopped
1 cup sliced okra
2 Tablespoons chopped ginger
2 Tablespoons Olive Oil
1 Tablespoon apple cider vinegar
1 bay leaf
1 teaspoon salt
½ teaspoon fresh ground pepper
Instructions
Shred Rotisserie Chicken with hands, discard of bones and skin and place chicken meat in a bowl. Set aside.
Chop/slice your vegetables: onions, garlic, celery, carrots, broccoli, parsley and fresh ginger.
Place the olive oil in a large pot and set heat to medium-high temperature.
Once the oil is heated, add the apple cider vinegar, uncooked rice, chopped onions, garlic and fresh ginger and sauté for 3 minutes.
After 3 minutes, add in the celery, chopped kale, and half of the Rotisserie Chicken and mix well, sautéing for 2-3 more minutes.
Add in the remaining chicken, the chicken broth, broccoli, okra and bay leaf.
Bring the soup to a boil, then lower the heat
Cover and simmer for 25 minutes.
Recommended Products
As an Amazon Associate and member of other affiliate programs, I earn from qualifying purchases.
Nutrition Information:
Yield:

12
Serving Size:

1
Amount Per Serving:
Calories:

152
Total Fat:

5g
Saturated Fat:

1g
Trans Fat:

0g
Unsaturated Fat:

3g
Cholesterol:

28mg
Sodium:

1090mg
Carbohydrates:

17g
Fiber:

3g
Sugar:

4g
Protein:

11g