Whip up these Easy Garlic Twists using canned biscuits. This is such an easy way to make garlic twists that are tender bread, savory garlic, and finger-licking good.
My youngest daughter often requests for me to make garlic bread. She normally ends up eating half a loaf and not the rest of her dinner! Kids!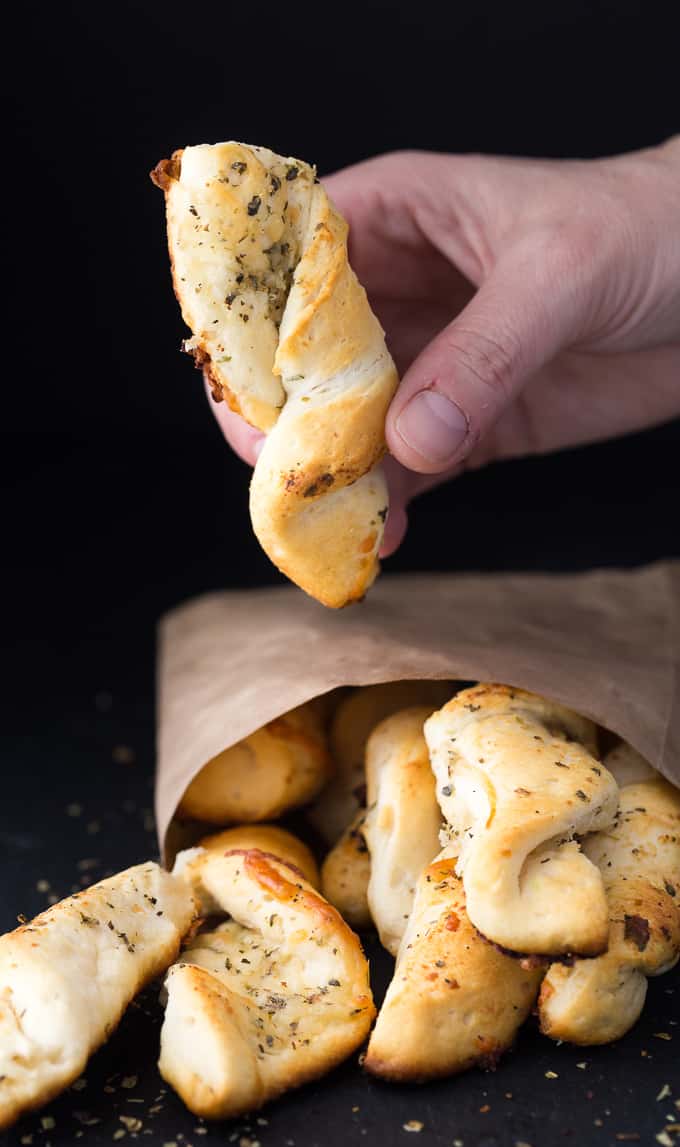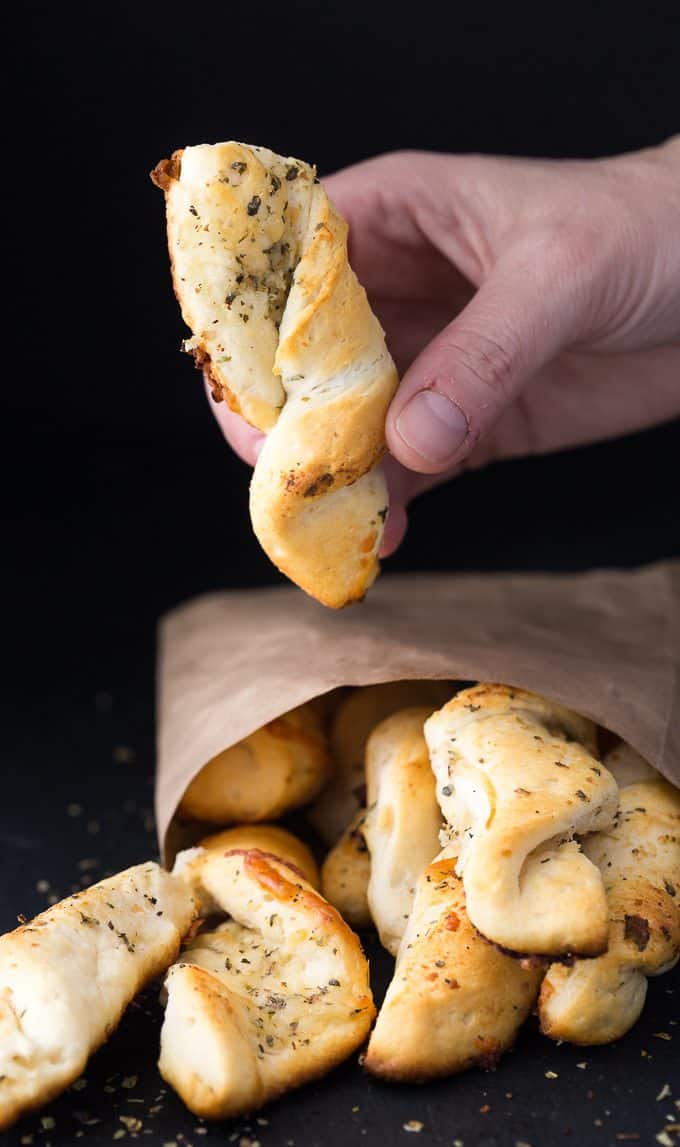 Garlic Twists
I had a tube of Pillsbury biscuits kicking around and wanted to make them garlicky for her. Instead of cooking them as biscuits, I ended up making these easy garlic breadsticks or as we're calling them, Garlic Twists. Not surprisingly, Bridget went wild for them and ate more than her fair share. The rest of us were able to snag a couple before they were gone.
All I really did was flatten out the biscuits with the palm of my hand to stretch them out into a rectangle. Then I brushed on my buttery garlic seasoning and cut them in half. I rotated each one until they were in a twisty shape and baked in the oven. Easy peasy!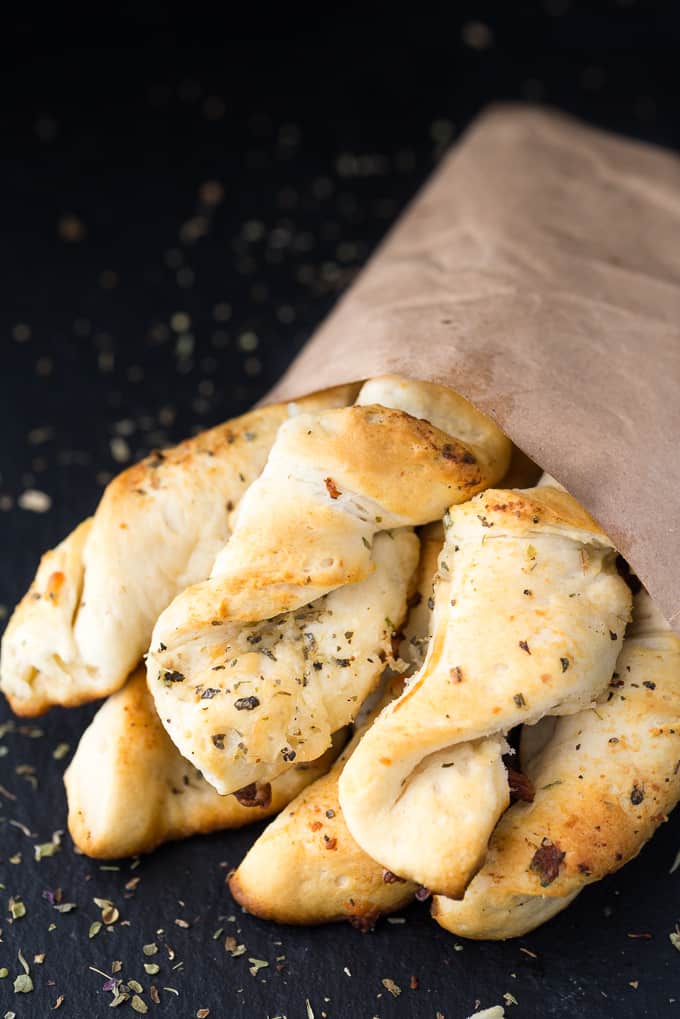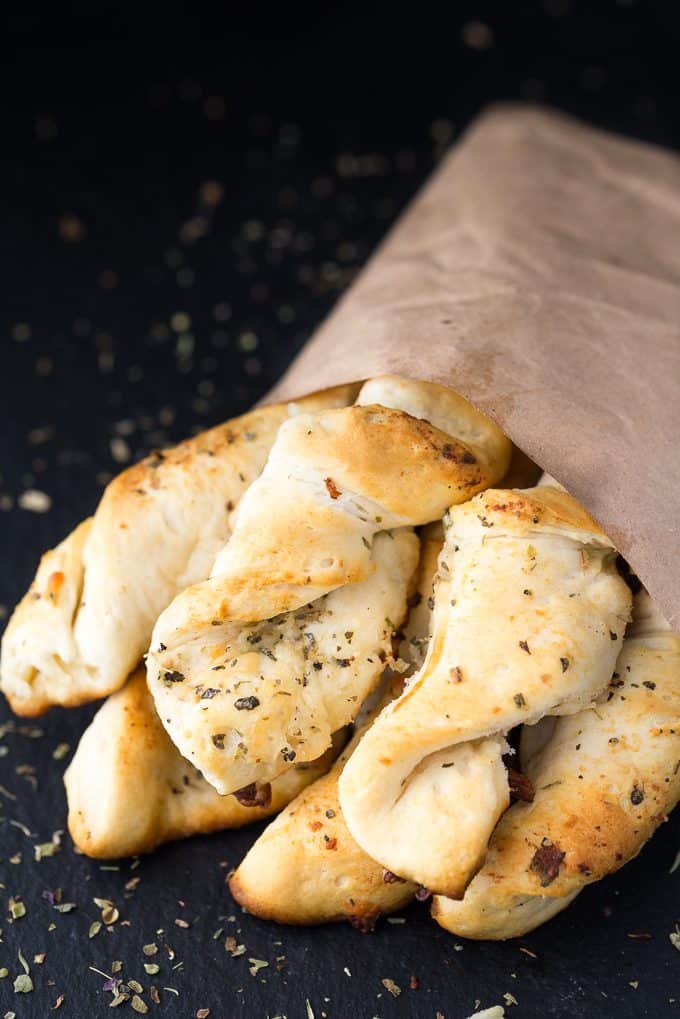 What Type of Biscuits to Use for Garlic Twists
I think any kind of refrigerated biscuits you can find should work. If you don't have the Country Biscuits where you live, try using another kind and follow the same method. I like the refrigerated biscuits vs. making my own because they save on time.
They are wonderful served warm. The dough is fluffy and the flavour packs a soft garlic punch. Serve with some pasta and you are golden. I recommend dipping them in your tomato sauce!
Could I Use Pizza Dough Instead of Biscuits
Yes, you very well could swap it out for pizza dough. The only thing is you would have to cut and shape it where the biscuits would be less work. But either would taste really good slathered in this garlic and butter.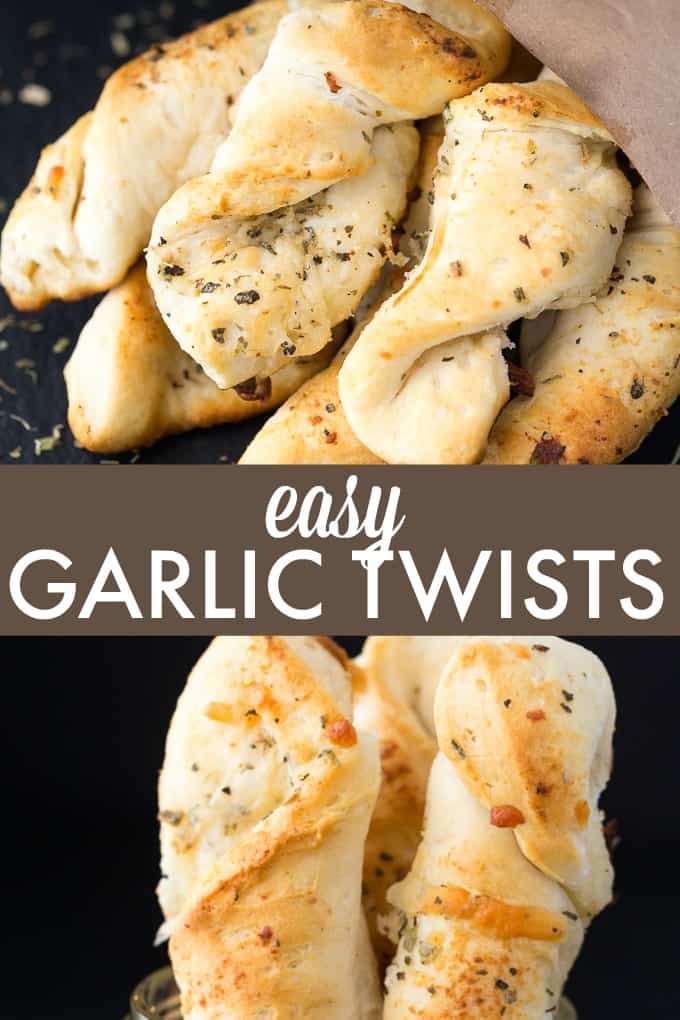 How to Make Garlic Twists
The first thing is to turn the oven on and then prepare your baking sheet. Use a Silpat or spray with cooking spray. Then you will take your melted butter and mix it with cheese and garlic, along with seasoning. Stir well.
Then begin separating out your biscuits and flattening them out with your hand. Shape into rectangles, and then spoon some butter mixture into the biscuit. Fold halfway with a knife, and then brush with leftover butter and bake until golden brown.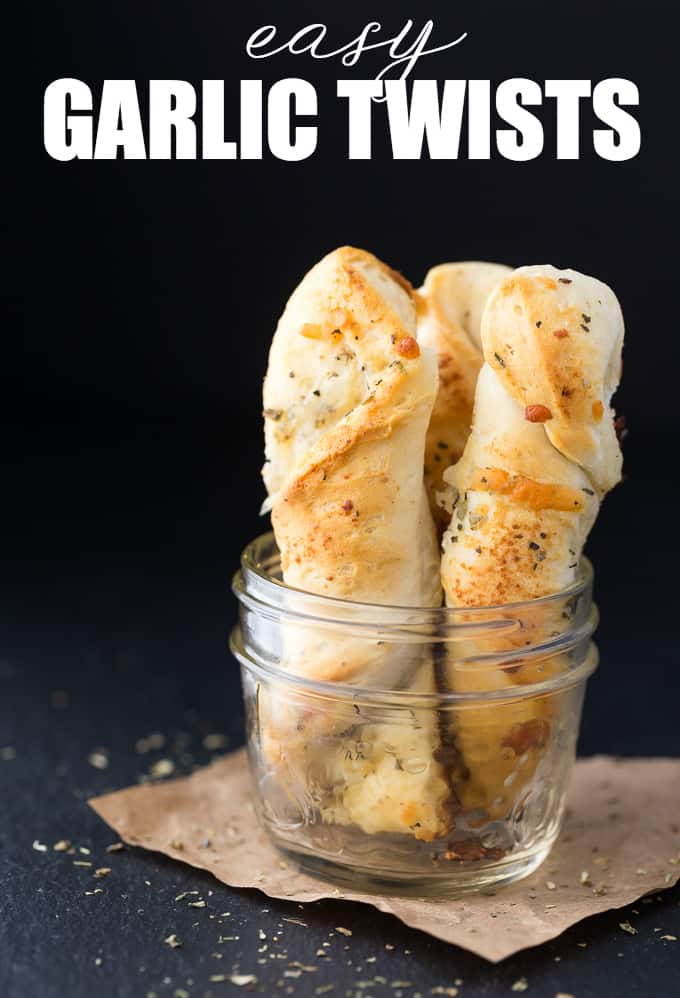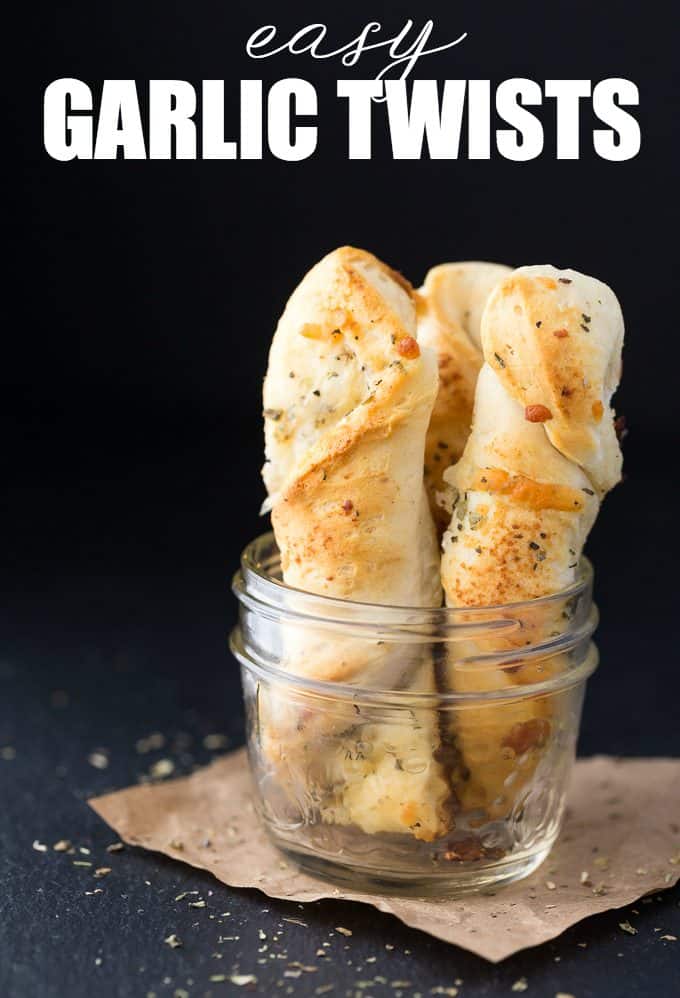 What to Serve with Garlic Twists
Baked Chicken And Tarragon Pasta | A baked dish that is going to be loaded with flavor. Use your twists to dip and slather up all the rich sauce.
Lasagna Stuffed Chicken | One of my favorite ways to get lasagna flavor in a stuffed chicken recipe. Soak up the sauce with your tender twists.
Tomato Florentine Soup | You will even find this is great for pairing with soup. There is no wrong way to serve up garlic twists on the side of any main dish you whip up.


How Do You Store Garlic Twists
You will want to allow your twist to cool and then place all leftovers on a piece of aluminum foil and wrap tightly. Then store in the refrigerator for 2-3 days. You will find these are best when served fresh and warm. If you do eat them leftover toss in the microwave for a quick reheat or opt to reheat in the oven.
I find the oven gives you a more fresh out of the oven taste with a better texture. Cover twists and place in the oven at 325 and heat until warmed through. Then pair with your main dish or eat as a snack.
Can I Double This Garlic Twist Recipe
Of course, you can make as many or few twists as you would like. I have made these for our weeknight meal and also for when we entertain. I have found you just batch cook if you don't have enough room in the oven to cook them all up at once.
Fresh Garlic for Garlic Twists
Also, as a note, I have found fresh minced garlic offers the best flavor for these garlic twists. I have used the jarred minced garlic and it isn't quite as fresh tasting as mincing your own. You can use a lemon zester to shave your garlic to get a super fine texture.
Pair these garlic twists with any recipe you have a craving for. Whether it be a soup, tomato sauce, creamy sauce dish or more.
Do you make your own breadsticks?
You'll also like these Cheesy Garlic Biscuits.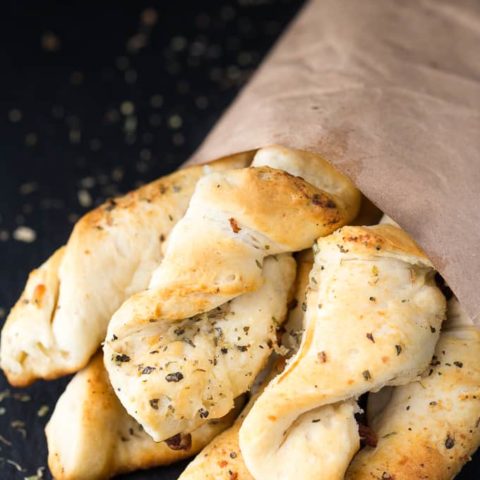 Easy Garlic Twists
The easiest garlic bread! Take those canned biscuits and make the best savory side dish with butter, Italian seasoning, Parmesan, and mozzarella.
Ingredients
3 tbsp butter, melted
1/4 Italian cheese blend (I used Parmesan and mozzarella, shredded)
1 tsp Italian seasoning
4 cloves garlic, minced
1 package of refrigerated biscuits (I used Pillsbury Country Style biscuits)
Instructions
Preheat oven to 400F. Spray a baking sheet with cooking spray and set aside.
Add Italian seasoning, garlic and cheese to the melted butter in a bowl and stir to combine.
Separate out biscuits and then flatten out with your hand to make them a rectangle shape. Add a small spoonful of the butter mixture onto each biscuit and spread with your spoon.
Cut the biscuits down the middle lengthwise with a knife. With your fingers, twist each a few times. Place on baking sheet. If you have any leftover butter, you an brush it on the twists.
Bake for 10 minutes or until golden brown.
Recommended Products
As an Amazon Associate and member of other affiliate programs, I earn from qualifying purchases.
Nutrition Information:
Yield:

20
Serving Size:

1
Amount Per Serving:
Calories:

32
Total Fat:

3g
Saturated Fat:

1g
Trans Fat:

0g
Unsaturated Fat:

1g
Cholesterol:

6mg
Sodium:

36mg
Carbohydrates:

2g
Fiber:

0g
Sugar:

0g
Protein:

1g