Frozen Peanut Butter Pie is going to be the perfect pie to serve up this spring and summer to beat the heat! This peanut butter pie has a pretzel crust, layer of chocolate, fluffy peanut butter, and of course a caramel layer. Fluffy, delightful, and an outstanding frozen dessert that anyone would love.
Frozen Peanut Butter Pie (try my classic Peanut Butter Pie too) seriously is my go-to dessert in the spring and summer months. There is something about a frozen fluffy pie that instantly soothes the soul. I made this the other night for some friends who came by, and they begged for the recipe! I have yet to serve this to one person who hasn't fallen in love.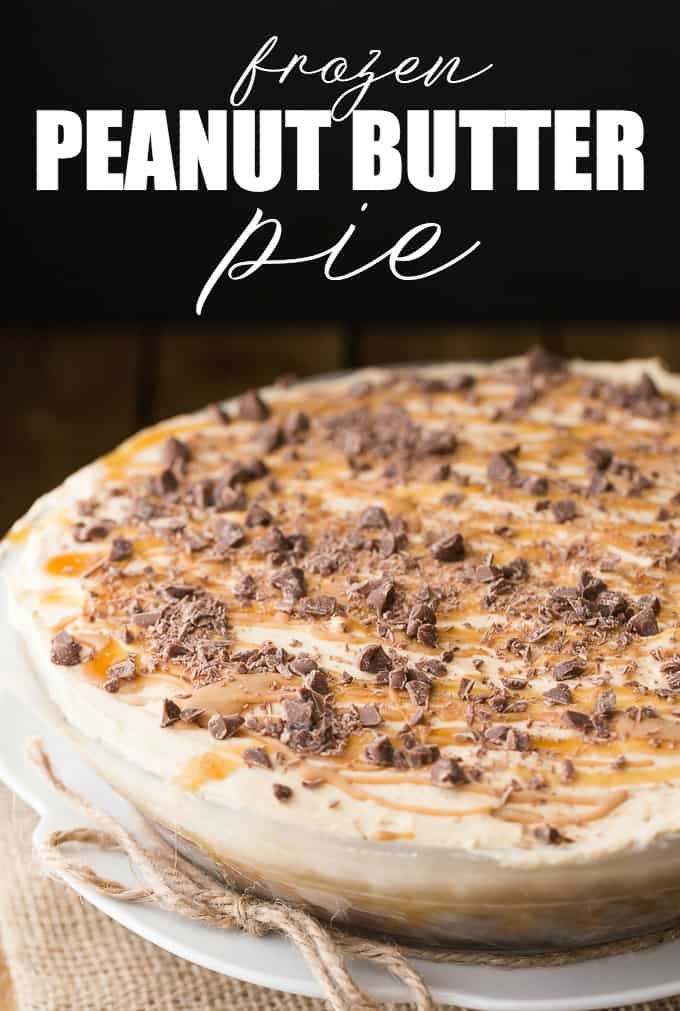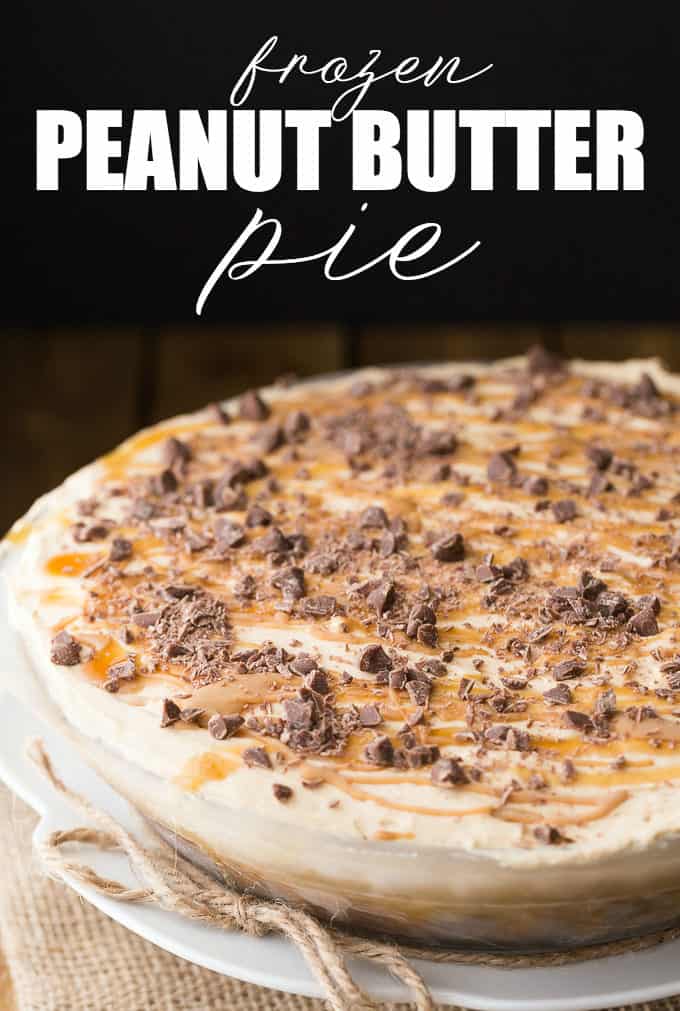 The Best Frozen Peanut Butter Pie Recipe
There is a bit of a process that goes into making this pie. You prep the crust, create a chocolate layer, followed by peanut butter layer, and lastly, you make a homemade caramel sauce. Every step will be worth it when you slice into your homemade frozen chocolate peanut butter pie. TRUST ME!
Peanut Butter Lover? Here are more tasty recipes to try


Do I Have to Make a Homemade Crust
No! You are welcome to opt out of the pretzel crust and reach for a graham cracker or even chocolate cookie crust. I will say the pretzel crust adds that sweet and salty factor to the pie, which in our opinion elevates the flavor by quite a bit. But you are welcome to use a different style crust.
How Do You Make a Pretzel Crust for a Pie
Making the pretzel crust is rather simple. Start by crushing your pretzels to a fine consistency. You can use a blender and pulse it, food processor, or grab a sealable bag and go to town using a rolling pin and pounding and breaking up the pretzels to a fine sand-like consistency. Mix with some sugar, and melted butter and then press into your pie pan! Bake for 7-10 minutes and allow to cool while you are prepping the other items that go into the pie.
Peanut Butter Cream Cheese
The peanut butter cream cheese layer is what is going to make this cake taste like ice cream. It will offer a similar consistency when you serve it fresh from the freezer! I used creamy peanut butter in my recipe because I love that super velvety and smooth texture. If you want you are welcome to use crunchy peanut butter.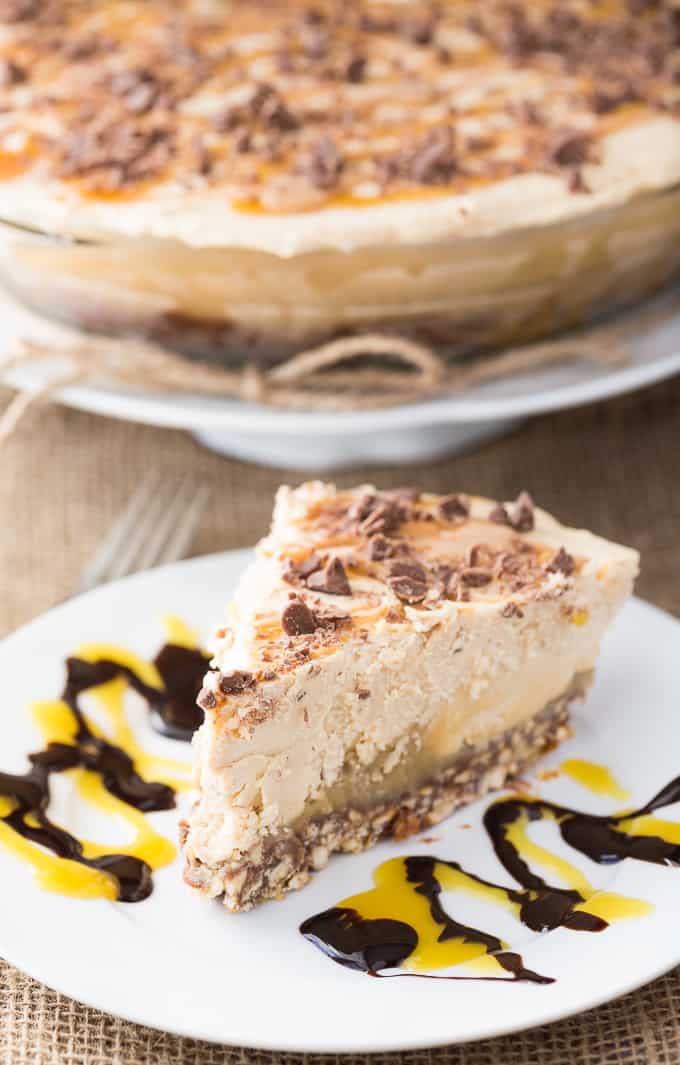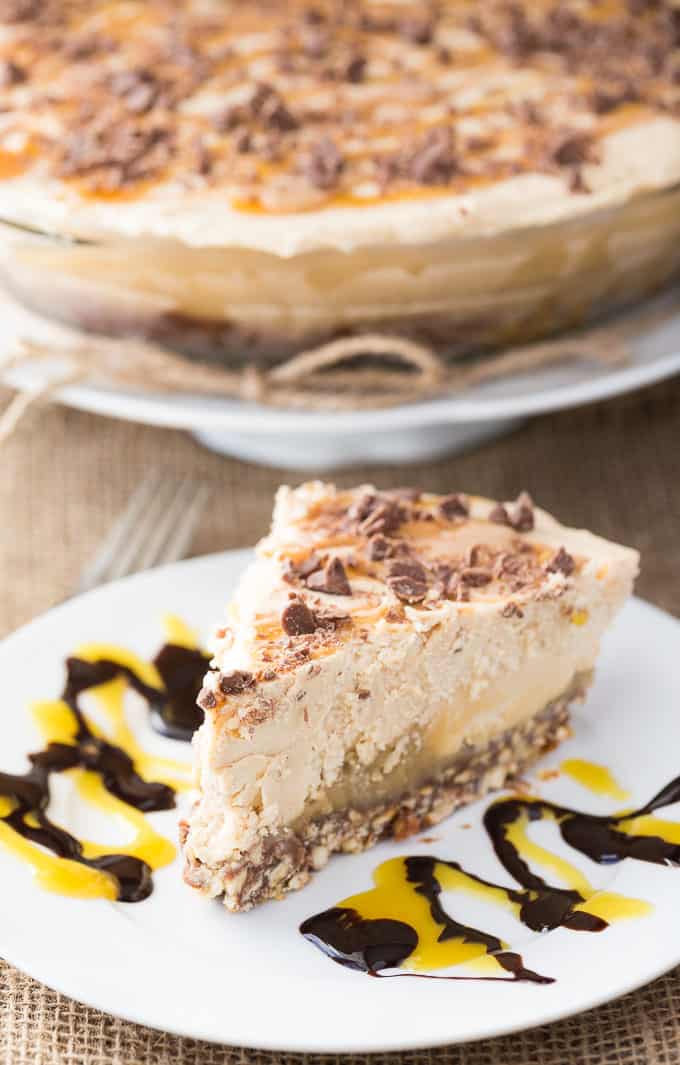 How Do You Store Leftover Frozen Peanut Butter Pie
Just store any of the pie you don't eat right away in the freezer. Just make sure to put a lid on your pie or cover the dish tightly with two layers of aluminum foil. This will help to prevent it to create ice crystals or freezer burn.
Best Way to Slice Peanut Butter Pie
Run your knife under hot water for a few minutes or soak your knife in a cup with warm water. Then hurry and dry off your knife and then slice through the frozen pie. It will make cutting it so much easier and offer you beautiful clean lines for presentation value.
How to Make Frozen Peanut Butter Pie from Scratch
First, you want to make your pretzel crust. Just follow the instructions listed below, and bake and allow fully to cool before you pour in your chocolate layer.
While your pie crust is cooling, you can start working on your chocolate layer of the pie. I used a small saucepan and brought some heavy cream to a simmer. Once it was simmering, I removed it from the head, add chocolate chips and corn syrup. Gave it a good stir until fully melted. Then covered and let it stand for two minutes. Then beat the mixture until it becomes glossy. THen poured over the crust and tossed in the fridge until it set up and was cooled.
Then while the chocolate cooled I created my caramel layer. You just mix your butter, brown sugar, corn syrup, and heavy cream. Allow it to boil and cook for two minutes to bring out that buttery caramel flavor. Once it was done, allow to cool and pour over your chocolate later. Leave some for drizzling on top of the pie.
I then starting to beat room temperature cream cheese until fluffy. Then spooned in the butter, vanilla, powdered sugar, and peanut butter and mixed until light and fluffy. Then folded in the whipped cream and poured over the caramel layer in the pie.
Lastly, I drizzled over caramel, peanut butter, and chocolate and then tossed in the freezer until it was frozen and ready to serve.
Peanut Butter Pie
Like I said I know there are some steps involved, but each step is worth it. The flavors of homemade caramel next to the homemade chocolate sauce, it elevates the flavors and makes it stand out from other peanut butter pie recipes you see online!
Have you ever tried a Frozen Peanut Butter Pie?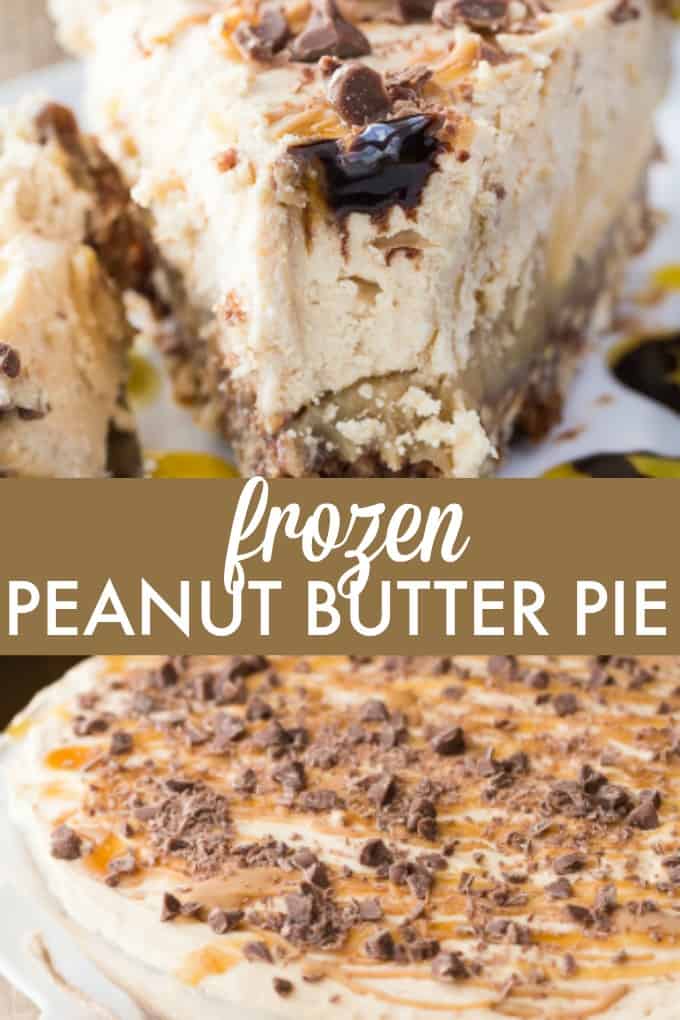 You'll also like this Kool Aid Pie, Fudge Pie and Black Bottom Banana Cream Pie.
Ingredients
1 ½

cups

finely crushed pretzels

¼

cup

sugar

6

tbsp

melted butter

½

cup

heavy cream

1

cup

milk chocolate chips

2

tbsp.

light corn syrup

⅔

cup

salted butter

½

cup

brown sugar

8

oz

cream cheese

1 ½

cups

peanut butter

1

tbsp

butter

1 ¾

cup

powdered sugar

2

cups

whipping cream

3

tbsp

melted peanut butter

3

tbsp

milk chocolate chips
Instructions
Combine 1 ½ cups finely crushed pretzels, ¼ cup sugar, and 6 tablespoons melted butter in a 9 inch pie pan, mix well and press firmly into the pan. Bake in a 350℉ oven for 7 to 10 minutes. Set on cooling rack and cool completely.
Chocolate Layer
In a small saucepan bring ¼ cup heavy cream to a simmer. Once the cream comes to a simmer remove from heat, add 1 cup of milk chocolate chips and 1 tablespoon of light corn syrup. Cover and let set for about 2 minutes. Beat the chocolate, cream, and light syrup until smooth and glossy. Pour this over the cooled crust and refrigerate until the chocolate is cooled and set.
Caramel Layer
In the mean time prepare caramel layer. In a small sauce pan combine ⅔ cup butter, ½ cup brown sugar, 1 tablespoon light corn syrup, and ¼ cup heavy cream. Stirring constantly bring this to a boil and cook for 2 minutes. Cool to almost room temperature and pour over chocolate layer. Reserve about 2 tablespoons of caramel sauce to drizzle over top of pie.
Peanut Butter Layer
In a large mixing bowl beat 8 ounce of cream cheese (make sure the cream cheese is room temperature) until fluffy. To this add 1 ½ cups of peanut butter, 2 teaspoons vanilla, 1 tablespoon butter, and 1 ¾ cups of powdered sugar. Beat all ingredients until well blended and fluffy, set aside. In another large mixing bowl beat 2 cups of whipping cream until stiff peaks form. Fold the whipped cream into the peanut butter mixture until well blended. Pour over the caramel layer.
Topping
Drizzle over top of pie with the remaining caramel (this may need to be heated a little until it is runny enough to pour), then drizzle 3 tablespoons of melted peanut butter (melted in the microwave until slightly runny), and sprinkle with 3 tablespoons of chopped milk chocolate chips. Place in freezer and freeze 3 to 5 hours before serving.
Kitchen Tools
Nutrition
Serving:
1
g
|
Calories:
1658
kcal
|
Carbohydrates:
113
g
|
Protein:
25
g
|
Fat:
129
g
|
Saturated Fat:
65
g
|
Polyunsaturated Fat:
51
g
|
Trans Fat:
3
g
|
Cholesterol:
248
mg
|
Sodium:
951
mg
|
Fiber:
6
g
|
Sugar:
87
g
The information shown is an estimate provided by an online nutrition calculator. It should not be considered a substitute for a professional nutritionist's advice.
Love Recipes? Join our Free Facebook Group!
Join Mom's Best Recipes to find more delicious family recipes.
Save
Saved!