I'm from the south here in the United States and let me tell you, the south serves up some amazingly delicious food! I am so excited to share this Chess Pie recipe with ya'll, not only because it tastes so good but the story behind the name is a classic.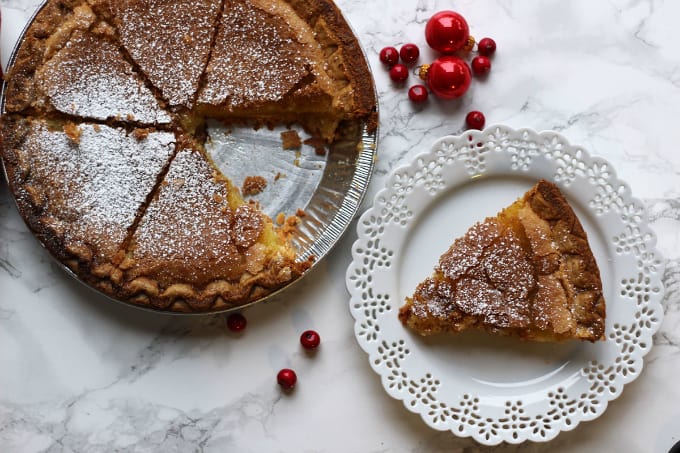 I've mentioned before that my dad is a wonderful baker. Don't get me wrong; he's also a fabulous cook. Growing up as a child, he would always be coming up with the most wonderful recipes, like this Southwest Stew and let me tell you his recipes are so goooood! But daddy's baked good are amazing!
I remember coming home from middle school one day and daddy was in the kitchen baking a pie I'd never seen before. I asked him, "What are you making?" He said, "Jest Pie", with a big ole smile on his face! Ok, let me break this southern speak down for you…
"Jest Pie" is pronounced "Chess Pie", but there's a story associated to this pie's history. Back in the 1930's and 1940's my grandparents didn't have a lot of money to buy fancy foods, so they made do. My grandmother would often just throw ingredients they had in the house together to make meals. My dad told me this is a recipe that his mom used to make all the time and her kids raved over it! Nanny Peach (my grandmother) also told them…."Jest Pie, ya'll.". That really translates to "It's just pie, you guys."
But what's so funny is that the "Jest Pie" in a slow southern accent sounds like "Chess Pie"…so that's where it the name Chess Pie comes from. For years, people thought Nanny Peach was saying "Chess Pie" because she has the thickest southern drawl in her voice! Gosh…I love this story and every time daddy re-tells it, I love it that much more!
This Chess Pie recipe is super easy to make and when you read the ingredients list, you'll see that you probably have most, if not all of the ingredients in your refrigerator and/or pantry. Daddy makes this Chess Pie year round. It's perfect in the summer and perfect in the winter.
Since the holiday season has arrived, I'm excited to share this Chess Pie with you! It's the most unique pie and a guaranteed crowd pleaser! And when your guests where the name came from, you can now tell my story! Oh, and for more of my daddy's wonderful baked goods…check out his Homemade Red Velvet Cake and my Aunt Sondra's Homemade Cinnamon Rolls.
Try this Oatmeal Pie, too.
Happy Holiday's my friends and Happy Eats!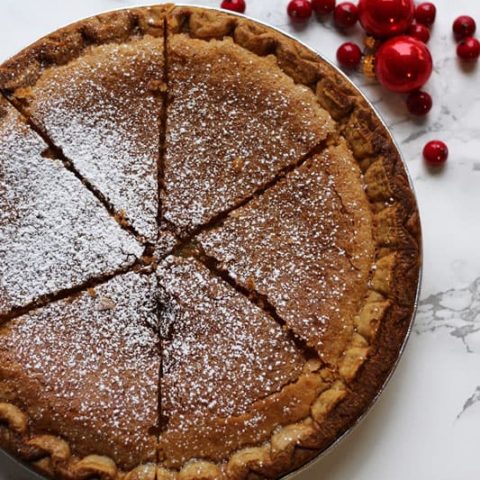 Chess Pie
Total Time:
1 hour
10 minutes
A Southern classic dessert for every sweet tooth! This sweetened vanilla pie is great with ice cream or whipped cream.
Ingredients
3 cups white granular sugar
2 sticks of unsalted butter, softened
6 eggs
1 Tablespoon Flour
1 teaspoon corn meal
1/8 teaspoon salt
1 teaspoon vanilla extract
1 teaspoon white vinegar
2 unbaked pie shells
Powdered sugar, optional
Instructions
In a large bowl, cream the butter with a hand mixer or standing mixer.
Add all other ingredients into the bowl with the butter (excluding the pie shells) and mix on high speed until well blended.
Pour mixture into 2 9 inch unbaked pie shells.
Bake at 350F for 1 hour.
Top with powdered sugar.
Notes
Makes two pies with 6 to 8 slices per pie.
Recommended Products
As an Amazon Associate and member of other affiliate programs, I earn from qualifying purchases.
Nutrition Information:
Yield:

16
Serving Size:

1
Amount Per Serving:
Calories:

353
Total Fat:

15g
Saturated Fat:

8g
Trans Fat:

0g
Unsaturated Fat:

6g
Cholesterol:

100mg
Sodium:

76mg
Carbohydrates:

53g
Fiber:

0g
Sugar:

47g
Protein:

3g