Before I met my US friends, I thought Puppy Chow was something you fed to dogs. There's another version that is safe for human consumption (but not dogs!) and it's basically cereal coated with melted chocolate, icing sugar and whatever other kinds of ingredients you want to add like candies, peanut butter, etc. It makes a crunchy, sweet treat!
I've got an Easter Puppy Chow Mix recipe to share today made with a variety of coloured candy melts . You can add or take out ingredients to make it your own or follow the recipe. Enjoy!
You'll also like this Leftover Easter Candy Rice Krispies.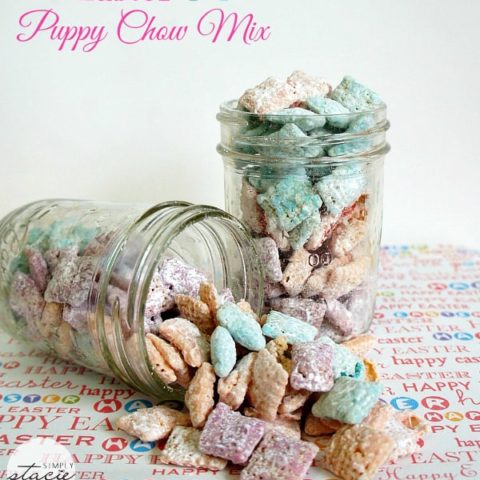 Easter Puppy Chow Mix
Munch away on this sweet snack!
Ingredients
½ bag pink Wilton Candy Melts
½ bag purple Wilton Candy Melts
½ bag blue Wilton Candy Melts
(3 – one for each color candy melt) ¼ teaspoon shortening (like Crisco)
6 cups Chex Rice Cereal
3 cups confectioner sugar (more or less depending on your desired result)
Instructions
Divide your Wilton candy melts into three different microwave safe bowls.
Heat for 45 seconds, then stir, put back into the microwave and heat an additional 30 seconds. Remove and stir, then heat again for 30 seconds.
Add ¼ teaspoon shortening and stir – this helps liquefy the candy melts and makes it easier to coat the rice cereal without getting too thick and bumpy.
Repeat this process with each color.
In a large sized Ziploc bag, pour 2 cups Chex Rice Cereal and coat with one bowl of the melted candy melts. Repeat this process with two more Ziploc bags with the remaining colors. Gently shake the bag, rolling slowly, to completely coat the Rice Cereal with the melted candy melts. Repeat with each color.
Line a cookie sheet with waxed paper and empty one bag of rice cereal mixture on a cookie sheet. Spread the cereal mixture out as flat as possible.
Using a sifter, sift confectioner sugar over the top of the rice cereal mixture, evenly coating the entire mixture. Pick up the waxed paper by the edges and gently roll the mixture around so that the confectioner sugar completely coats the warm candy. Repeat this process as much as you need to get the desired coating.
Place the waxed paper in the fridge for about five minutes to harden. Repeat this process with the remaining two colors of melted Wilton candy melts.
Note: you can also sprinkle the candy-coated rice cereal with sprinkled or colored sugar before coating in confectioner sugar for extra effect!
Recommended Products
As an Amazon Associate and member of other affiliate programs, I earn from qualifying purchases.
Nutrition Information:
Yield:

4
Serving Size:

1
Amount Per Serving:
Calories:

499
Total Fat:

1g
Saturated Fat:

0g
Trans Fat:

0g
Unsaturated Fat:

1g
Cholesterol:

0mg
Sodium:

222mg
Carbohydrates:

122g
Fiber:

0g
Sugar:

88g
Protein:

3g