Cherry Cupcakes are a white cake mix that is doctored with cherries and topped with a rich, smooth white chocolate glaze. Light, moist, and absolutely delicious. I highly recommend making these cherry cupcakes for any of your entertaining needs.
This recipe was originally supposed to be for cake pops. I had my cake pop maker all ready to go, but after one batch I decided to forgo the whole thing and turn it into cupcakes. Let's just say the cake pops were a disaster! If I try them again, I will make them by hand.
Anyway! I made cupcakes and salvaged the recipe. In fact, they turned out beautifully!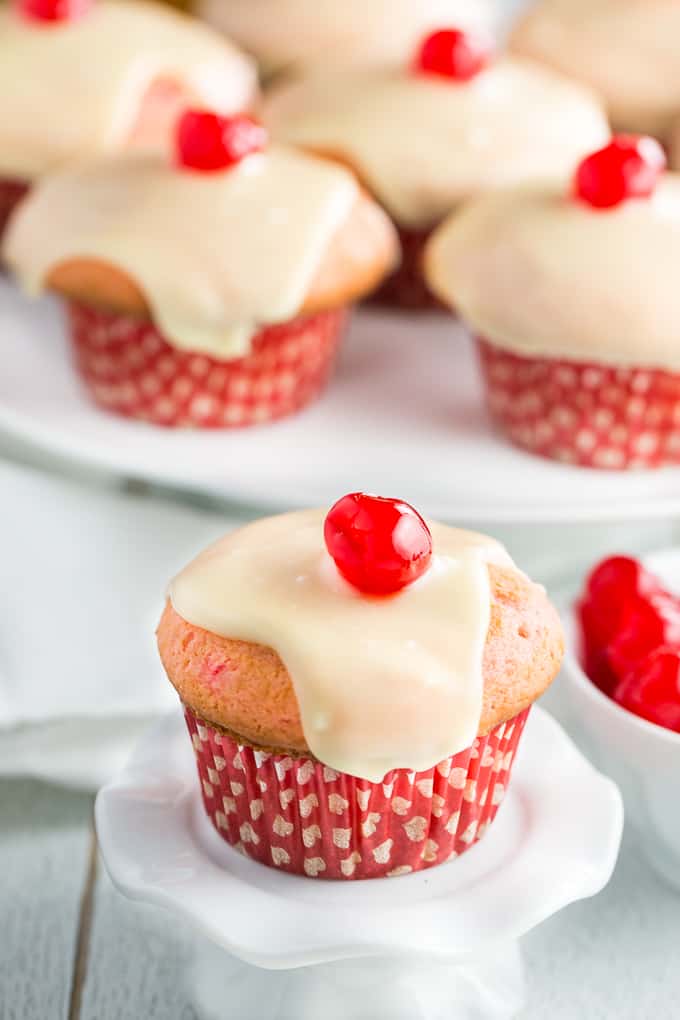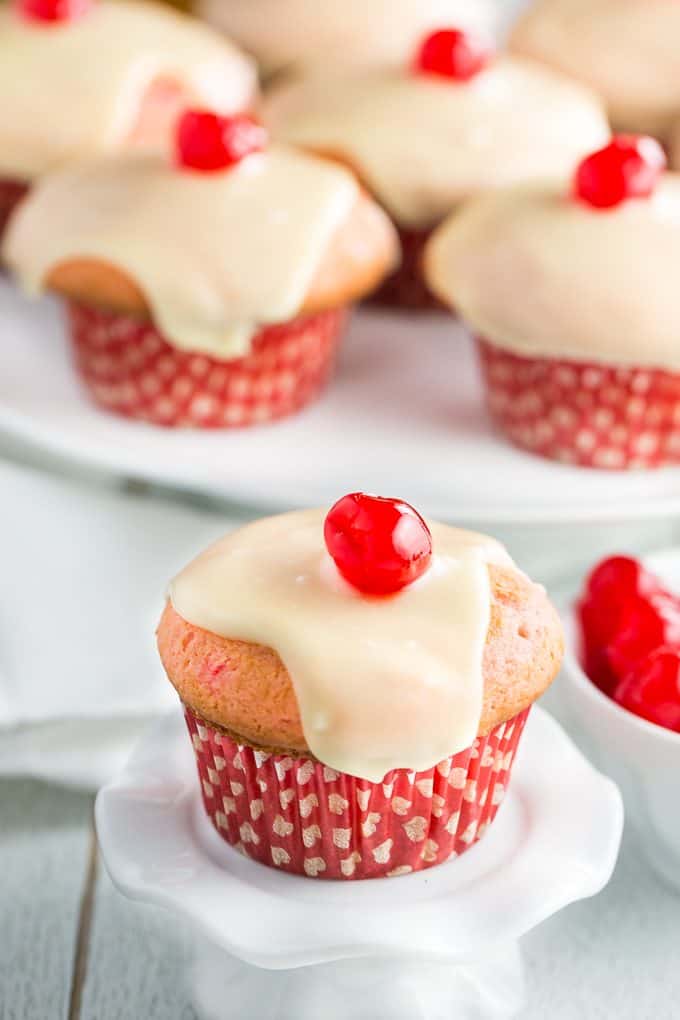 Maraschino Cherry Cupcakes
This Cherry Cupcake recipe is super simple to make and just a handful of steps are required! No piping skills for frosting, I opted for a sweet white chocolate glaze instead. Top with a maraschino cherry and dive right in!
Check Out These Other Cupcake Recipes
Do You Add Maraschino Juice into Cupcake Batter for Cherry Cupcakes
Yes! I love replacing the water with the maraschino juice, it adds the right amount of sweetness to the batter. Then you chop up and fold in the diced cherries for added bits of cherry flavor in every single bite.
Where to Find Maraschino Cherries
If you are unsure where to find Maraschino cherries just look in your baking aisle. You will most likely find them next to the candy sprinkles, marshmallows, and frostings. They generally come in a glass jar. Sometimes they are also in the liquor section, near the margarita salt, and mixer items.
How to Make Cherry Cupcakes
To make these cupcakes it is easy! Simply start with a white box cake and follow the directions. For the water portion, you will want to replace the water with the maraschino cherry juice.
Then once batter is mixed add in your chopped cherries. You just want them chopped enough so that they are smaller bite-size pieces that will spread throughout the batter when cooked.
Then pour into muffin tins and bake as directed on box. Cool on a cooling rack and then begin prepping your white chocolate glaze.
For the white chocolate glaze, you want to mix your white chocolate and cream in a bowl and heat in the microwave for a minute. Remove and then add in your butter and microwave again for about 30 seconds. Stir well, and then keep warming up in the microwave in 10-15 second intervals till all ingredients are melted and mixed well.
Once the chocolate mixture is all smooth, pour in your sugar and vanilla. Stir until it is nice and creamy. Then spread the glaze onto the cupcakes and allow it to harden. Top with a maraschino cherry if you would like. Just make sure the juice is drained off cherry before you place it on the cupcake.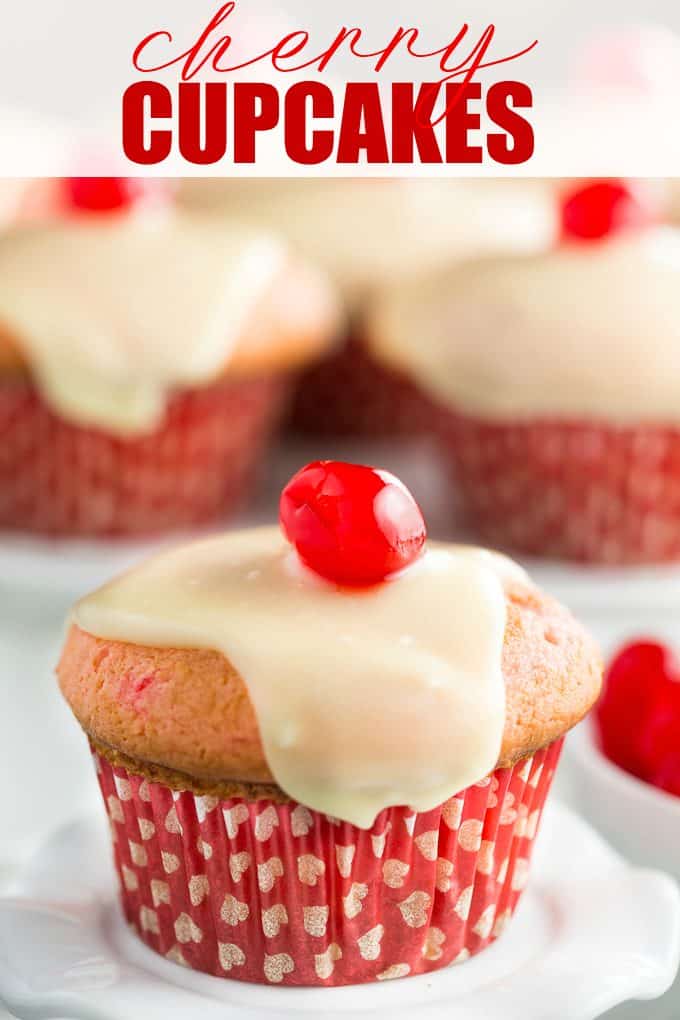 How to Store Maraschino Cherry Cupcakes
I keep these cupcakes in the fridge and then remove however many at a time to serve. I find they last longer when they are chilled in the fridge. Just place in an airtight container for the longest shelf life.
Can I Freeze Cherry Cupcakes
Absolutely! If you plan to freeze these cupcakes, leave the cherry on top of the chocolate glaze off. The reason I say this is it won't freeze well. You can always top them with cherry after. Just add a dollop of frosting in the center and place the cherry on top, or make a small batch of chocolate glaze to use to hold cherry in place.
Can I Replace White Chocolate Glaze with a Milk Chocolate Glaze
Of course! If you prefer milk or even semi-sweet chocolate more than white, feel free to swap out the chocolates. It will give you more of a chocolate covered cherry flavor, which would be tasty. I would also almost skip the added sugar in the glaze since milk or dark chocolate tends to be sweet enough on its own. You could taste the glaze and see if you want to add in sugar or not.
Can I Use Fresh Cherries in Place of Maraschino Cherries
You could swap out the maraschino cherries for fresh if you would like. I would say if you do this to place some fresh cherries in a bowl and mash them up and use a colander to drain out some juice to use to add into the batter as well. It will change the color of batter and flavor of course, but I do think it is doable.
Step out of the box and do something different than a basic white cupcake. These cherry cupcakes are great for holiday events, birthdays, weekday treats, baby showers, and more. There is no wrong time to make a cupcake like this.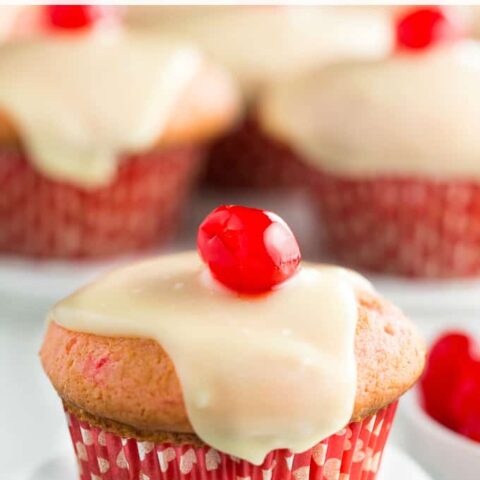 Cherry Cupcakes
White cake mix is doctored with cherries and topped with a rich, smooth white chocolate glaze.
Ingredients
Cupcakes
1 package of white cake mix
½ cup maraschino cherry juice
¼ cup maraschino cherries, chopped
Glaze
1 package (6oz) white chocolate
3 tbsp. whipping cream
3 tbsp. butter, softened
½ cup powdered sugar
½ tsp vanilla
Instructions
Prepare cake mix according to the package directions and substitute maraschino cherry juice for a portion of the water.
Fold in chopped maraschino cherries.
Pour into muffin tins and bake for the recommended time (and temperature) as on the cake mix box.
Allow to cool completely before coating with the white chocolate glaze.
Glaze
Combine white chocolate and cream in a deep bowl. Microwave on high for 1 minute. Stir.
Add butter and microwave on high for 30 seconds. Stir.
Microwave on high for an additional 10 to 15 seconds if needed to let butter and white chocolate melt.
Add in powdered sugar and vanilla and stir still smooth.
Spread glaze over cupcakes and cool to allow the glaze to harden. Top with one maraschino cherry.
Recommended Products
As an Amazon Associate and member of other affiliate programs, I earn from qualifying purchases.
Nutrition Information:
Yield:

12
Serving Size:

1
Amount Per Serving:
Calories:

109
Total Fat:

5g
Saturated Fat:

3g
Trans Fat:

0g
Unsaturated Fat:

2g
Cholesterol:

12mg
Sodium:

57mg
Carbohydrates:

15g
Fiber:

0g
Sugar:

13g
Protein:

1g