Honey Curried Chicken
There's a reason to celebrate in September! No, it just isn't the fact that the kids are back in school, but something equally as exciting. It's National Chicken Month. Who is ready to celebrate our hardworking chicken farmers for all they do?
Disclosure: I am participating in the Chicken Farmers of Canada campaign managed by SJ Consulting. I received compensation in exchange for my participation in this campaign. The opinions on this blog are my own.
Did you know that chicken is Canada's #1 protein choice? I can't say I'm surprised. There is so much to love about Canadian chicken. It's tasty, versatile in recipes and has lots of health benefits. We eat chicken a few times a week. If you are familiar with my blog, you already know I share a ton of chicken recipes (including one today for Honey Curried Chicken!).
Expect to see lots of fun this month from our friends at the Chicken Farmers of Canada. They have lots planned including contests and a Twitter party.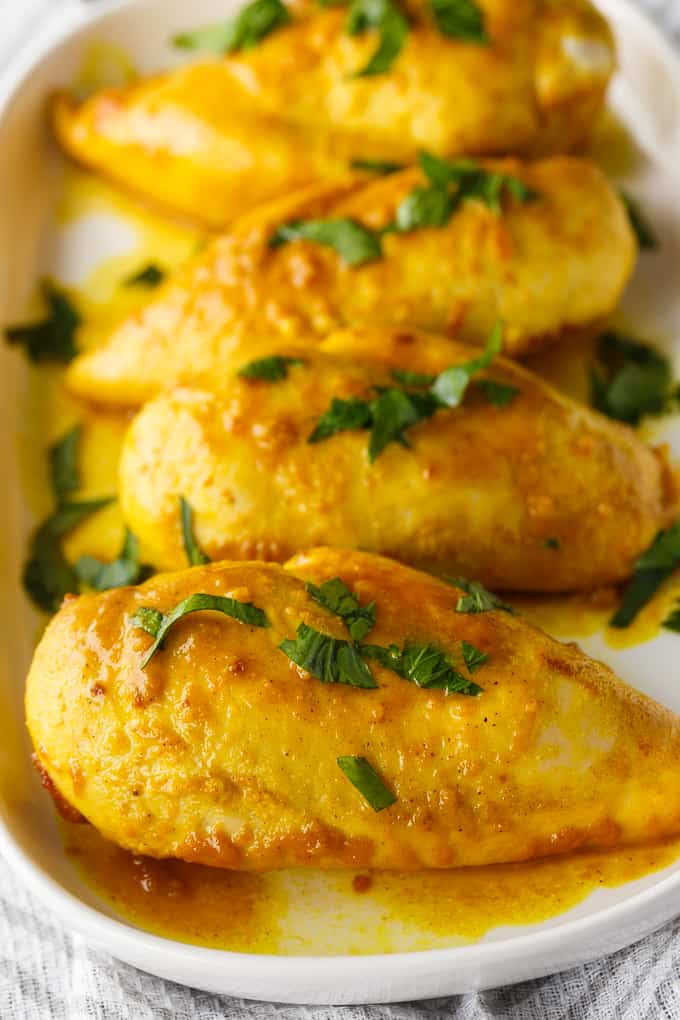 Today, I want to share with you this delicious chicken recipe and also some information about chicken farming in Canada.
Chicken Farming in Canada
Let's first look at chicken farming in Canada. One of the big reasons I love Canadian chicken is the fact that they have such high quality standards from coast to coast. Chicken Farmers in Canada follow the auditable Raised by a Canadian Farmer Animal Care Program and On-Farm Food Safety Program. When you see the mark, Raised by a Canadian Farmer, on your package of chicken, you can rest assured you are getting the best of the best.
Chicken farming makes a big impact on the Canadian economy. There are 2,803 chicken farmers and 191 processors in Canada. They all create jobs for Canadians – 87,200 jobs, to be specific.
As for the GDP, chicken farmers contribute $6.8 billion. They also pay $2.2 billion in taxes. That's a lot of money going back into our economy. Chicken farming makes a big impact on Canada.
Not only do they contribute financially, but they also support communities. They make regular donations to food banks and support Canadian swimmers through their partnership with Swimming Canada.
Chicken farming runs on a stable supply management system. This allows the chicken farmers to generate a steady supply of fresh, high-quality Canadian chicken at reasonable prices. It also means that 90% of farms are family owned and operated.
You may have also noticed that the prices of chicken don't rise as quickly as the prices of competing proteins. For instance, from 2013 to 2017, the price of chicken only rose 3.5% while beef and pork (non-supply managed sectors) prices rose 32.2% and 13.6%, respectively.
So as you can see there is lots to celebrate this month! Hooray for Canadian chicken and Canadian chicken farmers!
Honey Curried Chicken
We are big fans of Honey Curried Chicken. I use Canadian Chicken (always!) and create a deliciously sweet/savoury sauce that will leave your family begging for more. This is a vintage recipe that people have been making for years and I'm excited to share it with you today.
All you'll need is four boneless, skinless chicken breasts, honey, butter, mustard and curry powder. I also added a little parsley for garnish, but you could leave that off.
It's the perfect meal served with some fresh bread and a side salad. Dinner is served in under an hour.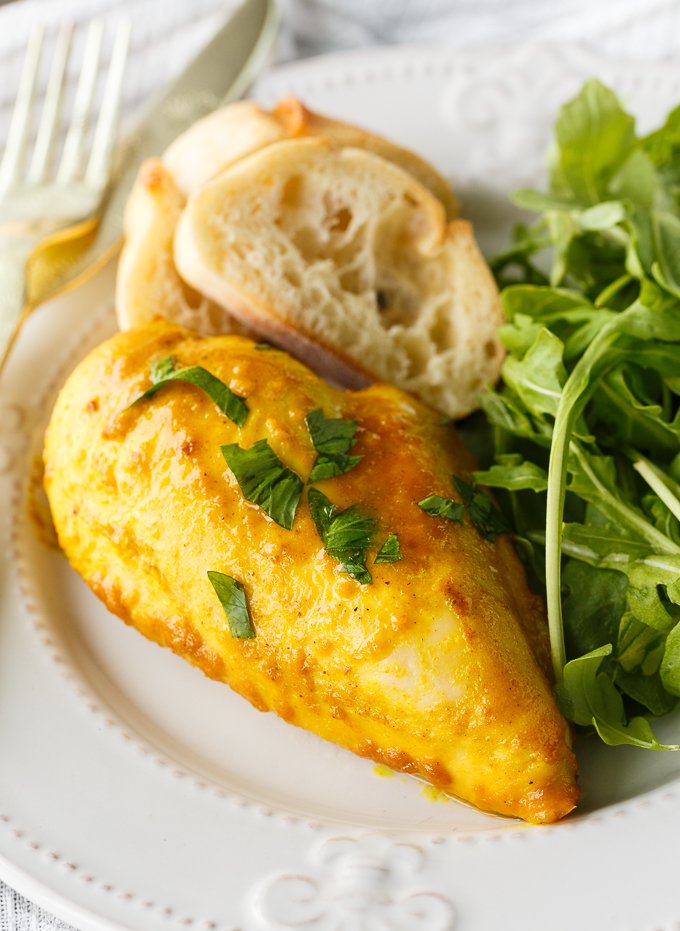 How to Make Honey Curried Chicken
The first thing you'll need to do is make the mouthwatering sauce for the chicken. Add honey and butter to a small saucepan over medium low heat. Stir until the butter melts and then remove from the heat. Stir in mustard and curry powder.
Note: I use 4 teaspoons of curry powder, but you could use less if you find it too strong.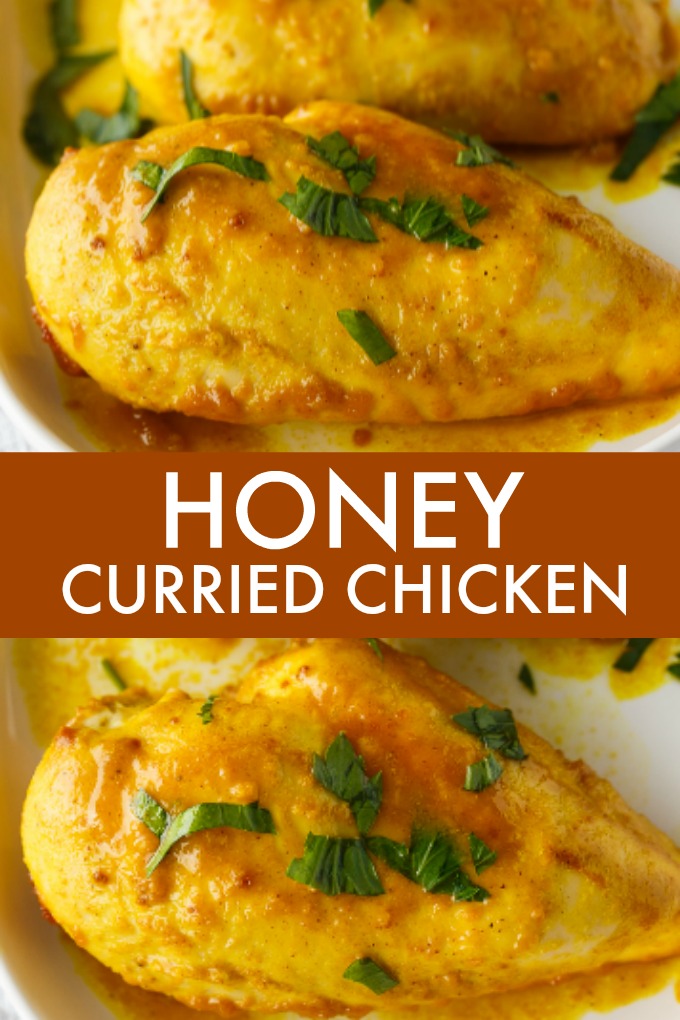 Place the chicken breasts into a casserole dish and pour the sauce over top. Bake for 40 minutes. You can check with a meat thermometer to make sure its cooked completely throughout.
Garnish with parsley, if you wish and serve hot.
For more chicken recipes, try my Sour Cream Chicken Bake, Spanish Chicken, Chicken Fried Rice, Greek Chicken Salad and Sweet and Sour Chicken.

Honey Curried Chicken
Yield: 4
Prep Time: 5 minutes
Cook Time: 40 minutes
Total Time: 45 minutes
An easy recipe that uses only a few simple ingredients. Perfect for weeknights when you need to get dinner on the table quickly!
Ingredients
4 boneless, skinless chicken breasts
1/3 cup honey
1/3 cup butter
1/4 cup mustard
4 tsp curry powder
Parsley, for garnish, if desired
Instructions
Preheat oven to 375F.
Add honey and butter to a small saucepan over medium low heat. Stir until the butter melts. Remove from heat. Stir in mustard and curry powder.
Place chicken in a casserole dish and pour sauce over top. Bake for 40 minutes. Garnish with parsley, if desired. Serve hot.
Recommended Products
As an Amazon Associate and member of other affiliate programs, I earn from qualifying purchases.
Nutrition Information:
Yield: 4
Serving Size: 1
Amount Per Serving:
Calories: 564
Total Fat: 23.3g
Saturated Fat: 11.1g
Unsaturated Fat: 8.7g
Cholesterol: 239.2mg
Sodium: 298.5mg
Carbohydrates: 25.3g
Fiber: 1.7g
Sugar: 23.4g
Protein: 62.3g
Contests
The Chicken Farmers of Canada is hosting some fun contests for National Chicken Month!
Enter to win $5,000 that you can use for anything you like! If I won, one of my purchases would be a new deep freezer so I can freeze more chicken recipes.
Are you Canada's Worst Chicken Chef? If you are, that's great! Send the Chicken Farmers of Canada a one-minute video showing why you're Canada's Worst Chicken Chef.
The lucky winner is going to receive:
An all-expenses paid trip for two to Ottawa
A two nights stay at the swanky Andaz Hotel (December 6 to 8) with a private cooking lesson with celebrity chef, Michael Blackie, at his renowned restaurant, NEXT
Dinner and drinks following the cooking class at NEXT
$1,000 spending cash
Submissions will be accepted on Twitter and Instagram. Be sure to tag Chicken Farmers of Canada in your post (Twitter and Instagram).
You have till September 30th to enter. Good luck!
National Chicken Month #IHeartChickenFarmers Twitter Party
Plus, there is a Twitter party! Details below.
Date: Wednesday, September 12, 2018
Time: 9 pm EST
Hashtag: #IHeartChickenFarmers
Eligibility: Open to Canada
Prizes: T-fal ActiFry Express Fryer, Lagostina Stainless Steel 11-Piece Cookware Set, FoodSaver® 2-in-1 Food Preservation System, T-fal Triple Basket Deep Fryer
Rules: Check out the rules
RSVP
RSVP Below by adding your Twitter name (ie. @simplystacienet) in the Name field and your Twitter link (ie. https://twitter.com/simplystacienet) in the URL field.