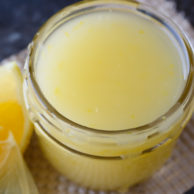 Lemon Sauce
Yield: 1 cup
Prep Time: 5 minutes
Cook Time: 7 minutes
Rest Time: 30 minutes
Total Time: 42 minutes
Tangy and sweet! Serve over ice cream, cake, bread pudding or pancakes.
Ingredients
1/2 cup sugar
2 tbsp cornstarch
3/4 cup water
1 tbsp lemon zest
1/4 cup lemon juice
2 tbsp butter
Instructions
Add sugar and cornstarch to a saucepan over medium heat. Gradually add water and stir to combine. Cook until mixture starts to boil and then boil for 1 minute, stirring constantly. Remove from heat.
Stir in lemon zest, lemon juice and butter. Let cool 30 minutes before serving. Serve warm.
Notes
Store covered in the fridge for up to 10 days.
Nutrition Information:
Yield: 4
Serving Size: 1/4 cup
Amount Per Serving:
Calories: 559
Total Fat: 26.9g
Saturated Fat: 6.8g
Trans Fat: 0.1g
Unsaturated Fat: 15.6g
Cholesterol: 65.1mg
Sodium: 395.9mg
Carbohydrates: 62g
Fiber: 1.8g
Sugar: 38.1g
Protein: 18.6g