Strawberry Ice Cream
I'm loving my new ice cream maker and shocked at just how easy it is to use! You can enjoy freshly made ice cream in a little under an hour. I prefer my ice cream to be on the firmer side so I normally let me freeze for a few hours. Soft serve ice cream can be enjoyed almost right away. It's very little effort for such a delicious result.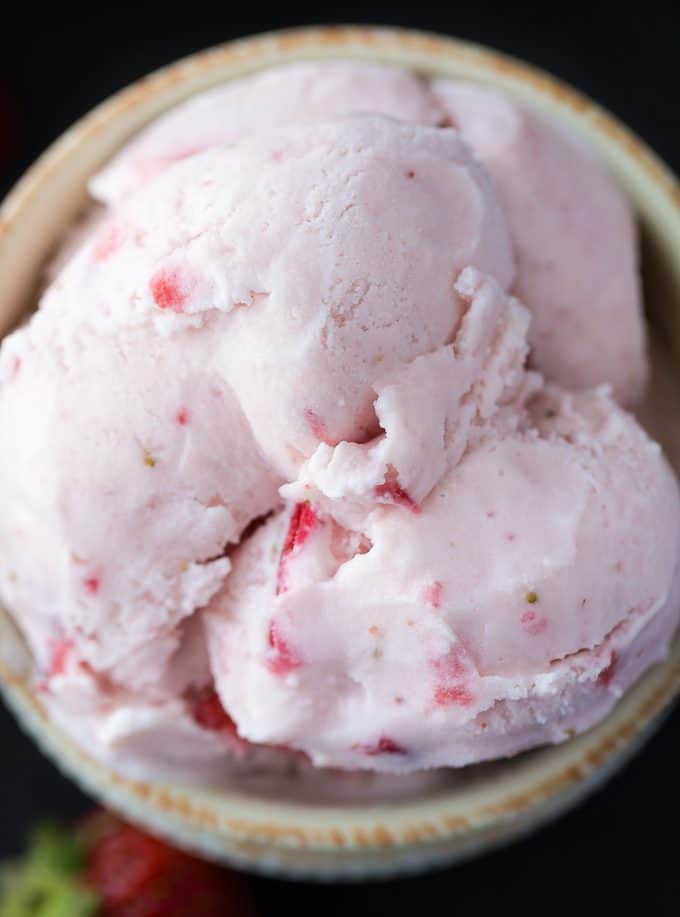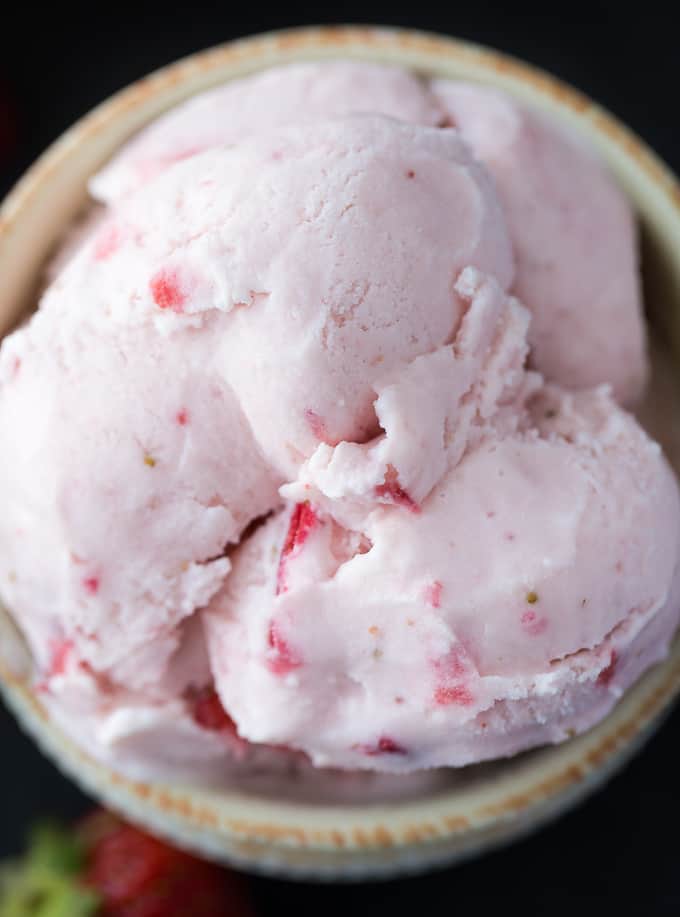 This particular recipe takes a tad bit longer to make because you need to let the sliced strawberries soak in lemon juice and sugar before you incorporate them into the recipe. I didn't use anything artificial in this recipe. The pretty pink colour is all from the strawberries themselves.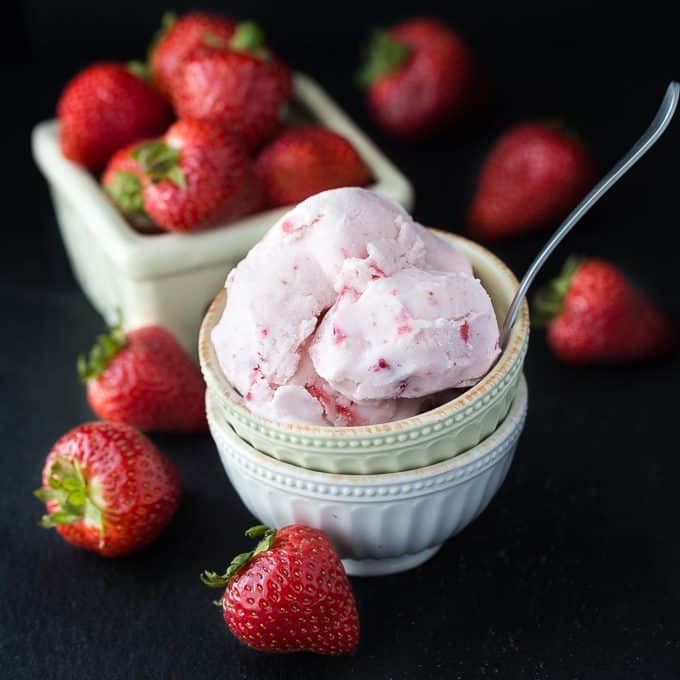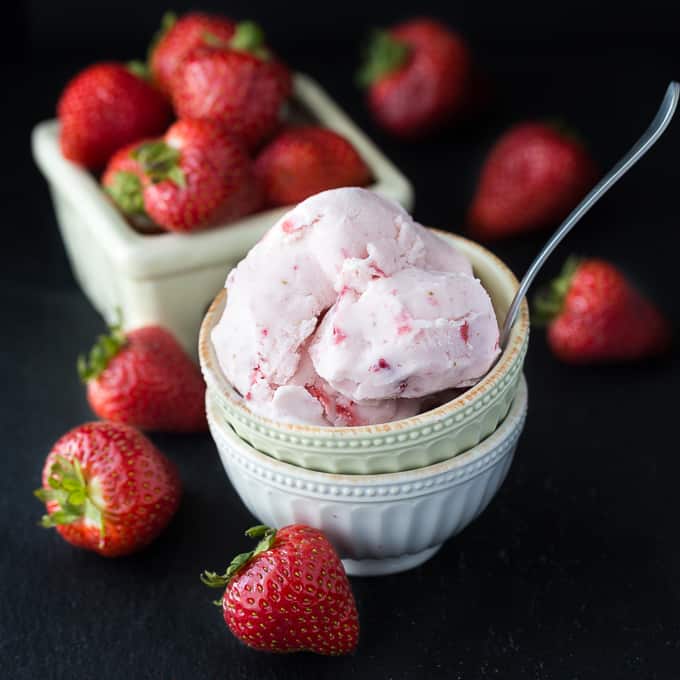 And the taste! Oh my. The strawberry flavour is bursting out of this sweet, creamy, smooth ice cream. It's better than anything store bought that I've tried!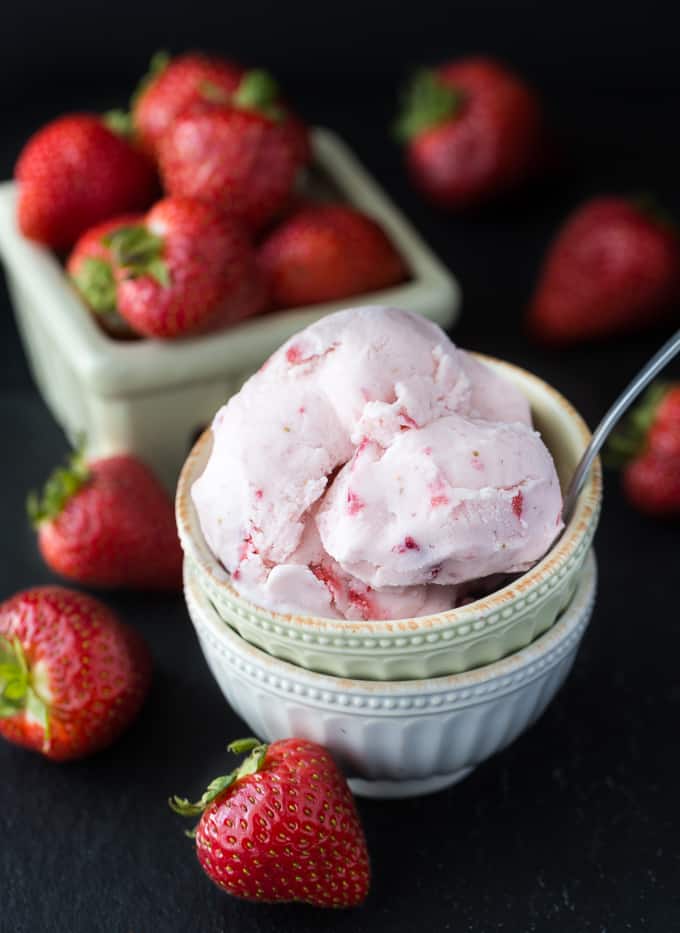 This recipe makes about six servings. I put mine into a few freezer containers. With all this ice cream I've been making lately, I really need to splurge on a deep freezer. My teeny tiny freezer is packed full right now. Eek!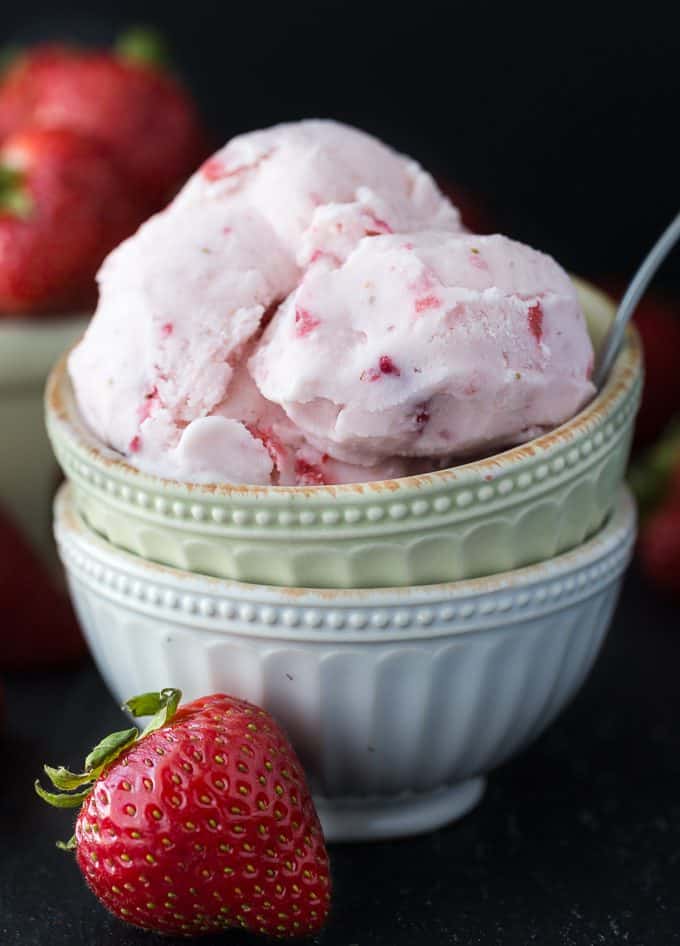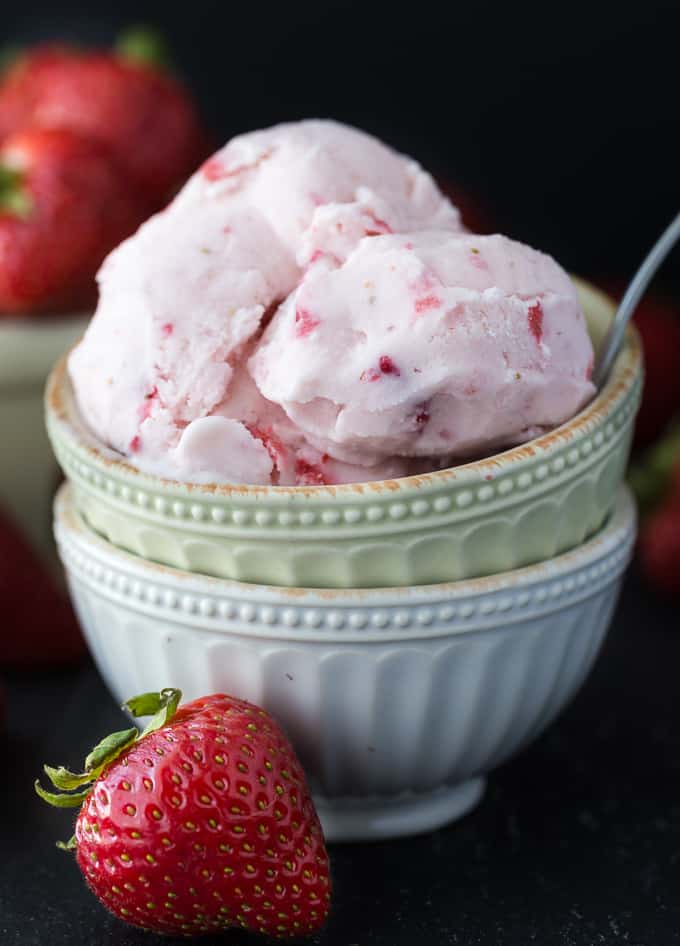 Don't have strawberries? Substitute blackberries, blueberries or raspberries instead.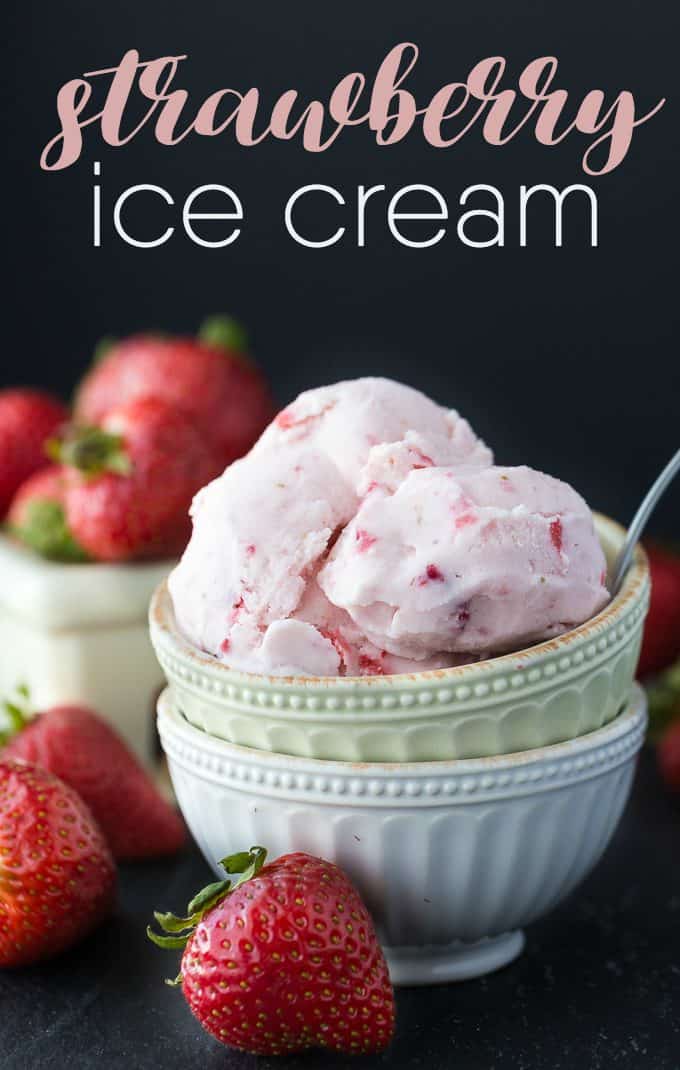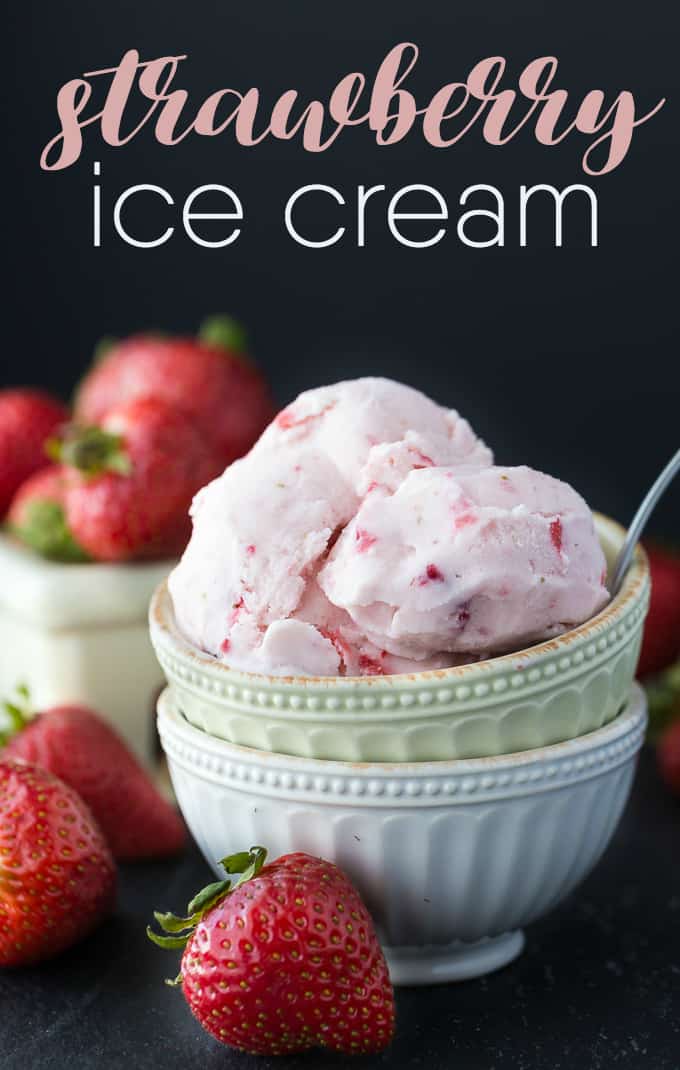 Keep an eye on my Dessert recipe box for more ice cream recipes to try! You might also like this Mint Chocolate Chip Ice Cream.
I'd love some suggestions for ice cream recipes I should make and share on my blog. Let me know in the comments! 


Yield: 6
Strawberry Ice Cream
So creamy, sweet and luscious! This fresh ice cream recipe is ready in a matter of hours and super simple to make at home with your ice cream maker.
Ingredients:
3 cups strawberries, stems removed and sliced
4 tbsp lemon juice
1/2 cup sugar + 1 cup sugar
1 1/4 cup whole milk
2 3/4 cup table cream (heavy cream)
1 tbsp vanilla extract
Directions:
Add strawberries, lemon juice and 1/2 cup sugar to a bowl and toss to combine. Let sit for two hours.
Strain the berries and reserve the juice.
Add half the berries to a bowl and puree with a hand blender.
Mix milk and 1 cup sugar on low speed for 2 minutes. Stir in table cream strawberry juice, pureed strawberries and vanilla. Pour into the ice cream maker's freezer bowl.
Mix for 25 minutes in the ice cream maker. Add in the rest of the strawberries about 5 minutes before it's done.
Transfer the ice cream to a freezer container and freeze for at least two hours.