Honey Garlic Baked Salmon
Hi Everyone, Nicky here, calling in from Kitchen Sanctuary. Today I'm bringing you a recipe for the easiest and tastiest honey garlic salmon ever!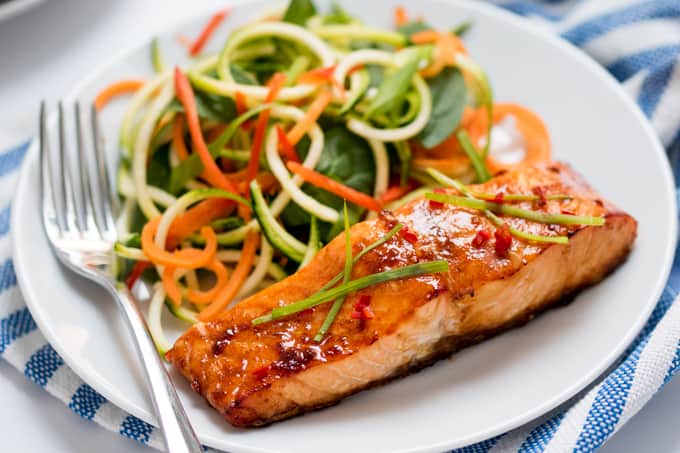 Honey Garlic Salmon
A quick marinade, then 15 minutes in the oven, and you've got a super healthy dinner that everyone will love.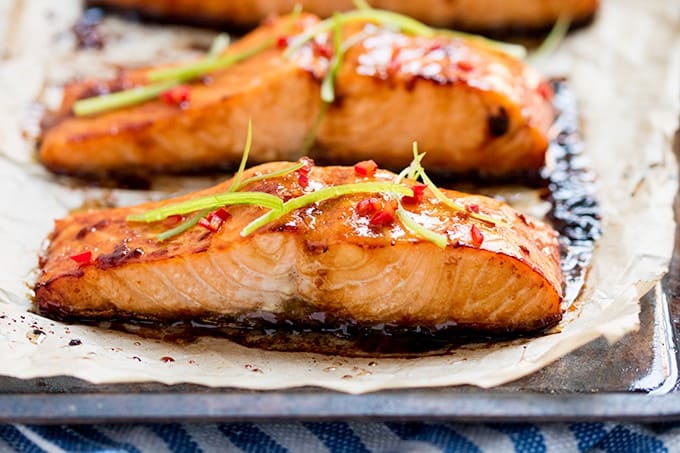 The honey-garlic flavor means it's a total hit with the kids – to the extent that they ask me to make extra so they can take it for their packed lunch the next day.
Even the salmon haters will like this recipe. Honey garlic is such a popular flavor combination that you really can't go wrong. I love how the marinade permeates right into the salmon leaving every bite you take full of yumminess. Trust me,  you'll be craving salmon after you try this easy recipe!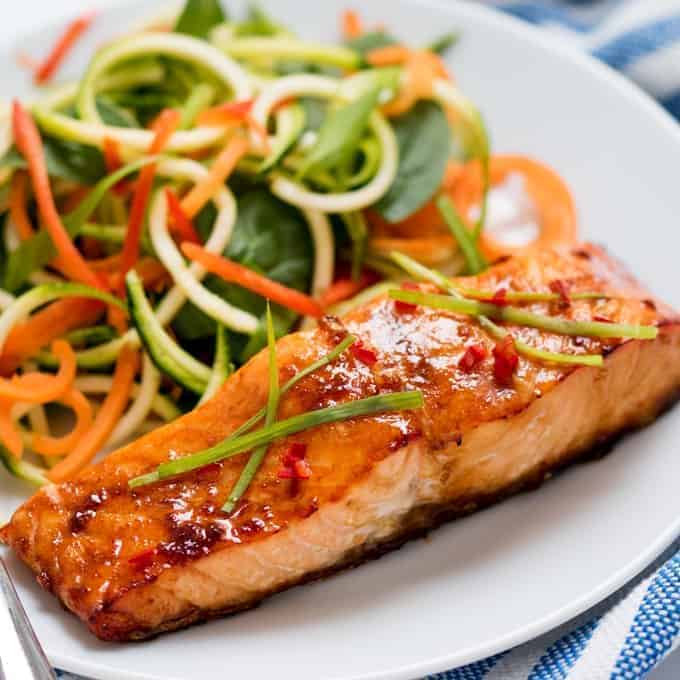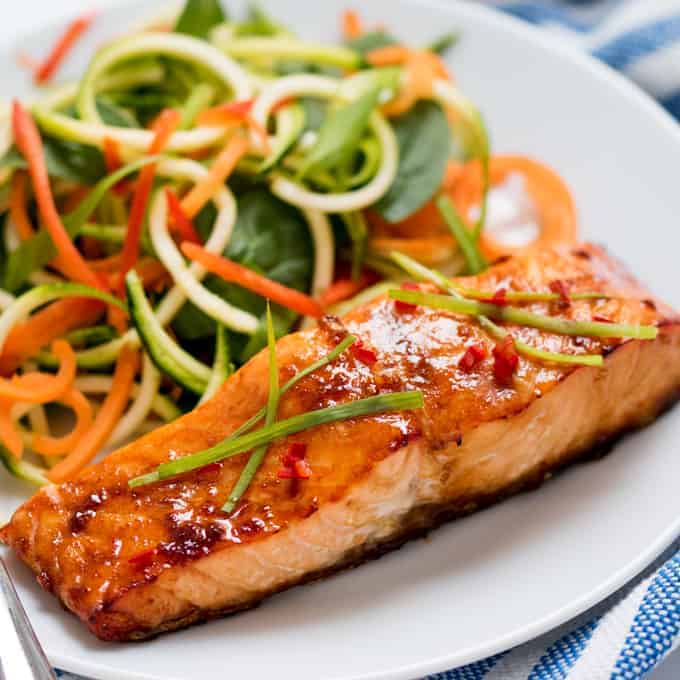 Although it's got soy sauce in – which makes it feel a little Asian-inspired – it's quite a delicate flavor. This means you don't have to stick with Chinese noodles/rice/stir-fry veg to serve it with.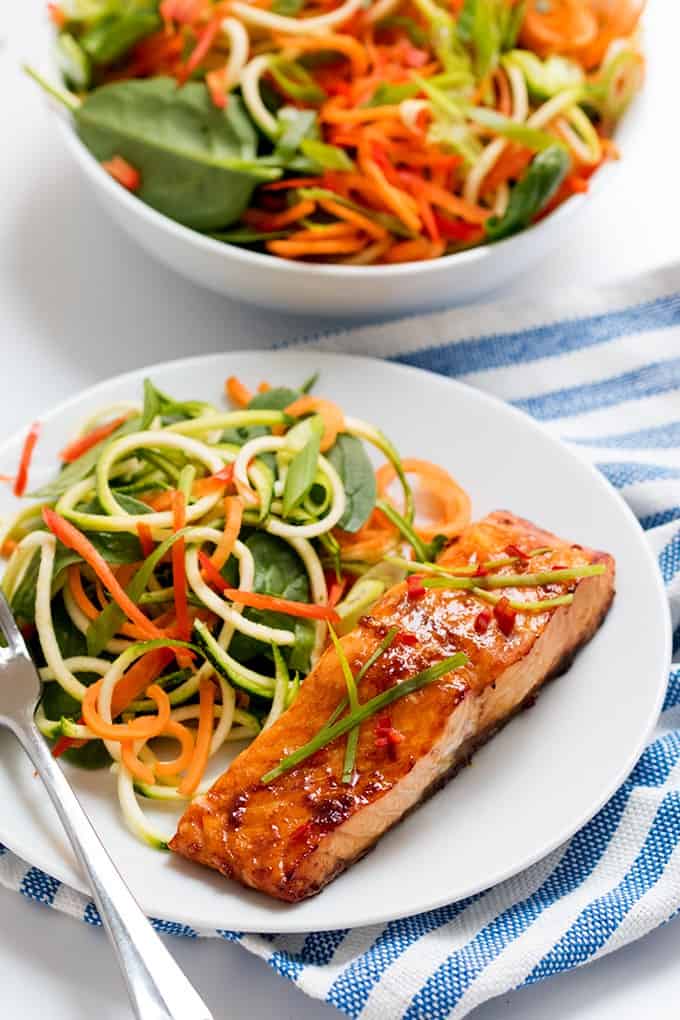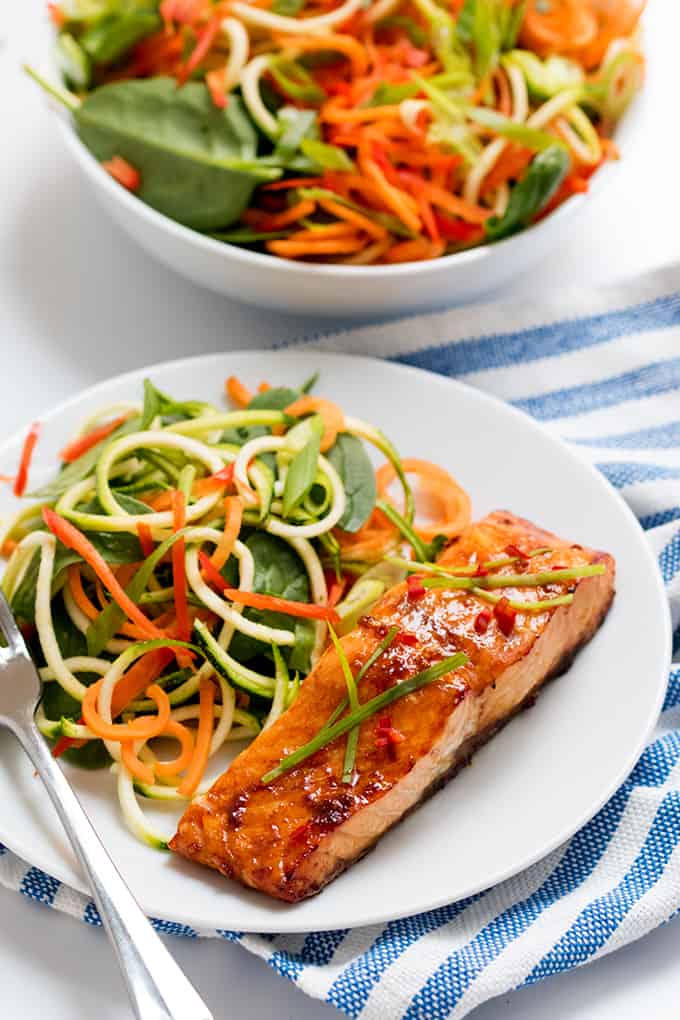 We love to serve it with cous cous salad and feta, a spiralized salad or even a veggie risotto.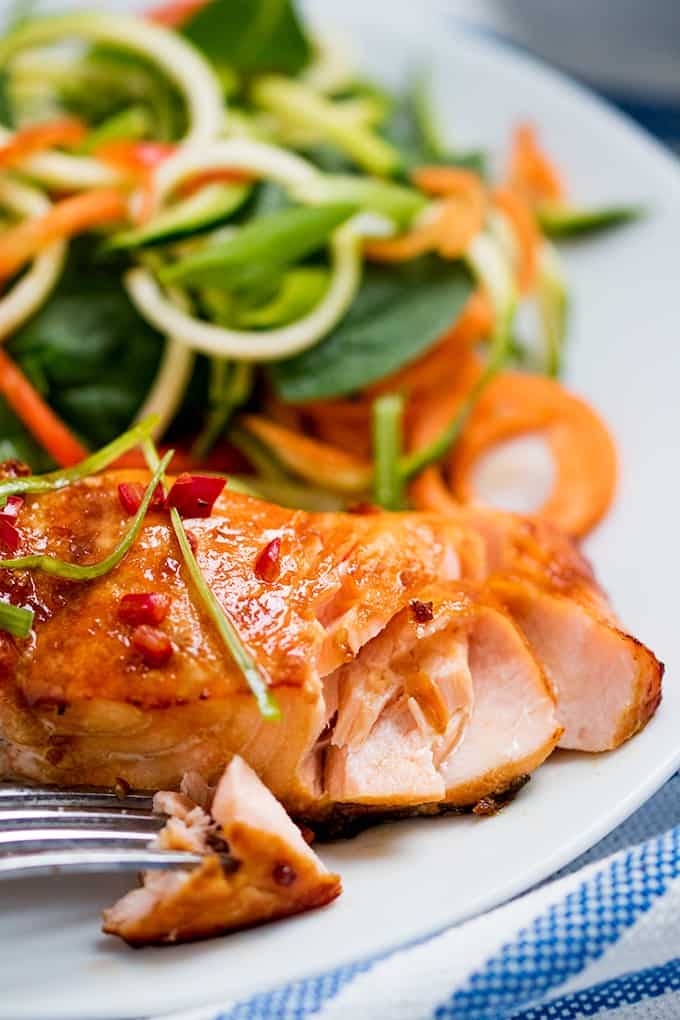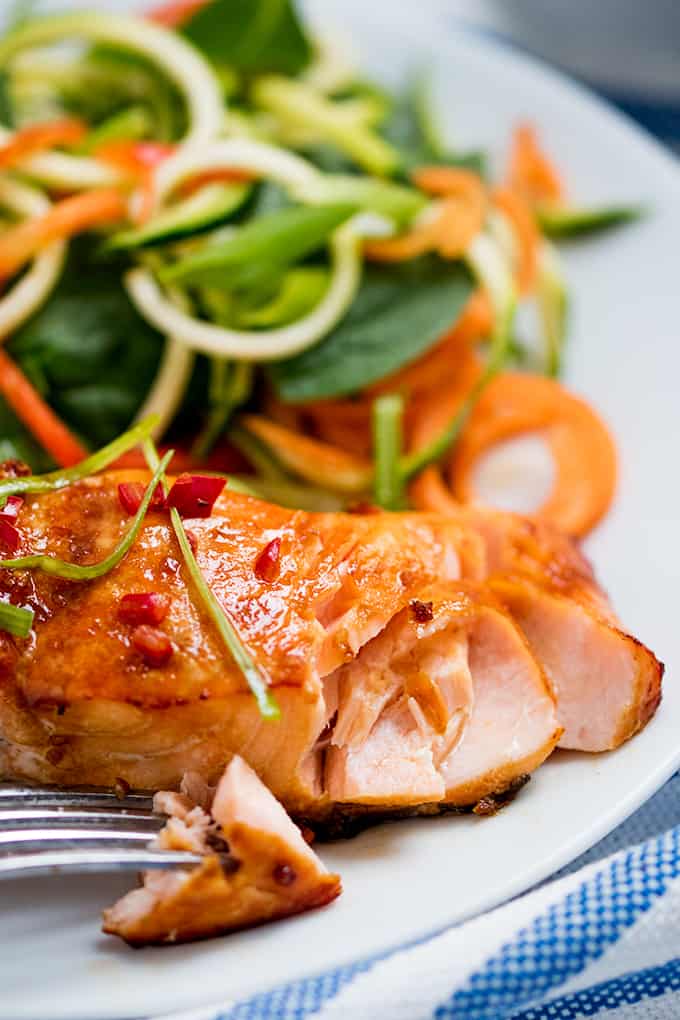 However you serve it, you're guaranteed to have clean plates all round!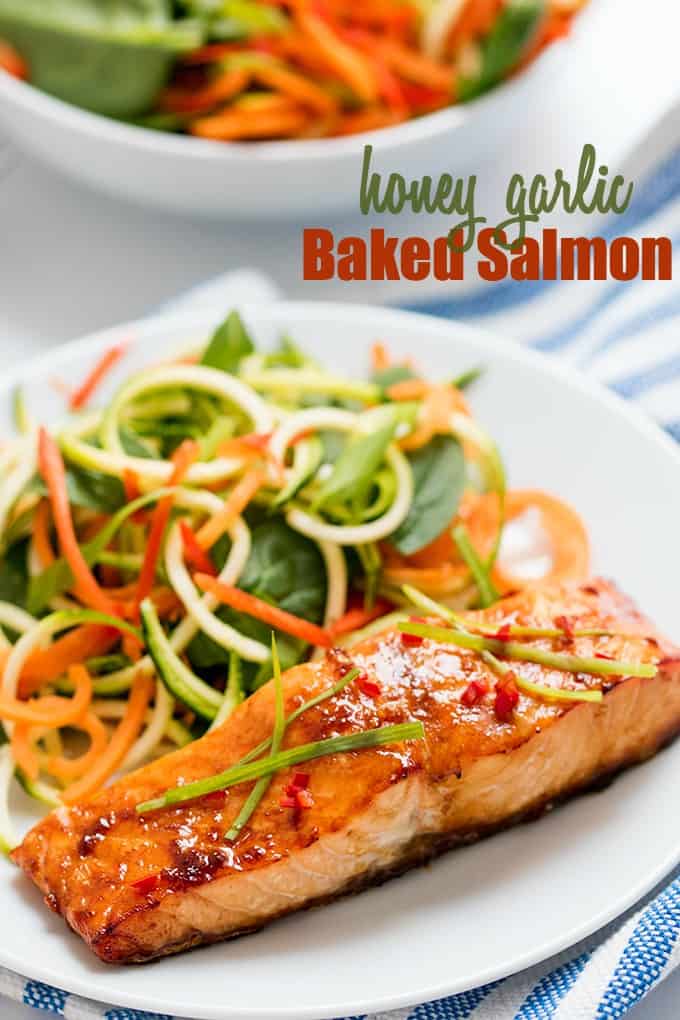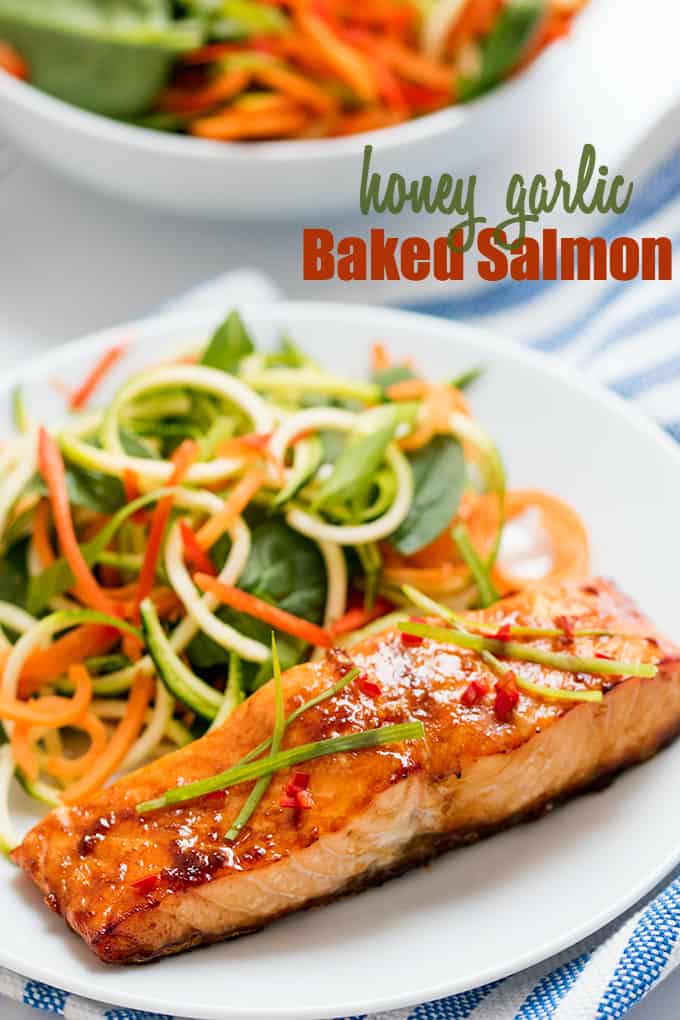 For another yummy salmon recipe, try this Salmon Chowder!


Are you a fan of salmon?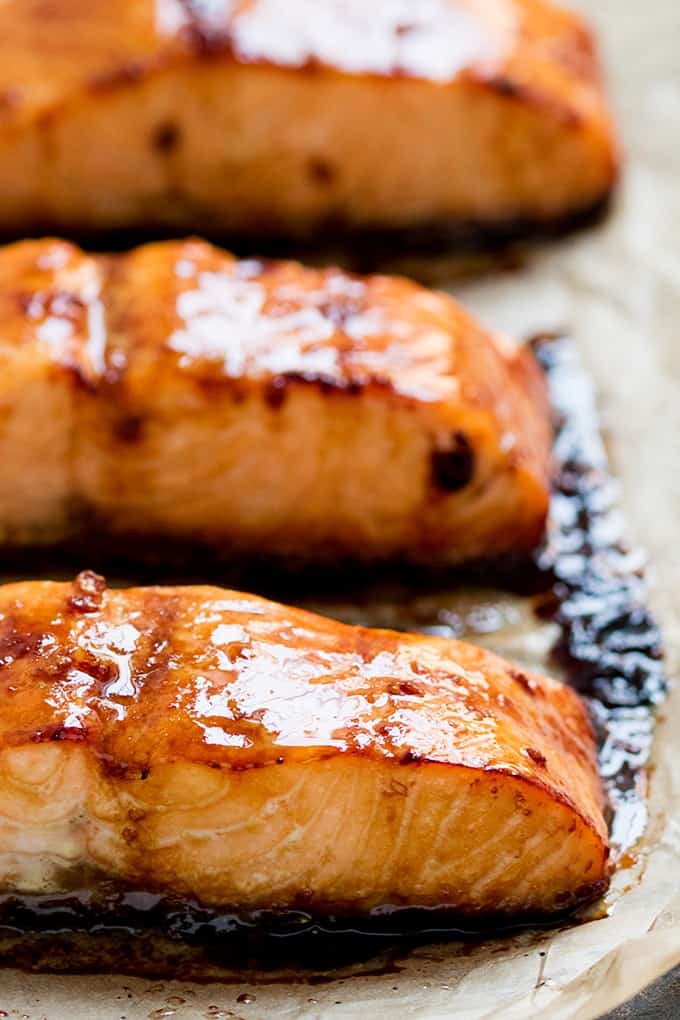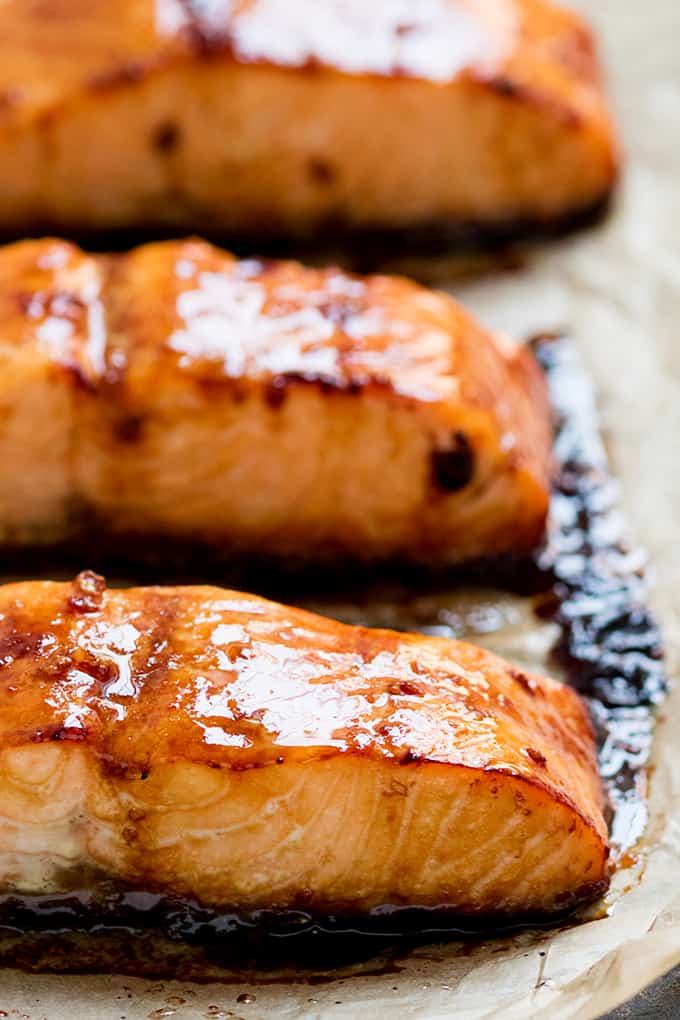 Yield: 4
Honey Garlic Baked Salmon
One of the easiest and tastiest salmon recipes you'll ever make! Just 15 minutes in the oven and you have a delicious, healthy meal.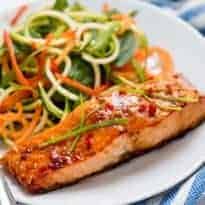 Ingredients:
Marinade
1 tbsp vegetable oil
1 tbsp sesame oil
2 cloves garlic, peeled and minced
3 tbsp soy sauce
3 tbsp honey
Also
4 boneless salmon fillets
To serve
Small bunch scallions, sliced into thin strips
Finely chopped red chillies (optional)
Boiled rice
Extra veg or salad
Directions:
Mix together the marinade ingredients. Place the salmon in a bag or bowl and pour on half of the marinade. Cover and leave to marinade for 30 minutes (and up to 2 hours – refrigerate if marinating for more than 30 mins).
Preheat the oven to 350F. Line a baking tray with baking parchment and place the salmon on the tray. Cook in the oven for 8 minutes, then spoon or brush on the remaining marinade. Cook for a further 7-8 minutes until the salmon is tender.
Top the cooked salmon with sliced scallions and chillies. Serve with boiled rice and extra veggies.