Honey Garlic Chicken
This recipe for Honey Garlic Chicken is an easy way to dress up plain ol' chicken breasts using ingredients you probably have in your house right now. There's nothing fancy about it! It makes a moist, tender and flavourful meal and tastes delicious paired with mashed potatoes and veggies.
If you love garlic, add in more cloves. We love garlic so I often add a few extra cloves to really kick up the flavour.
One thing I noticed about living in Ontario is chicken is a lot more inexpensive in stores here compared to Nova Scotia. We have a freezer full of chicken breasts because the price is so good. John remarks every time we go shopping at the great price of chicken breasts. They are my favourite part of the chicken so I've been making them quite a bit for supper.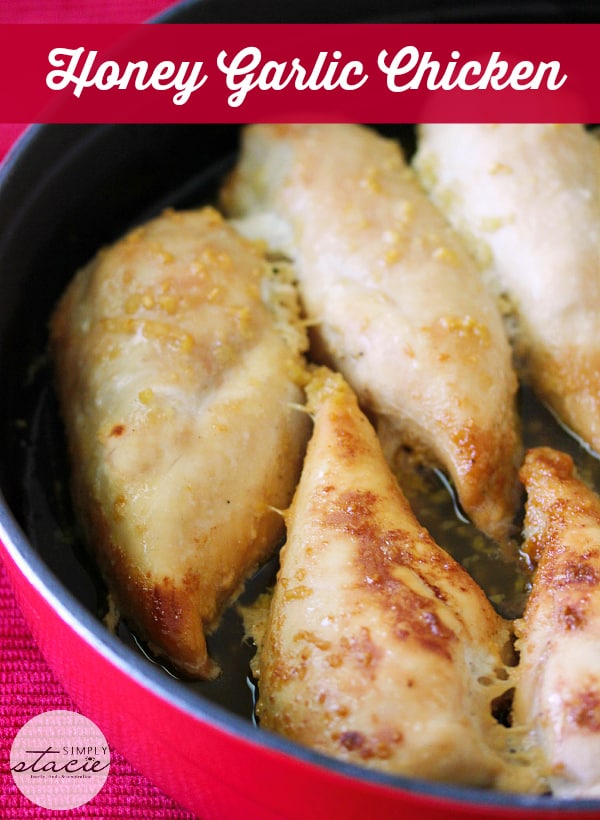 For more chicken recipes, check out my posts: 21 Chicken Dinner Recipes Ready in 30 Minutes or Less, Grilled Herb Chicken and my Grandma June's recipe for Hurry Chicken. You might also like this Honey Garlic Salmon.
What is your favourite way to dress up chicken breasts?

Yield: 6
Honey Garlic Chicken
A delicious and easy way to dress up plain ol' chicken breasts!
Ingredients:
3 tbsp butter, softened
3 tbsp honey
4 cloves garlic, minced
3 tsp Dijon mustard
6 boneless, skinless chicken breasts
salt and pepper
Directions:
Preheat oven to 375°F. Combine honey, butter, garlic and mustard in a bowl. You might need to mash the butter with a spoon to blend in with the other ingredients.
Place chicken in a shallow baking pan and spread the honey garlic mixture all over the chicken breasts. Season with salt and pepper.
Bake uncovered for 45 minutes or until chicken is cooked thoroughly. Remove from oven and serve hot.
It tastes delicious with some mashed potatoes!