Peanut Butter Truffles
Hi everyone, Nicky here, calling in from Kitchen Sanctuary. Today I'm bringing you a recipe for these amazing peanut butter truffles.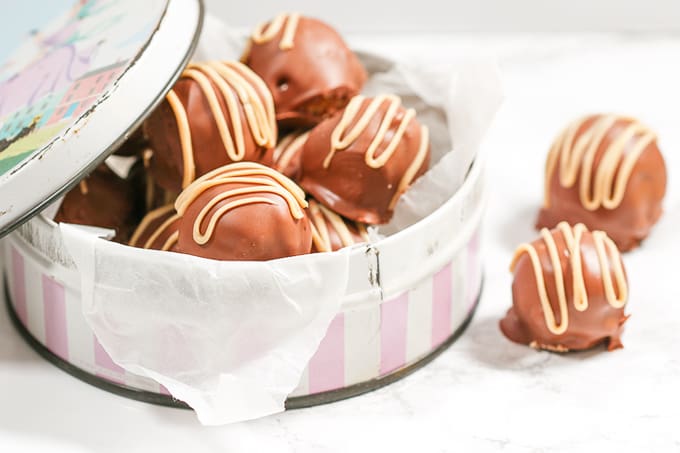 I've got a real thing for truffles lately, and these are just so addictive. Every time I walk into the kitchen I seem to walk out with another one in my mouth – I just can't help myself!!
I don't even like peanut butter, but I just want to eat these all day.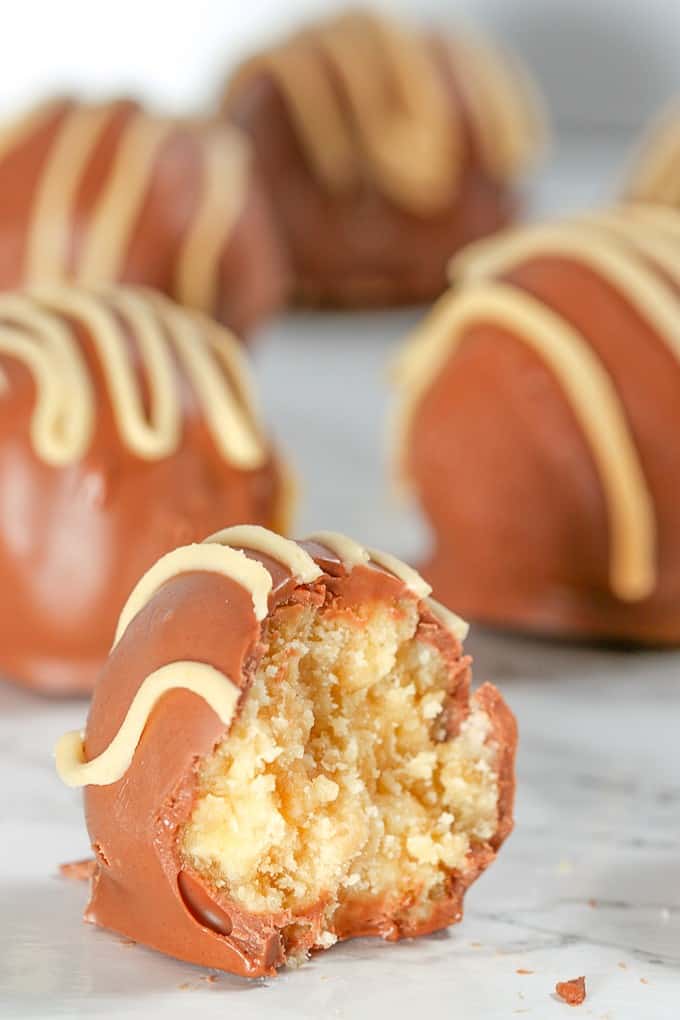 They're pretty simple to make – no baking, food mixers or chocolate tempering. Which means it's easy for the kids to get involved too.
Make them as a gift, or just as a treat for yourself – just try not to scoff the lot in one day (blush).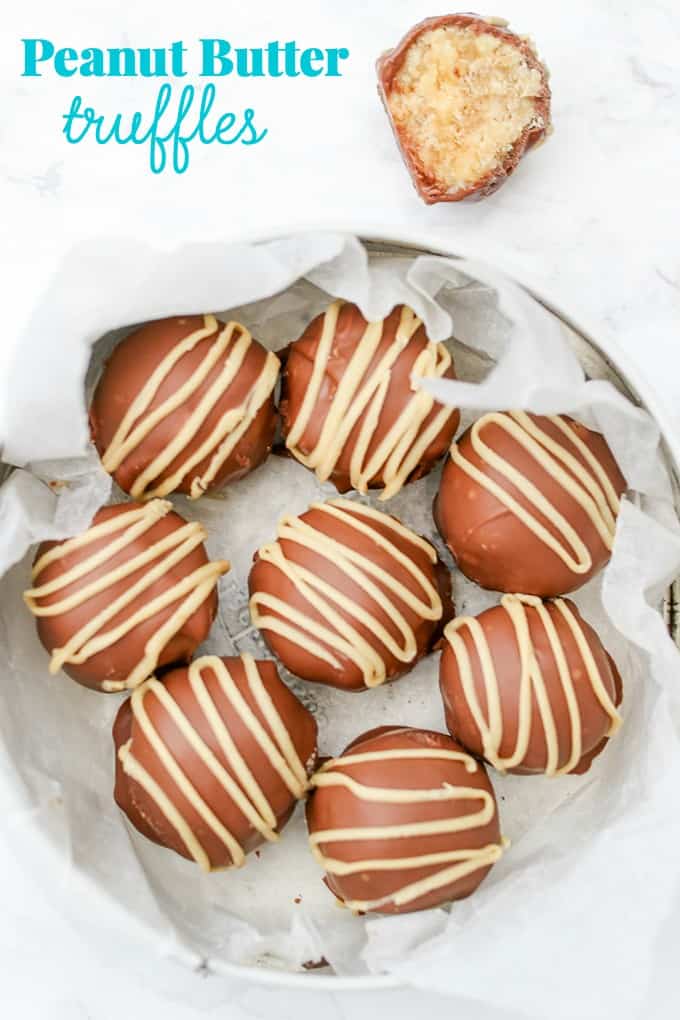 Would you keep or give as a gift?
Yield: 25 to 30
Peanut Butter Truffles
So easy to make that even the kids can help! These bite sized morsels of sweetness are so addictive.
Ingredients:
¼ cup full-fat cream cheese, room temperature
½ cup peanut butter
2 tbsp confectioners' sugar
6oz all-butter shortbread biscuits, finely crumbled (I place mine in a bag and crush them with a rolling pin)
3.5oz white chocolate, melted (chop into chunks and melt in the microwave in 30 second bursts – stirring in between each burst)
Chocolate coating
7oz semi-sweet chocolate, melted
1 heaped tbsp. peanut butter
1 oz white chocolate, melted
Directions:
Place the cream cheese, peanut butter and confectioners' sugar in a small bowl and mix together until combined. Stir in the crumbled shortbread and then mix in the melted white chocolate. Cover the bowl with plastic wrap and place in the fridge for an hour to chill.
After an hour, take the mixture out of the fridge. Line a plate or tray with baking parchment. Scoop out heaped teaspoons of the mix, place in your hand and roll into a ball. Place on the parchment. Repeat until all of the mixture is used up. Place back in the fridge to chill for 30 minutes.
After 30 minutes, take the shortbread balls out of the fridge. Place one of the balls on a fork and dip into the melted semi-sweet chocolate. Use a spoon to drizzle more of the chocolate over the top, then let any excess chocolate drip off. Gently place the ball back on the parchment-lined tray and repeat until all of the mixture is used up.  Leave the chocolate to set at room temperature for 30 minutes, then mix the peanut butter with the melted white chocolate and spoon into a piping bag. Pipe little strips of the peanut butter mixture over the top of the chocolate truffles and leave to set in the fridge before serving.
You Will Also Love
If you liked this post, you will also love these ones!