No-Bake Nougat Bars
Ready to get holiday baking? Good, me too! It's one of my annual traditions. Every year I make several of our favourite sweets (these No-Bake Chocolate Peanut Butter Haystacks are a family fave) as well as trying some new recipes. The easier the recipe, the better. I'm the queen of no-bake desserts!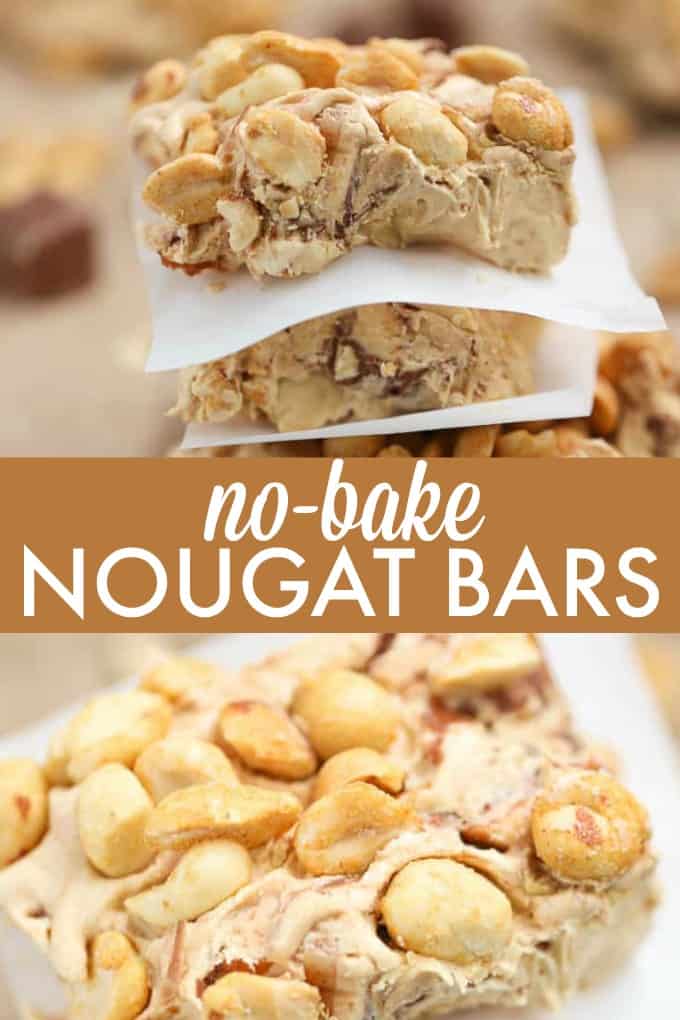 One year, I went all fancy (at least in my world) and made a variety of desserts that required a candy thermometer. They were yummy, but time is precious and maybe I'm a bit lazy because I've never felt the desire to make them again. That's one reason. The second is that I ruined a pot making fudge…let's not go there.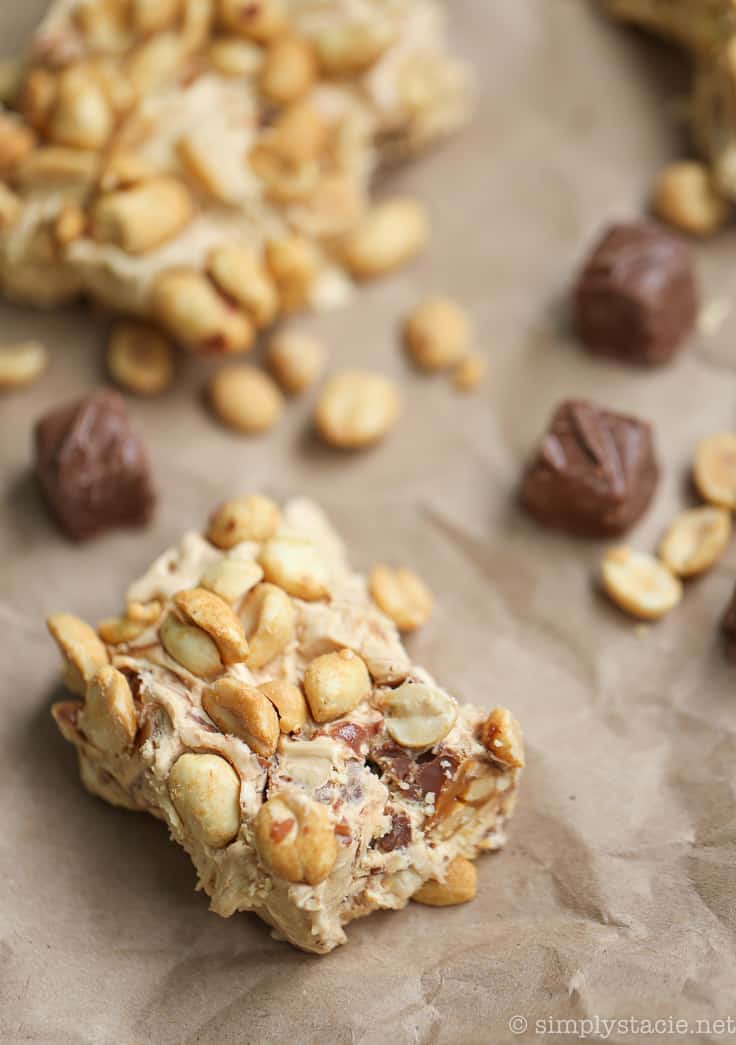 These No-Bake Nougat Bars will not ruin pots nor do they require any baking. Unless you count using your microwave which I think technically doesn't count.
They remind me of the nougat you'll find in a chocolate bar like Snickers or Oh Henry. They also have Snickers Bites in them.
The recipe star is definitely the peanuts. These squares are PACKED with peanuts. I used the dry roasted variety, but any kind that you have on hand will work. Honey roasted is also tasty.
This recipe uses an entire jar of Fluff! If you don't have Fluff where you live, look for a marshmallow creme. It's usually found where the ice cream toppings are at the grocery store. We always have a jar of Fluff in our pantry because John likes his Fluffernutter sandwiches. He wasn't too happy about me using an entire jar from his stash. He'll get over it though.
One thing to note is that this dessert is very sticky! What's up with me lately making all these sticky desserts? I swear I didn't plan it that way. Anyways, keep some wet wipes near the dessert table if you serve this at your holiday parties. The taste makes up for the messy fingers.
I have been baking so many sweets lately that I've been giving some away to friends and family. They are more than happy to take them off my hands 🙂
Do you make any no-bake holiday treats? If so, do you keep them for your own household or do you share them with friends and extended family?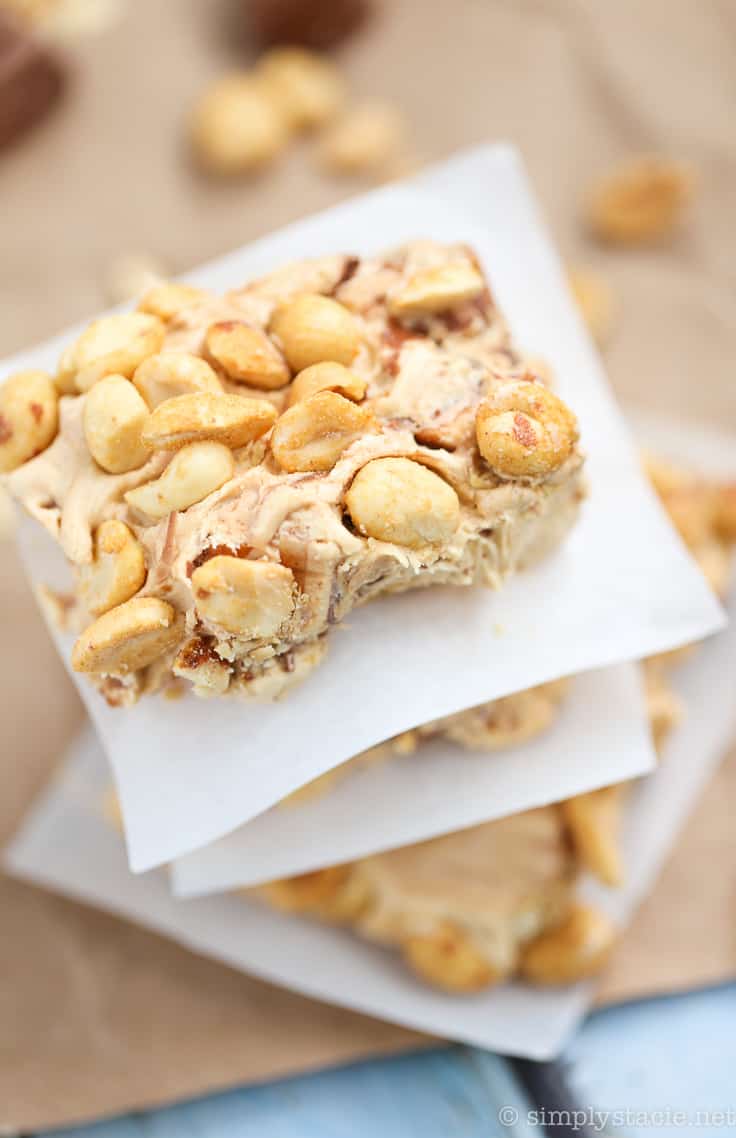 Yield: 24
No-Bake Nougat Bars
Prepare for a sticky sweet explosion with this No-Bake Nougat Bars recipe! Only 6 ingredients. I make this recipe every Christmas.
Ingredients:
3 cups peanuts
1 package Reese's peanut butter chips (300g)
2 1/2 tbsp butter
1 can sweetened condensed milk (300mL)
1 jar Marshmallow Fluff (213g)
1 bag Snickers Bites (230g)
Directions:
Grease a 9×13 baking pan with cooking spray. I also lined mine with parchment paper so it would be easier to remove (and clean the pan!).
Spread 1 1/2 cups of peanuts on the bottom of the pan. Set aside.
In a medium sized bowl, add peanut butter chips and butter. Heat in the microwave for 1 minute at medium power. Stir. Heat again on medium power for another 20 seconds. Stir. Continue to reheat at these intervals until mixture is melted. Be careful to not burn it though! Mine melted after I stirred it together.
Pour in the can of sweetened condensed milk and stir to combine. Heat in the microwave for 1 minute on high.
Stir in Marshmallow Fluff and Snickers Bites. If you can't find Snickers Bites, grab a few Snickers chocolate bars and roughly chop.
Pour mixture into baking pan. Sprinkle with the remaining 1 1/2 cups peanuts.
Refrigerate for 3 hours or until set. Cut into squares.