Pumpkin Cream Cheese Wontons with Maple Glaze
I love desserts made with wontons! I think it goes back to my childhood with McDonald's apple pies. Remember they were like apple pie egg rolls? So so yummy! They changed their apple pies so I've had to get my dessert wonton fix elsewhere. This recipe for Pumpkin Cream Cheese Wontons with Maple Glaze is out of this world.
Imagine crispy wontons with a hidden sweet, creamy pumpkin-y surprise inside. Top with a drizzle of maple glaze and close your eyes and inhale. At least that is what I like to do when I eat a dessert like this one.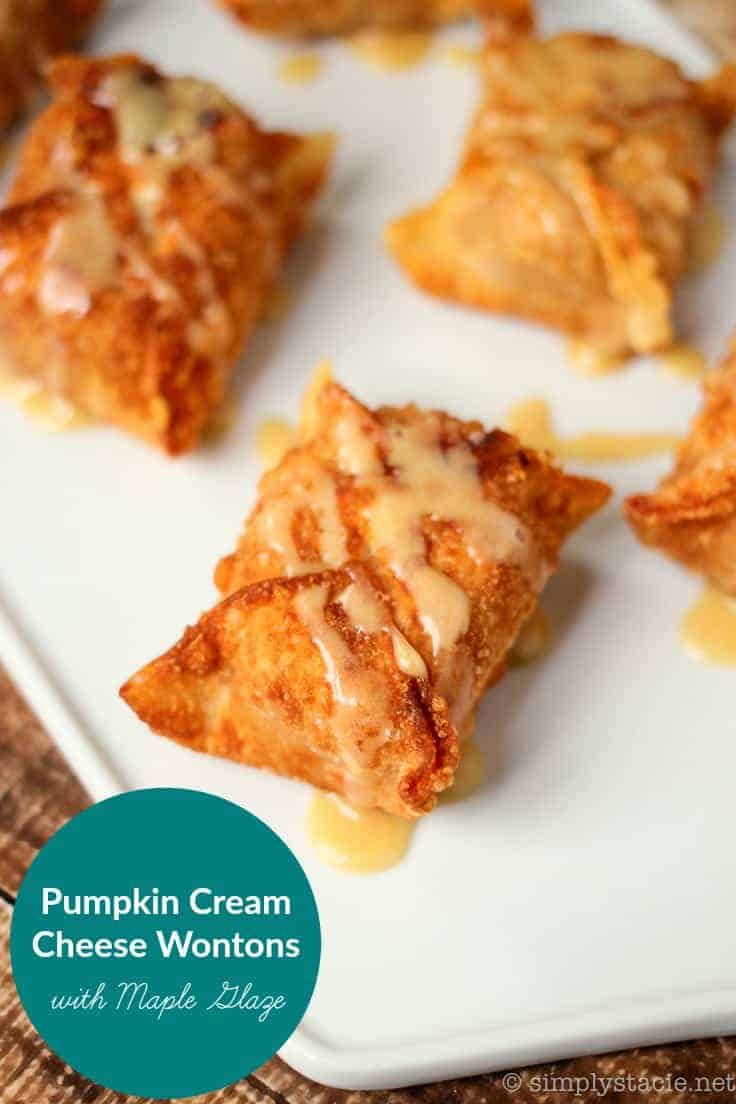 Pumpkin Cream Cheese Wontons with Maple Glaze
Good thing this recipe makes 24 pieces because I guarantee you'll want to eat more than one!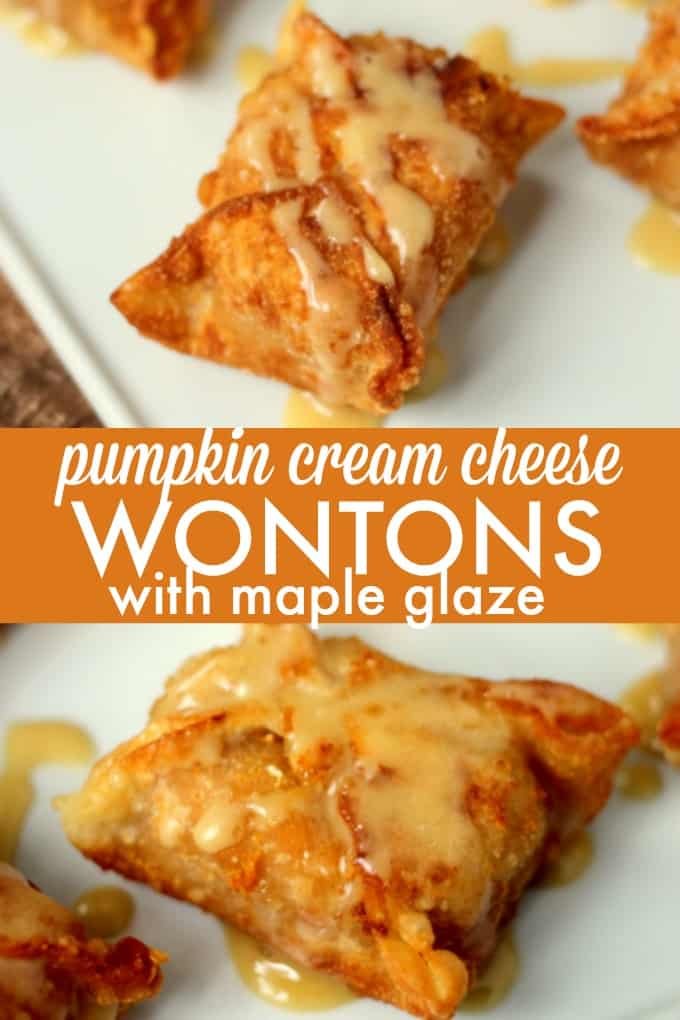 What is your favourite wonton dessert?

Yield: 24
Pumpkin Cream Cheese Wontons with Maple Glaze
Out of this world delicious recipe for Pumpkin Cream Cheese Wontons with Maple Glaze. You'll be happy this recipe makes 24 because you'll eat more than one!
Ingredients:
24 wonton wrappers
½ cup pumpkin puree
8 oz cream cheese, softened
1 tsp vanilla
½ cup sugar
½ tsp cinnamon
¼ tsp nutmeg
⅛ tsp salt
1 cup vegetable oil
¼ cup powdered sugar
1 tbsp maple syrup
1 tbsp milk
Directions:
In the bowl of a stand mixer (or electric mixer), add cream cheese, vanilla, and sugar; mix until completely smooth and combined. Add pumpkin puree, cinnamon, nutmeg, and salt; mix to combine completely.
Arrange a workstation with a small bowl of water, your wonton wrappers, and pumpkin filling. Working one at a time, add about 1 tbsp of pumpkin filling to the centre of your wonton, then using your finger, wipe water across all sides of the wonton. Bring one corner up to the other in the centre, and press together to seal. Then bring up the other 2 corners, and run your finger along to seal all edges. Set aside and repeat for all wontons.
In a large stockpot, add about cup of oil (should be about 1-2 inches deep). Heat over medium high heat, and when you see ripples the oil is ready. Carefully drop the wontons bottom side down into the oil and cook for about 1-2 minutes on the first side. When they start browning, use a spatula and flip over. Cook another 1-2 minutes or until crispy. Remove from oil and set on a paper towel lined plate. Repeat until all wontons are fried.
In a small bowl, add powdered sugar, maple syrup, and milk; mix together with a fork until smooth. Add more milk to loosen glaze if desired. Drizzle glaze over the tops of the wontons.