25 Comforting Cabbage Roll Recipes
Little did I know when I made my slow cooker recipe for Cabbage Roll Soup that it would become one of the most popular recipes on my site! I guess people like their cabbage rolls. The recipe is way easier than cabbage rolls, but still captures the same flavours. It's made in the slow cooker so it's super simple to prepare. I love cabbage rolls, but was never very good at making mine look pretty.
With the cooler weather upon us, people are looking for comfort foods. Since it appears folks love cabbage rolls, I'd find a bunch of cabbage roll and cabbage roll inspired recipes to share! Yes, my soup is on the list too 🙂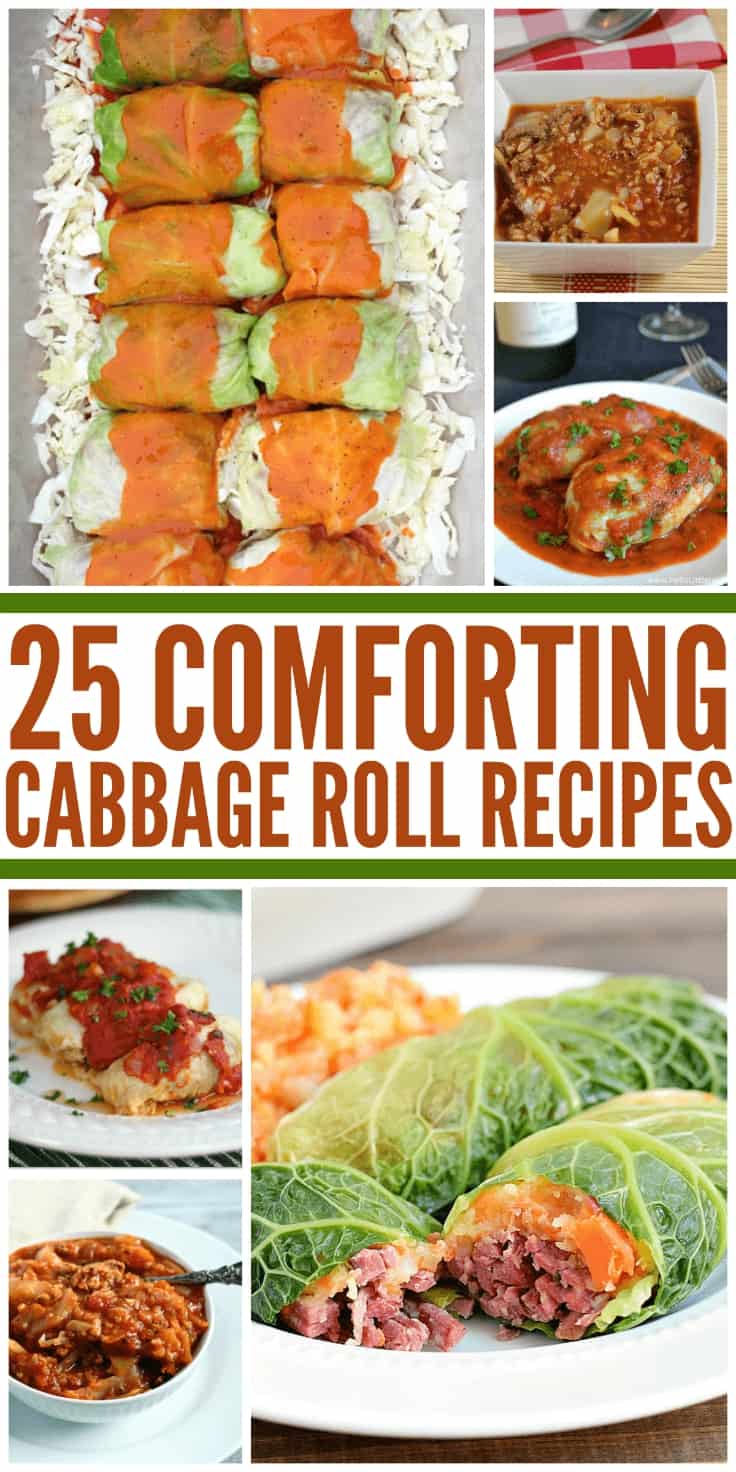 Cabbage Roll Recipes
Check out this list of 25 comforting cabbage roll recipes!
1. Corned Beef Cabbage Rolls | Home. Made. Interest.
2. Cabbage Roll Soup | Simply Stacie
3. Moroccan Spiced Vegetarian Cabbage Rolls | Hello Little Home
4. Slow Cooker Cabbage Casserole | AKA Design
5. Corned Beef and Cabbage Casserole | Just Us Four
6. Galumpkis (Stuffed Cabbage) | We Know Stuff
7. Crock Pot Cabbage Roll Soup | Tales of a Ranting Ginger
8. Cabbage Rolls With Brown Rice | Mama Harris' Kitchen
9. Deconstructed Stuffed Cabbage Casserole | Kalyn's Kitchen
10. Unstuffed Paleo Cabbage Rolls | Confessions of an Over-Worked Mom
11. Cabbage Spring Rolls With Peanut Sauce | Driftwood Gardens
12. Mediteranean Savoy Cabbage Rolls | Narin's World of Taste
13. Golubtsy Russian Stuffed Cabbage Rolls | Lublyou
14. Vegan Cabbage Rolls in Tomato Sauce | The Minimalist Vegan
15. Stuffed Cabbage Casserole | Melissa's Cuisine
16. Easy Russian Cabbage Roll Soup | The Wanderlust Kitchen
17. Turkey and Brown Rice Stuffed Cabbage Rolls | Fit Fare Meal Prep
18. Napa Cabbage Wrapped Shiitake Pork Rolls | Health Starts in the Kitchen
19. Red Cabbage Wraps | Dish Tales
20. Turkey Cabbage Rolls | Feasting Not Fasting
21. Cheese Stuffed Cabbage Rolls | Chipotle Potato
22. Health Lazy Cabbage Rolls | Vikalinka
23. Lazy Cabbage Rolls Skillet | ifoodreal
24. Ground Turkey and Ale Cabbage Rolls | Fake Food Free
25. Chestnut and Quinoa Stuffed Cabbage Rolls | Little Green Wheelbarrow
Did any recipes catch your eye? I'm interested in trying the Lazy Cabbage Rolls Skillet. Sounds like my kinda recipe!