How to Perfectly Roast Fresh Asparagus
Spring is in the air! This week, I put the summer tires on my vehicle and even had to turn on the air conditioner. It works, thankfully. I bought the car in the late fall and never had a chance to test it out. Our snow is completely gone (yay!) and I also opened a window in my kitchen to let some fresh air blow in. I'm living on the wild side! I love Spring weather. It's not too hot or humid and going outside feels as good as cool drink of water on my skin. It's my kinda weather!
With Spring's arrival, it also heralds another exciting time – asparagus is in season (or will be very soon). Asparagus is a spring veggie and will be plentiful at local grocery stores and farmer's markets. It's the one vegetable that I never minded eating as a kid. I hated just about every vegetable, but tolerated asparagus. Nowadays, I can eat it by the bushel.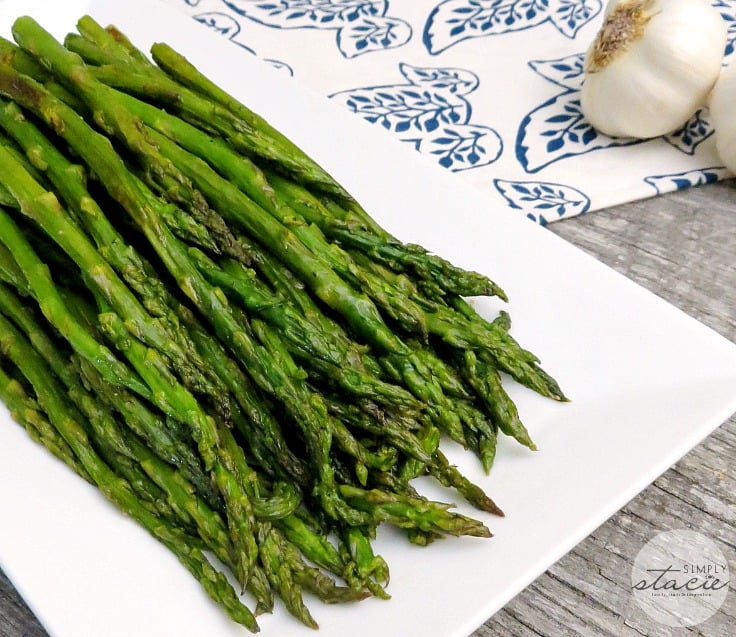 The only way I won't eat asparagus is raw. I'm not even sure if you can (anyone know?). I like it steamed or roasted. Sometimes I'll drench it in butter and other times, I'll just squeeze a little fresh lemon top. It's so versatile!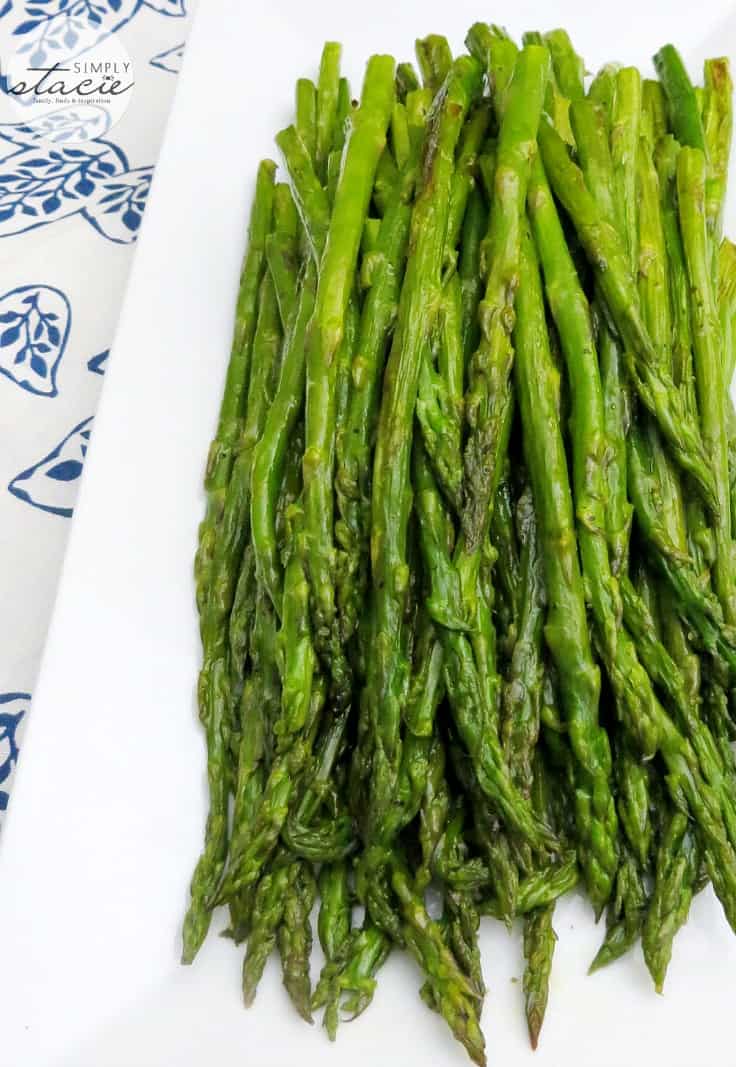 Take a look on Pinterest and you'll see pinners who have boards dedicated to this nutrient-rich vegetable. Like this one simply called Asparagus!  This makes me want to make a new board too….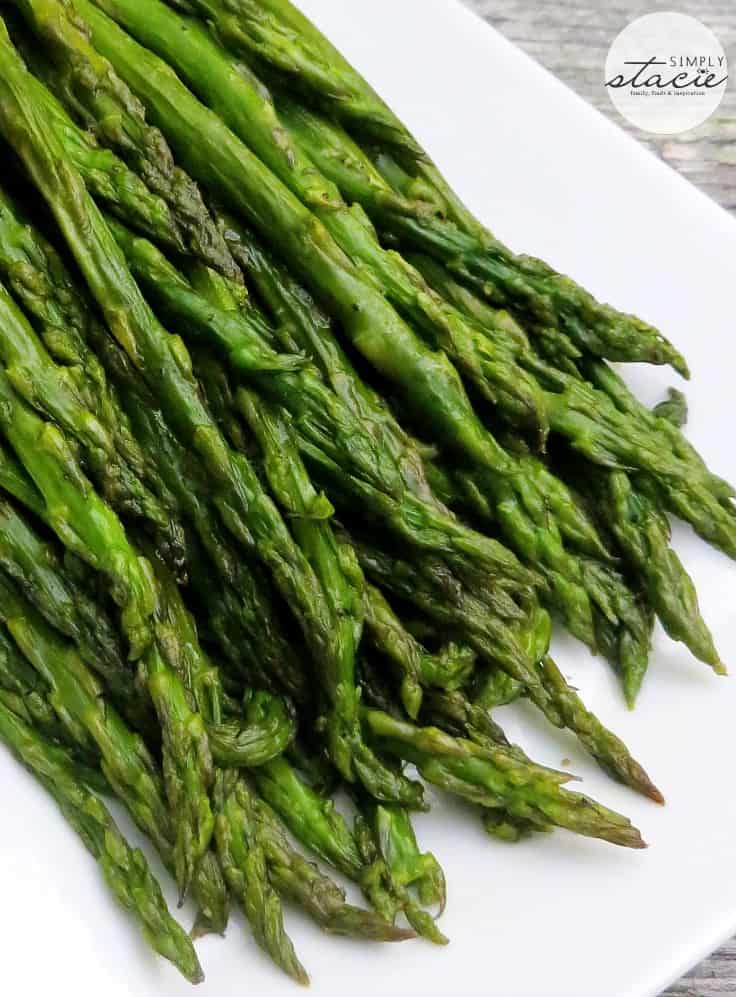 Ever wonder how to perfectly roast fresh asparagus? If so, you are in luck. I've got a yummy recipe that is so easy to make, you could do it blindfolded. In theory anyways!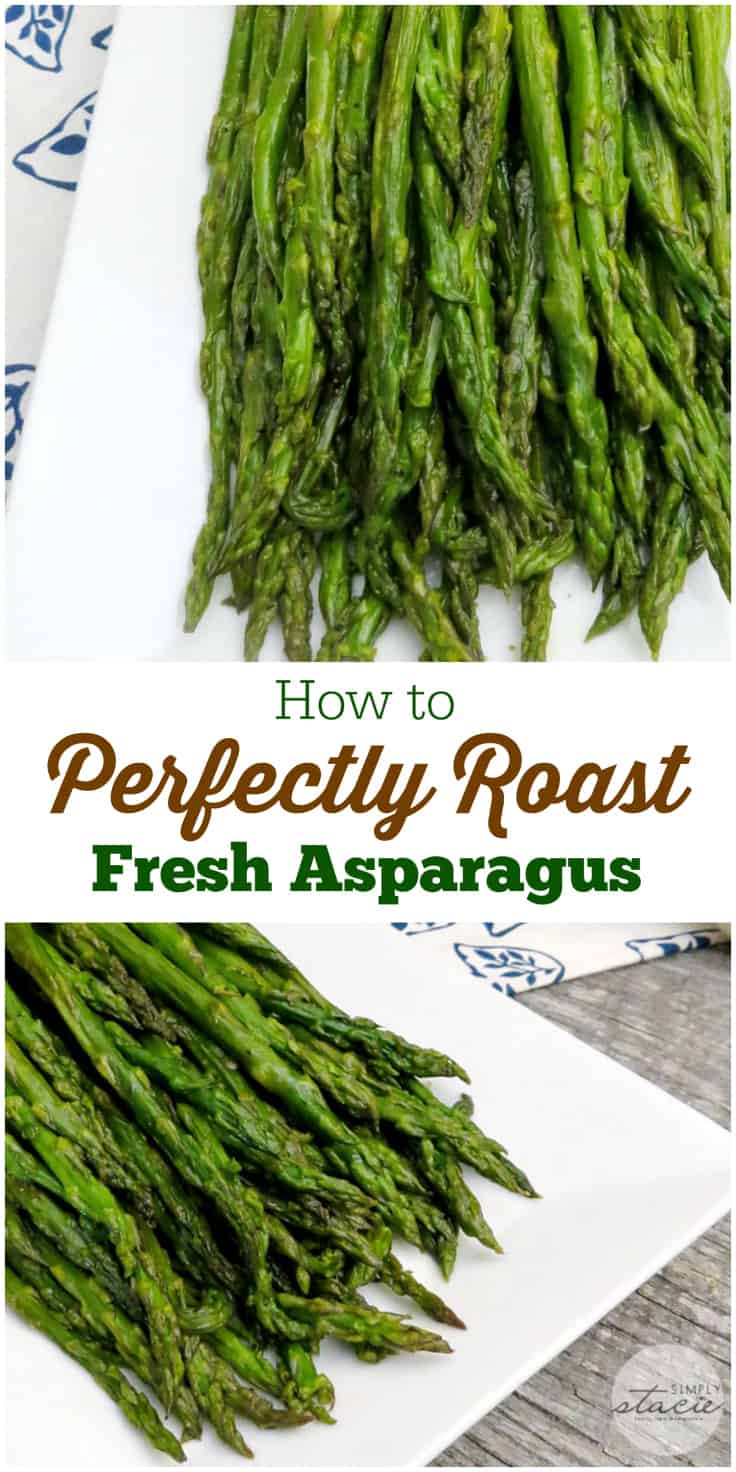 I told you it was easy! Add a wonderful, healthy side of asparagus to your meal. I often pair asparagus with chicken dishes, but it could really go with anything you make.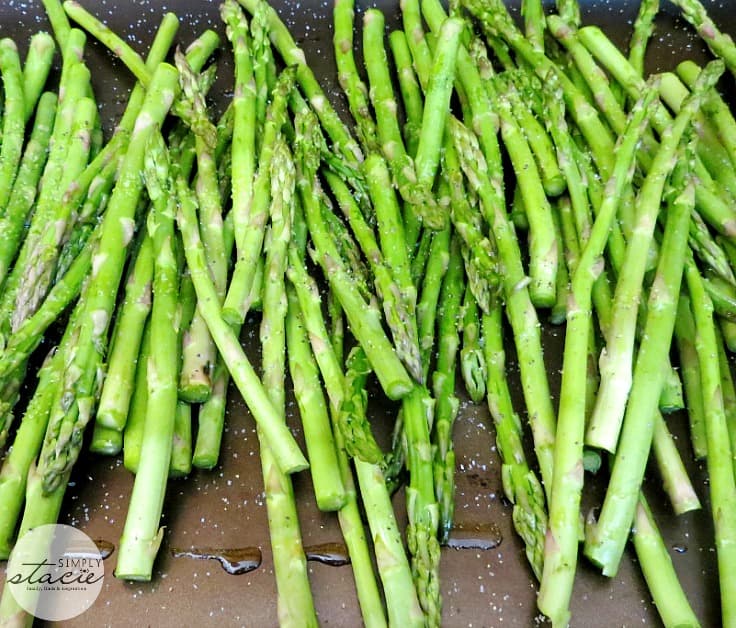 Roasting veggies really brings out a lovely flavour. It's one of my favourite ways to cook vegetables.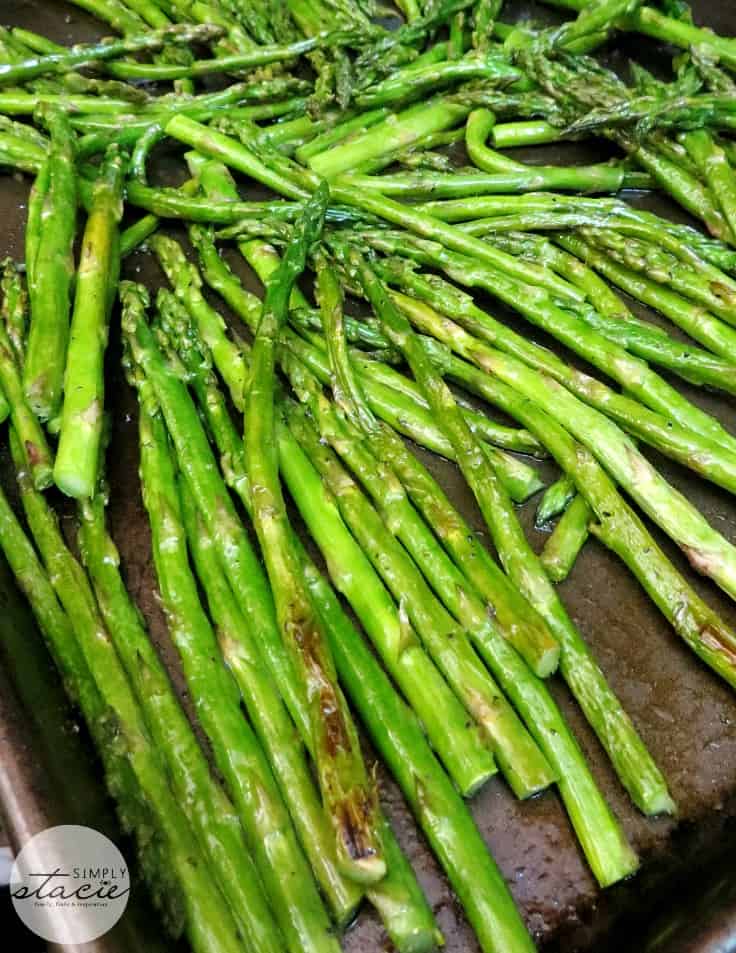 How do you like your asparagus?

Yield: 6
Oven Roasted Asparagus
Learn how to perfectly roast fresh asparagus with this simple, delicious recipe!
Ingredients:
2 bunches of fresh asparagus, washed and dried
2 tbsp olive oil
3 small garlic cloves, lightly smashed and peeled
1/2 tsp salt
1/2 tsp pepper
Directions:
Preheat your oven to 450 degrees.
In a small pan, add the olive oil and garlic over medium heat. As soon as you see bubbles forming around the garlic, turn the heat all the way down to low and let it heat through while you prepare the asparagus. Do not let the garlic turn brown or it will be bitter.
Trim the tough ends off of the asparagus and place on a large baking sheet.
Remove the garlic from the olive oil and drizzle it over the asparagus. Season with the salt and pepper.
Toss the asparagus thoroughly, making sure they're evenly coated with the olive oil and seasoning.
Arrange the asparagus in a single layer with most of the ends pointed outwards and the tips towards the inside of the pan. The ends take longer to cook, so this helps ensure even cooking.
Bake for 10-15 minutes or until they are tender and start to brown. Toss halfway through cooking.
If you want more colour, turn the heat up. This is especially true with smaller, thinner asparagus, which cook very quickly.
You Will Also Love
If you liked this post, you will also love these ones!