Learn how to perfectly roast fresh asparagus each and every time! Asparagus is in season and I can't get enough. Roasted asparagus brings out so much flavor, and it is simple to do, and basic staple ingredients.
Spring is in the air! This week, I put the summer tires on my vehicle and even had to turn on the air conditioner. It works, thankfully. I bought the car in the late fall and never had a chance to test it out. Our snow is completely gone (yay!) and I also opened a window in my kitchen to let some fresh air blow in. I'm living on the wild side! I love Spring weather. It's not too hot or humid and going outside feels as good as a cool drink of water on my skin. It's my kinda weather!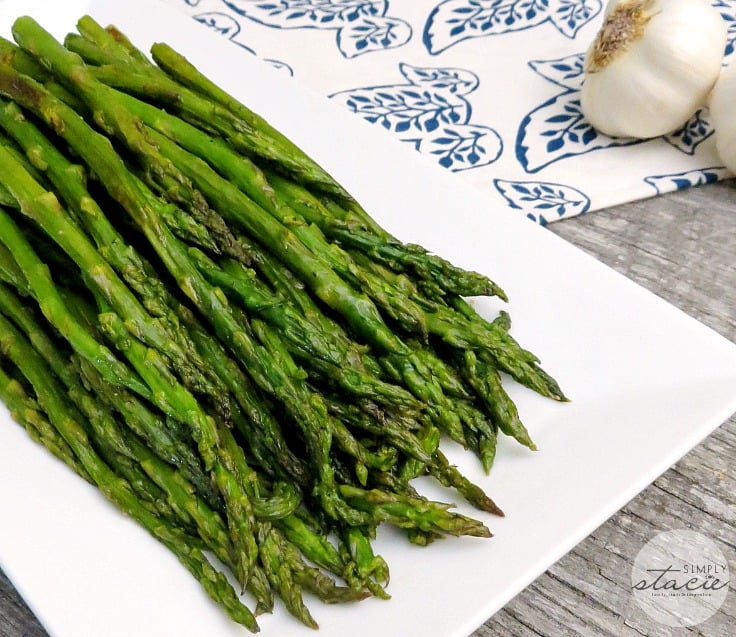 How to Roast Asparagus
With Spring's arrival, it also heralds another exciting time – asparagus is in season (or will be very soon). Asparagus is a spring veggie and will be plentiful at local grocery stores and farmer's markets. It's the one vegetable that I never minded eating as a kid. I hated just about every vegetable but tolerated asparagus. Nowadays, I can eat it by the bushel.
The only way I won't eat asparagus is raw. I'm not even sure if you can (anyone know?). I like it steamed or roasted. Sometimes I'll drench it in butter and other times, I'll just squeeze a little fresh lemon top. It's so versatile!
Take a look on Pinterest and you'll see pinners who have boards dedicated to this nutrient-rich vegetable. Like this one simply called Asparagus! This makes me want to make a new board too….
Ever wonder how to perfectly roast fresh asparagus? If so, you are in luck. I've got a yummy recipe that is so easy to make, you could do it blindfolded. In theory anyway!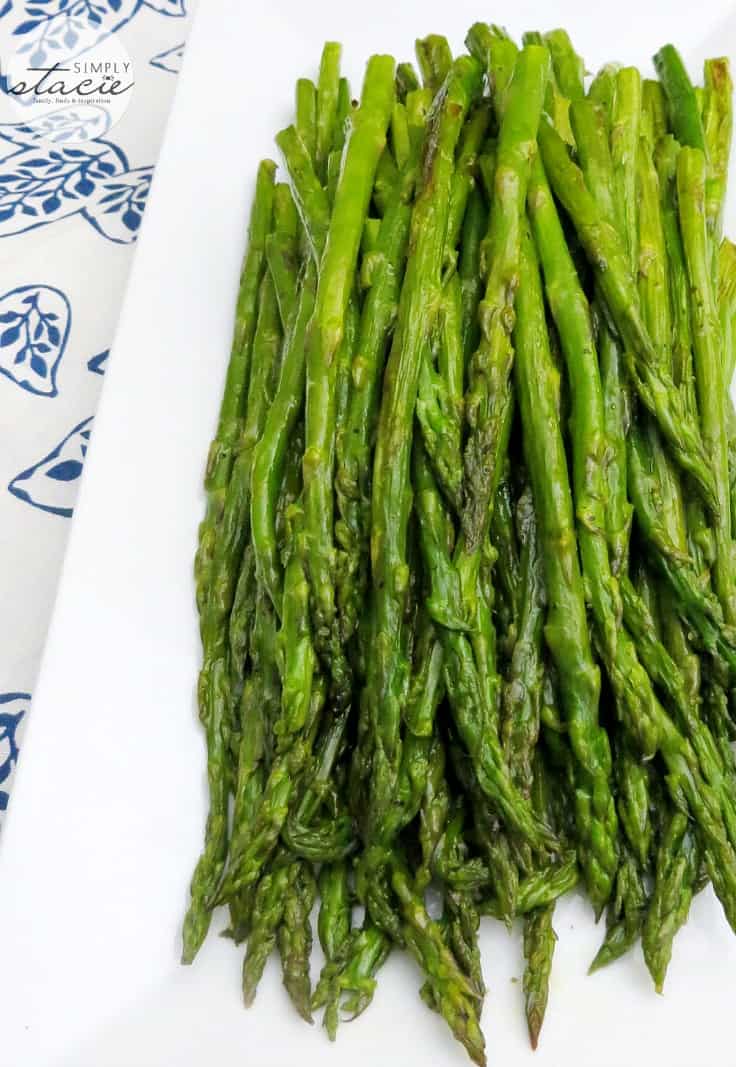 Roasting Asparagus is Easy and Elevates Flavor
I told you it was easy! Add a wonderful, healthy side of asparagus to your meal. I often pair asparagus with chicken dishes, but it could really go with anything you make.
Roasting veggies really brings out a lovely flavour. It's one of my favourite ways to cook vegetables.
Even More Asparagus Recipes
Chicken and Asparagus Salad | Who says asparagus is only meant to be a side dish? Here is a tasty and easy salad to whip up for a light dinner or lunch.
Ham, Asparagus, and Swiss Biscuit Cups | Breakfast or lunch these biscuit cups are a delight. Light and flaky biscuit loaded with tender ham, tangy Swiss cheese, and earthy asparagus.
Cream of Asparagus Soup | This soup is such a treat. It is velvety smooth in texture, loaded with asparagus flavor, that leaves you reaching for one more spoonful.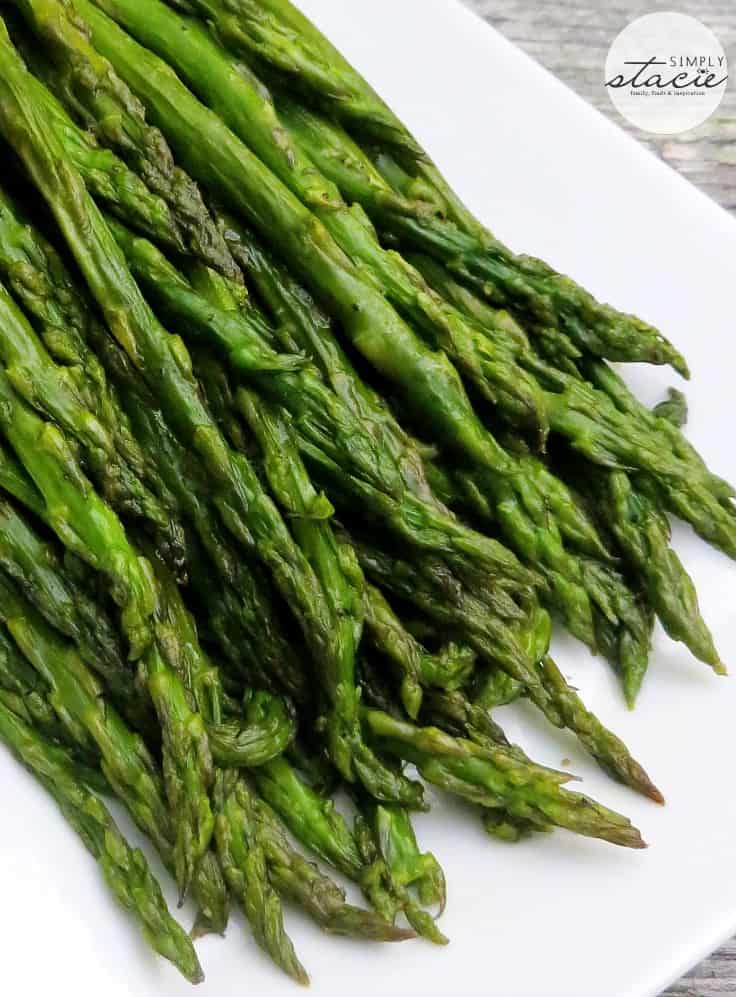 How to Store Asparagus
One tip I want to share is how to store your asparagus for when you bring it home! I mean from the time it pops in the fridge to cooking time, you want it to stay at prime freshness!
What I recommend doing is getting a jar or even a glass that is heavy, so it can stand up once asparagus is tucked inside. Then add around 2 inches of water to the bottom of the cup, and sit your asparagus stalks right in the water. Cover with a bag and stick in the fridge.
Is Asparagus Better Thick or Thin
Larger asparagus spears will contain more nutrients when picked at the prime. Smaller asparagus can be thinner can also result in a tougher chew. So you would think thin is best, but larger asparagus has been said to be better all-around from texture to taste.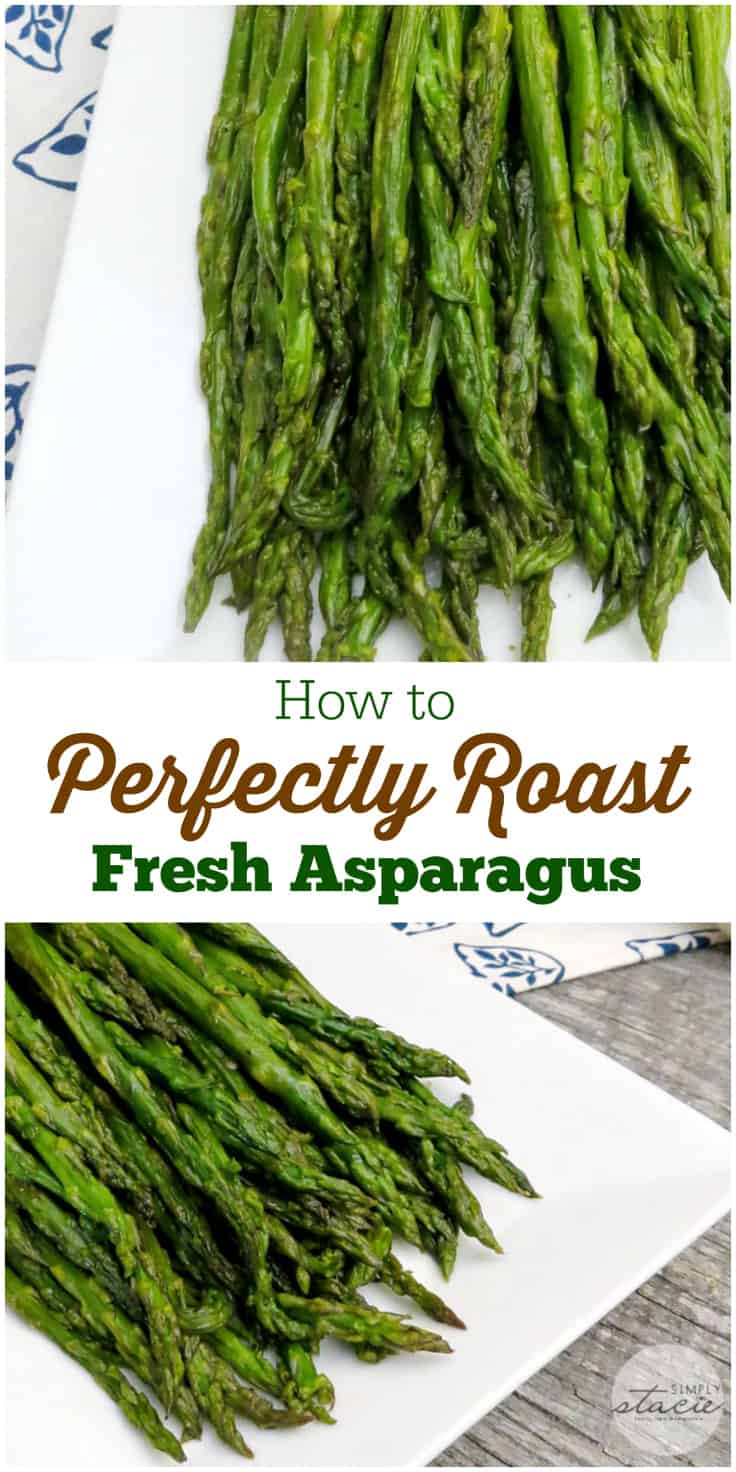 How to Pick Asparagus Out Properly
Reach for a firm, not limp asparagus. You also want that bright and bold green color or even lavender. If you find any mushy or soft spots on the stalks that is an indicator that your vegetable is going bad or has already gone bad depending on how much you find.
How to Prep Asparagus
The first step is to fully rinse and clean your asparagus under running water. Then the ends of the stalks need to be removed. These are tough and many call them woody. You can bend the asparagus near the base or cut it with a knife. Either route works great. Just make sure you cut enough off.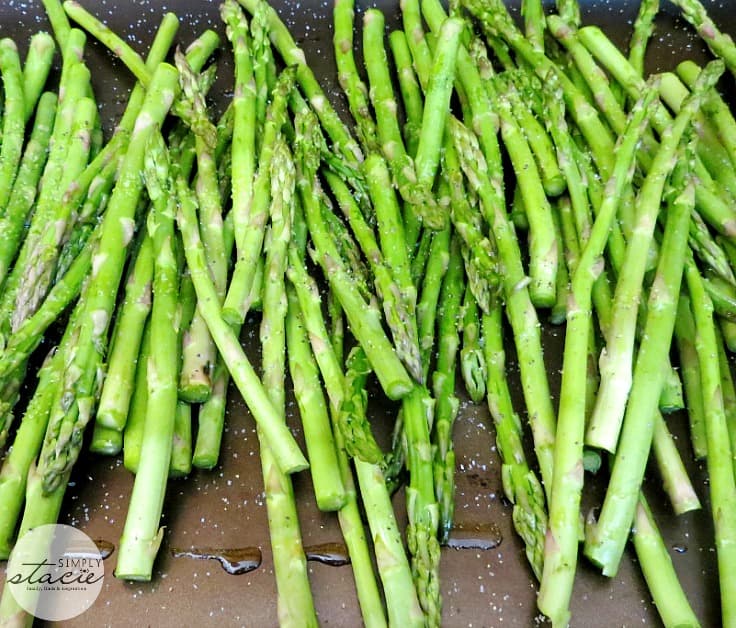 Roasting Asparagus
The first step is grabbing a pan and adding minced garlic and oil to the pan over medium heat. You want to help bring out the flavor in the garlic by warming it up. Make sure not to over-cook the garlic, or it will bring out a bitter taste. Just cook it till you see it form bubbles around the garlic.
Then while that is cooking prep your asparagus, and place it on a large baking sheet. You can line with parchment paper if you want or even a Silpat mat to prevent any sticking.
Once the garlic is done remove from the stove and drizzle it evenly over the asparagus. Then liberally season veggie with salt and pepper. Toss it around to make sure all areas are coated. Pop in the oven and cook for around 10-15 minutes, while stirring halfway through.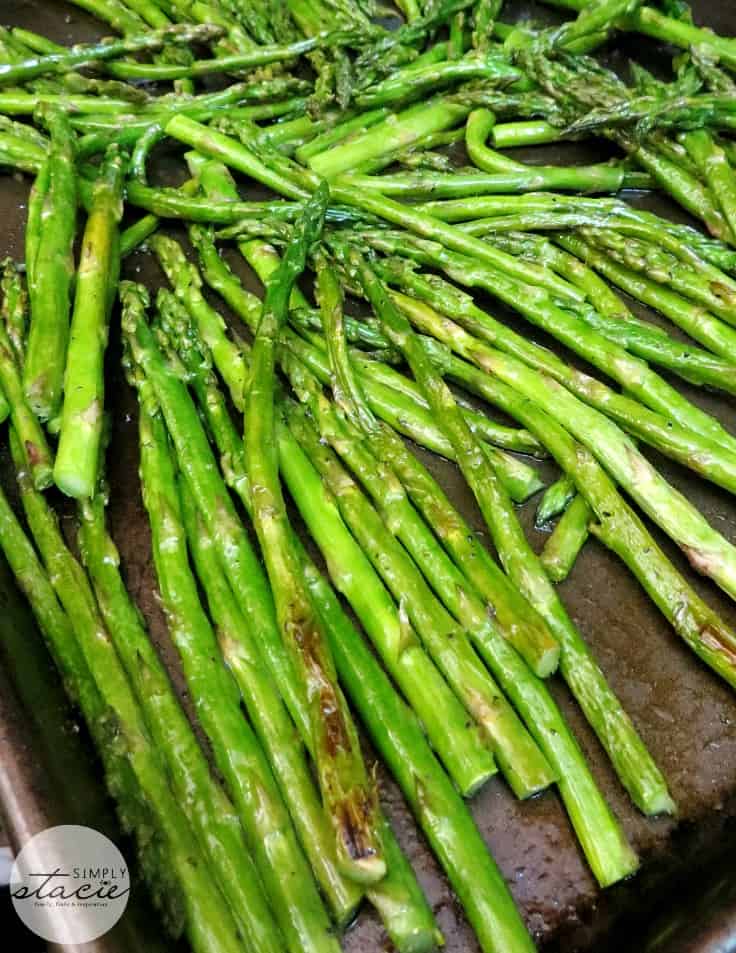 Ways to Add More Flavor to your Roasted Asparagus
Lemon |Drizzle fresh lemon juice over your asparagus and watch more flavors come out in the vegetable. Easy to do, and hits the spot.
Red Peppers | Kick up the heat with some red pepper flakes. This isn't for everyone but it will add some spice to your dish and a pop of color.
Parmesan Cheese | Parmesan adds a tangy pairing to your asparagus. Just grate fresh parmesan over the freshly roasted veggies and then serve!
How to Store Leftover Roasted Asparagus
I place mine in an airtight container in the fridge. This will store 2-3 days. The asparagus will become more tender with each day, so it is best when served fresh.
To reheat simply pop in the microwave or opt to reheat in the oven at 350 degrees until warmed through.

You'll also like this Air Fryer Asparagus.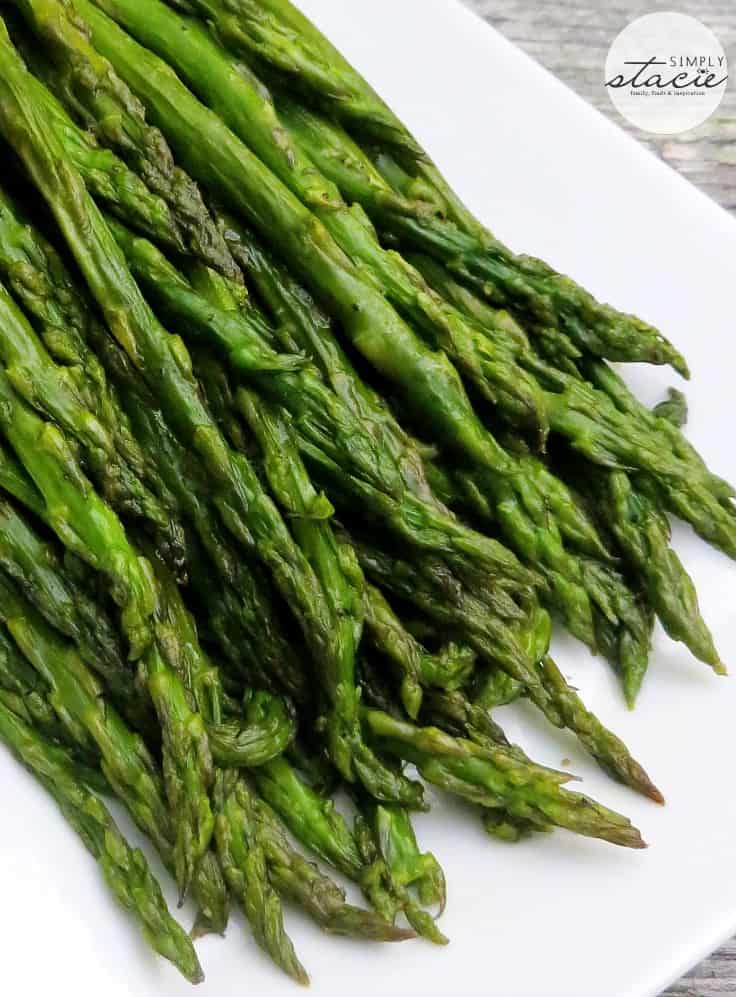 How to Perfectly Roast Fresh Asparagus
The best way to make asparagus in the oven every time! Get the crispiest roasted asparagus for the perfect side dish.
Print
Facebook
Pin
Share by Email
Rate
Ingredients
2

bunches

fresh asparagus

washed and dried

2

tbsp

extra virgin olive oil

3

small garlic cloves

lightly smashed and peeled

½

tsp

salt

½

tsp

pepper
Instructions
Preheat your oven to 450℉.

In a small pan, add the olive oil and garlic over medium heat. As soon as you see bubbles forming around the garlic, turn the heat all the way down to low and let it heat through while you prepare the asparagus. Do not let the garlic turn brown or it will be bitter.

Trim the tough ends off of the asparagus and place on a large baking sheet.

Remove the garlic from the olive oil and drizzle it over the asparagus. Season with the salt and pepper.

Toss the asparagus thoroughly, making sure they're evenly coated with the olive oil and seasoning.

Arrange the asparagus in a single layer with most of the ends pointed outwards and the tips towards the inside of the pan. The ends take longer to cook, so this helps ensure even cooking.

Bake for 10-15 minutes or until they are tender and start to brown. Toss halfway through cooking.
Kitchen Tools
Notes
If you want more colour, turn the heat up. This is especially true with smaller, thinner asparagus, which cook very quickly.
Nutrition
Serving:
1
g
|
Calories:
45
kcal
|
Carbohydrates:
1
g
|
Fat:
5
g
|
Saturated Fat:
1
g
|
Polyunsaturated Fat:
4
g
|
Sodium:
196
mg
The information shown is an estimate provided by an online nutrition calculator. It should not be considered a substitute for a professional nutritionist's advice.
Love Recipes? Join our Free Facebook Group!
Join Mom's Best Recipes to find more delicious family recipes.
Save
Saved!