BBQ Chicken & Pineapple Quesadillas
Is it a snack, appetizer or a meal? Who cares? It's a quesadilla and it's good eats! I remember the first time I tried quesadillas. I was at new Mexican restaurant that just opened up in Petawawa called, "Que Pasa". I saw quesadillas listed on the menu and the description sounded like something I'd enjoy so I ordered one. That was about 16 years ago and I've expanded my quesadilla recipe box quite a bit since then!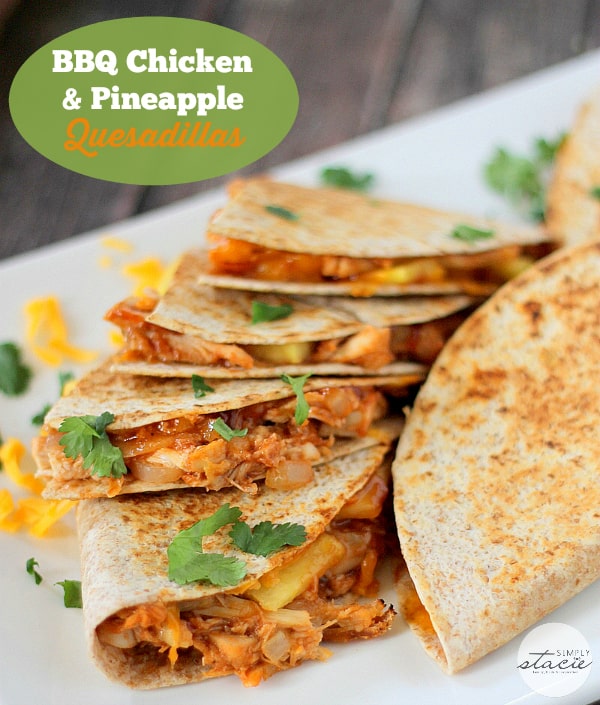 Last week I shared a recipe for Chicken & Bacon Pizza Quesadilla. It's basically a pizza on a tortilla instead of pizza dough. Today I have a spicy/sweet recipe for BBQ Chicken & Pineapple Quesadillas that will make your taste buds sing! It's that yummy.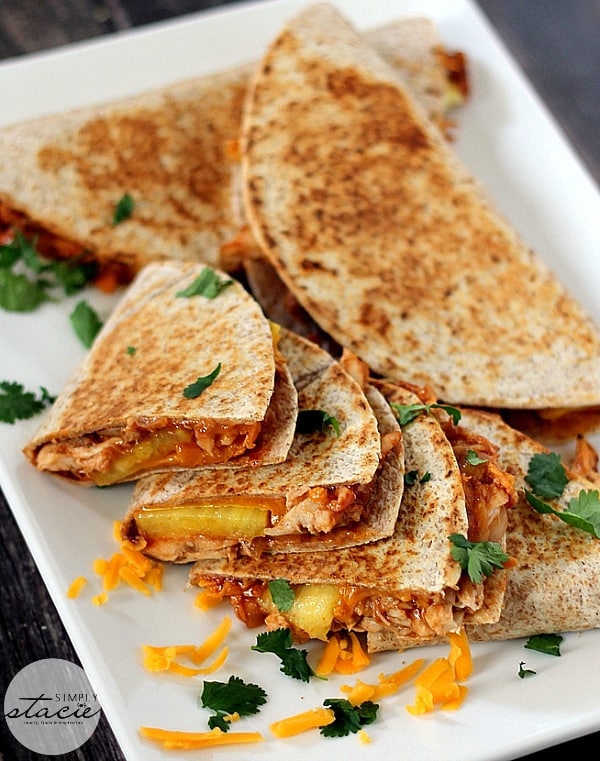 This recipe is good for a meal paired with some salad, Mexican rice or refried beans.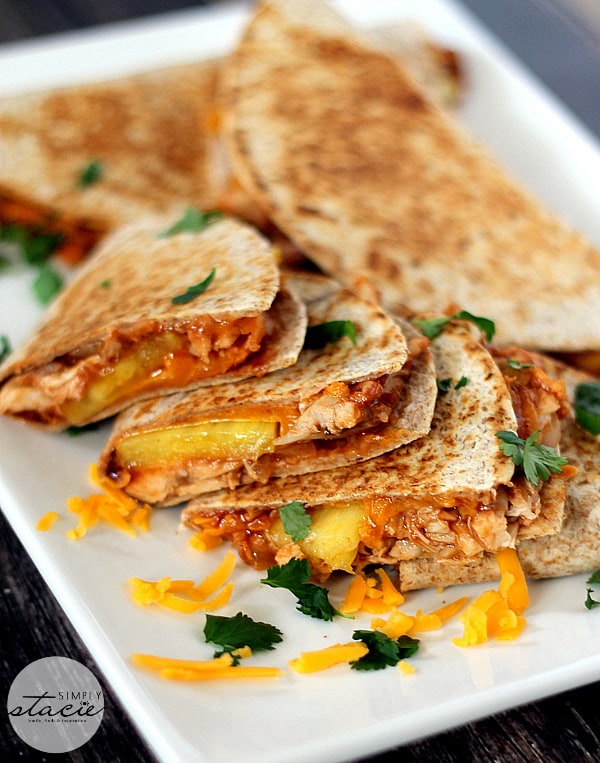 You could also make it as an appetizer at a party! I guarantee they will be gobbled up quickly by your hungry guests.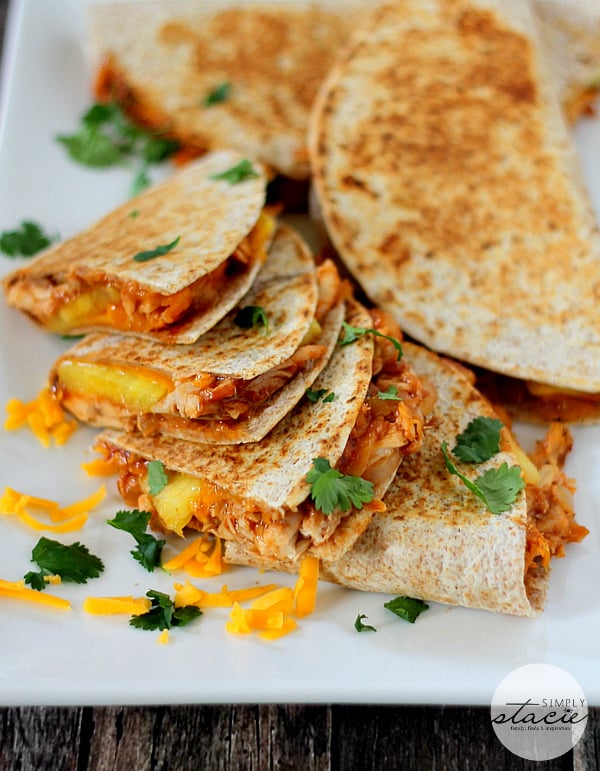 What is your favourite quesadilla recipe?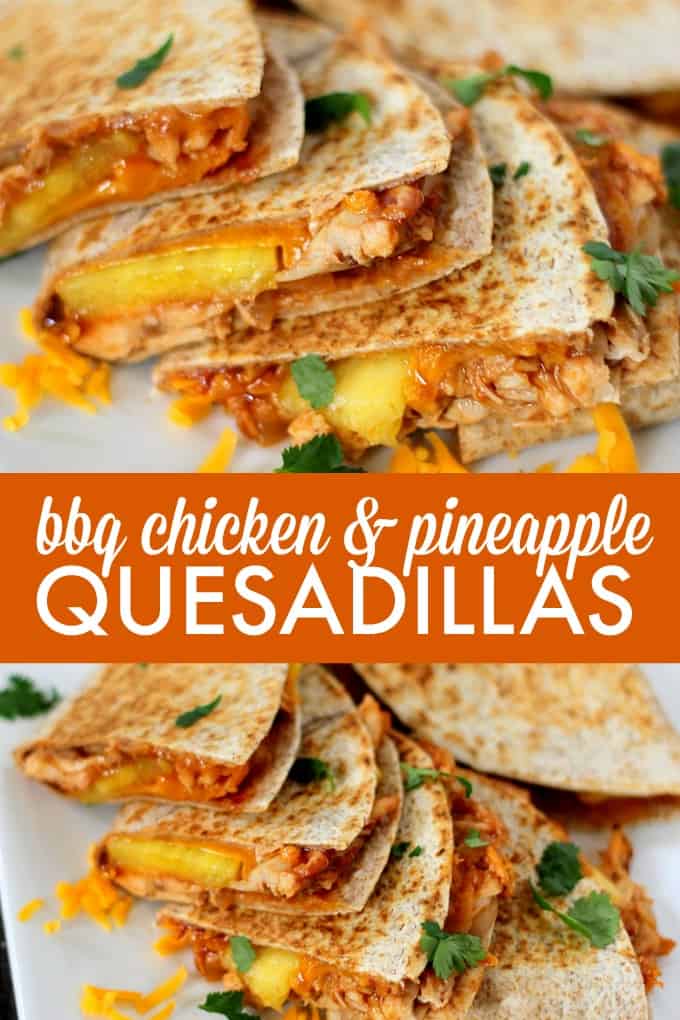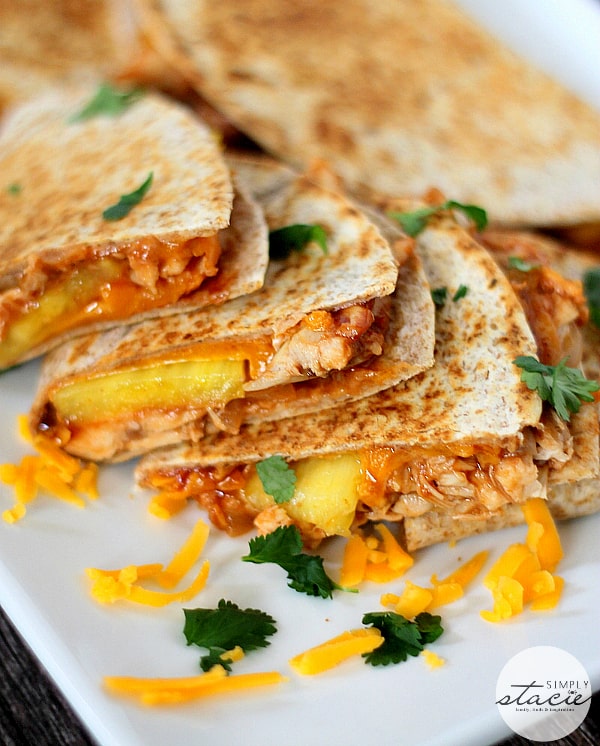 Yield: 4
BBQ Chicken & Pineapple Quesadillas
Spicy and sweet, this recipe for BBQ Chicken & Pineapple Quesadillas will make your mouth water!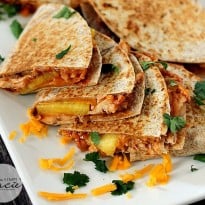 Ingredients:
2 boneless, skinless chicken breasts
1 1/4 cups sweet and spicy BBQ sauce (or your favourite kind!), divided
1/2 yellow onion, diced
5 medium size whole wheat flour tortillas
1 cup shredded cheddar cheese
1/2 pineapple, sliced thinly (you could also use canned pineapple, sliced thinly)
cilantro, optional
Directions:
Preheat oven to 350 F. Line a baking sheet with foil, and spray the foil with nonstick spray. Place chicken breasts on top of foil, spread 1/2 cup BBQ sauce over the tops. Use a spoon or hands to spread around and coat the chicken with sauce. Sprinkle onions over the top of the chicken. Place in oven and bake for 20 minutes or until cooked through.
Remove from oven and shred chicken with 2 forks. Place shredded chicken and onions into a bowl and add 1/2 cup BBQ sauce, mix until evenly coated.
Lay out 5 whole wheat tortillas, spread chicken mixture on half of the tortillas, then place sliced pineapple on top of the chicken, then sprinkle cheese on top of the pineapple. Add about a tablespoon of BBQ sauce to the other side of the tortillas, then close them up by bringing the side coated in BBQ sauce over the side with the chicken mixture, pineapple, and cheese.
Heat a skillet or grill pan over medium heat and spray with non stick spray. Place the quesadillas down on the pan, and cook for 2-3 minutes, or until browned. Flip and cook on the other side for 1-2 minutes or until browned. [i]*Careful, they tend to cook fast on the second side[/i]. Repeat these steps until all quesadillas are cooked.
Slice, top with cilantro (optional), and serve.
These can also be made in the crock pot: Spray crock pot, add chicken, onions, BBQ sauce (1 cup), and pineapple. Cook for 4 hours on high. Remove chicken, shred. Follow directions above from step #3.​