Pistachio Cream Bars
It has been a long time since I've had pistachios. They quite the hard little nut to find especially where I live. I had to go to four different groceries stories to find them. The joys of living in a small town! However, pistachio instant pudding mix was readily available at all the little stores. Go figure!
These Pistachio Cream Bars have a shortbread cookie base and the filling is a cross between a pudding and a cheesecake. It is SOOOOO good! It's creamy, smooth and sweet. It tastes even better the next day. Let it set in the fridge overnight and it will be very easy to cut into squares the next day. Yum! There's a reason I've been making this recipe for years.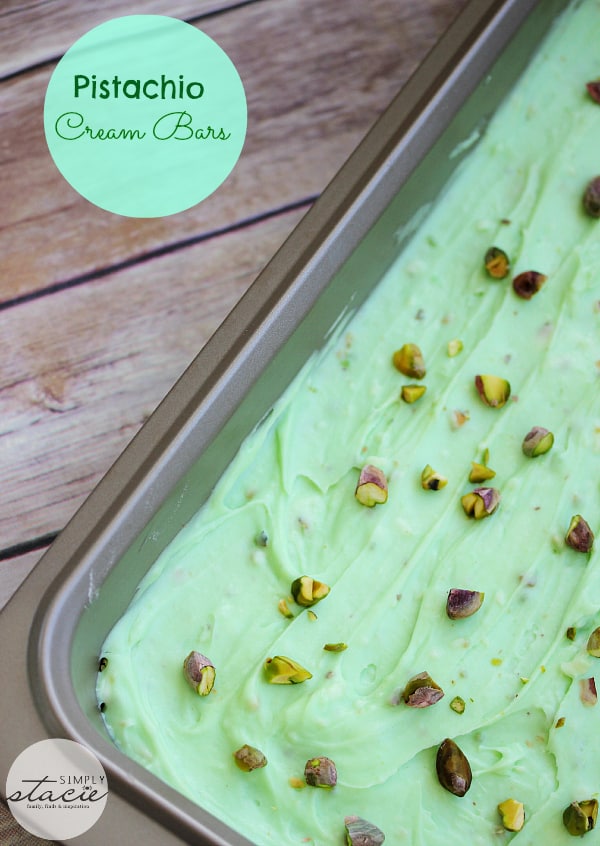 Yield: 24 to 36
Pistachio Cream Bars
Ingredients:
2 cups flour
1/3 cup sugar
1 cup butter, softened
1 8 oz. package cream cheese, softened
1 cup powdered sugar
1 box Pistachio instant pudding mix (4 serving size)
3/4 cup milk
¼ cup pistachios, roughly chopped
Directions:
Preheat oven to 300ºF. In a large mixing bowl, combine the flour and sugar. Then beat in the butter with an electric mixer on medium speed until completely blended. Add the dough mixture to a 13×9 inch pan and press down to make the crust.
Bake for 30 to 35 minutes or until edges of the crust are golden brown. Remove from heat and let cool.
In a large mixing bowl, combine the cream cheese and powdered sugar and beat with an electric mixer on medium speed until blend. Then add in milk and Pistachio pudding mix and continue mixing until fully combined.
Spread pudding mixture evenly over the crust. Sprinkle the nuts on top. Refrigerate for at least an hour or until set. Makes 24 to 36 bars depending on the portion size.