Cheesy Potato Skins
It's day two of our week of holiday appetizers! I'll be sharing a recipe a day of my favourite party foods for the next four days. Three other bloggers are also doing the same thing so by the end of the week, you'll have 20 new appetizer recipes to try.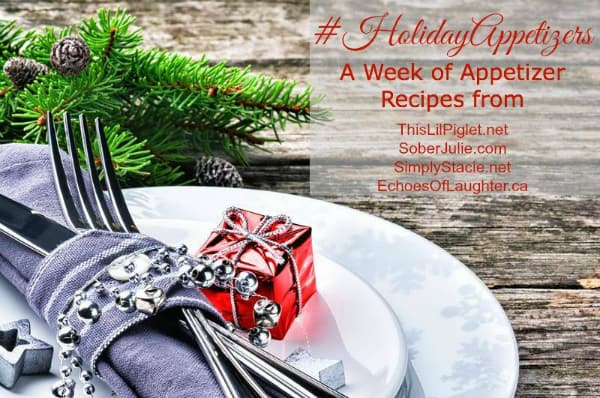 This recipe for Cheesy Potato Skins is a crowd pleaser. They are served hot fresh from the oven and topped with melted cheese, bacon, sour cream and a sprinkling of green onion. I use spices in mine for an extra punch of flavour. They are beyond delicious. Though they do take a little bit of prep work, they aren't hard to make.  The potato that you scoop out can be saved for another meal as mashed potatoes.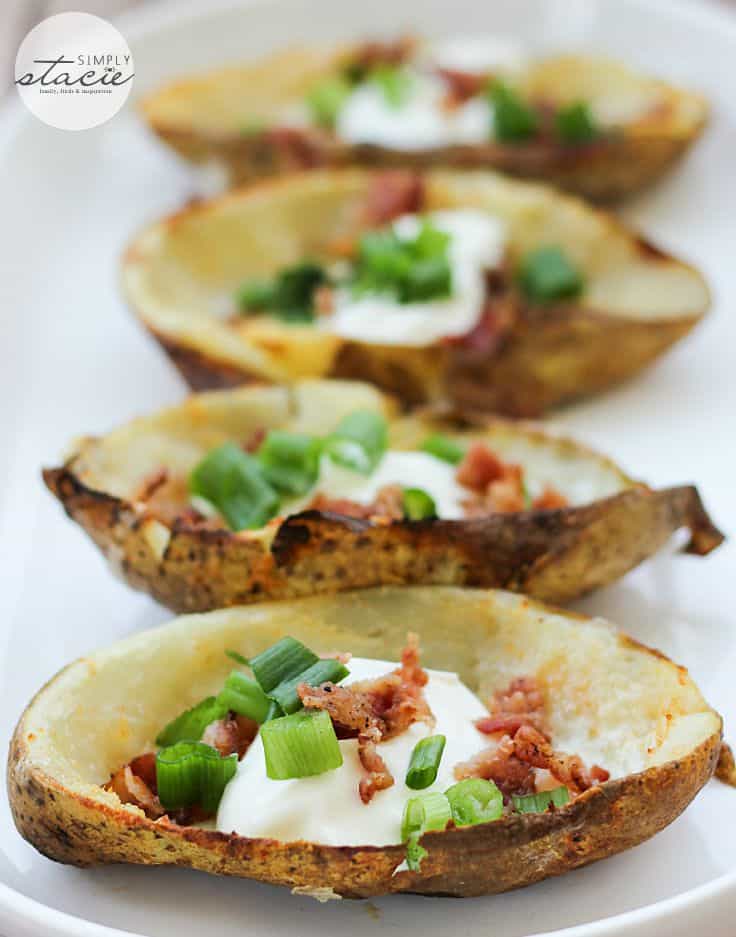 This batch I made was quickly devoured by the guys working on our house. They raved about how great they were!
To find more appetizer recipes, head over to my friends' blogs!
Yield: 8
Cheesy Potato Skins
The perfect appetizer for your parties!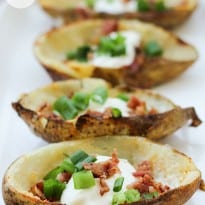 Ingredients:
4 large baking potatoes, wrapped in foil
2 to 3 tbsp butter, melted
¼ tsp paprika
¼ tsp onion powder
¼ tsp garlic powder
1 cup Monterey Jack cheese, shredded
3 strips bacon, cooked and crumbled
½ cup sour cream
6 to 8 green onions, sliced
Directions:
Preheat oven to 375°F. Prick each potato with a fork. Bake for about 1 hour 15 minutes or until potatoes are cooked and tender. Let cool until you are able to comfortably touch them.
Cut potatoes in half lengthwise. Scoop out potato insides and set aside. Place potato skins on baking sheet with the skin side down.
Mix melted butter, paprika, onion powder and garlic powder in a bowl. Brush the insides of the potato skins with the butter mixture.
Broil potatoes in the oven for about 8 to 12 minutes or until browned and slightly crisp. Make sure to watch them so they don't burn.
Remove from oven and add shredded cheese to each potato skin. Broil another minute or until cheese is melted.
Top each skin with bacon, a dollop of sour cream and green onions. Serve hot. Makes 8 potato skins.