Green Beans with Warm Pistachio Vinaigrette Recipe
And my green bean obsession continues….I've been eating them like they are going out of style. I go in phases where I seem to eat a lot of the same type of food before I move on to something else. I guess it could be worse though right? Beans are yummy and healthy! They are also take hardly any time at all to cook.
I've used nuts with beans before, but never pistachios. I could only find pistachios in the shell at our local grocery store so I had to break open the shell before I could start my recipe. I ended up eating quite a few pistachios. They are addicting!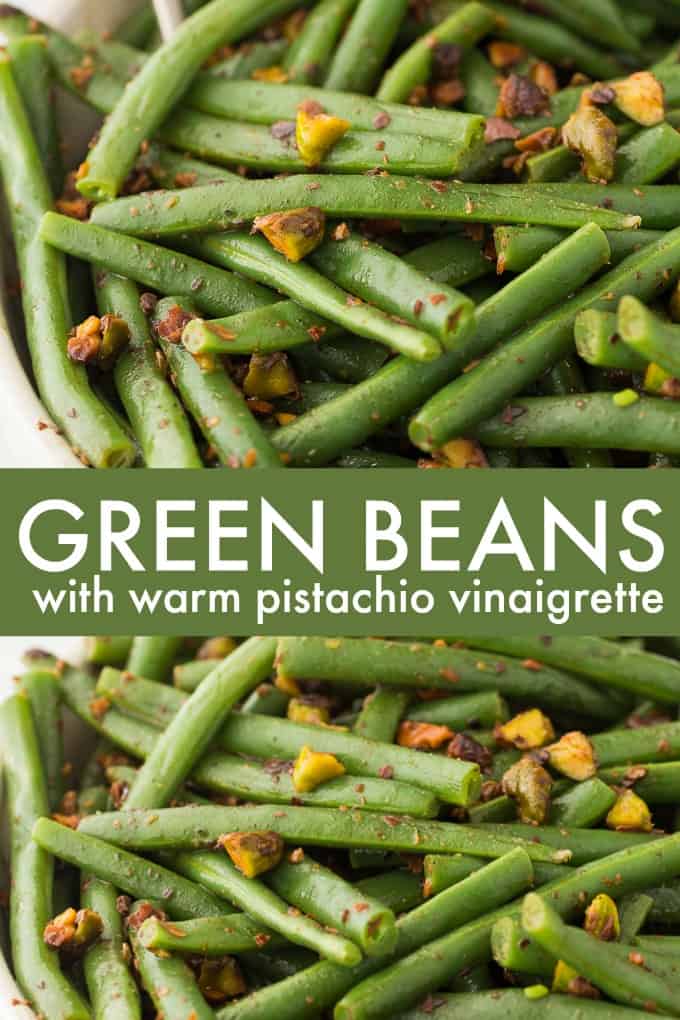 This recipe was in Today's Parent magazine August 2013 issue, but I ended up changing a few things. First off, I didn't use the sherry vinegar and choose red wine vinegar instead. As it happens stores around here don't carry sherry vinegar. No big surprise there since this is a fairly rural area. I also skipped the fresh basil and the sugar. Despite these variations, I thought the dish turned out really well. It was flavourful and the beans were cooked to perfection. I loved the buttery crunch the pistachios added to the mix!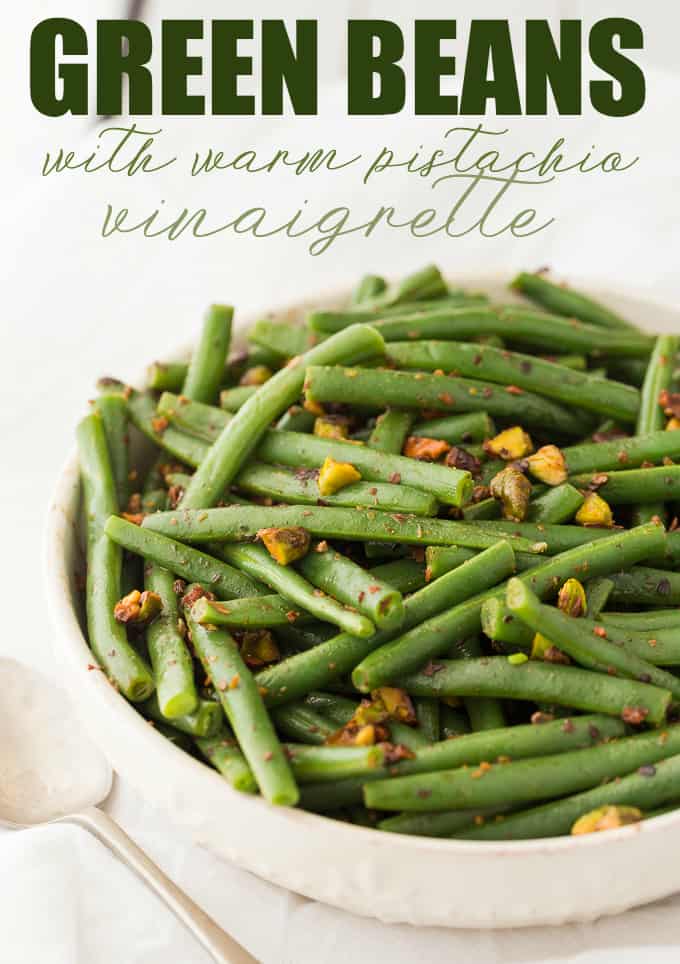 If you are looking for more green bean recipes, check out my recipes for Green Bean Casserole, Southern-Style Green Beans, Garden Vegetable Beef Skillet, Chili Buttered Green Beans & Almonds and Green Bean & Tomato Salad.


Yield: 4
Green Beans with Warm Pistachio Vinaigrette
Fresh, tender green beans are topped with a mouthwatering buttery, nutty vinaigrette.
Ingredients:
1/4 cup butter
1/2 cup shelled pistachios, chopped
2 tbsp red wine vinegar
1 tbsp water
1/4 tsp salt
1 lb green beans, trimmed
Directions:
Melt butter in a frying pan over medium heat. Add pistachios and saute for 2 minutes. Remove from heat.
Add vinegar, water and salt to frying pan. Stir to combine.
Bring a medium pot of salted water to a boil and blanch green beans for 4 minutes. Drain and rinse with cold water.
Toss beans with vinaigrette.