Chocolate Cupcakes with Salted Caramel Cream Cheese Topping
Disclosure: I was not financially compensated for this post. I received a gift card to purchase ingredients for this recipe. The opinions are my own, based on my personal experience with the product.
One thing I always make sure I have on hand in the fridge is a jar of Hellmann's mayonnaise. I mostly use it to make sandwiches and dips. Sometimes, I'll mix a can of tuna with some Hellmann's and skip the bread altogether. One thing I never thought of though, is using mayonnaise in a dessert recipe! It sounded strange to me at first, but I figured I'd give it a try. All I can say is…WOW! I've been missing out all these years. Use Hellmann's mayonnaise as a replacement for butter and eggs in your cupcake and cake recipes and be in for a treat. Think of it as a secret ingredient to add extra moistness. Plus you'll be reducing the saturated fat by 5 grams per serving if you want to get really technical about it.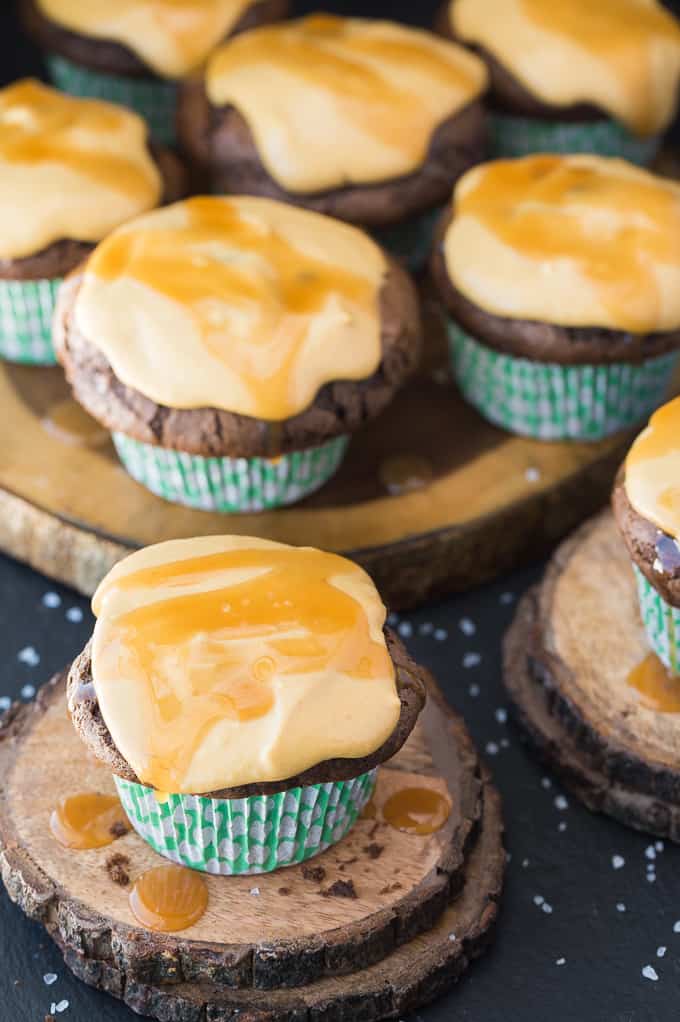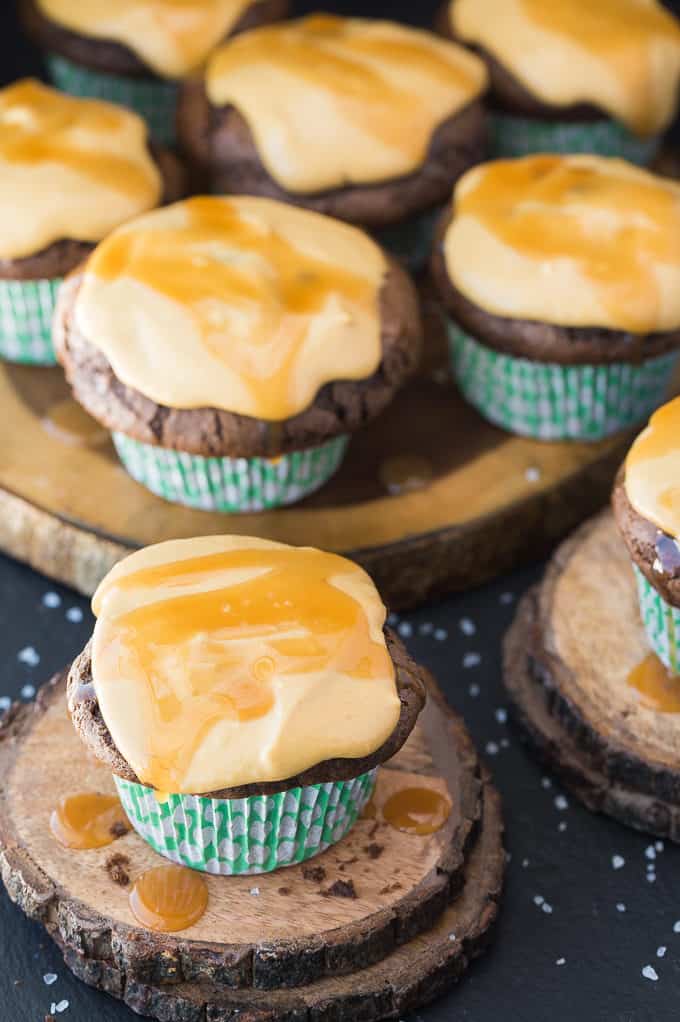 This year is Hellmann's 100th birthday! It's crazy that they've been around that long and still going strong. They are doing something right! They are hands down my go-to brand of mayonnaise.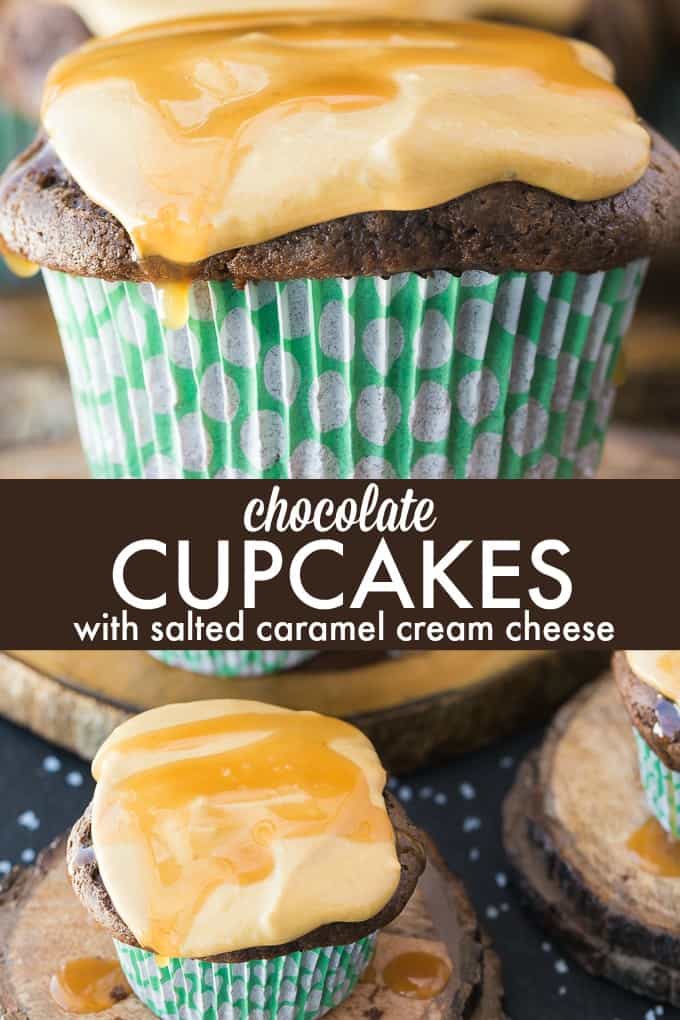 In honour of their birthday celebration, Hellman's has released some recipes with their delicious spin on some classic favourites. I made these amazing cupcakes! OMG they are soooo good. Moist, sweet and the topping tastes like caramel cheesecake. Seriously you need to try them.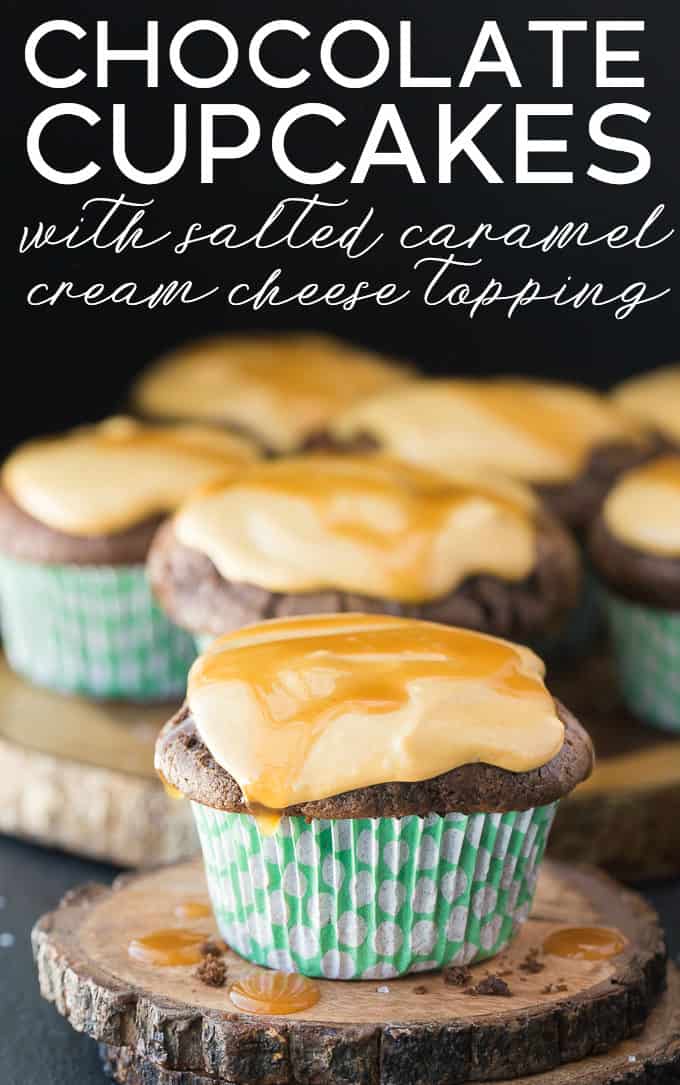 Visit Hellmann's to see more recipe ideas. In addition you can connect with Hellmann's on Facebook, Instagram and Pinterest.

Yield: 24
Chocolate Cupcakes with Salted Caramel Cream Cheese Topping
Made with a secret ingredient! The topping tastes like caramel cheesecake.
Ingredients:
Cake:
2 cups flour
1/2 cup cocoa
1 1/2 tsp baking soda
1 tsp baking powder
1/4 tsp salt
1 cup sugar
1 cup Hellmann's mayonnaise
1 cup buttermilk
1 tbsp vanilla extract
Salted Caramel Topping:
1/2 cup sugar
1/4 cup water
1/2 cup heavy cream
1 tbsp vanilla extract
1 package (250g) of cream cheese, softened
1/4 tsp coarse sea salt
Directions:
1. Preheat oven to 350°F and line 24 muffin cups with cupcake liners.
2. In a bowl, whisk together flour, cocoa, baking soda, baking powder and salt.
3. In a mixing bowl, beat the sugar, mayonnaise, buttermilk and vanilla until well blended.
4. Add dry ingredients to the wet ingredients and stir to combine.
5. Spread batter into muffin tins and bake for 20 minutes or until a fork inserted into a cupcake comes out clean. Set aside and let cool.
6. To make the topping, stir together sugar and water in a saucepan and cook over medium high heat until mixture turns a deep golden colour (about 12 minutes). Remove from heat.
7. Slowly stir in cream, salt and vanilla and let cool.
8. In a mixing bowl, beat cream cheese until smooth. Then beat in caramel mixture (reserve 1/4 cup for drizzle) until well blended.
9. Spread topping over cupcakes and drizzle remaining caramel over each. Refrigerate until ready to serve.