Mini Easter Cheesecakes are a homemade cheesecake with a vanilla wafer crust. A creamy baked cheesecake that is made in muffins tins for a small sized cheesecake for serving up. Great for serving family and friends or a treat for yourself or family.
Cheesecake is my weakness. I love the rich texture and sweetness and that you can dress it up to suit any occasion. These Mini Easter Cheesecakes are scrumptious! They are really easy to make in only a few simple steps. Let me just say it's hard to stop eating at just one!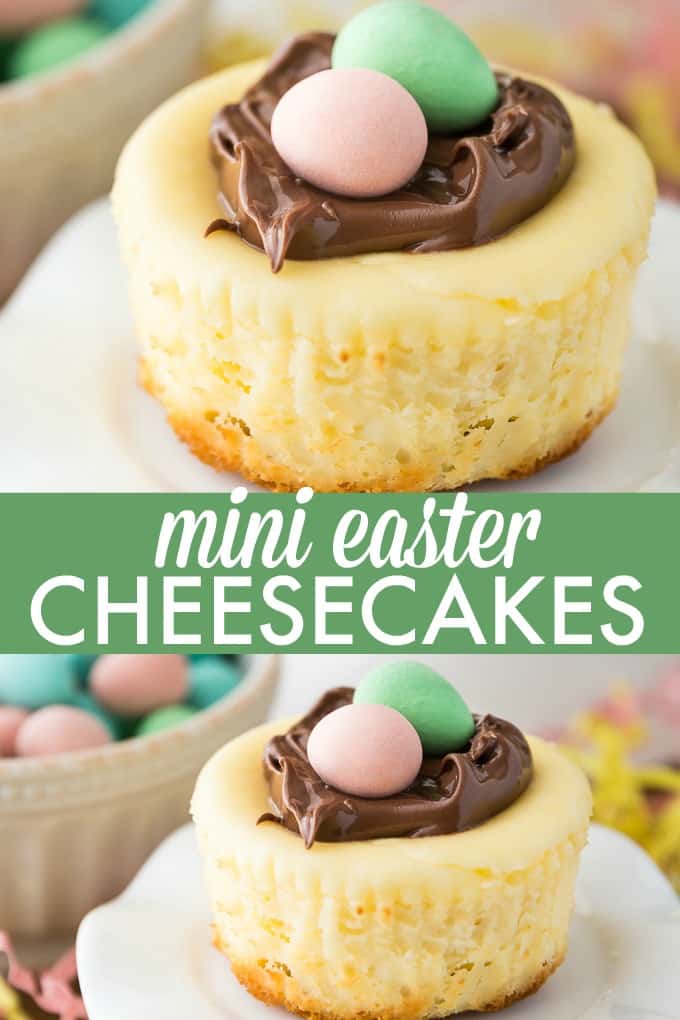 Mini Easter Cheesecakes
Let me share some tips and tricks to making cheesecake and answer common questions you may have. This mini cheesecake recipe is simple to make and is creamy, rich, and all the things you dream of when making cheesecake.
More Easter Recipes
Easter Egg Brownies | A tender and chewy brownie that has bits of Easter eggs throughout. This is such a simple recipe that will be a treat.
Krispies Easter Nests | A Rice Krispies treat shaped bird nest with a filling of sweet candy inside. This is a simple no-bake Easter dessert that kids and adults will enjoy.
Easter Egg Hand Pies | Hand pies are a tasty and sweet treat that kids will enjoy helping make. Let them decorate their Easter eggs how they want and then grab napkins and dive in.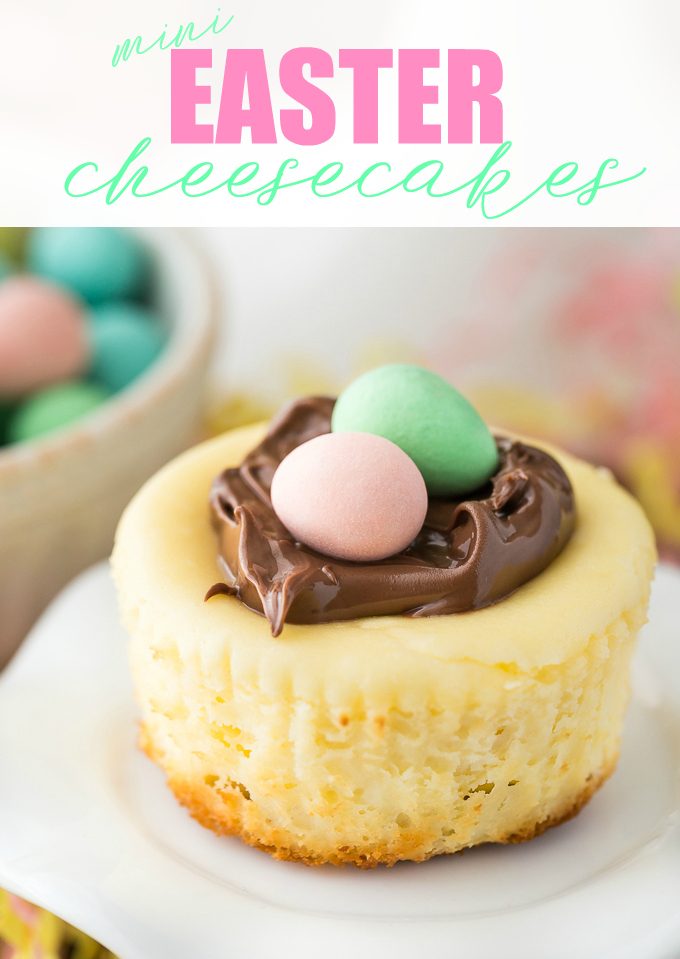 Different Ways to Decorate your Mini Cheesecakes for Easter
You can decorate them any way you like. I used jelly beans for mine, but you could mini eggs, coconut flakes, fresh fruit or just keep it simple and eat them plain. The vanilla wafer acts as a crust and it bakes right into the filling. You could also add a licorice string to make little Easter baskets.
Do You Need a Water Bath for Mini Cheesecakes
No. Thankfully this recipe is super simple and no water bath is required. You will use a muffin tin for the single serve cheesecake size. It will keep the cheesecake uninformed and allows it to bake evenly.
What Can I Use to Replace Vanilla Wafers for Crust
If you can't find vanilla wafers or don't like them, swap it out with an Oreo cookie. I have used Golden Oreos and they are really tasty paired to the cheesecake. Of course, you could use a regular one, or make graham cracker crust and place it in the bottom. Whatever works for you and your tastebuds.
How to Store Mini Cheesecakes
You will need to store your Easter mini cheesecakes in the fridge or they will spoil. You never want to leave your cheesecake out on the counter for more than two hours at a time. If you prefer the taste of room temperature cheesecake, simply leave it out and allow it to warm up before you eat it.
Why Does Cheesecake Need to be Refrigerated for Three Hours Before Eating
Cheesecake needs to be chilled in the fridge for three hours up to overnight before eating as it needs to set up. If you cut into a warm cheesecake it could fall asleep. If you prefer it fresh out of the oven you are welcome to slice into it, I just recommend refrigerating it.
How to Make Mini Easter Cheesecakes
First, you want to begin preheating your oven. Then in a bowl or using a stand mixer beat your cream cheese, sugar, and vanilla. This needs to be nice and creamy and then add in your eggs on a low speed.
Next place a paper liner in each muffin tin slot. Then place your wafer in the bottom, and spoon the cream cheese mixture over the wafers. Bake for around 20 minutes or until the cheesecake is set and the toothpick comes out clean.
Once cooked allow to cool for an hour on a cooling rack, then refrigerate three hours to overnight. Then decorate your cheesecakes how you would like.
Why Did My Cheesecake Crack
You will find cheesecake can crack for a handful of reasons. At times it cracks because it goes from a cold temperature to hot really fast, and it will end up cracking. Or if you overwhip the mixture it adds in air, and those cracks happen when the air escapes as it bakes.
Regardless cracks are not bad. Yes, it can ruin the look of your cheesecake, but if you add a dollop of frosting, whipped cream or fresh fruit, it will instantly hide the imperfections.
Room Temperature Cream Cheese is Needed for Cheesecake
You want to make sure you use room temperature cream cheese. If it isn't softened it will leave your batter clumpy leaving your cheesecake to have a cottage cheese texture. This is one step you can not skip over when making your homemade mini cheesecakes.
If you love cheesecake as much as me, give this recipe a try. I almost prefer making mini cheesecakes, because they are SO much easier than a full-size cheesecake.
You'll also like these Easter Mini Eggs Brownies and Easter Egg Stuffed Crescent Rolls.
Have you ever made mini cheesecakes?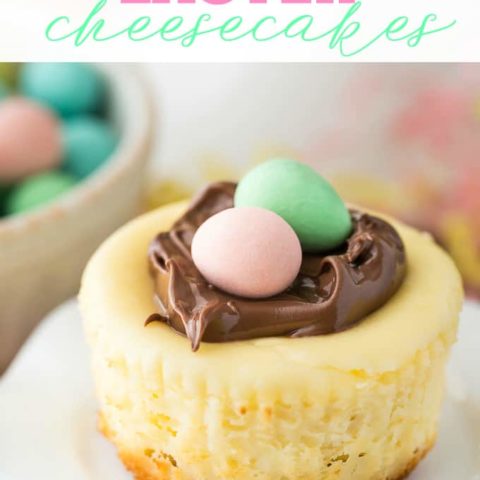 Mini Easter Cheesecakes
These individual cheesecakes are the perfect dessert to take to a potluck! Unlike a full-sized cheesecake, these mini delights don't need a water bath and are very easy to make!
Ingredients
2 250g packages cream cheese, softened
1/2 cup sugar
1/2 tsp. vanilla
2 eggs
12 vanilla wafer cookies
jelly beans for decoration
Instructions
Pre-heat oven to 350°F. Beat cream cheese, sugar and vanilla in a large bowl with an electric mixer on medium speed until well blended.
Add eggs and mix on low speed until blended.
Place a wafer at the bottom of each 12 paper lined muffin cups. Spoon cream cheese mixture evenly over wafers.
Bake 20 minutes or until centres are almost set. Cool to room temperature. Refrigerate three hours or overnight.
Add decorations as desired. Makes 12 mini cheesecakes.
Recommended Products
As an Amazon Associate and member of other affiliate programs, I earn from qualifying purchases.
Nutrition Information:
Yield:

12
Serving Size:

1
Amount Per Serving:
Calories:

211
Total Fat:

16g
Saturated Fat:

9g
Trans Fat:

0g
Unsaturated Fat:

5g
Cholesterol:

73mg
Sodium:

158mg
Carbohydrates:

14g
Fiber:

0g
Sugar:

12g
Protein:

4g