Disclosure: I was compensated for this post. All opinions expressed are my own.
We store our patio furniture in the garage during the winter. It's definitely seen better days, but for now it will have to do. Add on the wear and tear from a move from Nova Scotia to Ontario and you can imagine how it looks now. The white chairs were now a grimy brownish/grey. John said that they were fine, but I thought they looked so gross. No way was I sitting in them like that and let alone have guests sit there. Ick!
If your patio furniture needs a little TLC like mine, don't fret! There's a simple way to clean and get it looking as good as new. You may already have this product in your home for your laundry. OxiClean™ Versatile Stain Remover Powder is for much more than just your clothes. It tackles stains of many shapes, sizes and on multiple surfaces. It's no surprise that it's Canada's #1 trusted stain fighter. It can used on unfinished decks, carpet, upholstery, kitchen and bath surfaces and even your gutters! Who knew?! Note that when you use it on metal surfaces, make sure to rinse it well and right away. And yes, it also cleans patio furniture.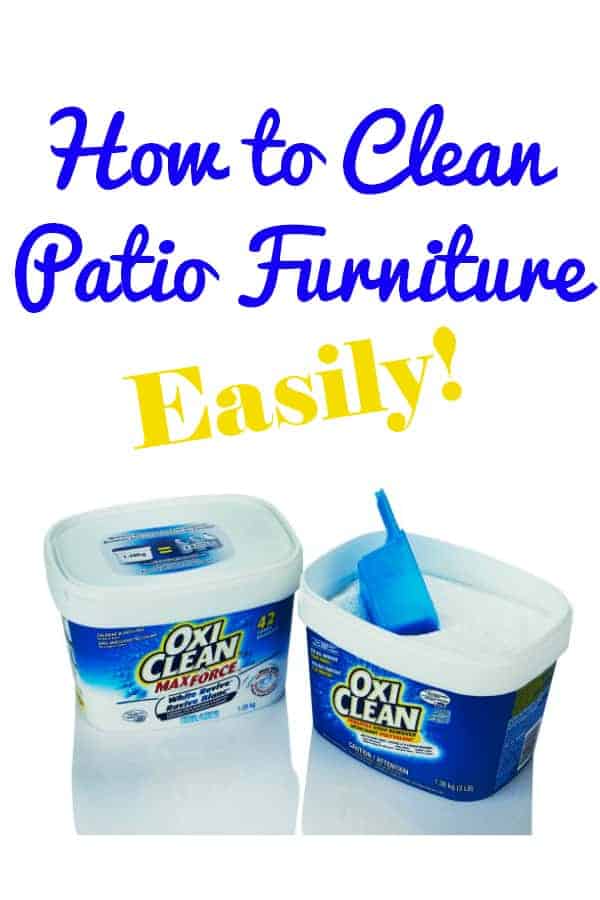 Here's what you need to do to get your patio furniture looking 100x better.
You'll need an empty spray bottle, gloves, clean rag, garden hose and OxiClean™ Versatile Stain Remover Powder.
1. Mix 1/8 scoop of OxiClean™ Versatile Stain Remover Powder with 2 cups of hot water into a spray bottle.
2. Spray the mixture all over the furniture and let it sit for a minimum of 10 minutes to a maximum of 30 minutes. NOTE: if your furniture is METAL, rinse it immediately.
3. Using the clean rag scrub the grime away and then rinse off with the garden hose.
Easy! Learn more about OxiClean Versatile Stain Remover Powder and its multiple uses.
How often do you clean your patio furniture?