Hi Simply Stacie friends, I'm really looking forward to sharing my latest recipe with you today: Cereal Milk Popsicles!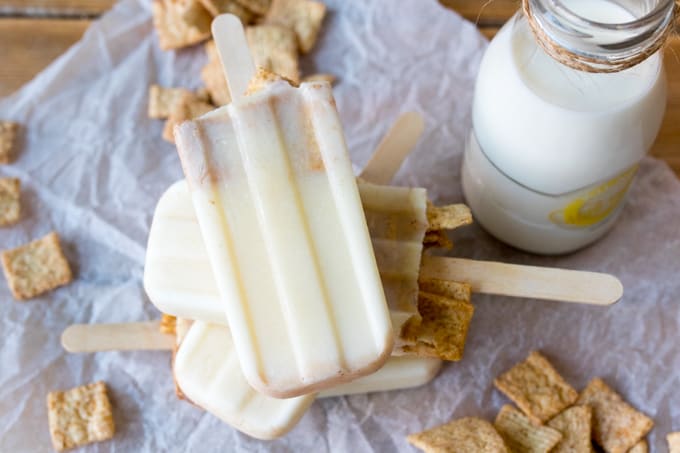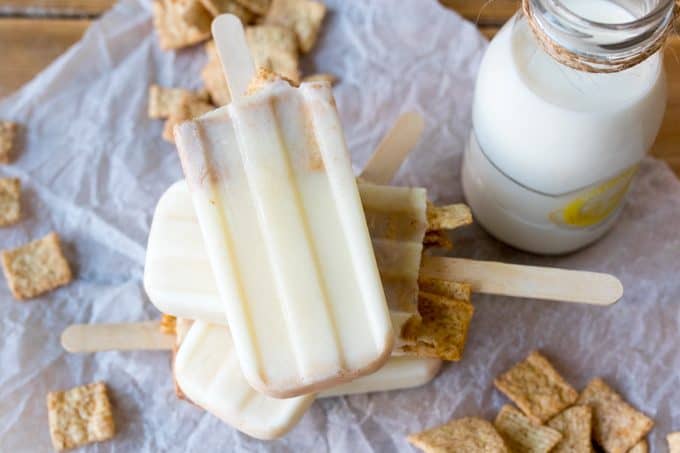 Cereal Milk Popsicles
I've yet to try Momofuku's famous cereal milk ice cream – New York is a bit of a trek even for the most tempting dessert. But I love the idea of using cereal milk to flavour milk-based recipes.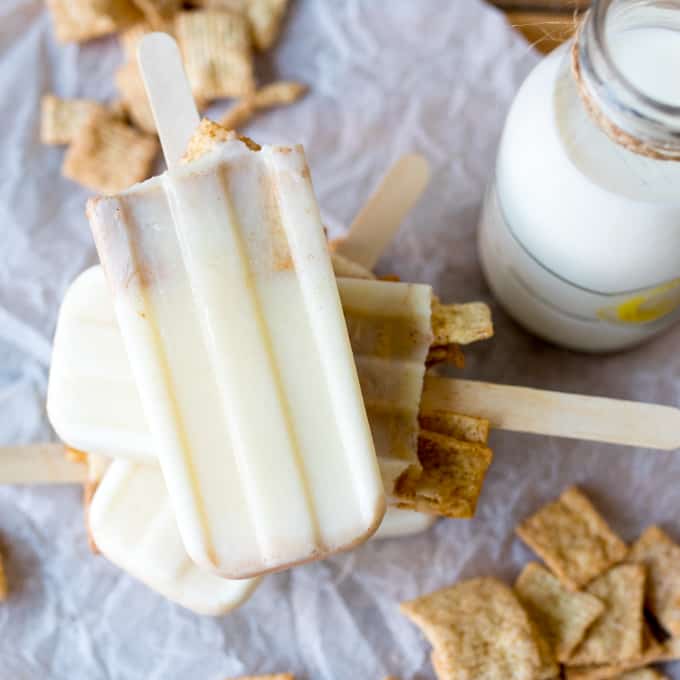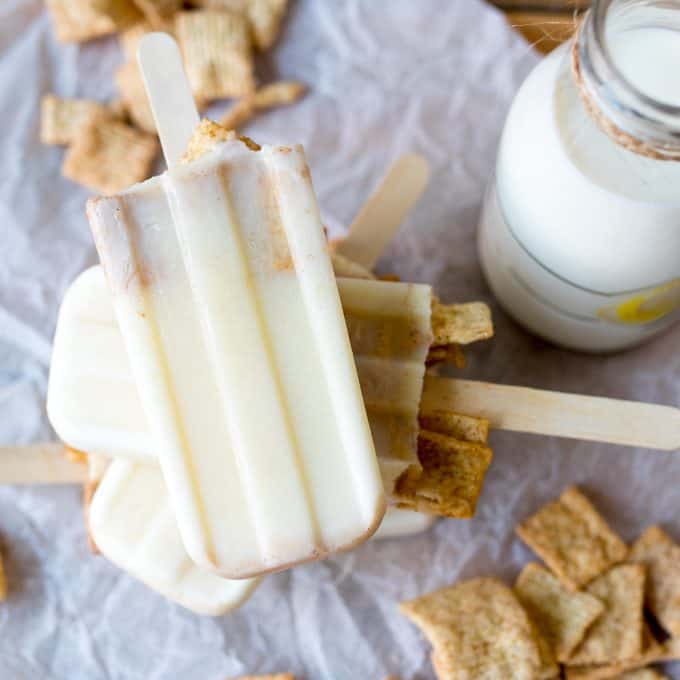 Just think –
Honey Nut Custard
Nesquick Rice pudding
Fruit Loop Pannacotta
Rice Crispy Crème brulee
Am I going a bit far? Probably.
Sugary cornflake milk seems to be most popular in other recipes on the web, but I was never a huge fan. Thinking back to my younger years, it was all about the coco pop milk.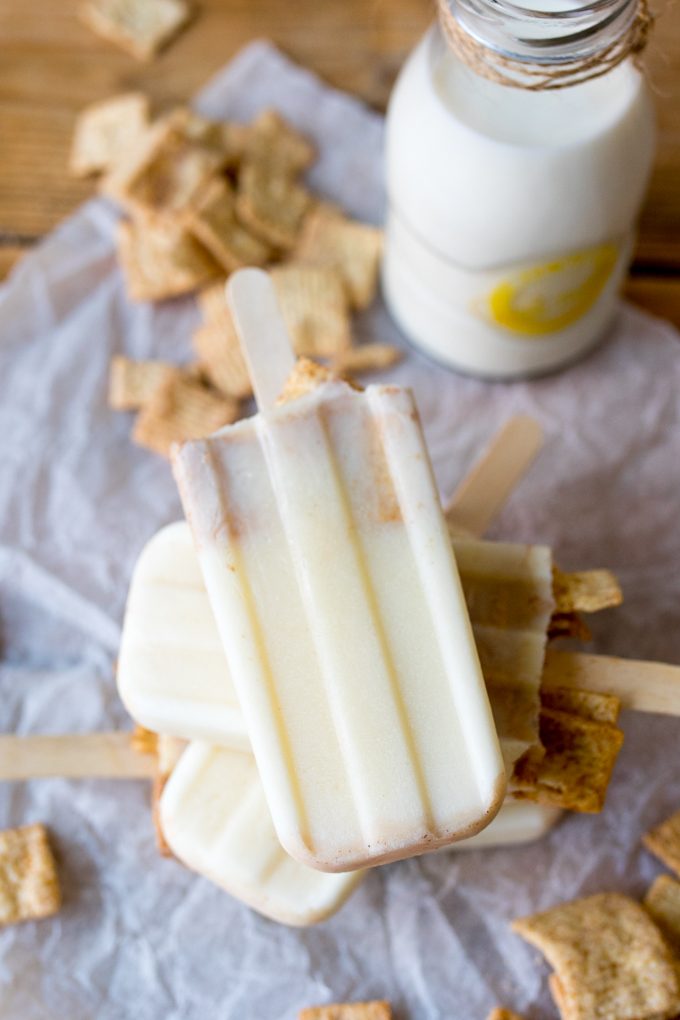 I don't eat much sugary cereal these days – must be a sign I'm getting old! Weetabix with berries or homemade granola tends to be my cereal of choice, although I will sneak the occasional bowl of the kid's honey-nut cornflakes or cinnamon toast crunch (it's called Curiously Cinnamon here in the UK).
So today I went down the cinnamon toast crunch route to make popsicles!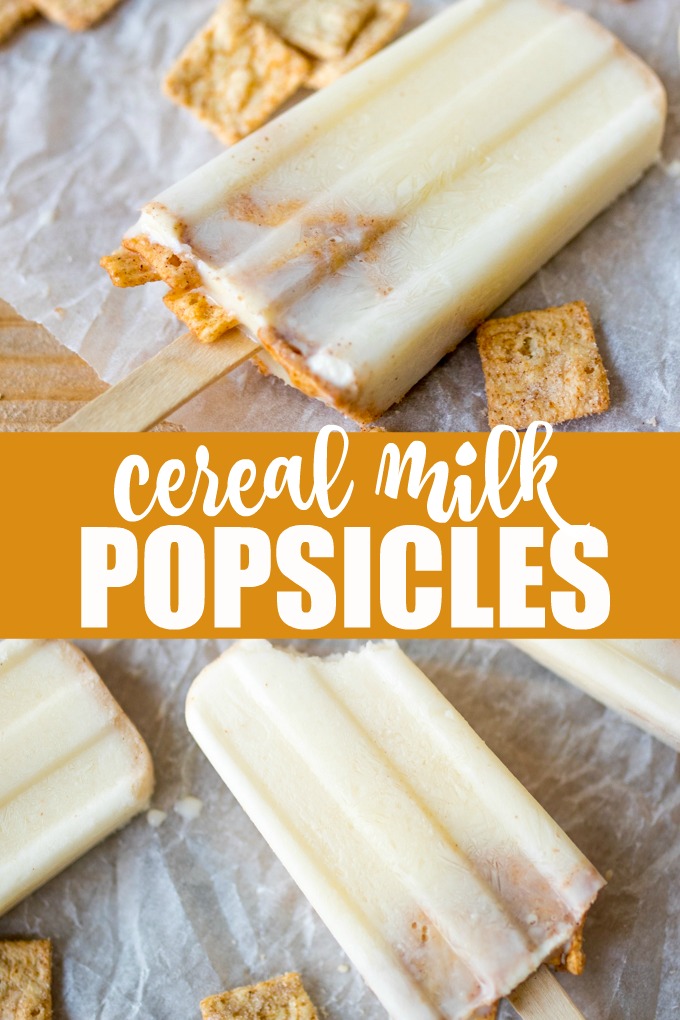 So simple to make and really really tasty. In fact I made these whilst the kids were away on a little trip with their grandma – thinking it would be a nice treat for when they get back, but then I ate nearly all of them.
I managed to save one for each of them. Oh well, time to make some more!
Do you make your own ice pops?

You'll also like these Strawberry Lemonade Popsicles.
Cereal Milk Popsicles
Prep Time:
5 hours
15 minutes
Total Time:
5 hours
15 minutes
Jump on this tasty trend! Infuse your breakfast favorites into your desserts with these creamy popsicles!
Ingredients
3 cups full fat milk
3 tbsp condensed milk
2 ½ cups cinnamon waffle cereal
Instructions
Pour the full fat milk and condensed milk into a large bowl. Stir to combine.
Add 1 ½ cups of the cinnamon waffle cereal to the milk and stir. Leave to steep for 15 minutes, then sieve out the cereal over a bowl. Discard the cereal and keep the milk.
Divide the remaining cinnamon waffle cereal between the popsicle molds (reserve a small handful). Pour over the reserved milk, top with the remaining cereal and add the popsicle sticks. Place in the freezer for at least 5 hours until frozen.
Recommended Products
As an Amazon Associate and member of other affiliate programs, I earn from qualifying purchases.
Nutrition Information:
Yield:

12
Serving Size:

1
Amount Per Serving:
Calories:

193
Total Fat:

8g
Saturated Fat:

2g
Trans Fat:

0g
Unsaturated Fat:

6g
Cholesterol:

39mg
Sodium:

291mg
Carbohydrates:

23g
Fiber:

0g
Sugar:

3g
Protein:

7g