Impossible Pie
Impossible Pie has been around for a long time and I can see why. It's easy to make and is scrumptious to eat! Why is it called Impossible Pie? I think it has something to do with the fact that it bakes it's own crust. All the ingredients are dumped into the pie plate and you let your oven work it's magic to do the "impossible". It comes out with three delicious layers!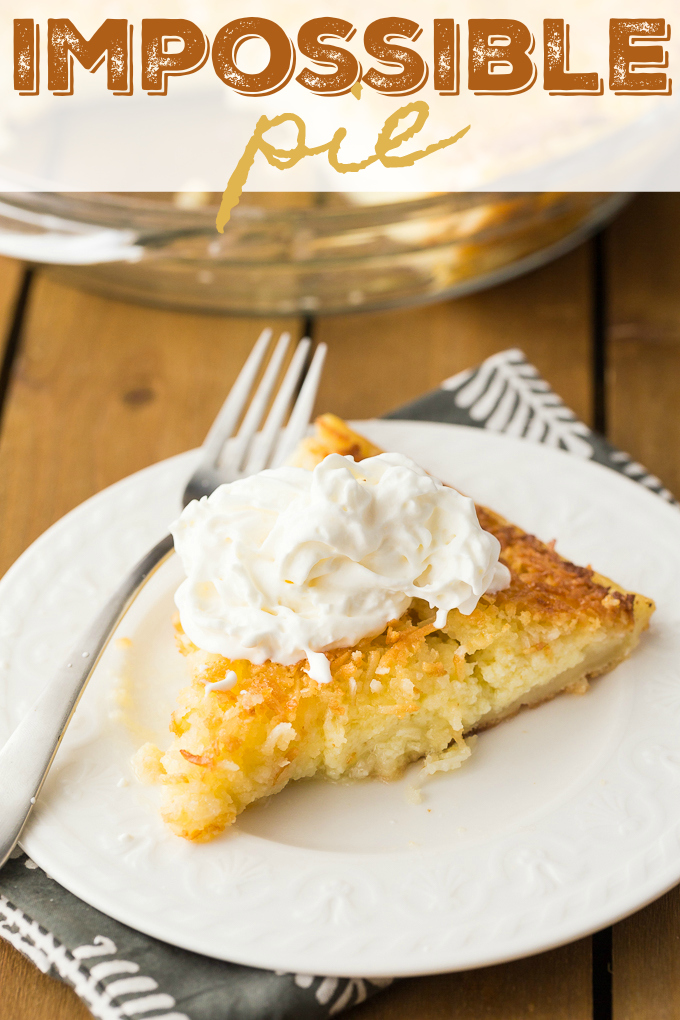 Impossible Pie
The filling is an egg custard that's creamy and smooth. The topping is a crunchy layer of coconut. It looks a lot like my Coconut Pie!
Grandma's everywhere have recipes like this one. It's easy to see why it's stood the test of time.
How to Make Impossible Pie
Start by adding the butter, flour, sugar, vanilla extract, eggs, milk and shredded coconut to a bowl. Beat together until the mixture is combined.
Pour into a greased 9″ pie pan. Bake for 1 hour at 350F.
See how simple it is?
Helpful Kitchen Tools
This post contains affiliate links.
I like to serve mine with a little bit of whipped cream or vanilla ice cream. Have you tried Impossible Pie?

Yield: 6 to 8
Impossible Pie
The easiest pie you will ever bake! It magically forms its own crust plus two delicious layers while baking.
Ingredients:
1/2 cup butter, softened
1/2 cup flour
1 cup sugar
2 tsp vanilla extract
4 eggs
2 cups milk
1 cup shredded coconut
Directions:
Preheat oven to 350F.
Add all ingredients to a large bowl and beat together until combined.
Pour into a 9-inch greased pie pan. Bake for 1 hour or until centre is firm and pie is golden.
Cool on a cooling rack and then put in the fridge until ready to serve. I recommend waiting a few hours so the pie has a chance to firm up.