My mom's friend, Janie, used to send us over a plate of her shortbread cookies every Christmas. My mom always raved how amazing they were. I was a picky kid and at first thought the name sounded a bit weird. Bread cookies??? Then I took a bite and discovered what all the fuss was about. Shortbread cookies are THE best Christmas cookie, in my opinion. How can you not love the buttery, melt-in-your-mouth bites of sweetness?
In this post, I'm thinking beyond the cookie. I've rounded up a collection of the most mouthwatering shortbread desserts ever. Drool away!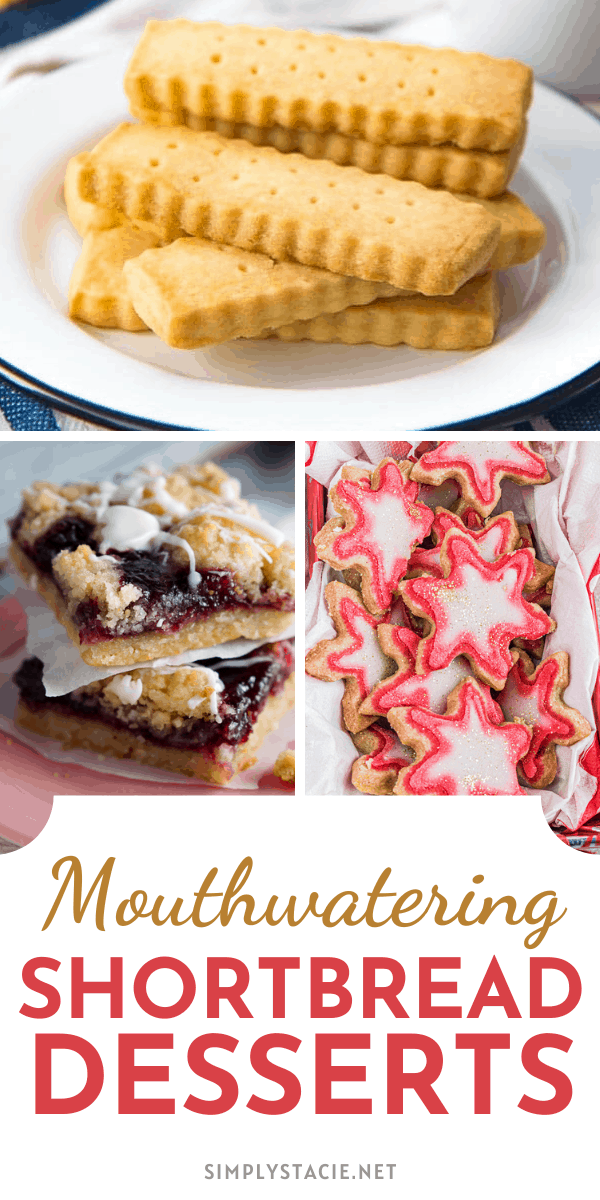 I almost can't handle the deliciousness. I want them ALL! Which shortbread dessert is calling your name?
Mouthwatering Shortbread Desserts
There's more to shortbread than just plain cookies! These mouthwatering shortbread desserts recipe collection are worth a try.
These delightful holiday cookies will melt in your mouth. They are light, buttery and SO easy to make.
Shortbread is always a crowd pleaser. These shortbread cookies are taken to the next level with the addition of macadamia nuts and honey, and will look fantastic on your holiday cookie tray!
Photo Credit: amandascookin.com
We love this simple shortbread cookie recipe. Great for Christmas cookie exchanges, but don't bury this recipe. It's good all year round!
Photo Credit: noshingwiththenolands.com
These little Festive Shortbread Bites are so buttery and delicious you won't be able to stop at just one!
Photo Credit: www.accidentalhappybaker.com
Raspberry white chocolate shortbread bars have buttery sweet and crisp shortbread cookie dough sandwiching raspberry jam and white chocolate chips for an easy cookie bar recipe that tastes and looks decadent!
Photo Credit: flavormosaic.com
Chocolate Chip Pecan Shortbread Cookies are rich, sweet, buttery, crumbly, melt in your mouth shortbread cookies with chocolate chips and chopped pecans.
Photo Credit: glutenfreeonashoestring.com
These gluten free brown sugar shortbread cookies are made with little more than butter, brown sugar and flour, hold their shape, and are anything but plain. They're lightly sweet, and just a little bit tender but still crumbly like any proper shortbread must be.
Photo Credit: www.theflavorbender.com
Here's all you need to know about making the BEST Shortbread Cookies! Buttery, crumbly and light – classic shortbread cookies are one of a kind, and you only need a minimum of 3 ingredients (butter, sugar, flour) to make them!
Photo Credit: somethingsweetsomethingsavoury.com
This Scottish Shortbread Recipe is very easy to follow and so delicious – follow my tips for making the perfect buttery, crumbly Shortbread.
Photo Credit: www.letseatcake.com
These shortbread cookies have been infused with delicious lavender ear grey tea!
Photo Credit: www.earthfoodandfire.com
Easy to make, these lemon glazed shortbread cookies make a great holiday food gift or addition to any sweets platter. Try them today, you won't be disappointed!
Photo Credit: www.baked-theblog.com
A rich buttery refrigerator cookie to fill with your favorite frosting! These easy chocolate shortbread cookies are filled with a vanilla mint frosting and rolled in candy canes for festive flair.
Photo Credit: www.babysavers.com
These shortbread sugar cookie bars a quick and easy recipe! They're delicious plain, but they can be topped with buttercream icing for a prettier and richer dessert!
Photo Credit: recipesfromapantry.com
Christmas Shortbread Cookies are buttery and spiced with a hint of cinnamon, nutmeg, and ginger. Cut them into festive shapes for the holidays, then make and enjoy this shortbread cookies recipe all year long.