Slow Cooker Beef Brisket & Vegetable Soup
I think it's almost impossible to screw up a soup made in the slow cooker. On the stove top, yes, it can be done. I've ruined several stove top soups over the years. I've been lucky with the slow cooker though and they usually turn out great.
The furnace is on now and I'm looking for meals that will fill our bellies and keep us warm. A bowl of steaming hot soup fits the bill perfectly. This recipe for Slow Cooker Beef Brisket & Vegetable Soup is just what I need to warm my bones.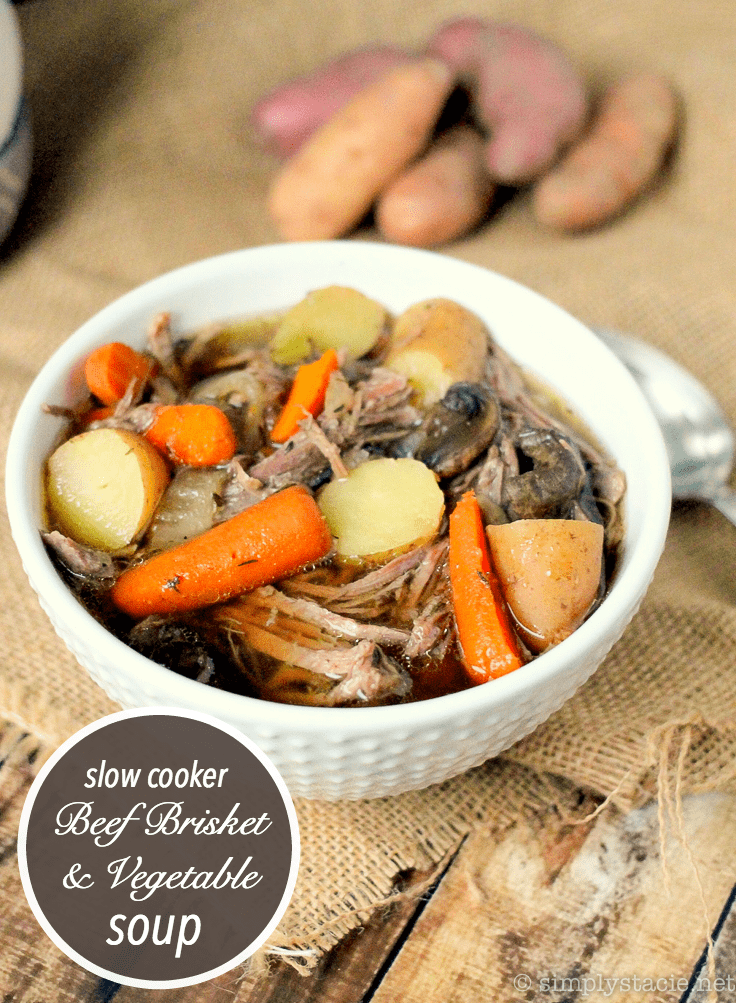 If my Grandma June were still around, she would approve of this recipe. She was a beef farmer and most meals were the typical meat and potato fare. I know she probably has a version of this recipe too. It reminds me of eating a meal at her place.

For more yummy soup recipes, try my Cabbage Roll Soup and Loaded Baked Potato Soup.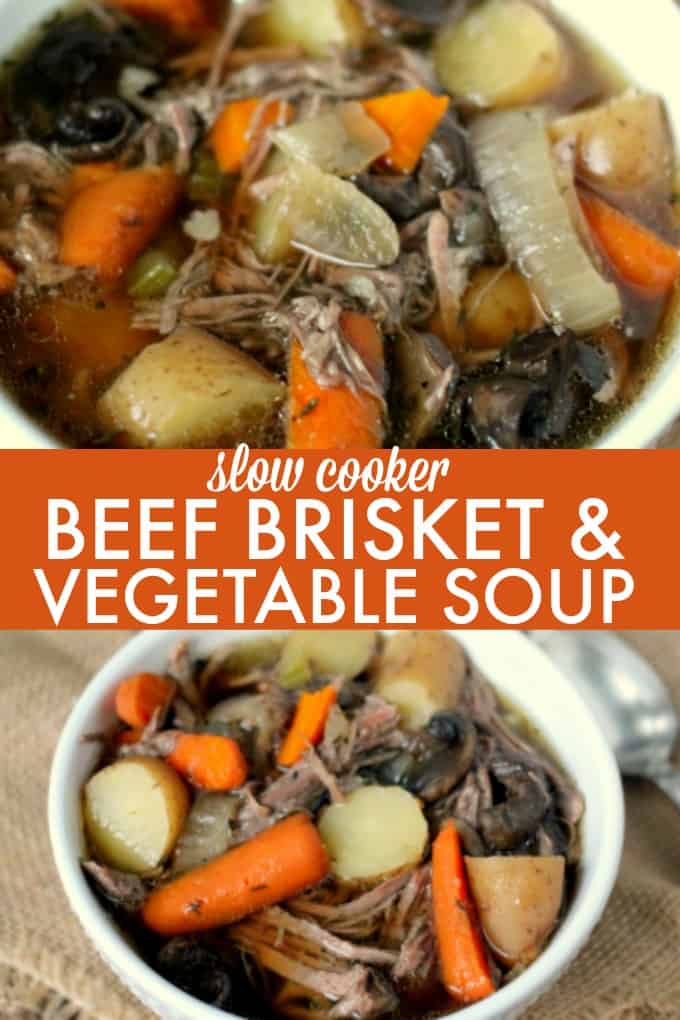 What is your favourite cold weather soup?
Yield: 6 to 8
Slow Cooker Beef Brisket & Vegetable Soup
Warm your body and feed your soul with this delicious comfort food recipe for Slow Cooker Beef Brisket & Vegetable Soup.
Ingredients:
2 pounds beef brisket
1 cup baby carrots, cut in half or chopped roughly
4 celery stalks, chopped
1 yellow onion, diced
12 fingerling potatoes, cut into bite sized pieces
8 oz mushrooms, chopped
32 oz beef broth
1 cup water
1 tsp dried thyme
½ tsp black pepper
¼ tsp oregano
⅛ tsp salt
Directions:
In a large slow cooker, add brisket, carrots, celery, onion, potatoes, and mushrooms. Pour beef broth and water on top. Sprinkle thyme, black pepper, oregano, and salt over the top, and lightly mix with a fork (just to incorporate spices).
Cover and cook on low for 10 hours, or high for 6-7 hours. When beef is cooked through, it should easily shred. Using 2 forks, shred beef in pot, and then cover and cook for about 10-20 more minutes on high.
Serve and add salt and pepper to taste (if desired).
This recipe also freezes well. Add 3 cups to freezer ziplock bags, seal, and freeze. Can store for up for 6-12 months.