White Chocolate Pudding
Is there anyone out there who likes white chocolate better than regular chocolate? I'm waving my hand high in the air. Can you see me? Don't get me wrong, I love chocolate. It's just that I love white chocolate more. The Easter Bunny used to bring me white chocolate bunnies while my sisters received the milk chocolate counterpart. There's just something about the smooth, creamy, sweet flavour of white chocolate that drives my tastebuds crazy!
White Chocolate Pudding
I picked up some white chocolate for baking the other week. I've been known to eat those delicious little squares like a candy bar on its own. This time around I saved them for a recipe I was planning to make – White Chocolate Pudding. If you are a white chocolate fan like me, you will want to save this recipe!
It's made on your stovetop in a saucepan in a matter of minutes. Once it thickens up, then it's time to add in your white chocolate squares. It needs to cool down first in the fridge for at least an hour. Then, serve it with the toppings of your choice. I topped mine with sliced strawberries and whipped cream. Talk about decadent!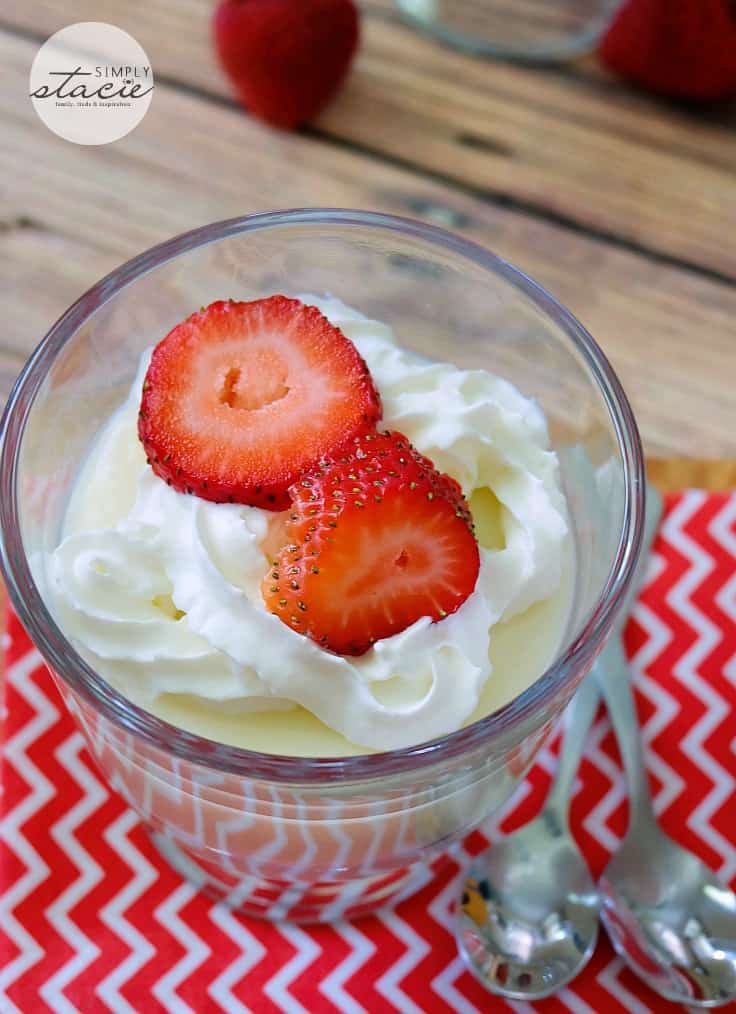 It's heaven on a spoon! Seriously.
You might also like this Pineapple Rice Pudding.
Would you top your white chocolate pudding with strawberries and whipped cream or something else?
Yield: 4
White Chocolate Pudding
Enjoy the smooth, creamy and sweet flavour of this homemade White Chocolate Pudding. Make it extra special by topping with strawberries and whipped cream!
Ingredients:
1/4 cup sugar
1/4 cup cornstarch
1/4 tsp salt
2 cups milk
3/4 cup whipping cream
6 squares of white chocolate (1 oz each), chopped
2 tsp vanilla extract
4 strawberries, sliced
Whipped cream, for garnish
Directions:
Add sugar, cornstarch and salt to a medium saucepan and stir to blend. Whisk in milk and cream. Bring to a boil over medium heat, stirring constantly. Once it boils, reduce heat to low and continue to stir for an additional two minutes. It will be thick at this point.
Remove from heat. Stir in white chocolate and vanilla. Spoon into dessert dishes. Cover in plastic wrap and place in the fridge for at least an hour.
When ready to serve, remove plastic wrap and top with sliced strawberries and whipped cream.