You guys – I think I may have discovered my new favourite savoury pie! I had company coming over to visit this past weekend and I wanted to create something flavourful and memorable. And I think I did with this Rustic Bacon, Herb & Vegetable Pie. I don't often make savoury pies, but after making this simple recipe, that's about to change.
You'll need to pick up some unsweetened Almond Breeze to make this recipe at home. It's used in the pie crust and filling. It's a great recipe for people who can't eat dairy like one of my guests!
Almond Breeze is a great dairy-free alternative and it's also lactose and gluten-free. It's tasty on its own or can be used in your recipes in place of milk. It's made from real California almonds from Blue Diamond's cooperative who have been in the almond business for 100 years.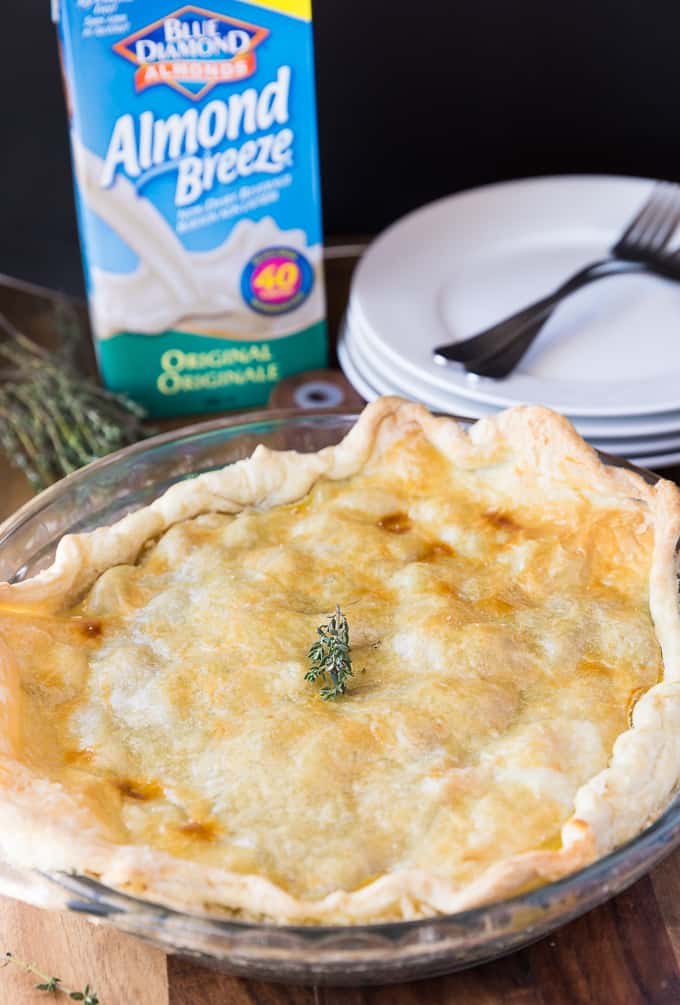 I called it "rustic" because it isn't fancy schmancy like some perfect pies you'll see on Pinterest. It's real and made with love though. It tastes delicious and I think that is what matters the most!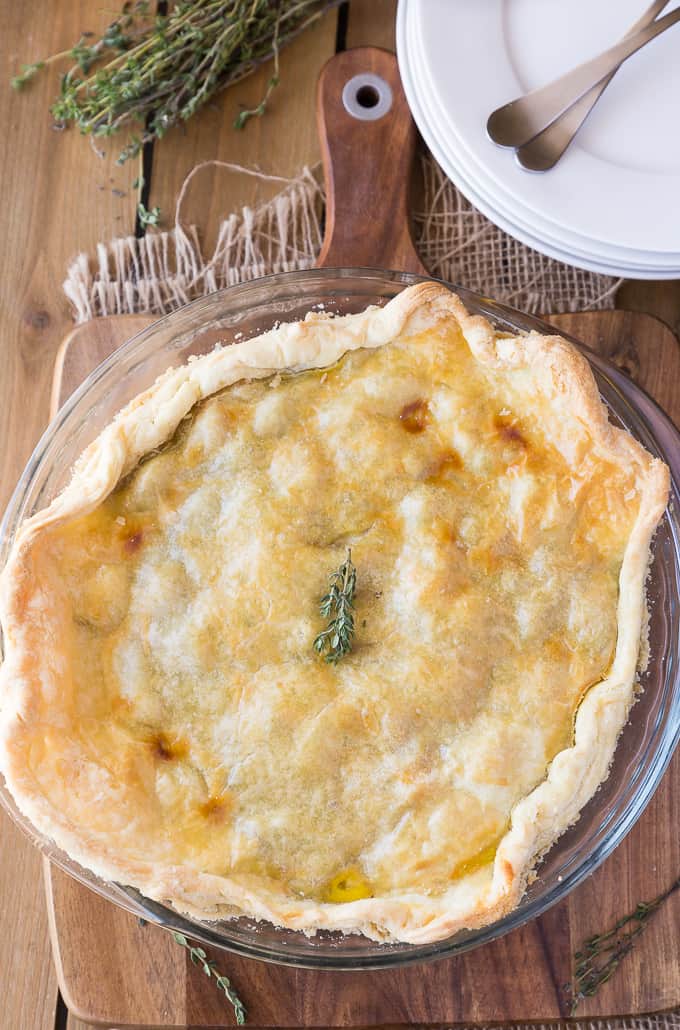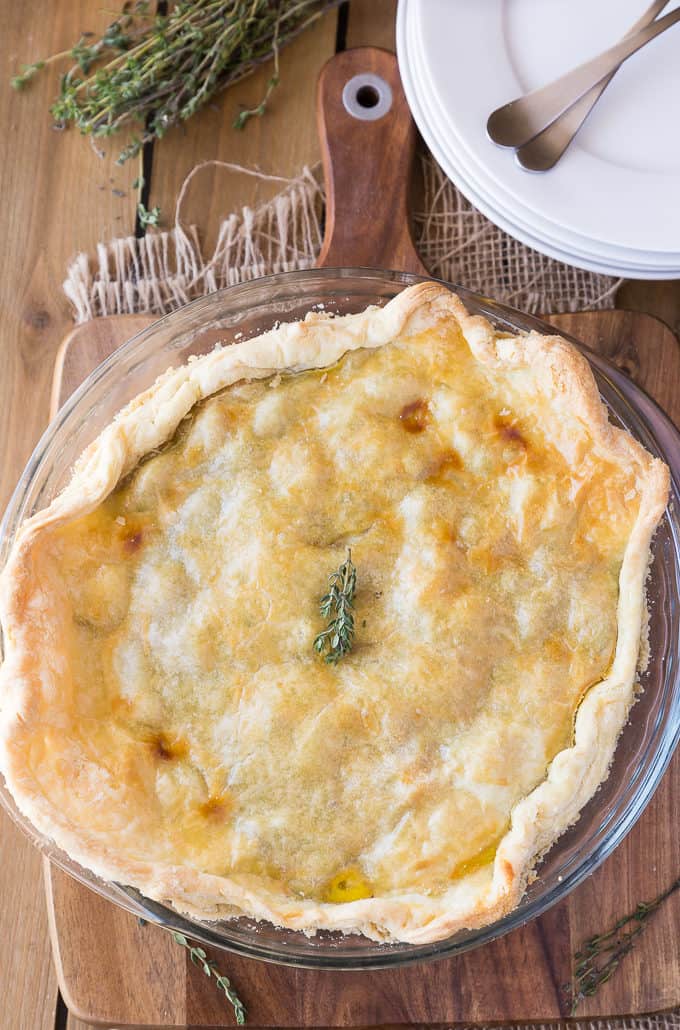 If you want to save a step you could buy a frozen pie crust and use that. However, it's really easy to whip up the dough for this crust. You don't even have to roll it. It's crumbly so you have to press it into the pie shell like you would with graham cracker crumbs. I think it adds to the rustic feel of this dish.
And the filling…..soooooo good! It's made from a blend of fresh vegetables, fresh herbs, bacon all tucked into a creamy sauce. One simple trick to get the sauce nice and thick is to add cornstarch. Stir it in and within minutes your sauce will change to a creamier consistency.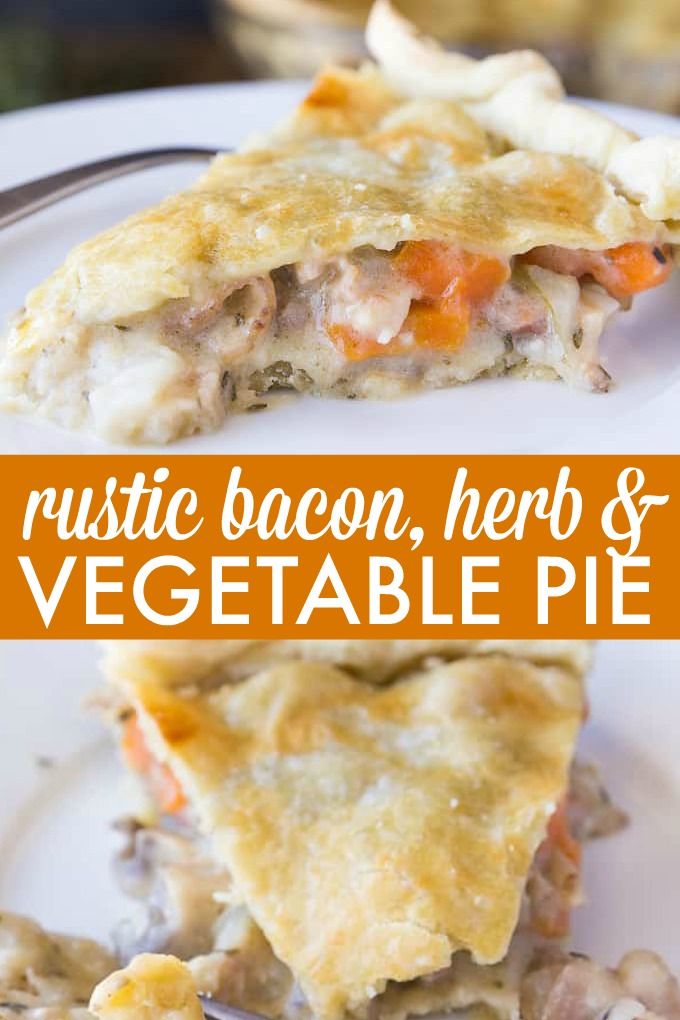 One way to tell if your sauce is thick enough is to drag the spoon across the bottom of the pan. If you can see a trail of the bottom of the pan, you'll know you have it right.
I cheated a bit with the top crust and used some thawed puff pastry that I rolled out. It adds a tender, flaky texture and flavour.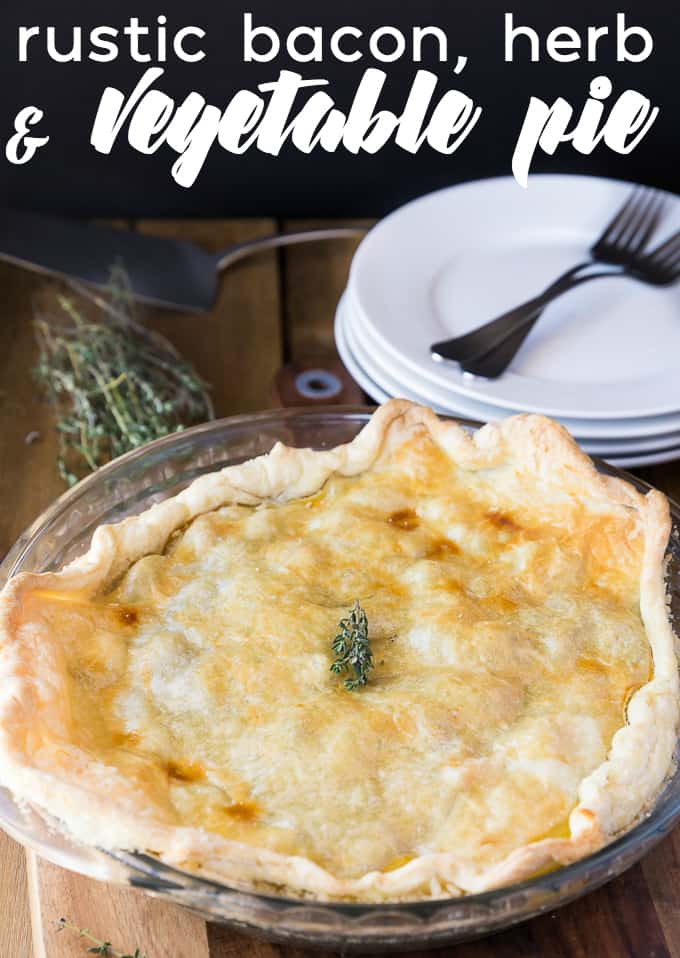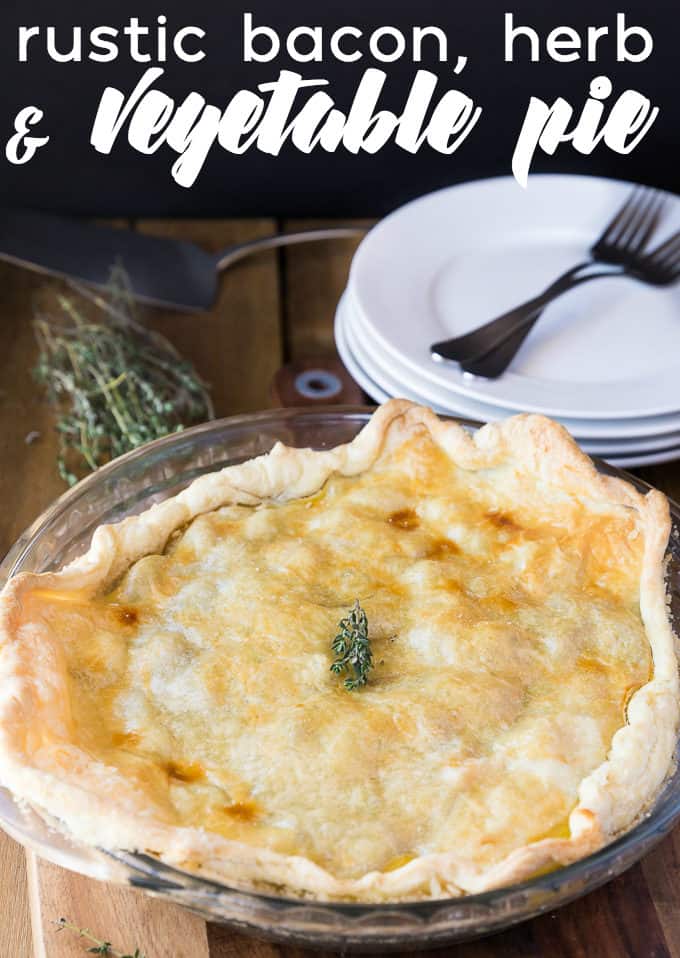 The pie takes about 30 minutes to bake in the oven. The top crust will be golden. Wait a few minutes before serving because the filling inside will be hot. If you have leftovers, put them in the fridge and enjoy the next day. It tastes delicious heated up in the microwave the next day.
Serve with a tossed salad to complement this mouthwatering main dish. My friend said I had outdone myself with this pie and asked for the recipe. Even John had no idea I used Almond Breeze as one of the main ingredients. It's super easy to bake with and I'll definitely be using it in more of my recipes. It can be used in more in more ways than just smoothies as I've shown here. It adds a hint of nuttiness to the bottom crust and is the perfect smooth, creamy base for the sauce. I couldn't even tell that there wasn't any dairy in the recipe! I enjoyed its simplicity and versatility.
Watch for a yummy cake recipe next month just in time for Mother's Day.
Have you ever used Almond Breeze in your recipes?


Rustic Bacon, Herb & Vegetable Pie
Enjoy this savoury pie with its blend of fresh vegetables, fresh herbs and bacon all tucked into a creamy sauce.
Ingredients
Crust
1 1/4 cup flour
1/4 tsp pepper
1/2 tsp salt
1/3 cup extra virgin olive oil
3 tbsp Almond Breeze, unsweetened
Filling
2 tbsp extra virgin olive oil
3 cloves garlic, minced
1 onion, chopped
1 carrot, chopped
1 cup mushrooms, quartered
4 strips bacon, chopped
1 tbsp fresh thyme (or 1 tsp dried)
1 tbsp fresh rosemary ( or 1 tsp dried)
1 tbsp flour
1 1/4 cup Almond Breeze, unsweetened
1 to 3 tsp cornstarch, to thicken sauce
1/2 package frozen puff pastry, thawed
1 egg, beaten
salt and pepper, to taste
Instructions
Crust
Preheat oven to 350F. In a bowl, add flour, pepper and salt and stir to combine. Stir in extra virgin olive oil and Almond Breeze.
Press dough evenly on the bottom and sides of a 9-inch pie pan.
Bake for 10 minutes. Set aside to cool.
Filling
Preheat oven to 350F. Heat extra virgin olive oil in a large pan over medium high heat. Add in onion, garlic, bacon and carrots. Cook, stirring often, for 5 minutes. Stir in mushrooms and cook for 3 minutes.
Stir in flour, rosemary and thyme. Cook for 1 minute.
Gradually add in Almond Breeze. Bring to a boil. Reduce heat, cover and simmer for 15 minutes.
Remove cover and stir in 1 tsp cornstarch. Stir to thicken. Add in more cornstarch to reach desired consistency. Cook for an additional 5 minutes. Season with salt and pepper.
Remove from heat and spoon mixture onto pie crust.
Roll out puff pastry to fit the top of the pie. Pinch the edges together. Brush with egg.
Bake for 30 minutes, or until golden. Serve hot.
Recommended Products
As an Amazon Associate and member of other affiliate programs, I earn from qualifying purchases.
Nutrition Information:
Yield:

6
Serving Size:

1
Amount Per Serving:
Calories:

539
Total Fat:

39g
Saturated Fat:

5g
Trans Fat:

0g
Unsaturated Fat:

32g
Cholesterol:

39mg
Sodium:

658mg
Carbohydrates:

36g
Fiber:

6g
Sugar:

4g
Protein:

15g
Disclosure: I was compensated for this post. All opinions are my own.