Cake Donuts with Chocolate Glaze
When I worked at the accounting office in Edmonton, we would have our staff meetings on Monday mornings. Whoever was the last person to arrive to work that day was responsible for bringing in a dozen donuts for the next week's meeting. Of course, there was only one place that anyone ever went to get donuts. Tim Horton's. If I was still working there, I'd forgo the trip to Timmie's and make my fellow coworkers this delicious recipe for Cake Donuts with Chocolate Glaze. Homemade always tastes better than store bought….to me at least!
I only recently learned that you could buy donut pans and bake your donuts in the oven. I know I feel dumb that I didn't know about their existence. I had never made donuts because I dislike deep frying and had no idea you could make them in the oven. I've seen donut pans sold on Amazon and they also sell them at our local Sobeys!
This recipe is easy to make and there's no deep frying involved! The handy little donut pan creates perfectly shaped donuts. Voilà!

Don't they look divine? Enjoy!

What is your favourite kind of donut?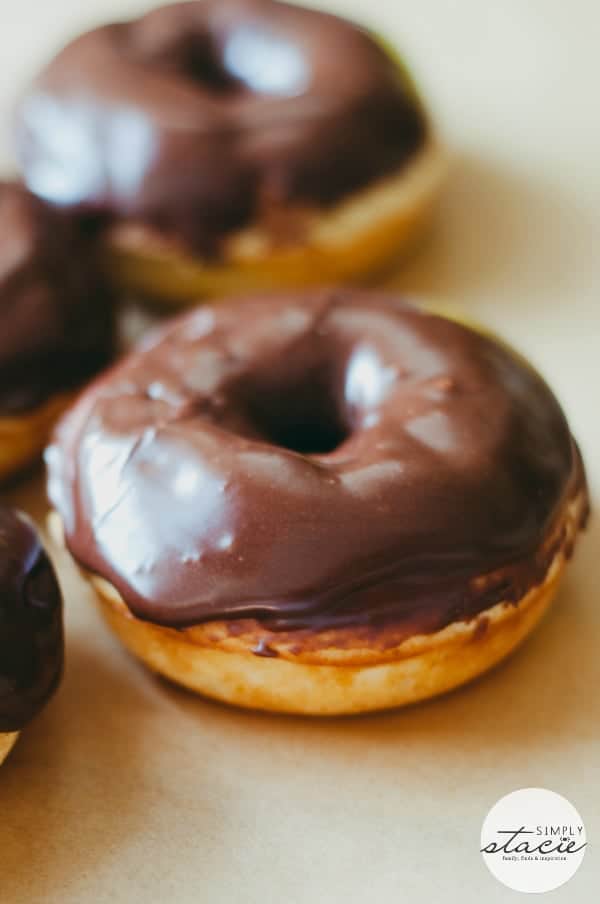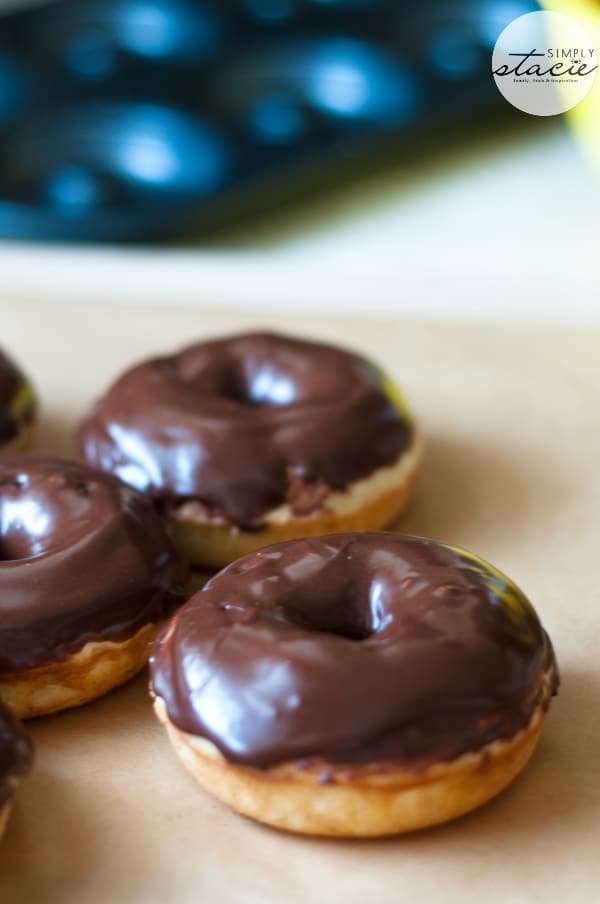 Yield: 12
Cake Donuts with Chocolate Glaze
So easy to make with a donut pan! Baked, not fried.
Ingredients:
2 cups all-purpose flour, sifted
¾ cup sugar
2 tsp baking powder
¼ tsp nutmeg
1 tsp salt
2 eggs
¾ cup buttermilk
2 tbsp unsalted butter, melted
Chocolate Glaze
1½ cups confectioners' sugar (or as we call it here "icing sugar")
4 tbsp cocoa powder
2 tbsp milk (start with 2, increase if not smooth enough)
2 tsp vanilla
Directions:
Preheat oven to 425°F. Spray donut Pan with non-stick cooking spray.
In a large bowl, sift together all-purpose flour, granulated sugar, baking powder, nutmeg and salt. Add buttermilk, eggs and butter and beat until just combined.
Fill each donut pan cavity about 2/3 full. Do not overfill.
Bake donuts 7-9 minutes or until the tops spring back when pressed. Let donuts cool in pan 4-5 minutes before attempting to remove them.
For chocolate glaze, sift together the sugar and cocoa powder in a medium bowl. Using an electric mixer, slowly add in the milk and vanilla and beat on low speed until glaze is smooth and pourable.
Gently dip one side of the donuts into the glaze and place on parchment paper to set up. Donuts are best when enjoyed fresh.