Cherry Coke Cupcakes
One of my daughter's favourite desserts to make is cupcakes. She was my helper making these Cherry Coke Cupcakes from the recipe on CherryMan. CherryMan sent me some Farm to Market Maraschino cherries with stems to try out in some recipes. I thought these Cherry Coke Cupcakes looked scrumptious and almost too pretty to eat. Almost.
Last week I shared with you the recipe for Cherry Chocolate Brownies that I made using CherryMan Farm to Market Maraschino cherries. The recipe for Cherry Coke Cupcakes has a few more steps to make them, but trust me, it's worth the extra effort! Each cupcake has a cherry in the middle, glazed with a Coca-Coca sugar glaze and topped with sweet and fluffy whipped cream. Super yum.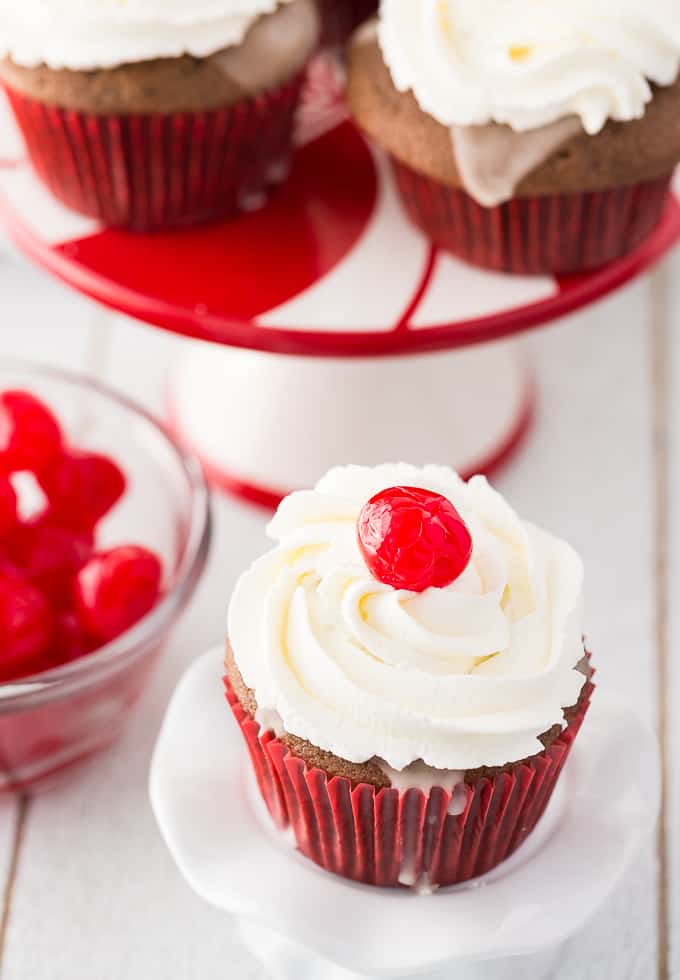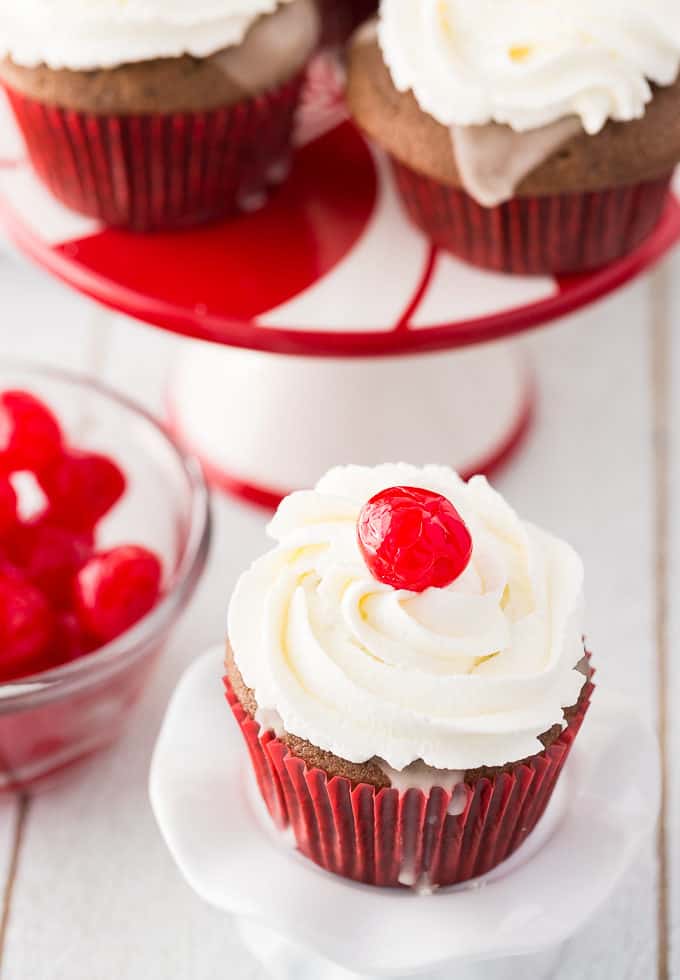 I like that CherryMan Farm to Market Maraschinos are natural with no icky artificial flavours, colours or preservatives. I can actually read and pronounce all the ingredients on the jar. There's a QR code on every jar that let's you trace the origin of that particular jar right to the growers.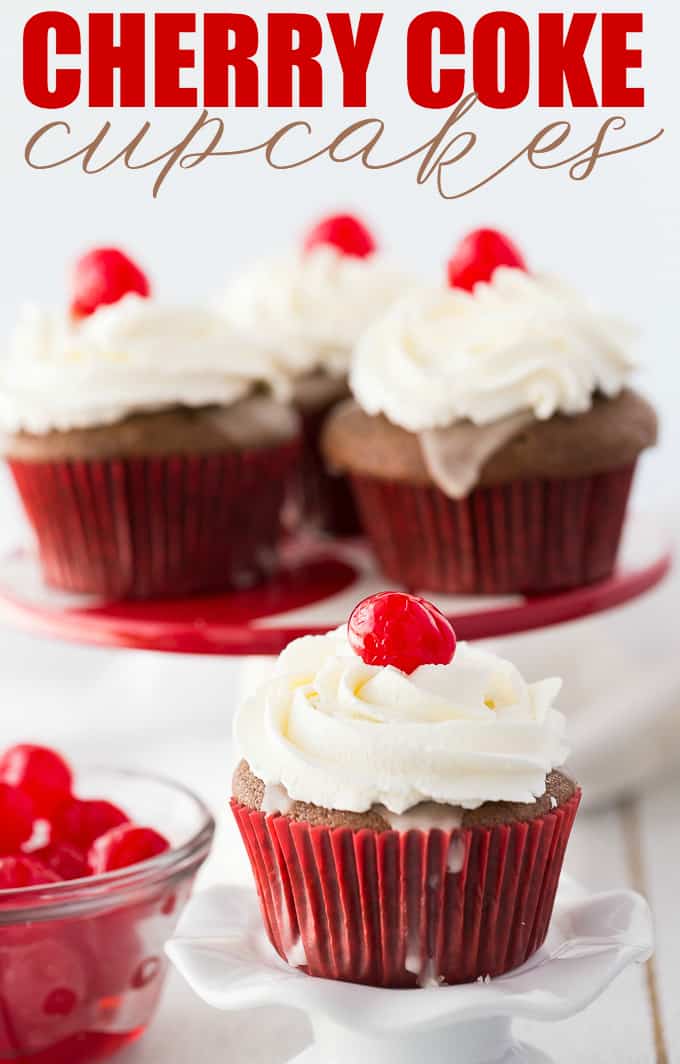 Visit CherryMan to learn more about their maraschino cherries and other products. Connect with CherryMan on Facebook, Twitter, Pinterest & YouTube.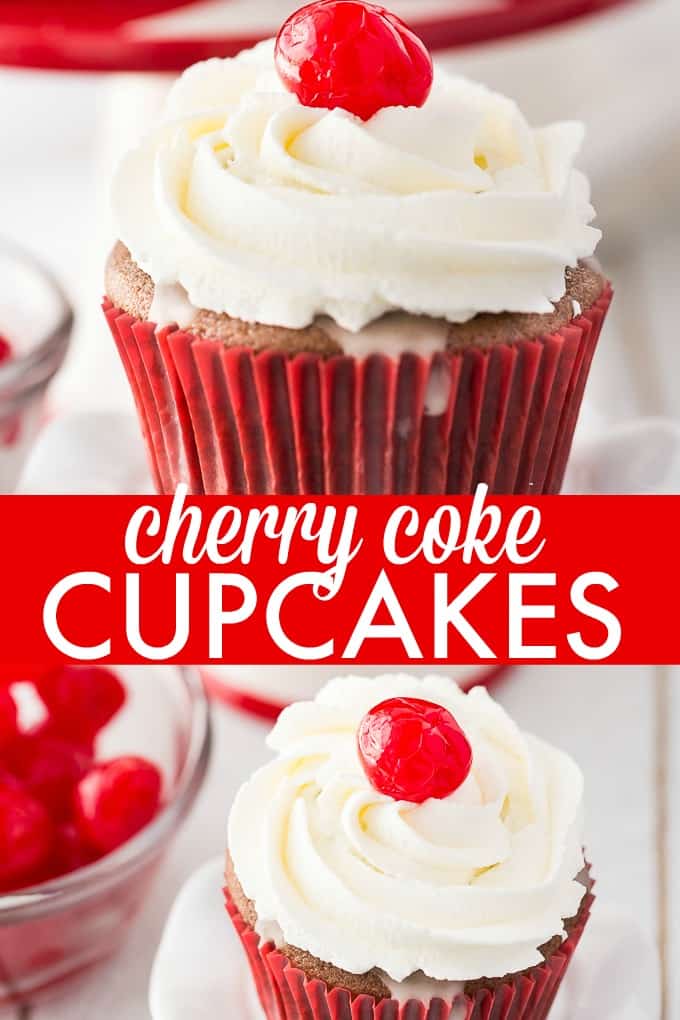 Discount
Use the discount code SimplyMaraschino to save 10% on your entire order from CherryMan. They also have a discount code every month for fans that like their Facebook page.


Yield: 12
Cherry Coke Cupcakes
Each cupcake has a cherry in the middle, glazed with a Coca-Coca sugar glaze and topped with sweet and fluffy whipped cream.
Ingredients:
Cupcakes
1½ cup flour
3 tbsp cocoa powder
½ tsp baking soda
¼ tsp salt
¾ cup sugar
8 tbsp butter, at room temperature
1 large egg
½ cup buttermilk
¾ cup Coca-Cola
¼ tsp maraschino cherry juice
2 tsp vanilla extract
Maraschino cherries, stemless
Glaze
1 cup icing sugar
2 tbsp Coca-Cola
Topping
⅔ cup heavy cream
3-4 tbsp icing sugar
Maraschino cherries
Directions:
Preheat the oven to 350° F. Line a muffin pan with paper liners and set aside.
In a bowl combine the flour, cocoa powder, baking soda and salt. Stir together and set aside.
In another bowl, combine the sugar and butter and beat on medium-high speed until light and fluffy. Mix in the egg until incorporated.
In another bowl, combine the buttermilk, Coke, maraschino cherry juice, and vanilla extract and stir to combine.
Mix the dry ingredients into the butter-sugar mixture on low speed, alternately with the liquid ingredients, beginning and ending with the dry ingredients and mixing just until incorporated. Divide the batter evenly between the cupcake liners.
Insert 1 maraschino cherry in the middle of each cupcake and cover with batter.
Bake for about 22 minutes, or until a toothpick inserted in the center comes out clean. Allow to cool in the pan 5 minutes, then transfer to a wire rack to cool completely.
To make the glaze, combine the icing sugar and Coke in a small bowl and whisk until smooth. Spoon or drizzle a small amount of the top of each cupcake and allow to set.
To make the whipped cream topping, add the heavy cream to the bowl of a stand mixer fitted with the whisk attachment. Begin whipping on medium speed, slowly adding the icing sugar and gradually increasing the speed to high as the cream holds soft peaks. Whip until the cream holds stiff peaks. Spoon the whipped cream on top of the cupcakes and top each with a maraschino cherry.
Disclosure: I was not financially compensated for this post. I received a sample of the product for review purposes. The opinions are my own, based on my personal experience with the product.