Creamy Zucchini "Pasta" with Tomato
I use zucchini all the time as a low carb replacement for pasta. I recently did a post with some recipe ideas from Sobeys' Inspired site and one of them was Creamy Zucchini "Pasta" with Tomato & Basil. I use zucchini noodles in hot dishes and was curious to see how they would taste cold. It turned out perfect and tastes even better the next day.
It's really easy to make. I left out the basil because our local grocery store did not have any available. When I see it there next time, I'll pick some up and try the salad with basil to see what kind of difference it makes in the flavour.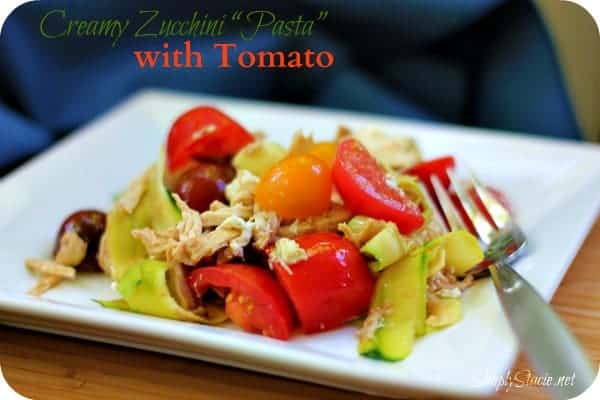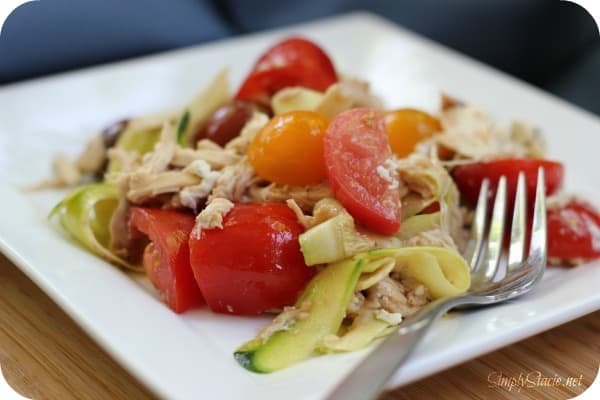 Yield: 4
Creamy Zucchini "Pasta" with Tomato
Ingredients:
2 medium zucchini
1 cup (250 mL) Compliments Gourmet MEDLEYTM Exotic flavoured tomatoes,
large ones cut in half or quarters
3 cups (750 mL) skin removed, shredded Gourmet Minute BBQ Chicken
3 tbsp (45 mL) olive oil
2 tbsp (30 mL) Sensations by Compliments Aged Balsamic Vinegar of Modena
1 garlic clove, minced
¼ tsp (1 mL) each salt and pepper
½ pkg (60 g) Sensations by Compliments Garlic & Herb Goat Cheese, crumbled
Directions:
Using a vegetable peeler, peel zucchini into long strips and place in a large bowl. Add tomatoes and chicken to bowl.
In a small bowl, whisk together oil, vinegar, garlic, salt and pepper and toss with salad. Sprinkle goat cheese and basil overtop and gently toss. Do not over mix or goat cheese may clump together.