Moroccan Beet Salad
This recipe for Moroccan Beet Salad was submitted by Serena of Surviving Madness in the Appetizers/Side Dish Category in the zuuzs Grand Spring Recipe Challenge!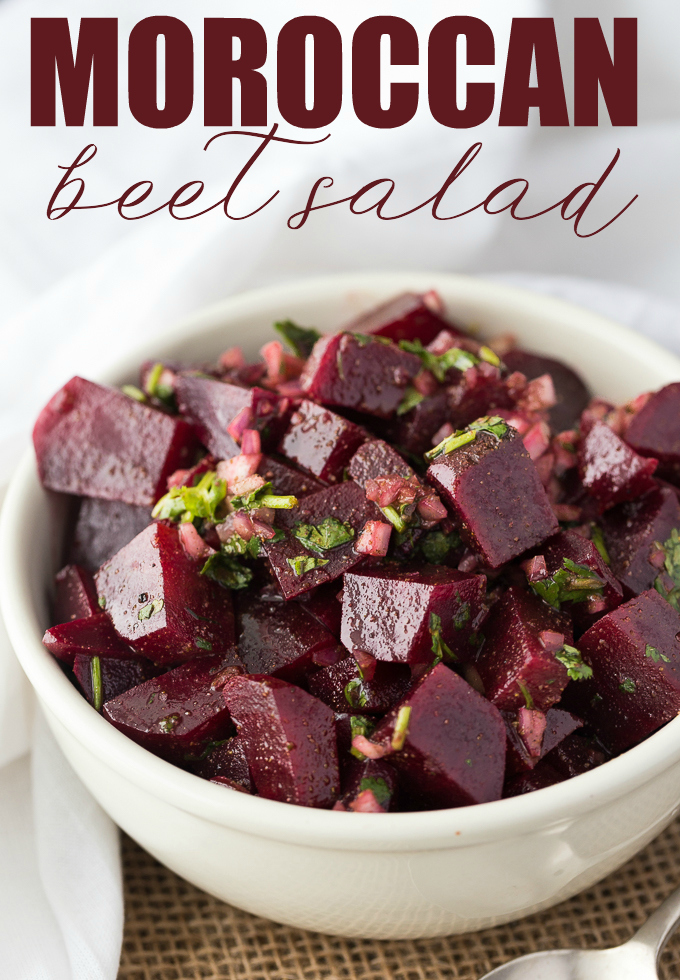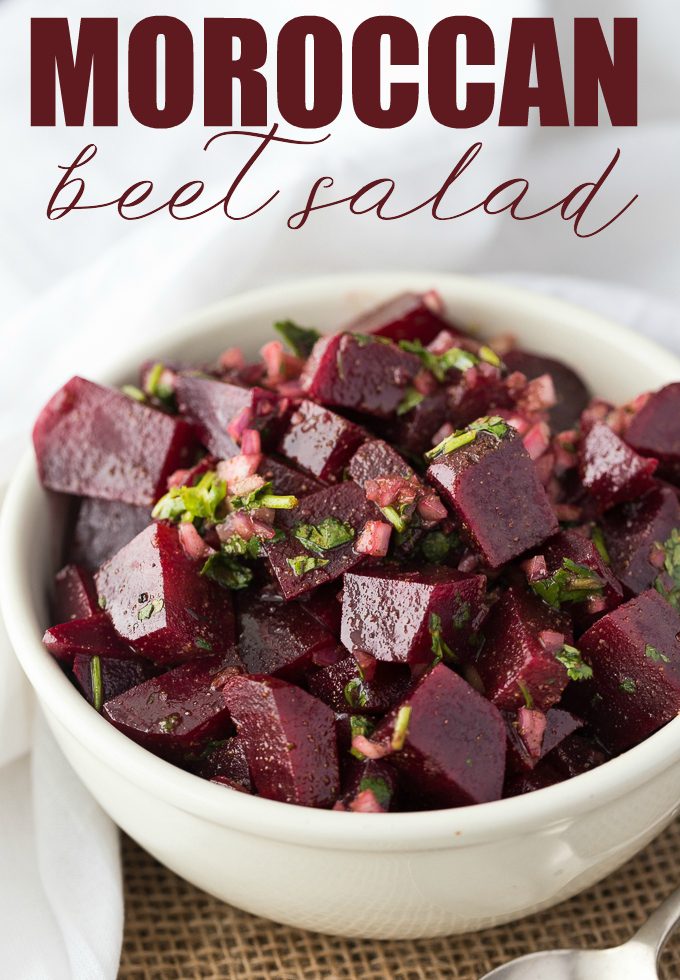 Do you like beets?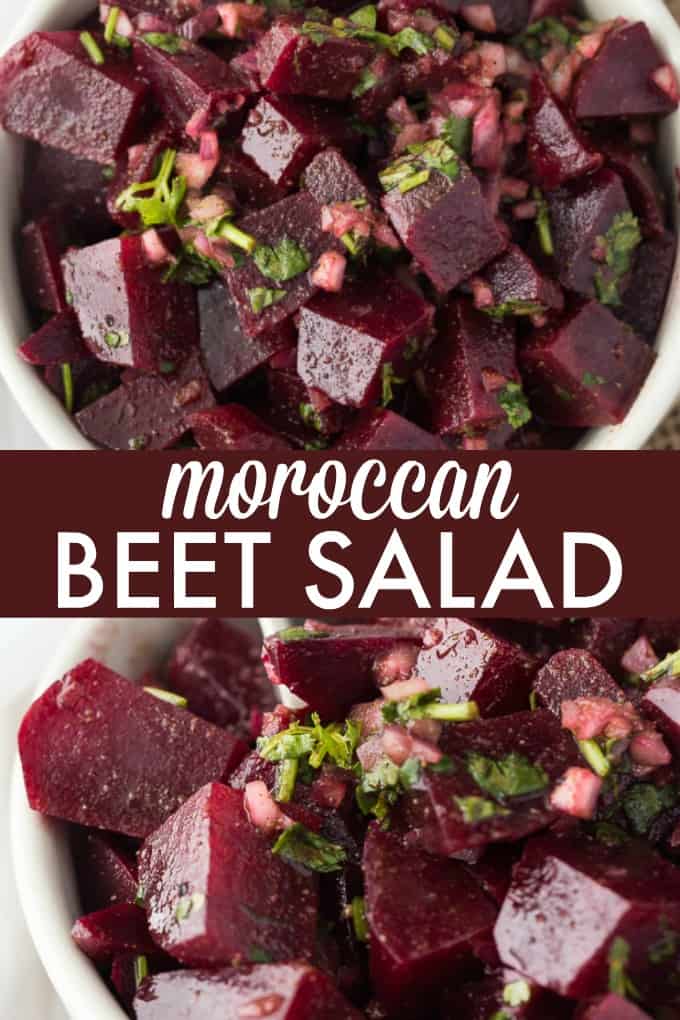 You might also like this Beet Salad.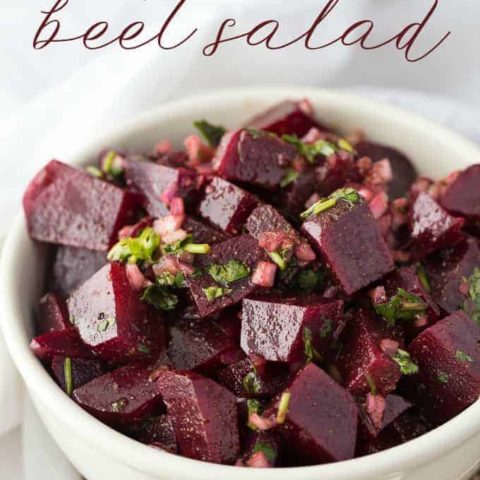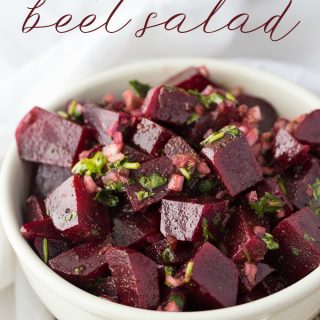 Moroccan Beet Salad
Yield: 6

Prep Time: 20 minutes

Cook Time: 1 hour

Total Time: 1 hour 20 minutes

Loaded with nutrients and full of flavor!
Ingredients
5 medium beets, washed/scrubbed
1/2 cup minced red onion
1/4 cup finely chopped fresh parsley
1/4 cup finely chopped fresh cilantro (coriander)
1 1/2 tsp cumin seeds*
1 1/4 tsp kosher salt*
1/2 tsp freshly ground black pepper
1 Tablespoon olive oil
1 Tablespoon fresh lemon juice
Instructions
Fill a large stock pot (or pressure cooker) with water, enough to cover the beets by at least 2 inches. Bring to a boil and reduce heat to medium-high (water should continue to boil). Allow the beets to cook for approximately 50-60 minutes (or 30 minutes in a pressure cooker). The beets are ready when the skin easily comes off and you can pierce the flesh with a knife or fork with no resistance.
Drain the beets. Fill the sink or a large bowl with water and lots of ice; soak the beets for 30 minutes.
While the beets are cooling down, heat a small frying/sauté pan over medium heat. Add cumin seeds to the pan and "roast" them for 2-3 minutes, stirring constantly. Grind the roasted cumin seeds in an electric coffee/spice mill or by hand using a mortar and pestle.
In a small bowl, combine the red onion, parsley, cilantro, roasted ground cumin, salt, pepper, olive oil and fresh lemon juice; mix well and set aside.
When the beets have cooled down, remove the skins (should slide right off), trim the tops/ends and cut into 1/2 inch (bite-sized) cubes.
Combine the beets and the onion/herb mixture in a large bowl and gently stir until the beets are evenly coated.
Refrigerate until ready to serve (will hold in the refrigerator for a few days). Enjoy!
Notes
You can also substitute the roasted ground cumin seeds for regular ground cumin (the flavor will be different but just as good). Also, if using regular (table) salt you will need to reduce the amount of salt by 1/4 teaspoon.
Recommended Products
As an Amazon Associate and member of other affiliate programs, I earn from qualifying purchases.
Nutrition Information:
Yield: 6 Serving Size: 1 bowl
Amount Per Serving: Calories: 57 Total Fat: 2.6g Saturated Fat: 0.4g Unsaturated Fat: 2.1g Sodium: 540.8mg Carbohydrates: 8.2g Fiber: 2.3g Sugar: 5.1g Protein: 1.4g