Broccoli Swamp
Broccoli Swamp is a tasty way to eat your greens. This broccoli dish is a cheesy, buttery, quiche-like dish. Low carb, savory, and delicious down to the last crumbs in the pan. If you are a fan of broccoli, you will do backflips for this Broccoli Swamp recipe.
Bridget is obsessed with broccoli. I knew when I saw the recipe for Broccoli Swamp in the Clare Crespo Cookbook titled A Very Veggie World that it was one I had to make. At first I thought it would be like a dip, but in reality, it's more like a quiche. It was low carb also, so that fits perfectly with my diet. Bridget even gobbled it up!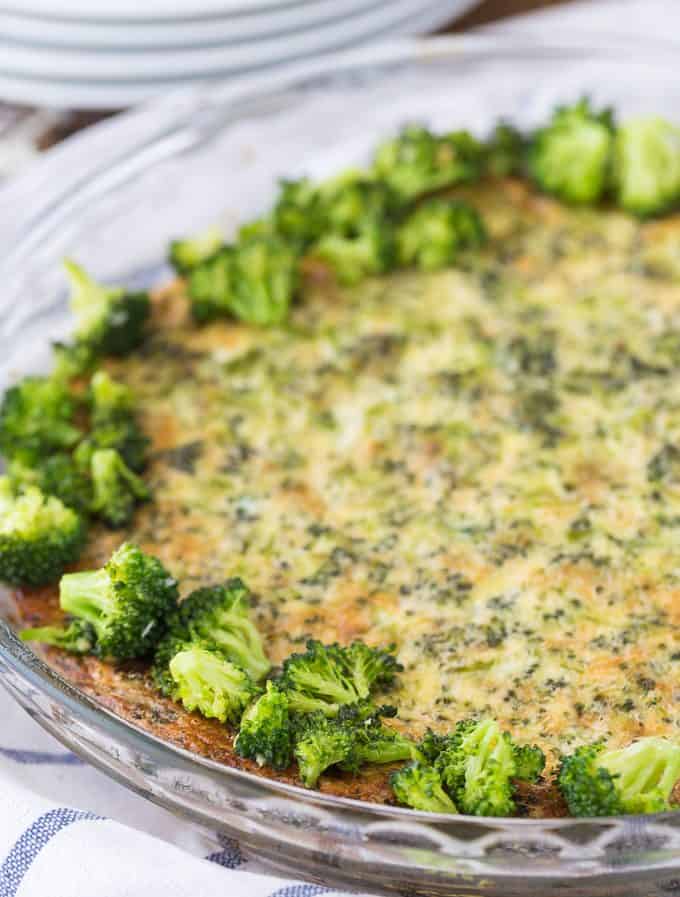 Easy Broccoli Swamp
I think what makes this recipe draw in little kids is the name quite honestly! I mean when I think of swamps, I go straight to the Swamp People show on the History Channel! Alligator hunting and all things swampy. Little kids will love trying something with the name of swamp in it, and adults will enjoy it cause it is a tasty broccoli filled dish.
Check Out These Broccoli Dishes
What Is Broccoli Swamp Exactly
You will find a lot of quiche recipes have a pie crust. This recipe doesn't use a pie crust, but the filling is similar to what you would find in a quiche. In a way, this is a crustless quiche. Eggs, chopped broccoli, and cheese baked to perfection. You have a layer of broccoli florets around the edge to mimic the swamp.
This dish is baked in a pie pan, so once you pull it out of the oven, slice like a pie and serve!
When to Serve Broccoli Swamp
Breakfast, brunch, lunch or even dinner! I have to say I don't think there is genuinely a wrong time to serve up this broccoli bake. I have made this a handful of time, and each time it is a success. Serve for your family or make for a crowd; either way, you will be glad you gave this recipe a try.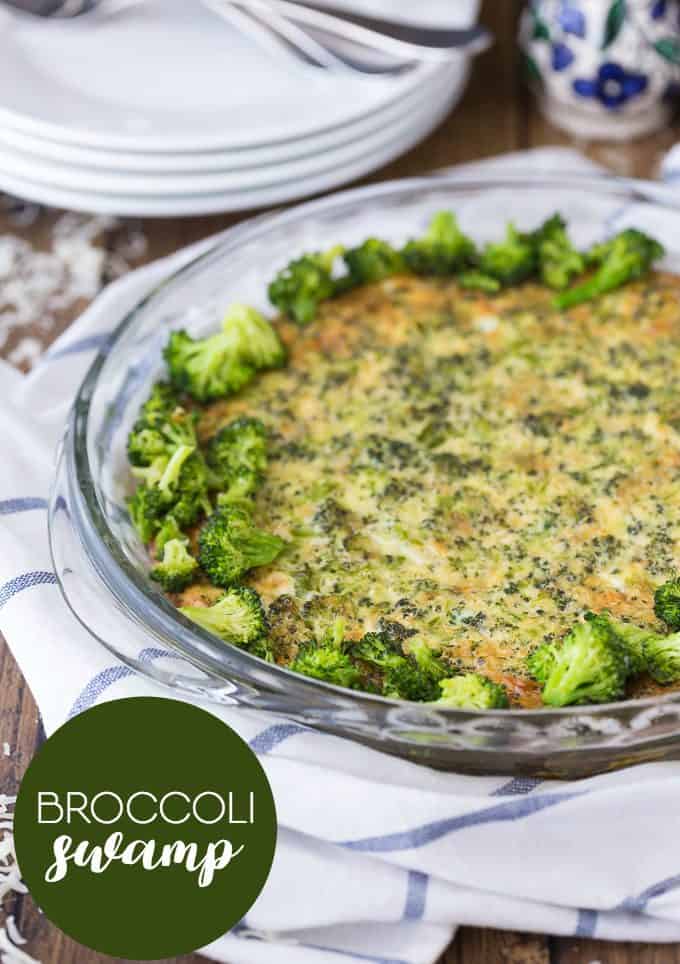 How to Store Broccoli Swamp Leftovers
If you have leftovers, just store in the fridge. Wrap tightly in aluminum foil or cover with a lid. Place in the fridge and store for up to three days. Anything after that you will want to toss out the leftovers at that point.
Best Way to Reheat Your Swamp
Turn the oven on to 325 degrees, and wrap your swap up in aluminum foil. Warm in the pan until it is warmed through, for a fresh taste. Or if you want the faster route, go for the microwave. Heat in microwave for thirty-second intervals until it is warmed through.
Can I Use Frozen Broccoli for this Recipe
I would assume you could thaw out frozen broccoli for this recipe and it would be fine. I used fresh when I made it, but I don't see why frozen wouldn't work. I would just thaw your broccoli in cold water and then skip the heating on the stove since it will be softened since it was previously frozen.
Ingredients to Add to Broccoli Swamp
While we loved this recipe all by itself, you could also add in some fresh spinach or even bacon for a salty and savory aspect. You could also toss in some diced mushrooms or even carrots.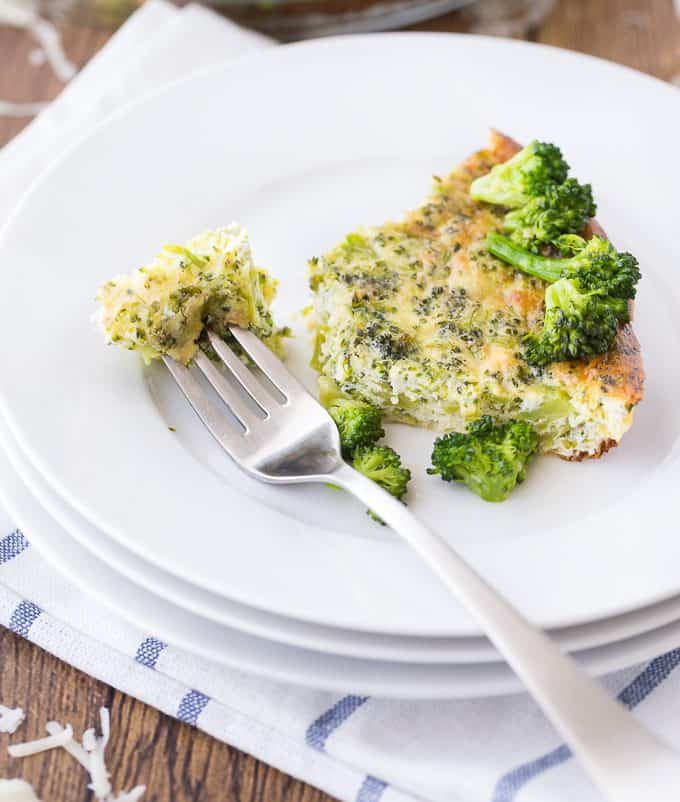 How to Make Broccoli Swamp
Take your pie pan and spray with cooking spray. Then in a pan, you want to melt your butter and then add in your broccoli and cook for two minutes. Then pour you water into the pan and garlic and cook for around five minutes. This will help to brighten and flavor your broccoli.
Remove from the heat and drain your broccoli. Dice up 2/3rds of your broccoli, so it is nice and fine.
Grab a bowl and then mix eggs, half, and half, cheese, and broccoli. Once combined pour in your seasonings and pour into your pan and bake until it is cooked through.
Let stand for five minutes, place extra florets on the edge of pan to create your swamp, and slice and serve!
If you are a fan of broccoli, you have to give this recipe a try. We have loved making it, especially my daughter. And what is so lovely is this recipe takes such a short time to assemble and before you know it you have a savory dish to slice up.
Have you ever heard of Broccoli Swamp before?
Yield: 6
Broccoli Swamp
Don't let the name fool you – this versatile veggie-packed egg dish is delicious! Using fresh or frozen broccoli, along with eggs, Swiss cheese and a subtle garlic flavour, the whole family will love this dish!
Ingredients:
2 Tbsp. butter
1 large bunch broccoli, about 1-1/2 pounds, divided into florets
3 Tbsp. water
1 clove garlic, finely chopped
5 large eggs
1/2 cup fat-free half and half
3/4 cup low-fat Swiss cheese, shredded
1/4 tsp. salt
1/8 tsp. nutmeg
1/8 tsp. ground black pepper
Directions:
Preheat oven to 350°.
Spray 9-inch pie pan with no-stick cooking spray.
On the stove top melt butter in a pan.
Add broccoli and cook for 2 minutes, then add water and garlic and cook, covered for 5-7 minutes until broccoli is bright green but firm.
Remove from heat. Set aside 1/3 of the broccoli florets for garnish and fi nely chop remaining 2/3.
In a mixing bowl, beat the eggs and half and half. Stir in cheese and mix well. Stir in the chopped broccoli, salt, nutmeg and pepper. Pour into pie pan and bake for about 35-40 minutes until a knife inserted in center comes out clean.
Remove from oven and let stand for 5 minutes. Insert fresh herbs and reserved broccoli fl orets into the sides of your "swamp."