This recipe for Peanut Butter & Oatmeal Chocolate Chip Cookies was submitted by Deena of stay at home FOODIE in the Desserts Category in the zuuzs Grand Spring Recipe Challenge! VOTE for this recipe here.
Peanut Butter & Oatmeal Chocolate Chip Cookies
1 and ½ sticks unsalted butter
1 cup old fashioned oats
1 cup + 2 TBSP AP flour
1 tsp. baking soda
1 tsp. coarse sea salt
1/3 c. sugar
1/2 c. dark brown sugar
1 large egg
1/2 c. fresh roasted, unsalted peanuts – chopped
1/2 c. REAL salted peanut butter
1/2 c. mini chocolate chips
1. Preheat oven to 350 degrees.
2. BROWN ½ stick of butter in a sauce pan over medium heat.
3. Add oats and cook for 5-7 minutes until oats are soft.
4. Spread oats on a baking sheet to cool.
5. Whisk together flour, baking soda and salt.
6. Beat butter and sugars together on a medium-high speed until light and fluffy.
7. Add egg and beat until well combined.
8. Add oats, peanut butter, peanuts and chocolate chips and mix until well combined.
9. Add flour mixture and beat on low speed until combined.
10. Scoop out cookie batter with a small ice cream scoop onto baking sheets lined with parchment paper.
11. Bake until golden brown – about 12 – 15 minutes – making sure to rotate your baking sheets half way through cooking.
Enjoy!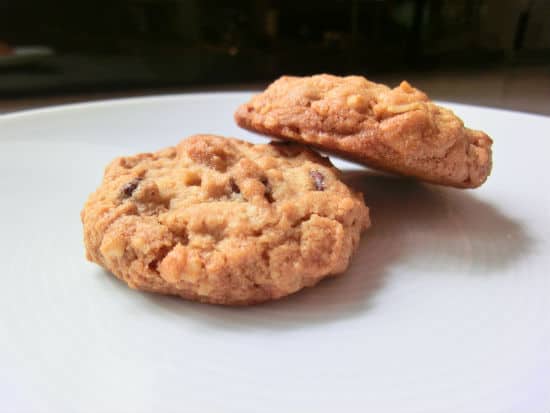 Promote your blog and showcase your recipe in zuuzs Grand Spring Recipe Challenge. The prizes include a $500 Gift Card as the Grand Prize and three $200 Gift Cards as the top Category prizes you can use to buy kitchen related wares. Submissions end on April 28th.