Twice Baked Potato Casserole is one incredible side dish that will easily swoop in to steal the show. Creamy, savory loaded potatoes with cheese and bacon.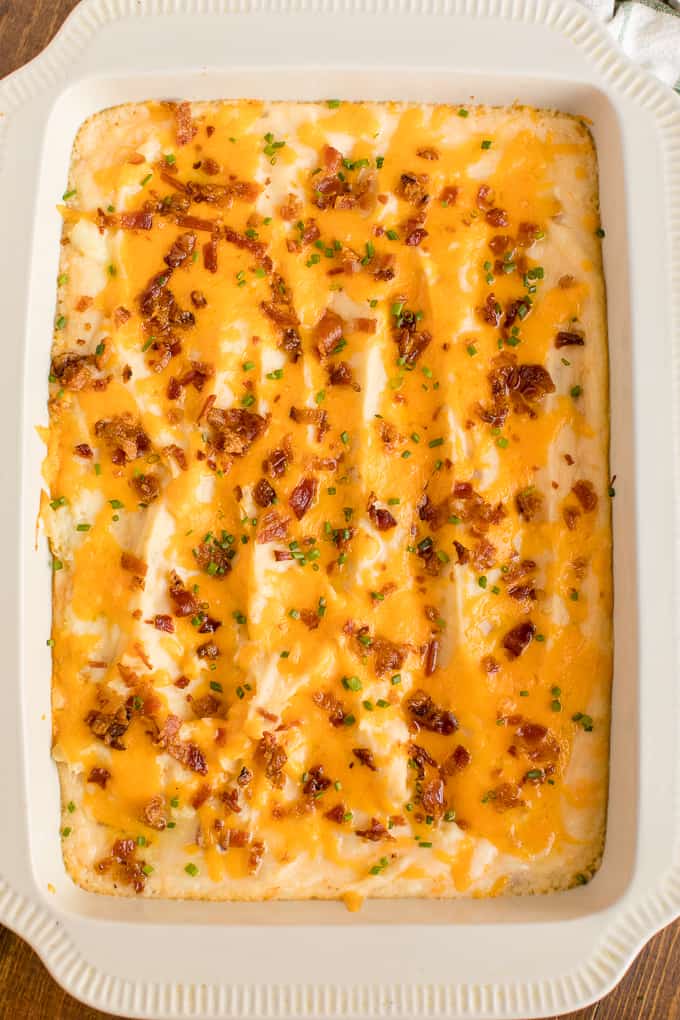 Hi friends, Heather here visiting from Food Lovin' Family sharing comfort food at its best, twice baked potato casserole.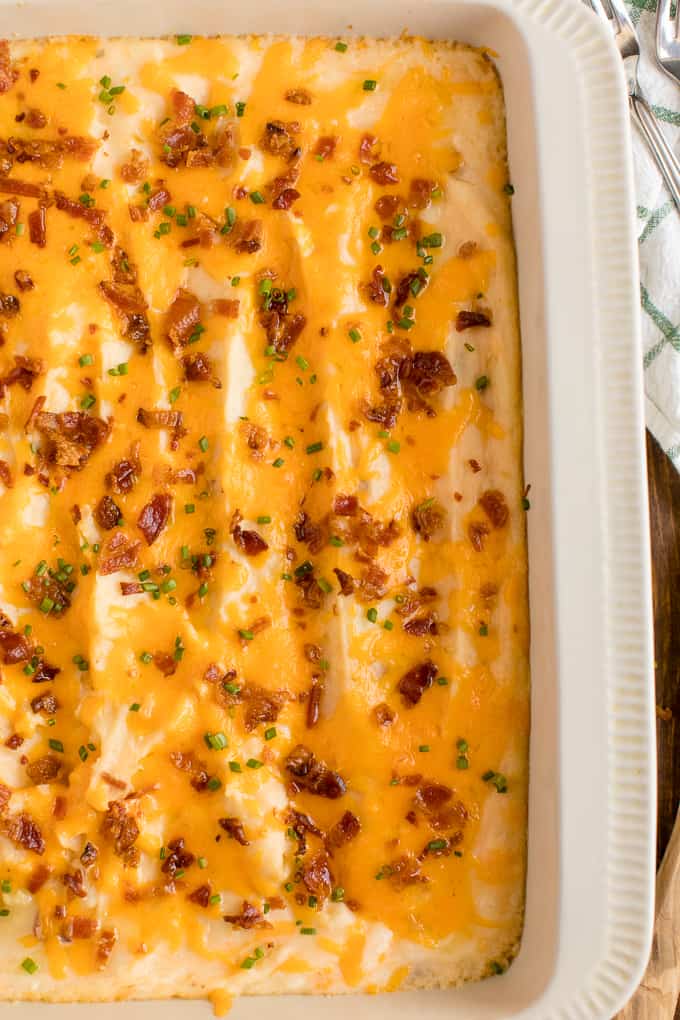 I inherited my love of cooking from my mom. Growing up she always had a delicious dinner on the table for us no matter how busy our schedules. She inspired me to get in the kitchen and get creative. Now I get to pass along the love of cooking to my little guys.
Twice Baked Potato Casserole Recipe
One of my favorite recipes she made almost every week is this twice baked potato casserole. My sister and I practically licked our plates clean every time she served it to us.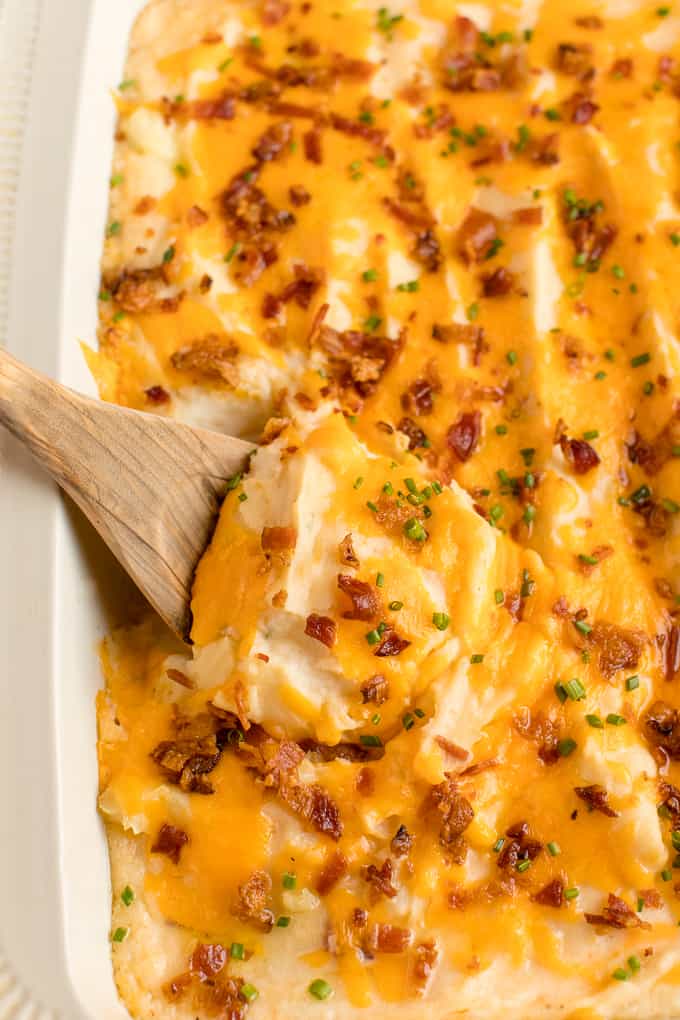 Now I make it for my family and like me, it is one of the kid's favorites. I let the little ones help me prepare the dish by mashing the potatoes and sprinkling the cheese and bacon on top. They have so much fun helping!
How to Make Twice Baked Potato Casserole
There are so many things to love about this casserole starting with the always amazing combination of potatoes, cheese, and bacon.
Also, no need for the "twice baked", mix all of the ingredients together and bake once in a casserole dish. After you have the potatoes peeled, the rest of the casserole comes together very quickly.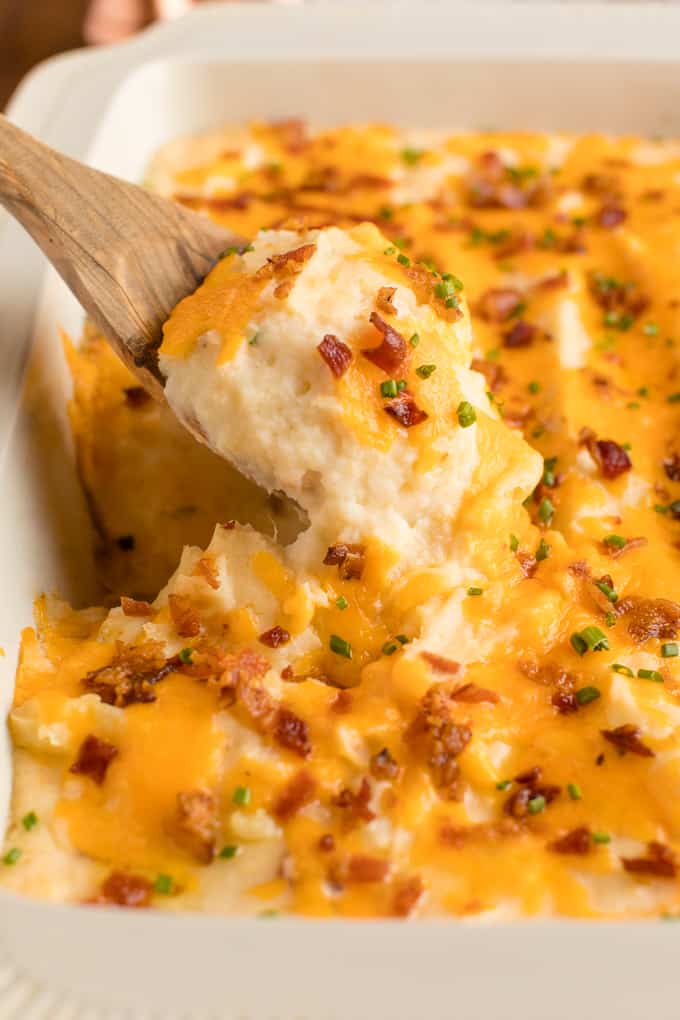 To make this dish, I start by cutting the potatoes in chunks and boiling them until fork tender. If you prefer to bake them that works too, it just takes a little longer.
Drain the potatoes and then mash in butter, sour cream, cream, cheese and then bacon. Pour the mixture into a baking dish and top with extra cheese and crumbled bacon.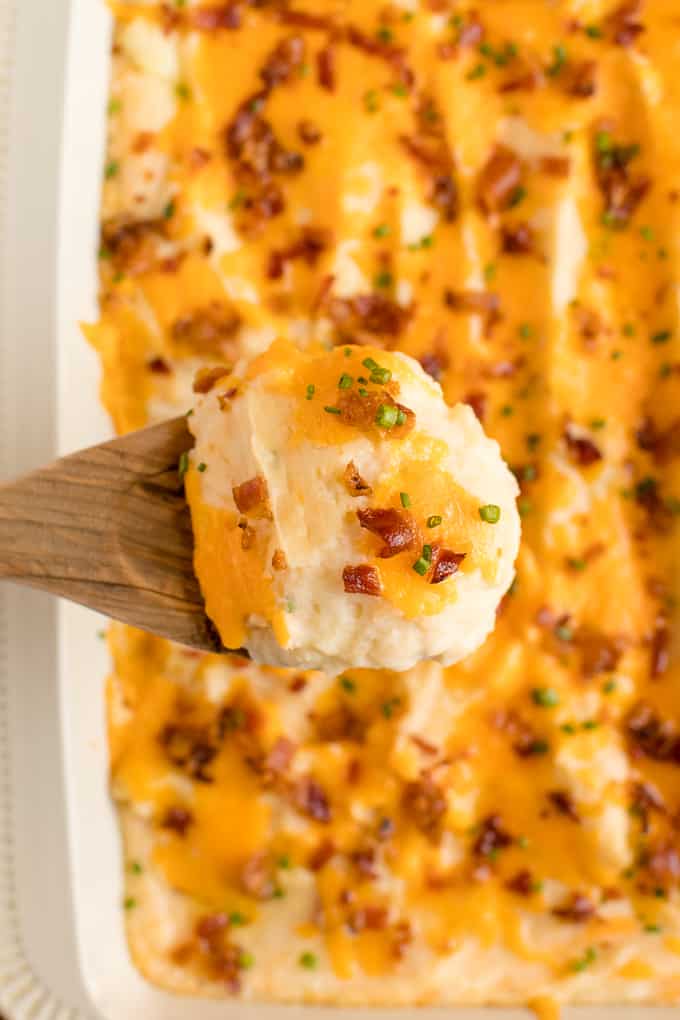 Bake the casserole for 30 minutes or until cheese is melted. Once it is out of the oven, I like to add some chopped fresh chives but green onions would also work well. This casserole reheats nicely or you can even dollop a little in a hot pan and make potato cakes.
If you love twice baked potatoes and don't want to worry about stuffing potato skins and baking two times, try this recipe that feeds a crowd.
Helpful Kitchen Tools
These kitchen tools will help you make this recipe.
This post contains affiliate links.
What are the Best Potatoes for Mashed Potatoes
I reached for Yukon Gold for this recipe. A starchy potato that is incredible for making mashed potatoes out of it.
Now you could use red potatoes or even Russets if you want a different flavor of mashed potato.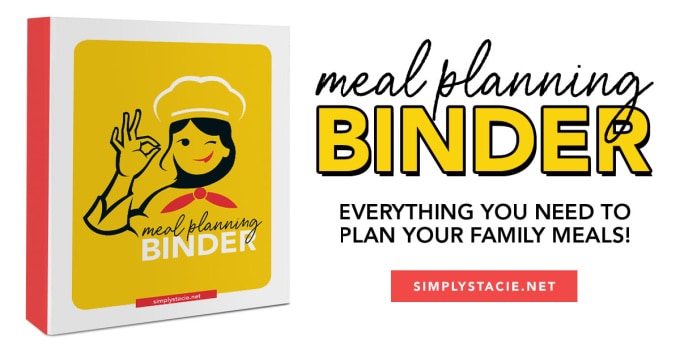 What to Pile on this Mashed Potato Casserole
Diced green onions
Prosciutto
Bacon
Dollop of sour cream
Chives
Truly you can whip up this casserole and top with any of your favorite toppings. We went with cheese and bacon as our pairing and it was insanely good!
What Else to Serve with Twice Baked Potatoes
Sunday Meatloaf | I love meatloaf and mashed potatoes. Thus casserole pairs great with this juicy meatloaf recipe.
Savory Pork Chops | This is the ultimate pork chop recipe. One that my whole family devours.
Oven Baked Chicken Wings | If you serve these up as a main dish the potato dish pairs nicely. Hearty, filling and satisfying.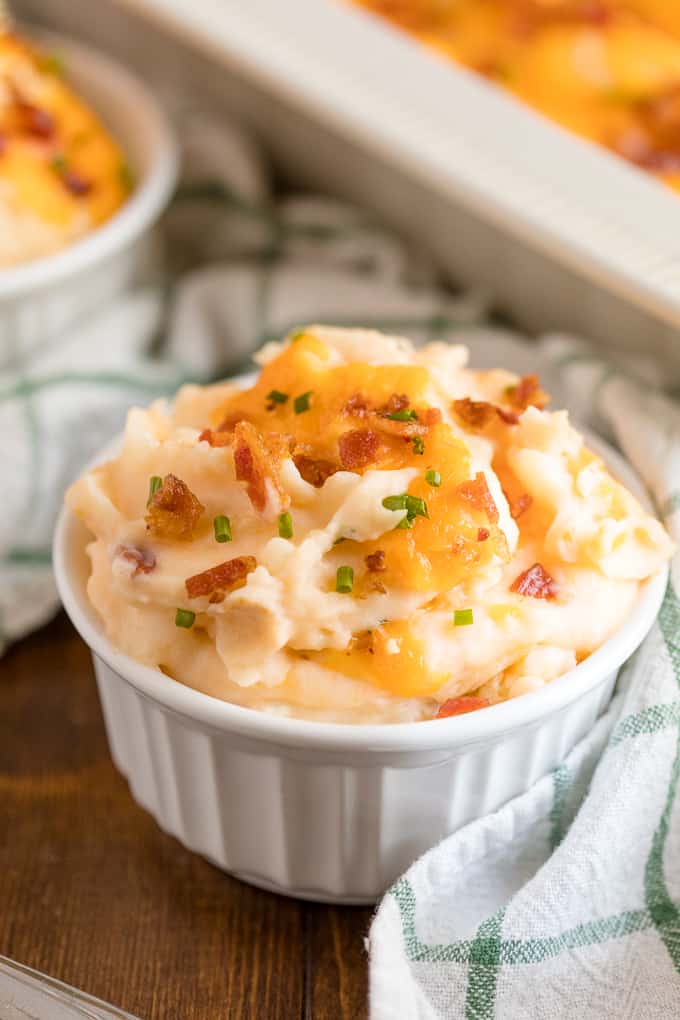 How to Make this a Meal
If you want to upgrade this potato casserole consider adding in some cooked shredded or diced chicken. Or if you have some ham that would be good too.
I have tossed in leftover meat in the past and it tastes great and makes it like a complete casserole.
Can I Make Twice Baked Potato Casserole in Advance
You can actually make this dish in advance if you would prefer. Simply prepare it as you planned, and then cover and store in the fridge.
You can make this 24 hours in advance of when you plan to cook it. Then just add a bit more time to cooking since your cooking up cold potatoes. It will take longer to warm through.
This is a great make-ahead potato dish for preparing for holidays, summer cookouts, prepping ahead for dinner and more!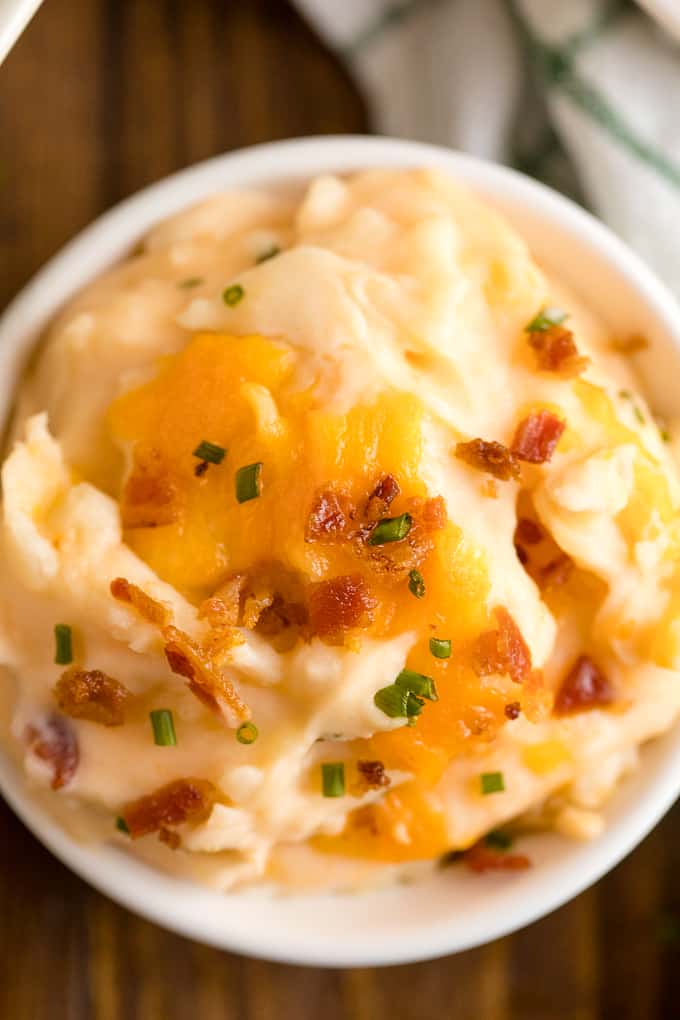 Searching for more irresistible potato recipes
Smothered Potatoes | Tender potatoes, mushrooms, loads of cheese and more come together in this potato recipe.
Irish Potatoes | These are a very tasty and unique potato but let me tell you they will win you over with one bite!
Potato Nachos | Move over chips hello potatoes! This recipe is insanely good and you can top with all your favorite toppings!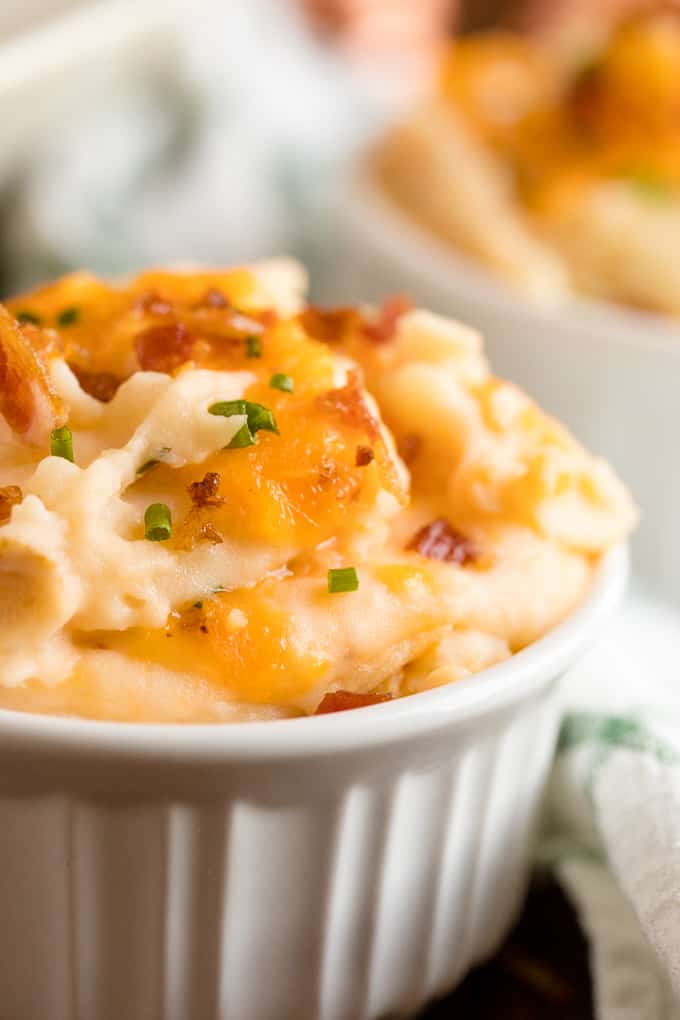 How to Store Leftover Potato Casserole
You can store this in the fridge in an airtight container, for up to three days. If you don't use bacon you can store for up to five days. The meat will shorten the life span of this potato casserole.
Because it is full of dairy, you will find it will not freeze and thaw that great. The dairy can start to separate and offer a bit of an odd texture to the potato dish.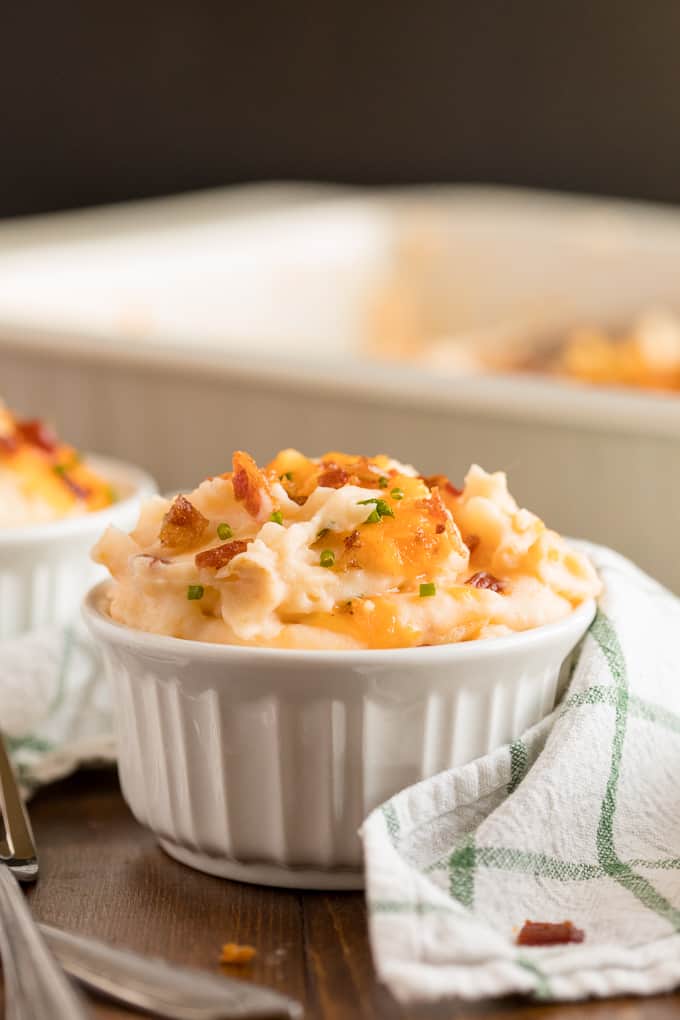 If you want a fantastic dish to win over a crowd or your family, I highly suggest this recipe. We make it all the time, and for the holidays it is always a hit.
Easter is right around the corner so consider making this for your Easter feast!
You might also like this French Fry Casserole.
What would you serve with this casserole?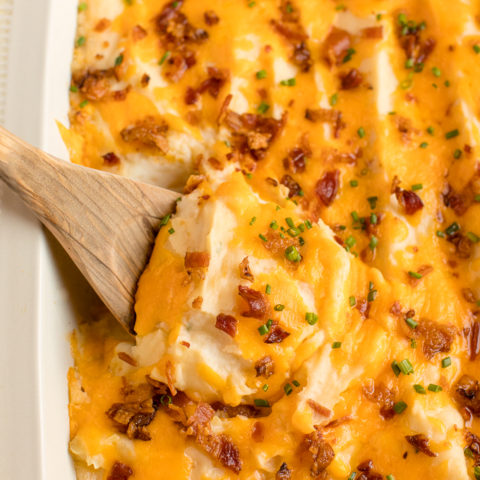 Twice Baked Potato Casserole
Far less labour intensive than traditional twice-baked potatoes, but with all the cheese, bacon and green onion flavours you love. This side dish pairs well with everything!
Ingredients
4 pound bag Yukon gold potatoes chopped into large chunks
1/4 cup butter
1 cup sour cream
1/2 cup cream cheese
1/2 cup heavy cream or milk
2 cups shredded cheddar cheese
1 (16oz) pack bacon, cooked and chopped reserve about 1/4 cup for topping
3 tablespoons fresh chives, chopped
3/4 tablespoon salt
1 teaspoon ground black pepper
Instructions
Preheat oven to 350 degrees F.
Wash and peel potatoes. Cut them into large chunks.
Place potatoes in a large pot of boiling water and cook until fork tender, approximately 15 minutes.
Drain the potatoes, return to pot and add butter. Mash with a potato masher. Stir in heavy cream, sour cream, cream cheese, bacon, salt, pepper and 1 1/2cups of shredded cheese and mash until desired consistency.
Lightly spray a 9×13 baking dish with non-stick cooking spray. Place the potato mixture in baking dish. Top with remaining 1/2 cup cheese and remaining chopped bacon.
Bake for 25-30 minutes or until cheese is melted. Top with chives.
Recommended Products
As an Amazon Associate and member of other affiliate programs, I earn from qualifying purchases.
Nutrition Information:
Yield:

8
Serving Size:

1
Amount Per Serving:
Calories:

437
Total Fat:

34g
Saturated Fat:

19g
Trans Fat:

1g
Unsaturated Fat:

11g
Cholesterol:

101mg
Sodium:

1026mg
Carbohydrates:

20g
Fiber:

2g
Sugar:

3g
Protein:

14g