Spinach & Cheese Egg Muffins
When I was following a low carb diet, I ate a lot of eggs. In fact, one of my favourite meals was a simple egg and bacon frittata. Not only was it easy to make, but it was filling and so good. I never felt like I was eating "diet food". This week, I decided to make frittatas, but on a smaller scale. I whipped up a batch of these Spinach & Cheese Egg Muffins for breakfast and they were amazing! They had all my frittata favourites like bacon, onion and cheese and I added in some spinach for an extra kick of colour (and iron).
I used fresh baby spinach, but you could also use frozen spinach if you like. Just make sure you squeeze out all the extra water before mixing it in.
If you wanted it to be a vegetarian recipe, leave out the bacon, but remember to add some oil or butter to the onions when you fry them up.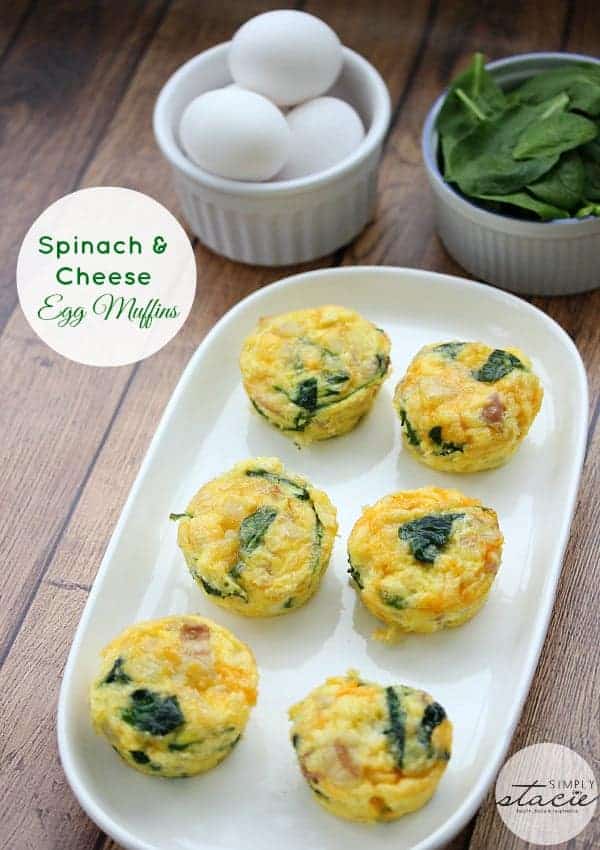 For more spinach recipes, check out my friends' posts: Spinach and Fruit Salad, Spinach Salad Bites, Strawberry Spinach Salad, Spinach & Goat Cheese Quesadillas, Spinach and Cheese Stuffed Pasta Shells, Mini Spinach Bread Bowls and Spinach Mushroom Crepes.

What are your favourite ingredients for egg muffins?
Yield: 12
Spinach & Cheese Egg Muffins
A mini frittata made with bacon, onions, cheese and spinach. Always a breakfast fave!
Ingredients:
6 to 8 strips of bacon, chopped
½ large onion, chopped
1½ cups cheddar cheese, shredded
2 to 3 cups of spinach
12 eggs
cooking spray
Directions:
Preheat oven to 350°F and spray cooking spray in a muffin pan. Set aside.
Beat together eggs. Add the shredded cheese and stir to combine. Set aside.
In a frying pan on the stove, cook the onion and bacon over medium heat for about 10 minutes. Add in spinach and stir to combine. Cook for about 3 minutes or until spinach is wilted. Remove from heat and let cool for five minutes.
Add spinach mixture to the egg mixture and stir to combine. Ladle the egg mixture into a muffin pan being careful to not overfill the muffin cups. Cook for 15 minutes.
Remove from oven and let cool for 5 minutes before removing from the muffin pan. I found it easy to loosen the sides of the muffins with a butter knife and then gently remove them with a fork.
You Will Also Love
If you liked this post, you will also love these ones!