Peanut Butter Truffles are a simple and addictive peanut butter treat. A no-bake bite-sized treat that is loaded with peanut butter flavor and a sweet chocolate coating.
Hi everyone, Nicky here, calling in from Kitchen Sanctuary. Today I'm bringing you a recipe for these amazing peanut butter truffles.
I've got a real thing for truffles lately, and these are just so addictive. Every time I walk into the kitchen I seem to walk out with another one in my mouth – I just can't help myself!!
I don't even like peanut butter, but I just want to eat these all day.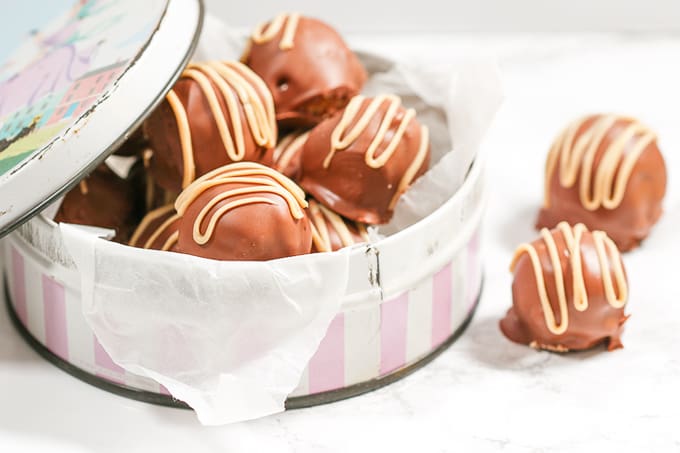 Peanut Butter Truffles
They're pretty simple to make – no baking, food mixers or chocolate tempering. Which means it's easy for the kids to get involved too.
Make them as a gift, or just as a treat for yourself – just try not to scoff the lot in one day (blush).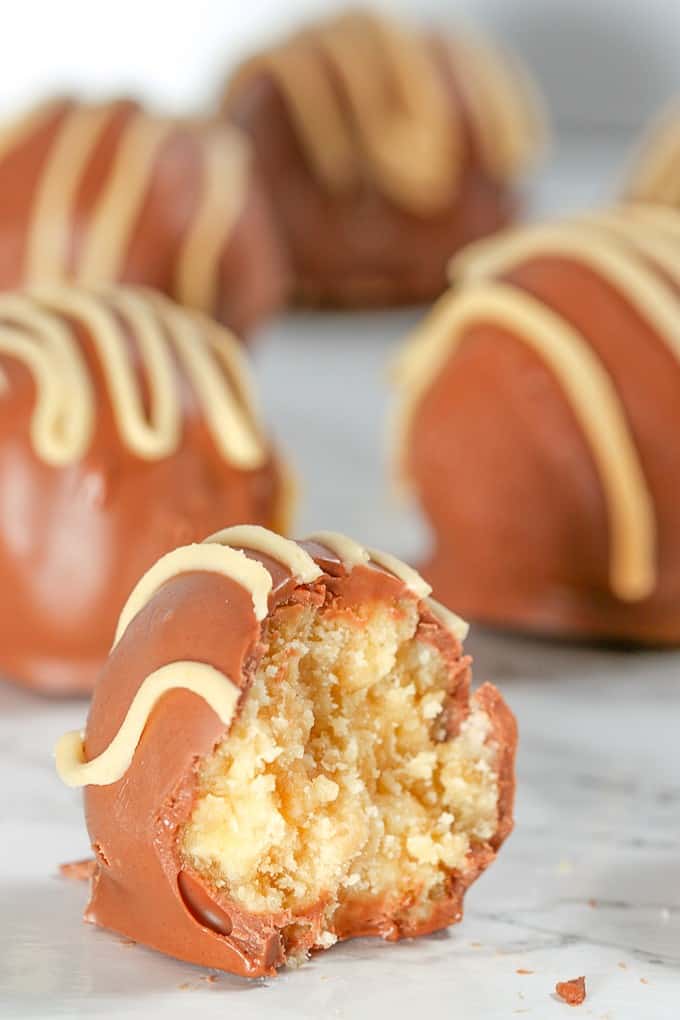 What Type of Shortbread Cookies to Use for Peanut Butter Truffles
You want to reach for a simple shortbread cookie. Now depending on where you live you might find you have a popular brand. Feel free to use any shortbread cookie.
I used a rolling pin and a sealable bag. I placed the cookies in the bag, sealed it up and then took my rolling pin to break it up. If you don't want that method you can also use a food processor.
Toss the cookies in and give it a pulse or two until your cookies are finely chopped, similar to graham cracker crumbs.
Creamy vs. Crunchy Peanut Butter
I find that creamy is best when making truffles. The nuts in the crunchy peanut butter will affect the shape of your truffle balls. You will find they won't be as round and can look lumpy even when dipped in the chocolate.
If you don't mind them looking a little off on the shape, then go right ahead and do crunchy peanut butter if that is what you prefer.
Ingredients for Peanut Butter Truffles
Peanut butter
Cream cheese
Confectioner sugar
Shortbread cookies
White chocolate
Semi-sweet chocolate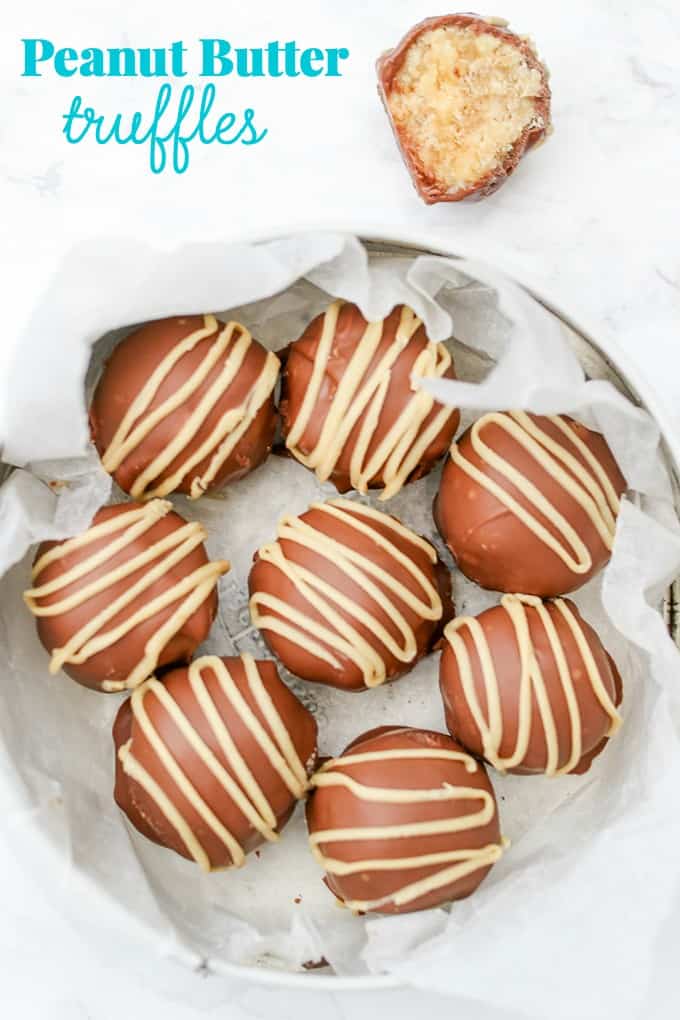 How to Make Peanut Butter Truffles
You will start by making your peanut butter mixture, that you will store in the fridge for a while. Once it is set up a bit, you will use a cookie scoop and use that to get evenly shaped balls. Roll them up, and set on a parchment-lined pan.
Place the rolled balls back in the fridge for another 30 minutes to help get them chilled again. You don't want your balls melting in the chocolate.
Once your ready dip your balls in the chocolate and then you can use a piping bag to put strips of peanut butter on top if you want. Then let them harden and enjoy.
Craving more peanut butter and chocolate recipes
Chocolate Peanut Butter Cupcakes | A peanut butter and chocolate lovers dream come true. Light and moist cupcakes that are topped with a fresh and sweet frosting.
Peanut Butter Cheesecake Brownies | Wow, these brownies are one of our favorites. A layer of a fudgy brownie topped with a cheesecake layer. These are downright the best cheesecake brownies.
Reese's Peanut Butter Pizza | This is a dessert pizza that is loaded with rich and creamy flavors in every bite. Topped with Reese's peanut butter for the ultimate dessert.
How to Store No-Bake Peanut Butter Balls
Because of the cream cheese in these no-bake peanut butter balls I suggest storing them in the refrigerator. You will place it in a sealable bag or airtight container. Store for up to a week. Then thaw on the counter if you want a room temperature ball. I actually enjoy them cold.
Can You Freeze Peanut Butter Balls
You bet! If you want to freeze these, just make them and allow them to harden up. Then place them in an airtight container that is freezer friendly. Store your no-bake balls in the freezer for up to three months.
Thaw them in the fridge the night before you want to eat. Or take a few out and let them warm up at room temperature for 30 minutes to an hour.
Can I Make Peanut Butter Balls in Advance
You sure can make these ahead of time. I would say making them 1-2 days in advance is probably the farthest you would want to do. These are best when they are fresh, as they will have the best flavor. Just make and store them in the fridge.
So if you are on the hunt for an easy but delicious no-bake dessert I highly suggest giving this recipe a try. We love it, and make it for every and any occasion.
Would you keep or give as a gift?
You'll also like this Frito Candy.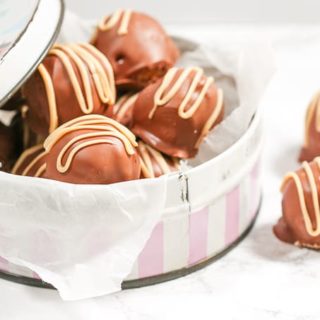 Peanut Butter Truffles
No-bake alert! Make these simple yet romantic truffles for your partner or your kids, as long as it's made with love.
Ingredients
¼ cup full-fat cream cheese, room temperature
½ cup peanut butter
2 tbsp confectioners' sugar
6oz all-butter shortbread biscuits, finely crumbled (I place mine in a bag and crush them with a rolling pin)
3.5oz white chocolate, melted (chop into chunks and melt in the microwave in 30 second bursts – stirring in between each burst)
Chocolate Coating
7oz semi-sweet chocolate, melted
1 heaped tbsp. peanut butter
1 oz white chocolate, melted
Instructions
Place the cream cheese, peanut butter and confectioners' sugar in a small bowl and mix together until combined. Stir in the crumbled shortbread and then mix in the melted white chocolate. Cover the bowl with plastic wrap and place in the fridge for an hour to chill.
After an hour, take the mixture out of the fridge. Line a plate or tray with baking parchment. Scoop out heaped teaspoons of the mix, place in your hand and roll into a ball. Place on the parchment. Repeat until all of the mixture is used up. Place back in the fridge to chill for 30 minutes.
After 30 minutes, take the shortbread balls out of the fridge. Place one of the balls on a fork and dip into the melted semi-sweet chocolate. Use a spoon to drizzle more of the chocolate over the top, then let any excess chocolate drip off. Gently place the ball back on the parchment-lined tray and repeat until all of the mixture is used up. Leave the chocolate to set at room temperature for 30 minutes, then mix the peanut butter with the melted white chocolate and spoon into a piping bag. Pipe little strips of the peanut butter mixture over the top of the chocolate truffles and leave to set in the fridge before serving.
Recommended Products
As an Amazon Associate and member of other affiliate programs, I earn from qualifying purchases.
Nutrition Information:
Yield:

30
Serving Size:

1
Amount Per Serving:
Calories:

142
Total Fat:

11g
Saturated Fat:

6g
Trans Fat:

0g
Unsaturated Fat:

5g
Cholesterol:

15mg
Sodium:

83mg
Carbohydrates:

10g
Fiber:

1g
Sugar:

7g
Protein:

2g