25 Healthy & Delicious Egg Muffin Recipes
Breakfast is one of the best meals of the day when you're on a low carb diet! There's the classic bacon and eggs (hold the toast!) and my personal fave, simple egg muffins. I always leave the table full and satisfied until lunch. With high carb breakfasts, I'm hungry an hour later.
I've been making egg muffins for over 10 years. I thought I had tried them all till I found Pinterest. Then I realized that I hadn't even scratched the surface.
One important thing I will mention that you DO NOT want to forget to do. Trust me, I know from experience. Always grease your muffin pan! I find cooking spray works the best for me. If you forget, yikes. I had throw away the entire pan when I forget. The eggs were stuck on the side and no amount of elbow grease would get it off. Lesson learned!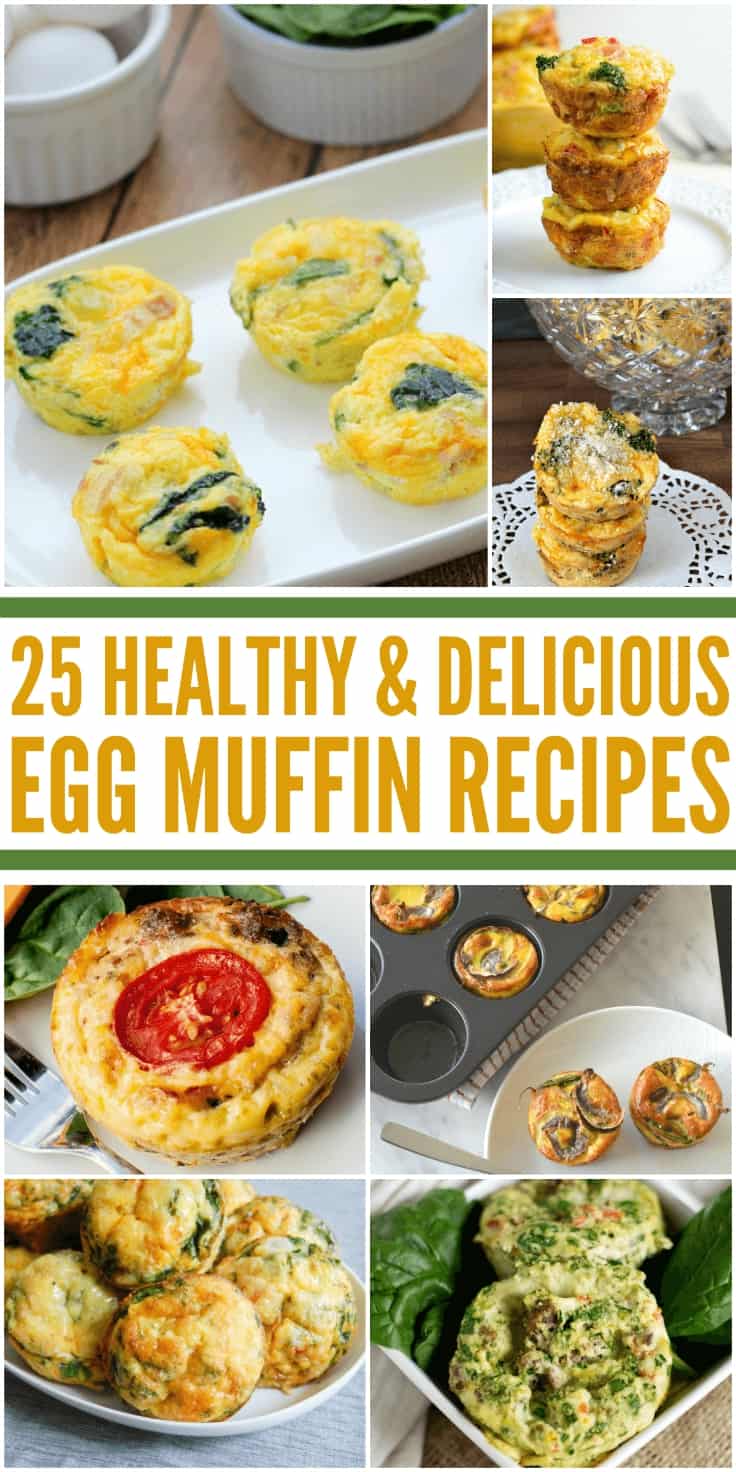 Egg Muffin Recipes
Without further adieu, here are a list of 25 healthy and delicious egg muffin recipes to try! Take a peek at them and pin the ones you want. Or just pin this post so you can refer back to it 🙂
1. Spinach and Cheese Egg Muffins | Simply Stacie
2. Vegetarian Breakfast Egg Muffins | A Cedar Spoon
3. Broccoli and Cheese Egg Muffins | Budget Girl
4. Spaghetti Squash Egg Muffins | Just Us Four
5. Hashbrown, Bacon and Egg Muffins | Mom Fabulous
6. Full of Goodness Egg Breakfast Muffins | Lauren Caris Cooks
7. Sausage and Veggie Breakfast Egg Muffins | Mom Endeavors
8. Quinoa and Egg Breakfast Muffins | Almost Supermom
9. Paleo Sausage Egg Muffins | Tastes of Lizzy T's
10. Breakfast Egg Muffins | Delicious Meets Healthy
11. Egg, Bacon and Veggie Muffins | Messes to Memories
12. Omelet Breakfast Bites | A Mitten Full of Savings
13. Grain Free Bacon Egg and Cheese Breakfast Muffins | Real Food Outlaws
14. Southwestern Taco Egg Muffins | A Cedar Spoon
15. Greek Inspired Low Carb Egg Muffins | About a Mom
16. Turkey Sausage and Mushroom Egg Muffins | Foodie Girl Chicago
17. Healthy Egg Muffin Cups | Show Me the Yummy
18. Spiced Breakfast Muffin Cups With Sausage and Veggies | Chindian Kitchen
19. Make Ahead Omelet Muffins | A Nerd Cooks
20. Bacon, Mushrooms and Spinach Muffins | Salu Salo Recipes
21. Italian Egg Cups | Simply Sissom
22. Mini Egg Muffins With Bacon and Cheddar | Blackberry Babe
23. Spinach and Cheddar Egg Muffins | The Iron You
24. Tomato Basil and Goat Cheese Breakfast Muffins | The Paleo Baker
25. Egg Muffins With Ham, Kale and Cauliflower Rice | Food, Faith Fitness
Which one of these egg muffins recipes caught your eye?