Hawaiian Punch is now in Canada!
Hawaiian Punch is now in Canada! My American friends were surprised to learn that we didn't have it here before because it's so well-known (and loved) there.
It does not last long in my house. This past weekend, Bridget went into the fridge to grab herself a bottle and sadly discovered that John had drank the last one. I told her that I would buy her more of her favourite flavour (Lemon Berry Squeeze) on my next shopping trip.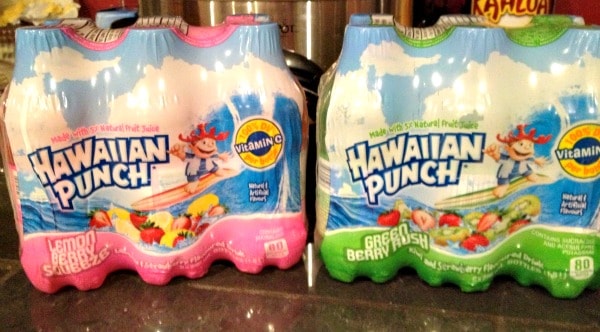 It's available in three fruity flavours:
Fruit Juicy Red (tropical fruit punch)
Green Berry Rush (Kiwi/Strawberry)
Lemon Berry Squeeze
I received a case of six of all three varieties to try. I put all of them in the fridge and then watched them disappear. The first to go was the Fruit Juicy Red. It's a tropical punch flavour and was John's favourite. Bridget loved the Lemon Berry Squeeze. She loves anything lemon. It was sweet and delicious. Normally I'm not too fond of the strawberry/kiwi combo, but discovered the Green Berry Rush was pretty good.
I would say that the winning flavour in our home was definitely the Fruit Juicy Red!
Hawaiian Punch has a SRP of $3.99 for a case of six 296 mL bottles. Each bottle contains 100% daily value of Vitamin C and is only 80 calories. Pick yourself up a case to try out yourself or add to your tween or teen's lunch!
Disclosure: I was not financially compensated for this post. I received a sample of the product for review purposes. The opinions are my own, based on my personal experience with the product.