Slow Cooker Ham & Potato Hash
I'm not sure if this recipe for Slow Cooker Ham & Potato Hash is a breakfast recipe or dinner recipe. I think it could be both! It's a tasty way to use up leftover ham and doesn't require much in terms of prep work. Plus, it's a slow cooker recipe and it's that time of year again. I also like that it doesn't require a full day of cooking time. You could put it on at lunch and it would be ready to serve at dinner time.
There is never any leftovers when I make this recipe. Creamy potatoes, salty ham and a bit of veggies makes this comfort food a winner in my books.
You might also like this French Fry Casserole.
What are some ways you use up leftover ham?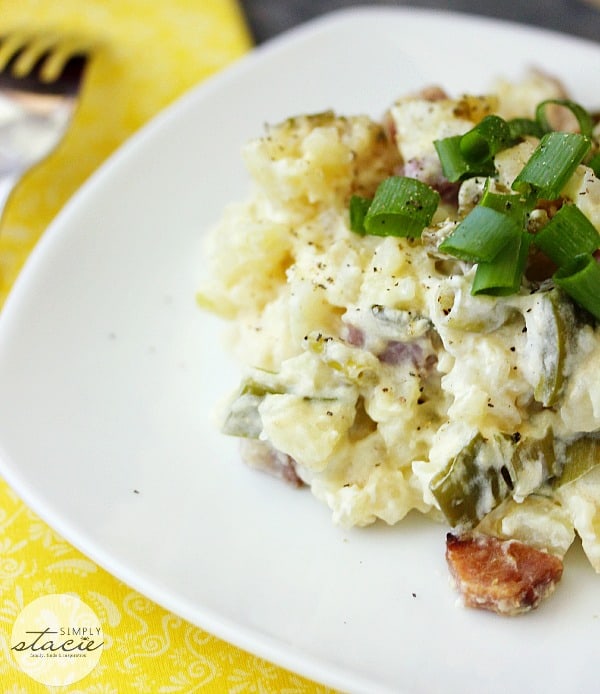 Slow Cooker Ham & Potato Hash
Creamy potatoes, salty ham and veggies make a winning recipe my family loves!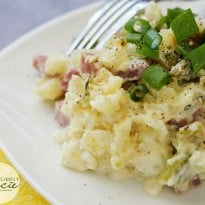 Ingredients:
1 bag of frozen hash browns
1 green pepper, chopped
6 green onions, chopped
3 cups cooked ham
1 8 oz package cream cheese, softened
1 1/2 cups milk
3 tbsp Dijon mustard
1/2 tsp garlic powder
1/2 tsp garlic pepper
salt & pepper, to taste
Directions:
Microwave the frozen hash browns on high for 4 minutes to partially thaw. Or else let them sit on the counter for a few hours before you are ready to use them.
Combine the hash browns, green pepper and ham in a slow cooker and stir to mix.
Blend the cream cheese and milk together and then heat in a microwave for 1 to 2 minutes or until smooth when whisked. Add the mustard, green onions (make sure to save some for your garnish though), and spices and stir to blend.
Pour cream cheese mixture evenly over hashbrown mixture. DO NOT STIR.
Cover and cook on low heat for 5 to 6 hours or until the potatoes are tender. Carefully stir. Garnish with the remaining green onions and serve hot.