Maple Pecan Danish Bake
I was inspired by a recipe shared on one of my favourite recipe Facebook pages to create this Maple Pecan Danish Bake. The Adventures of Kitchen Girl has lovely recipe for Easy Cheese Danish made with refrigerated crescent rolls. It looked so simple and delicious that I knew I wanted to try it. Mine is a little different. I made mine with maple syrup with the cream cheese filling and used a maple glaze with pecans as the topping. I also used a smaller baking pan (8×8) because the crescent rolls wouldn't completely cover my 13×9 pan.
It couldn't have turned out more perfectly.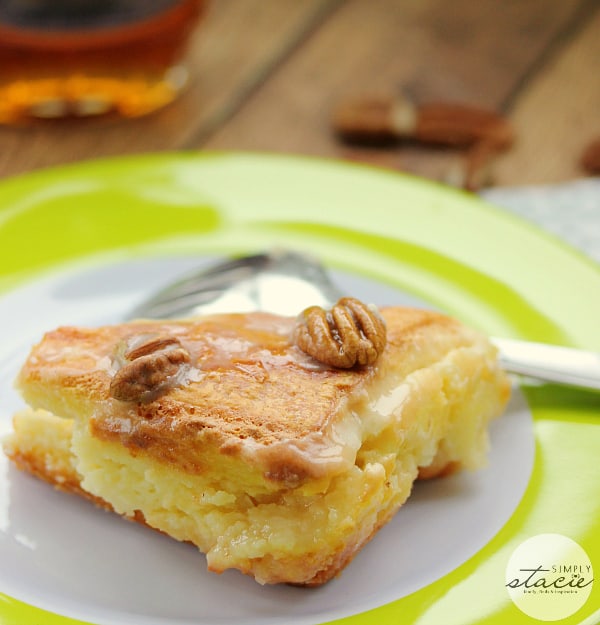 With a buttery crescent roll crust, a layer of thick creamy smooth cheese filling and a sweet maple pecan glaze, this is a decadent dessert! It's not short on the calories though but for an occasional indulgence, I say why not! I had a small piece and it was very filling.
You don't have to worry about making your danishes look fancy since it all bakes in one shot in the pan. It tastes amazing either served warm or cold. I'll eat it both ways and enjoy every last bite!

Maple Pecan Danish Bake
A simple and delicious recipe for Maple Pecan Danish Bake made with refrigerated crescent rolls.
Ingredients:
2 cans ready-to-use refrigerated crescent rolls
2 8oz packages cream cheese, softened
1 cup sugar
1 tsp vanilla extract
2 eggs
2 tbsp maple syrup
1 egg white
Glaze
1 cup icing sugar (otherwise known as powdered sugar)
2 tbsp milk
2 tbsp maple syrup
½ cup pecans
Directions:
Preheat oven to 350°F. Grease an 8×8 baking pan. Open one package of crescent rolls and place in a single layer in the baking pan. Close any openings by pinching the dough together.
With a KitchenAid stand mixer or handheld electric mixer, beat the cream cheese, sugar, vanilla, maple syrup and eggs until smooth on medium speed.
Spread the cheese mixture evenly over the crescent rolls in the baking pan. Open the second package of crescent rolls and carefully lay over top of the cheese, trying to get them as close together as you can. Brush top with egg white.
Bake for 45 to 55 minutes till the top is golden brown. Set aside to cool.
To make the glaze, beat the icing sugar, milk and maple syrup with a KitchenAid mixer or handheld mixer on low until smooth. Stir in the pecans.
Drizzle the glaze on top of your Danish Bake. Refrigerate any uneaten portions.